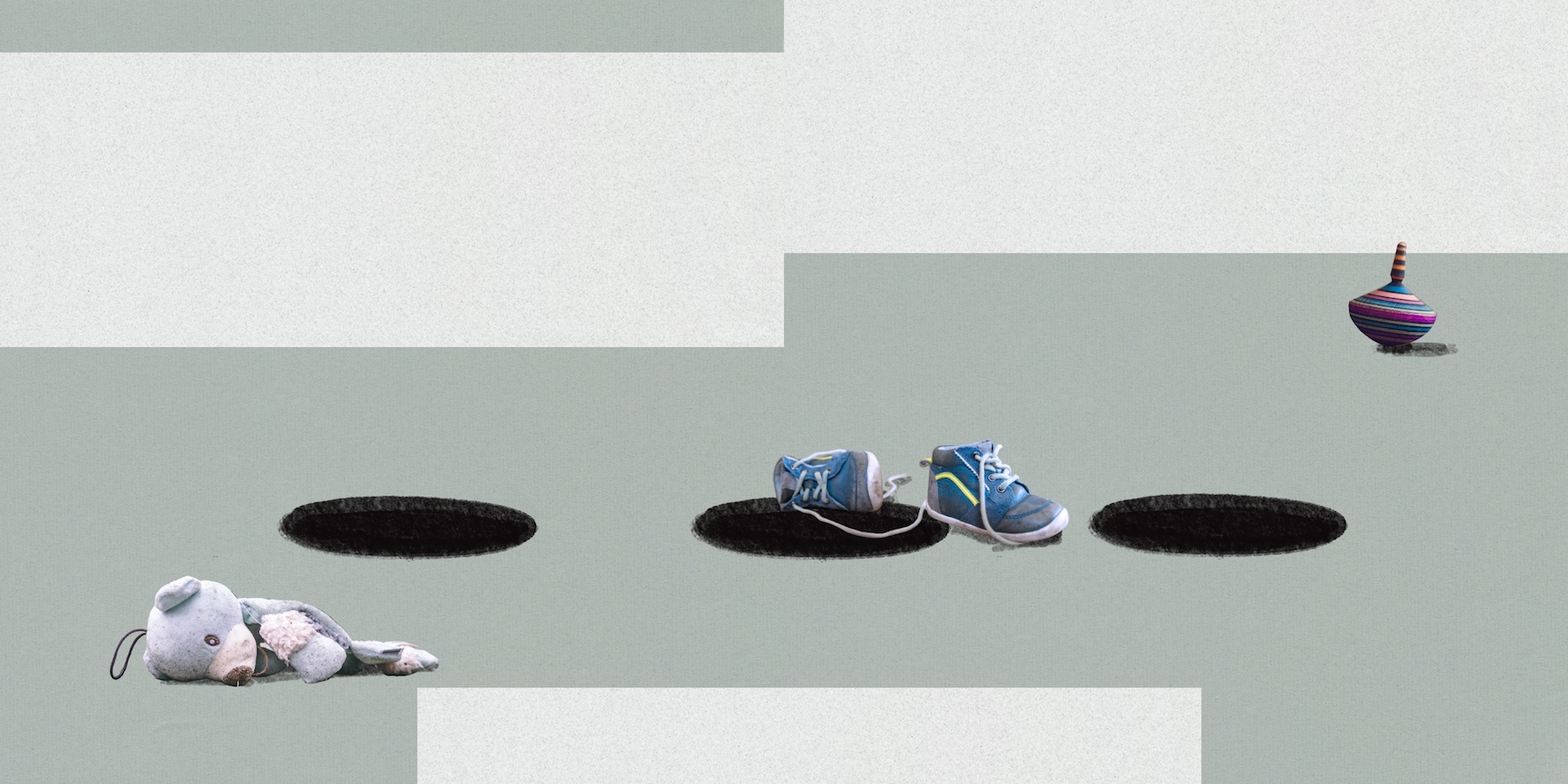 "We suddenly lost her. We don't understand how it happened. It was a week after being discharged," Nune recalls, speaking about her two-year-old niece. She is emotional and speaks disjointedly. She is trying not to look for guilty parties, but at the same time doesn't understand how the child, who was so full of life in her last days, eating and playing, had her condition deteriorate so sharply. They couldn't even get her to the hospital in time.
"A week before her death, she had been treated in the hospital for several days and discharged, but her cough persisted," she explains. "My sister told the doctor about the cough, but they told her that if she did not have a fever, then it wasn't a problem." The autopsy revealed that both lungs had been damaged due to pneumonia.
The family is struggling with many unanswered questions. Although they still haven't found the strength to fully comprehend what transpired, they believe it's important to uncover the truth and hold those responsible accountable so that others won't have to suffer as they did.
"If our child was that unwell, why was she discharged from the hospital?" Nune asks. "Couldn't they have done an X-ray before discharging her? Why didn't they properly inform my sister about the cough?"
Although the child mortality rate (0 to 4 year-olds) in Armenia, which is considered one of the main indicators of a country's socio-economic situation and quality of life, has decreased over the last ten years, it still accounts for 1% of all deaths.
According to Armenia's Statistical Committee, in 2011 there were 43,340 births and 27,963 deaths. Of these deaths, 594 (around 2.12 % of the total) were children aged 0 to 4, and among them, 507 were aged 0 to 1. Ten years later, in 2021, there were 36,623 births and 34,388 deaths. Of these deaths, 296 (around 0.8% of the total) were of children aged 0 to 4, and among them, 253 were aged 0 to 1.
According to preliminary data from the statistical committee, there were 36,353 births and 26,805 deaths in 2022. Of the total deaths, 274 (around 1.02%) were children aged 0 to 4, and of these, 243 were aged 0 to 1. It is worth noting that for all these years there have been more male infant deaths.
The data clearly shows that the majority of deaths in children occur before the age of one, with the highest risk being at the newborn stage and in infants up to 28 days old. Pediatrician Gayane Sahakova emphasizes the importance of pregnancy management in preventing child mortality. She recommends that mothers visit the doctor regularly as soon as they find out they are pregnant. Regular medical supervision and relevant tests should be carried out throughout the pregnancy to ensure the health of both the mother and the child.
"Pregnant women should not rely solely on their feeling of well-being. Even if they are feeling fine, it's important for them to regularly visit their doctor," Sahakova says. "This is because there are certain illnesses which can be prevented or detected early with routine examinations, and the pregnancy is monitored by a gynecologist throughout."
Where Is the State?
Infant deaths occur for a variety of reasons. According to the Statistical Committee, the most common causes of infant deaths in Armenia are conditions created in the perinatal period, congenital irregularities and malformative disorders, and illnesses of the respiratory organs.
To address this issue, Armenia has implemented six newborn screening research programs since 2005 that aim to diagnose congenital illnesses early and provide timely treatment or correction of the pathological condition. These programs include screenings for congenital hypothyroidism, phenylketonuria, hearing loss, retinopathy of prematurity, congenital heart defects, and hip dysplasia.
"The Ministry of Health plans to introduce a new neonatal adrenogenital syndrome screening program in 2023," says Vahe Hakobyan, Deputy Secretary General of the staff administration of the Health Ministry. "This program will identify children with the syndrome before clinical symptoms occur and ensure timely treatment, reducing the risk of death in affected children." The ministry is also developing management procedures, algorithms, and guidelines for the most frequently occurring emergency conditions in children.
The Ministry of Health insists that Armenia's regions are at the center of their attention. They are, for example, implementing an outbound children's rapid response service with ground and air transportation in order to make treatment readily accessible for children from the regions who need resuscitation and intensive treatment in tertiary care centers.
"Programs for modernizing hospital services in the regions, including child and neonatal resuscitation services, are ongoing and being implemented," Hakobyan says and stresses that specialists — from Yerevan and the regions — are regularly being equipped with new knowledge and training. 
In order to prevent and reduce the risks of neonatal hemorrhagic disease, all newborns receive vitamin K within hours of their birth. Additionally, caffeine citrate is provided to all infants born under 30 weeks, in order to prevent and improve the treatment outcomes of apnea.
Gayane Sahakova emphasizes the importance of care for children up to 2 months of age, the relationship between parents and the pediatrician, and regular monitoring of the infant's growth. Attention should be given to the infant's respiratory rate, complexion, nervous system, alertness, body temperature, and sleep.
"It is important to monitor whether the child is experiencing diarrhea and whether they are eating as they normally would, or if they have started to eat less," says Sahakova. She urges parents to follow the pediatrician's advice and to avoid self-treatment or searching for medical information on the internet. "Where there used to be 'neighborhood' medicine, now there is 'internet' medicine. It is important to always be in close contact with the doctor," she says.
According to Sahakova, there are also cases of sudden infant deaths and deaths caused because of carelessness. To prevent this, she advises against putting pillows, soft toys, or other extra items in the crib that could cause suffocation. For a child that can already crawl, make sure there are no dangerous materials or items within reach.
Where Is the World?
The 2021 report from the United Nations Children's Fund (UNICEF) notes that the world is significantly deviating from the path of achieving Sustainable Development Goals (SDGs) to end preventable deaths of infants and children under five. According to the report, the SDGs aim to end preventable deaths of newborns and children under the age of five, with all countries aiming for a neonatal mortality rate of 12 or fewer deaths per 1,000 live births, and an under-five mortality rate of 25 or fewer deaths per 1,000 live births. 
The report also reveals that more than 5 million children died before their fifth birthday in 2020 alone.
Zara Sargsyan of UNICEF Armenia notes that the global under-five mortality rate has decreased by 59%: from 93 cases per 1000 live births in 1990 to 38 in 2021.
"Despite this considerable progress, the infant mortality rate continues to be a concern, particularly since some of these deaths are preventable," says Sargsyan.
UNICEF, which also cooperates with the government of Armenia, provides support in activities aimed at prevention of child deaths. According to Sargsyan, efforts in this area include comprehensive strategies and interventions on three main levels: developing a children's health policy, improving the quality of health services provided for newborns and children, and community empowerment and education to ensure that parents and caregivers have the necessary skills to effectively care for their child and are able to recognize symptoms of illness that require immediate medical attention.
Vahe Hakobyan says, "The introduction of the pentavalent, hexavalent, tetravalent, trivalent, rotavirus, and pneumococcal vaccines into the national immunization program in recent years has contributed to the efforts to reduce child mortality. The vaccines available in Armenia are obtained through UNICEF."
Gayane Sahakova attributes the reduction in infant mortality to a comprehensive approach, including the relationship of doctors with parents, the quality of medical services, regular training of medical staff, expanded screening programs, and well-equipped hospitals with modern medical instruments.
According to Sahakova, there is a serious issue with parenting that requires ongoing efforts to address.
"The rate of child mortality in a given country is directly linked to its level of development," she explains. "As a country develops, education and science advance, modern technologies are introduced, and funding is allocated to train doctors. When a state develops normally, the rate of child mortality decreases even further."