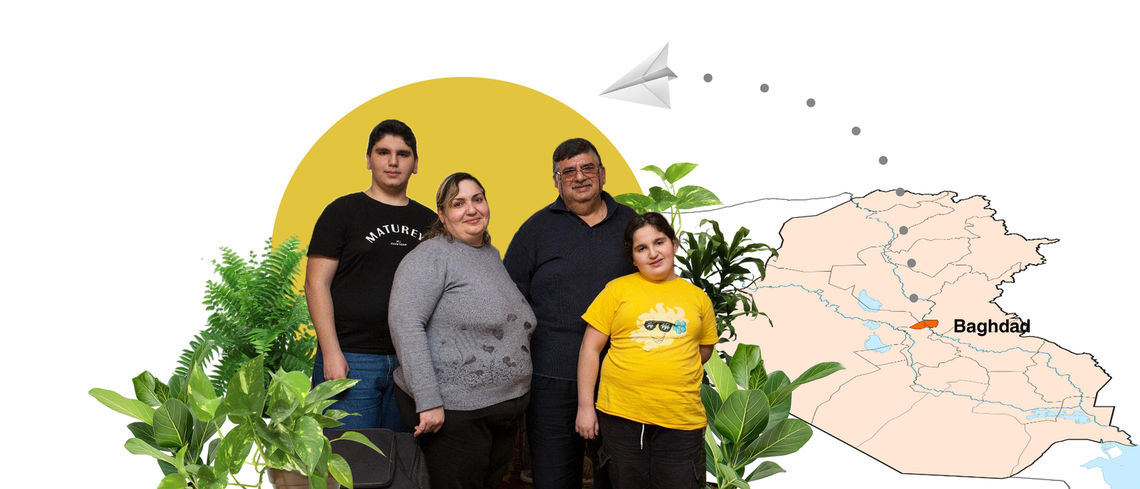 It was a rainy, summer day in Armenia, the prevalence of facemasks a reminder of the ongoing COVID-19 pandemic. We visited a refugee family of five from Iraq: Osana Der Tavetyan, 38, her husband Garo Dadoorian, 50, and their children, Matevos, 15, and Liana, 10. Like many displaced and local families, Osana and Garo channeled their patience as they endured growing hardships, anxious but hopeful that the restrictions would end one day.
As we walked up the stairs, we were thinking of how we could cheer them up, perhaps with news about UNHCR's humanitarian assistance the family was about to receive to mitigate the consequences of the pandemic, or the teddy bear we were bringing for little Liana. We expected to see gloomy faces and hear numerous concerns, but as the door opened, their happy smiles shone through the facemasks and we felt the warmth of sincere hospitality from the moment we entered their home. The apartment was small but cozy, with lots of flower pots and plants turning the space into an indoor garden.
"We were waiting for you! We're so glad you came! The children were excited to hear that we would have guests after such a long while," said Osana and showed us to the living room.
The family left Iraq for Armenia in late 2018, while their relatives had come long before, in 2004, when some 1,500 Iraqi-Armenians fled from Iraq to Armenia to escape the war.
"We got married and our children were born during the war. Being in limbo all these years – to go or to stay – we made a decision overnight to leave as it became extremely dangerous to stay in Baghdad," said Garo. "The children couldn't go to school – bombs were exploding near our house. We barely escaped from active gunfire a few times," continued Osana, her voice cracking with horror.
Armenian by descent, the family reached Armenia by road. Here, they finally found peace and safety for themselves and their children. "It was difficult at first. We were physically here, but our mind was in Baghdad. We left everything behind: my paternal house, the workshop, all our belongings," said Garo. Liana echoed, "…and my mom's recipe book, her diaries and family photo albums."
We visited the family at their rented apartment in a suburb of Yerevan. After acquiring refugee status, the Migration Service, the state agency dealing with asylum and refugee issues, enrolled them in a rental subsidy scheme. UNHCR, through its partner, Mission Armenia NGO, provided them with cash assistance and humanitarian support, helping them integrate into the state health system and put the children back in school.
The family was about to open up a small business when the COVID-19 outbreak hit Armenia. "I was a cook in Iraq, for ten years. I love baking and cooking, and had plenty of clients back in Baghdad," said Osana. "I am keen on learning to expand my cooking skills," she continued, describing the dishes she learned to prepare at cooking classes last year. "She happily shares her grandmother's secret recipes with the local women, explaining the specific roles of the spices, all those secret flavors she stuffs into her cakes and pastries," said Garo, offering us some of his wife's home-made cookies with pride in his eyes. "I long for exhibition-sales so much – I found my first clients there," Osana sighed, remembering the open-air festival in Yerevan she participated in last year.
Noticing the sewing machine on the table, we asked if Osana's talents also included dressmaking. "Yes, and I brought this machine with me from Baghdad. I squeezed it into the car before my husband could see it," Osana said with a cunning smile. "A sewing machine is a life-saving tool – many Armenian women would make some income by sewing in their host country," she said, and shared with us the story of her grandmother, who had fled from the Ottoman Empire to Iraq.
Ten-year-old Liana was shy to speak at first, but she cheered up telling us about her daily life at her school, with her new friends. "It's nice to be at home with my mom all this time, but I miss my school. I had just started to make friends with my schoolmates and the girls in the neighborhood when this coronavirus ruined it all," she said.
"Now that it's nice and warm outside, I want to play in the yard, but my mom won't let me. I look out the window all the time but there is nothing to see but the blossoming trees and how the rain greens the grass," said Liana. She added with a playful smile, "But look: our apartment is even greener." She was right; the apartment looked like a garden, full of flowers and plants. "These flowers have a soothing effect on us, especially in these difficult days of lockdown. We feel cozy and peaceful," said Osana. "They need constant care and attention and keep us busy all the time," said Garo, watering a potted chili pepper plant.
We noticed a bulky instrument in the corner of the room and could not help but ask what it was. "It's my synthesizer, which traveled with us all the way from Baghdad to Armenia," said Garo. "I pretended that I did not see Osana place the sewing machine in the car's trunk, but she had no clue that my synthesizer was already packed deep inside," said Garo, grinning cheerfully. In no time, the synthesizer was unwrapped. The next minute, Garo was playing a beautiful Armenian melody for us.
"We used to perform concerts at our community club in the good old days. Garo would play, and I would sing. Now all is gone but the memories and this photo album, which we managed to bring with us," Osana sighed, showing us their most-cherished family photos.
Fifteen-year-old Matevos, Garo's and Osana's son was as welcoming as his parents. He brought us some tea and chatted with us about his interests, especially his passion for technology. He was attending the TUMO Center for Creative Technologies after school, which had also switched to an online format during the pandemic. "It's a pity I don't have a proper computer to attend the classes. My phone is too old, too," Matevos said sadly, but added with a smile, "It's so ironic, I am so keen on the computer, yet I do not have one."
They were one of the most interesting families we had ever met; they had lots of skills and interests, were very sociable and open-hearted.
"Life is not a bed of roses. Sometimes, it's just very difficult, but we should not abandon hope. There is nothing more important in the world than peace and solidarity. We have good neighbors and never feel alone. Our children go to school and befriend local children," said Osana excitedly. "The assistance we receive from the state, UNHCR and its partner NGOs, Mission Armenia, the Armenian Red Cross Society, World Vision and others help us cope with the hardships and meet our basic needs," Osana added and hugged her children with warmth. ''And hygiene. It's crucial these days!" echoed Liana, pointing to the gloves and a box of wet towels on the shelf in the corridor. "Have you seen my mom's invention, the unique masks she has created?" she suddenly exclaimed.
The children talked Osana into demonstrating her invention: a mask made of three layers of wet towels cut in-between the edges. "I wear my mask and go to the shop. The sellers look puzzled, asking where I got it from. Nobody can guess what kind of mask it is until I reveal my little secret," said Osana and laughed. "She is becoming popular for her masks," Garo beamed.
It was hard to say goodbye to the family, their cozy place and the aura we enjoyed throughout our stay. Before leaving, we took a family portrait. Perhaps it will also make it into the photo album: a new memory for their new life in their new home, Armenia.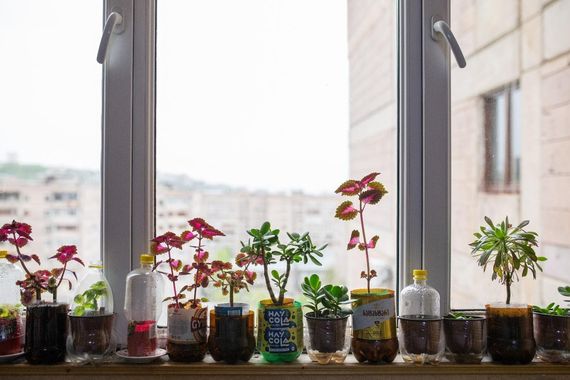 Greenery on the kitchen window sill in the family's rented apartment in Yerevan symbolizing harmony and hope. Photo by UNHCR.
1. Osana's and Garo's wedding photo in the family album they brought with them from Iraq to Armenia. 
2. Traditional Iraqi-Armenian goodies and handcraft by Osana Der Tavetyan. Photos by UNHCR.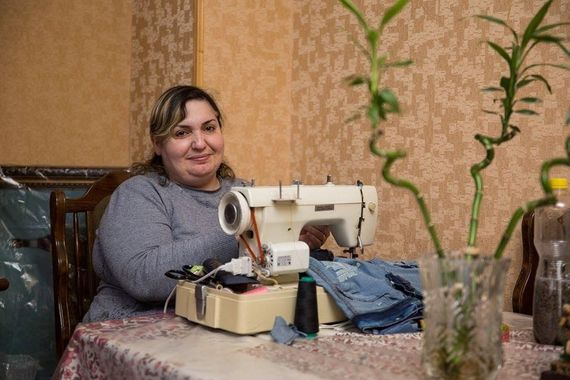 Osana's sewing machine helps her make some income to support her family. Photo by UNHCR.
1. Liana enjoys the harmony in her family but longs to see her friends in the time of the COVID-19 lockdown.
2. Garo playing a traditional Armenian melody on his keyboard instrument.
3. Matevos dreams of a powerful computer to catch up with his online classes at TUMO technological centre.
4. Osana wearing an innovative mask created by herself. Photos by UNHCR.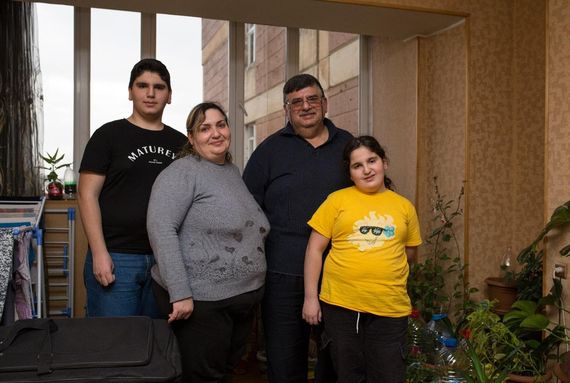 Family portrait. Photo by UNHCR.