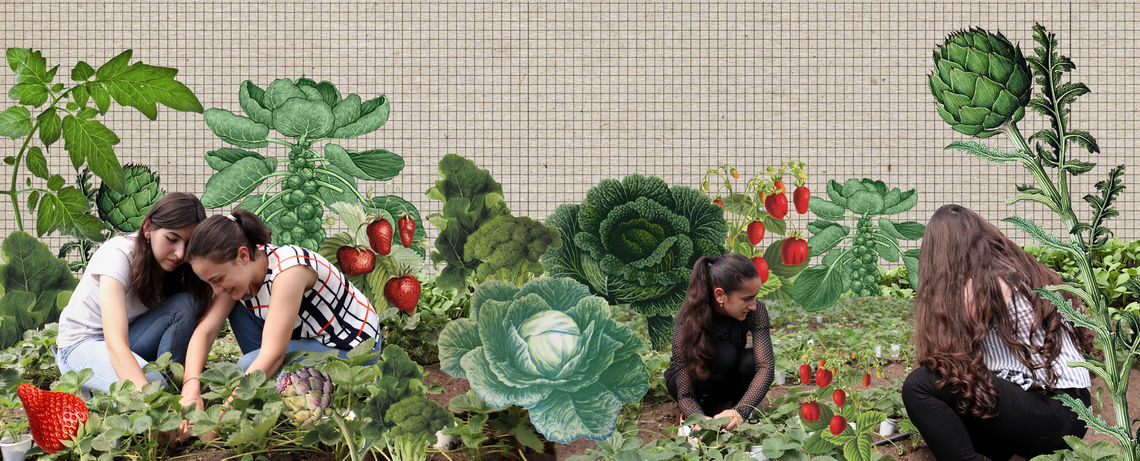 In the safe embrace of the mountains of Margahovit village in the Lori region, the girls of Warm House[1] have taken up a mission to run their own greenhouse. Aged 16 and 17, they have been cultivating various crops with the aim to be more independent and develop their communities.
The idea of running a greenhouse came out of the GLAD (Girls' Leadership and Development) camp. Initiated in 2017 by Margahovit Youth Center and U.S. Peace Corps volunteers, GLAD aimed to address the often overlooked but important needs of young girls and help them cope with stereotypes, anxiety and culturally imposed limitations that have had a negative impact on their daily lives. The idea of Warm House was born after the 2018 camp, where the girls had various workshops on entrepreneurship and acquired leadership and marketing skills.
"Warm House became the logical continuation of the camp. During the camps, the girls gained theoretical knowledge and Warm House was supposed to help them turn that knowledge into something practical," says Emilia Martirosyan, the head of Margahovit Youth Center. "The girls brainstormed and came up with different ideas to choose from. Some of them wanted to start a bakery or work on the production of souvenirs. Eventually, we decided to start a greenhouse." Through a fundraising effort, they raised enough money to build the greenhouse, which was ready in October 2018.
Warm House, a social enterprise run entirely by young girls, started planting its first seeds in 2019. Cultivating crops that are rare in Armenia, the plan was to try out different varieties and see which ones grew better. Initially, Warm House planted varieties of tomatoes, cucumbers, kohlrabi, pattison, artichoke and Brussels sprouts. The girls noticed that cole crops did really well. It wasn't news to them as they always had good crops of cabbage, but they didn't expect Brussels sprouts for example to grow so well. In 2019, Warm House's vegetables won Margahovit first place in the annual Lori Harvest Festival. According to the girls, many people came to see the new crops and expressed huge interest. "People kept asking how they could acquire the crops," Emilia says happily. "Once you explain that these crops can easily grow in our soil, people get excited and want to try something new. We get many requests asking for Brussels sprout seedlings, for example."
Once the girls had a better understanding of the selected crops and their features, they shared them with their families and the locals in an attempt to bring about cultural change in the village and beyond. "People always cultivate the same crops," says Emilia, adding that, although most people in Margahovit are engaged in agriculture, insufficient knowledge often leads to crop loss.
Currently, there are seven girls at Warm House. All of them have many hobbies and are actively involved in different initiatives. "Depending on the season, the workload varies. Usually, we have a schedule and split the work between two or three people," says 16-year-old Donara. According to the girls, although the process has its challenges, it isn't that hard, and they successfully manage to take care of the greenhouse while simultaneously preparing for university entrance exams, learning to play the guitar and helping out at home. "The most difficult part for me was weed control," says Liana, 16. "Sure we could use pesticides to get rid of them more easily, but we were determined to avoid any chemicals." From the very start, Warm House promised to avoid using any chemicals and fertilizers, which made the process more challenging.
Warm House has contributed toward the empowerment of the girls, equipping them not only with the necessary skills to take care of the crops, but imparting numerous leadership and time management skills. "I learned a lot during my time with Warm House, not only about the cultivation of crops, but also about the business aspect of it – how to sell your produce, some marketing and advertising skills," says Liana. "It was the most interesting part, when we sat down and tried to figure out how to make progress."
Warm House is planning to recruit new members in the future. When the girls go to university, they won't be able to invest as much time into the project as they do now. They're also planning to use the minimal resources they have more efficiently. "Instead of inviting professionals every year to prepare the new team, former members are going to pass on their knowledge and share their experiences," says Emilia.
Warm House is currently registered as an NGO and therefore can't engage in official commercial activity. "We do sell some of our produce and get some money, but it has more of a symbolic nature. Seeing the work the girls do, people want to support us," says Emilia. Once they expand the area and get registered as an LLC, they'll be able to produce and sell in larger amounts. "We don't have enough area to meet the demand yet," she explains. That's why one of the current goals of Warm House is expansion. According to Emilia, they need about $2000-3000 to add a second floor to the greenhouse and expand the area. Their future plans also include the restoration of other greenhouses in the village. There are dozens of abandoned greenhouses, which they hope to renovate and use.
The core idea behind the greenhouse project is the empowerment of the girls. When Warm House finalizes the registration as an LLC and starts making enough profit, part of it will go back toward the preservation of the greenhouse, and the remaining portion will then be invested in educational or professional development projects that the girls pick themselves.
Currently, Warm House gets funding for the seedlings from individual donors. They also receive assistance from former Peace Corps volunteers. "We are always in touch with them. Whenever they come across a new plant or seed, they get it and send it to us," says Emilia. Of course, not every seed grows successfully. However, Warm House has completed the stage where they experiment with various types of crops to figure out which ones work best in the soil. This year, they will focus on three varieties of strawberries instead.
"People liked the new crops we had, their unusual tastes and shapes, but there wasn't much demand," says Emilia. There was a higher demand from Yerevan but, with limited resources, it is not yet possible to produce the crops in large enough quantities to transport them to the capital. So Warm House switched to strawberries, which had a higher demand in the region, according to their preliminary marketing research. Currently, they are growing three varieties of strawberries: Monterey, Albion and San Andreas. "These sorts aren't common in Armenia yet. We got them from Ijevan, where they have a greenhouse specializing in strawberries. They are more focused on producing seedlings," notes Emilia.
As much as the girls enjoyed trying out new varieties of vegetables in the beginning, their excitement didn't fade after switching to strawberries this year. "In the beginning, the most appealing thing for me was that we were experimenting with different crops to see which one could grow in our soil. I can say the same about the strawberries," says Liana. "We had three varieties and had to figure out which one would grow better, how they would taste or which one would sell better. Monterey grows best of all, and we like its taste and color more than the rest, although Albion has a pleasant taste as well. San Andreas was the least successful."
Although many of the girls see their future in fields unrelated to agriculture, they believe the experience they have had with Warm House will serve them in any sphere. "You don't have to stay in the same field to apply the skills you've acquired," says 16-year-old Liana, who wants to pursue a career in International Relations.
——————-
1. Ջերմ տուն [Jerm Tun] in Armenian.

This article takes a critical view of current developments in the agricultural sector focusing on political actors responsible for democratic governance and sustainable transition in Armenia's food systems.
Read more

Since the collapse of the Soviet Union, Armenia's agricultural sector has faced sustainability challenges. This article identifies shortcomings of previous and current agricultural policies and underscores the need for immediate action to address food insecurity, the effects of devastating poverty and rural exodus.
Read more