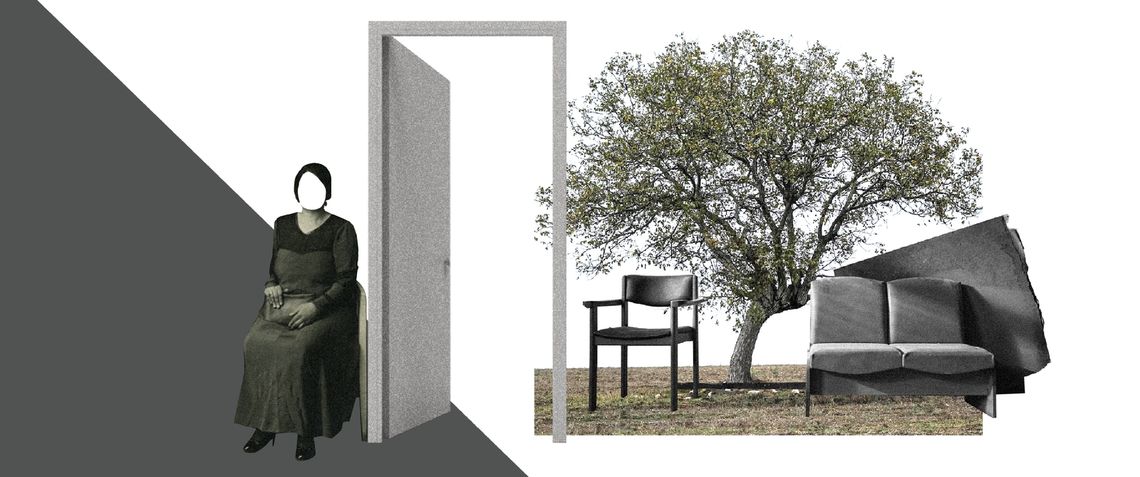 "Our house borders the forest; it is the last one of the village. I have heard that the Azerbaijanis burned down one of the homes to prevent our surviving soldiers from hiding. I don't know what the current situation of our house is. I really want to go back. I have contacted Muradov [the head of the Russian peacekeepers in Artsakh] to get permission to visit our village, our house," says 60-year-old businesswoman Larissa Arakelyan, whose family home and orchards are in the village of Tsakur, in Artsakh's Hadrut region.
The village is now under Azerbaijani control. This is the second time that the Arakelyan family has lost their house; the first one was in Baku, where Larissa was born but says that her roots go back to Artsakh. "We lived in Baku until 1988. We owned a large house there, with a yard, which my parents had built for their children," she says. Although Larissa lives in London she had come back to Artsakh before the start of the war, to renovate her family home. She has childhood memories here: "We used to come here every summer. One finds comfort here, with body and soul. I have travelled half the world, but I am drawn to Artsakh the most… There was an olive tree in our yard, around 200 years old."
The First Step Toward Justice: Collecting Evidence
After the war, Larissa organized fact-finding initiatives in Stepanakert related to legal violations and crimes resulting from the Azerbaijani aggression. She is among the first to have raised the issue of receiving reparations from Azerbaijan and to have hired lawyers, she says. She is also getting ready to demand reparations for lost property in Baku. "They have crossed every line and will not let us live freely. They are eradicating our nation. We will not stay silent; we will go on until the end. We will also take on other initiatives in relation to the de-occupation of our territories," she explains.
A number of local organizations have joined and are supporting Larissa. Anahid Tovmasyan, the director of the Our House real estate agency, has provided her office to be used for fact-finding initiatives. They have received more than 1,000 people since November. Now, around 30 people visit their office every day. The lists of those who have lost their homes and other property, however, are very long.
Fact-finding initiatives to reveal Azerbaijani crimes and legal violations are not only taking place in Artsakh. A number of organizations from Armenia, as well as a group of lawyers from the United States, are also taking part in this work.
Los Angeles-based lawyer Milena Mayilyan noted that they are organizing training sessions with Armenian specialists to ensure that the fact-finding process is carried out professionally and in accordance with international criteria, which makes it acceptable for both American and other international bodies. According to Mayilyan, this body of evidence will be very helpful for the organizations that will file complaints to international courts regarding rights violations for the people of Artsakh. "Fact-finding should be approached meticulously; each fact must be recorded and kept correctly. Otherwise, it will not be possible to prove to whom that house belonged or how much it was worth. Even a small painting, which you bought for 1000 AMD, could have a sentimental meaning and its loss might cause psychological issues," Mayilyan says, adding that when someone burns or destroys their own property, they hurt themselves and the protection of their own rights.
Possessions That Remain in Photographs
With a lump in her throat, 32-year-old Anush Harutyunyun shares how, for the last time, she photographed her village, the school and the house. "On November 10, I went there for a day, alone, without the children. I collected our possessions, some things that I considered valuable, and left," says Harutyunyan. "It was a very beautiful community. We had a pretty, renovated school. All the amenities were available. I was a teacher, my husband was a teacher. We worked and had a large household: Bees, animals…"
It had been challenging for them to secure a living in the village of Mirik in Artsakh's Kashatagh region (which was transferred to Azerbaijan on November 30, 2020); they were raising three children together. The men went to the front on the first day of the war. "My husband went to Jrakan [Jabrayil]. He had seen that we have losses. I asked him what I should do. He told me to choose for myself, but that the situation was dire," Harutyunyan recalls. "For safety, I relocated to Armenia with my children… Sadly, my brother was martyred in Hadrut. His wife and two-year-old child are with me. My brother was 25 years old; he was serving in the spetsnaz [special forces]."
They are now living at a relative's house in the city of Abovyan, just north of Yerevan. They have offered her a temporary job at the school, whereas her husband is still unemployed. For 11 years in Mirik, she was a history and Armenian teacher. "I am now learning law, foreign languages: English and Turkish. I already know a lot. If I find permanent work, I will no longer be sad. I do not like asking for help; I want to work myself," Harutyunyan says.
Lilit Hayiryan, 24, speaks about the tragic losses that her parents and husband's family sustained: "We lost a house, cars, a lavash oven, a large farmstead, parks, pets, so many things that it is hard to list…" Last August, Hayiryan relocated to Hadrut's Aygestan village after getting married. She recalls how, on September 27, they were woken by the sounds of explosions, and went out to the yard to find drones in the air. "Our house was next to the road. Around half an hour later, we already saw the tanks and our boys were waving at us," she recalls. "We gave them blessings so that they would return home safe and sound. It was a dreadful feeling…"
The basement of her parents' home in Hadrut was safe. She had rushed to Hadrut and seen that the house was also damaged by bullets. Despite not wanting to leave behind the men who had gone to the front, they were obliged to leave for Yerevan a few days later. "We thought the war would end in two days, and we would return. For that reason, we did not take our belongings with us. We took our documents and left. We had a lavash oven. My brother went back, got my grandmother and they began to bake bread, so that they could provide bread to the people in shelters," Hayiryan says. "My father was head of the Yeremyan company's drivers in Hadrut, which supplies bread to the army. He is still working. He was given a medal of courage. When we were calling [him], he would say, we will deliver bread even if only one soldier remains."
One of her parents' homes was burned by the enemy, the fate of the other one is unknown. The animals owned by her husband's family alone were worth 25 million AMD (approx. $50,000). They also had a modern farmstead, which they had mortgaged their house to build. Their possessions also included agricultural machinery (tractors, trucks) and fields. They had not managed to sell the tons of grapes, barley, wine and vodka that they owned.
Due to the war unleashed by Azerbaijan, about 35,000 people from Artsakh have been left homeless. According to Mane Tandilyan, Artsakh's Minister of Labor, Social Affairs and Migration, this number is determined within the framework of the support program for the residents of the communities that have been left outside of Artsakh's control (each beneficiary is provided with a one-time assistance payment of 300,000 AMD).
How to Receive Reparations
On February 1, 2021, the Government of the Republic of Armenia filed, for the first time, an interstate complaint with the European Court of Human Rights (based on the Convention for the Protection of Human Rights and Fundamental Freedoms) for violations committed by Azerbaijan in the period during and after the war. Extensive evidence has been submitted with the complaint and additional evidence will be presented in the near future.
The representative of the Republic of Armenia at the ECtHR, Yeghishe Kirakosyan, says that, within the complaint, Armenia has raised issues related to the protection of the rights of those who have lost property. The first expectation from the European Court is acknowledgment that property rights have been violated. The second is that, due to military operations, and following the November 10 ceasefire agreement, legally-acquired property has come under Azerbaijani control. There is also the issue of the inaccessibility of that property.
"When the European Court recognizes a rights violation, it resolves it in two ways. First, there is the possibility of return, especially in the case of continuous violations, when the title is there but the opportunity to actually manage the property is not given. Secondly, when there is an objective impossibility to restore the previous situation, reparations can be in order. There are clearly established standards regarding reparations. Property damage, lost profit, moral damage, expenses for the compensation of rights are all considered reparations," says human rights activist and co-founder of the Path of Law NGO Siranush Sahakyan. She also notes that the loss of a home is a violation not only of property rights, but also the right to private life and the inviolability of the home, which are protected under Article 8 of the ECtHR.
According to Sahakyan, it is too early to discuss what compensation mechanisms will be used in case a verdict is given in regards to the interstate complaint. In the meantime, the existence of the interstate complaint does not rule out the possibility to file an individual complaint. This means that both legal entities and individuals can submit independent complaints to the ECtHR. "Residents of the Hadrut region have applied to us. We have several hundred applications; the collection continues. Of course, in the end, we have to consult with our clients, as to what extent the cases are to be presented by the interstate complaint, and to what extent they are to be presented exclusively by individual complaints. If issues related to the protection of property rights are raised through the interstate complaint, then their examination will be conducted much faster than the individual ones. Therefore, if the applicants want to gain time, then the issue will be presented through an interstate complaint. Whereas, if they want to act independently, despite losing some time, then they have to file an individual complaint," Sahakyan says. Moreover, individual complaints can also be grouped, when members of a family or a community apply to court collectively.
Regarding former residents of the Kashatagh region, which was transferred to Azerbaijani control through the November 10 ceasefire agreement and not as a direct result of military actions, Siranush Sahakyan says that: "Since we have a factual situation where the property is under Azerbaijani control, and Azerbaijan is not allowing and cannot guarantee uninhibited access to the personal property, it so happens that the property rights of these people are violated in the same way as, for example, the inhabitants of the Hadrut region. This factual situation creates equality among the applicants."
Regarding court jurisdiction, Sahakyan says that applying to one international body precludes applying to other bodies. "Therefore, applicants must decide whether to apply, for example, to the UN's Human Rights Committee, where they can also defend property rights, or to the ECtHR. However, the [UN] Committee's decisions do not have the same legal force as the ECtHR's. And there are no legal mechanisms for their implementation; they are largely carried out thanks to political solutions," says Sahakyan.
Author's Note. As I was looking for testimonials while preparing this article, dozens of people who had lost their homes in different regions of Artsakh started to contact me. For many of them, receiving reparations for what they lost seems unrealistic. The ways to achieve that are unclear to most of them, and the idea of hiring a lawyer seems like a luxury. For people in difficult socioeconomic conditions, the immediate priority is to just meet daily needs. Thus, the state's actions continue to remain the hope of many.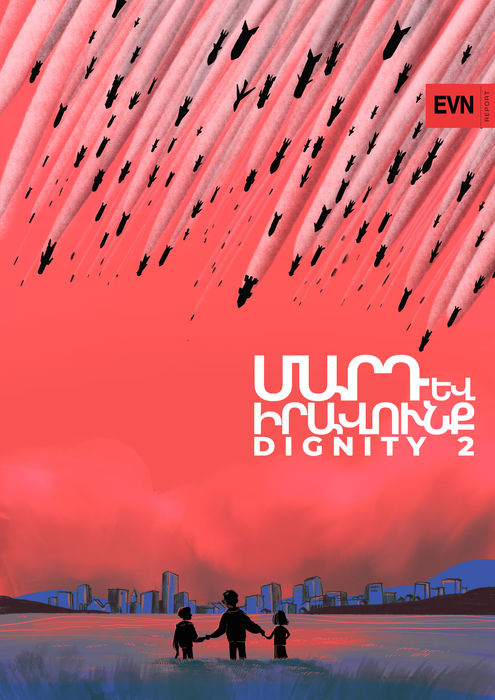 The imperative to protect human rights must be a daily endeavor for all – for those in positions of power and for ordinary citizens. Protecting human rights must include daily acts of courage and resilience, not only during times of war, but also in peacetime. EVN Report's December, 2020, issue "Dignity" is dedicated to those rights for all.

In this new essay for the "True But Not Real" creative writing series, writer and journalist Lusine Hovhannisyan explores the love Armenians have for their homes especially in the context of the recent war in Artsakh: "We love our houses with the skill of a person who has lost their home."
Read more