The global consumption of natural beauty products has experienced a spike over the past decade. While the global market value of natural cosmetics in 2007 was $6.8 billion US, by 2017 that number had increased to $14.8 billion US.
In the past, consumers didn't necessarily associate the multi-billion dollar cosmetics industry with the environment and would purchase beauty products without a second thought. Today, environmentally conscious consumers carefully examine the ingredients of the products they choose, because they understand that synthetic materials and harmful chemicals found in many beauty products can cause irreparable damage to both humans and the environment.
For this reason, natural and organic beauty products have become especially popular. But what does organic exactly mean when it comes to beauty products? There are global standards for organic beauty products that entail products be made with renewable materials and, most importantly, during the preparation and processing of the ingredients, avoid using noxious artificial chemicals or additives and generating pollutants.
A distinction should be made between the words natural and organic. A company manufacturing natural beauty products cannot claim they are producing certified-organic skincare products until they receive proper licensing from a relevant licensing organization. [1] The certification process is quite expensive, especially since it is given not to the company as a whole, but to each individual product.
In Armenia, there has been an upsurge of advertisements for natural beauty products on Facebook. Indeed, in the past five years this industry has been quickly and steadily developing. There are three companies producing natural beauty products and the largest, Nairian, is now in the process of getting an organic cosmetic manufacturing certification.
Nairian
Anahit Markosyan graduated from the Faculty of Radiophysics at Yerevan State University and is an expert in quantum electronics, however, she enjoys nothing more than creating natural beauty products. It was the result of this creative process that in 2015, consumers in Armenia heard the name Nairian for the first time. Before launching a line of skincare products, Nairian spent almost three years working with marketing specialists, agriculturists and beauty consultants. This allowed Markosyan and her team to create competitive and high quality skincare products.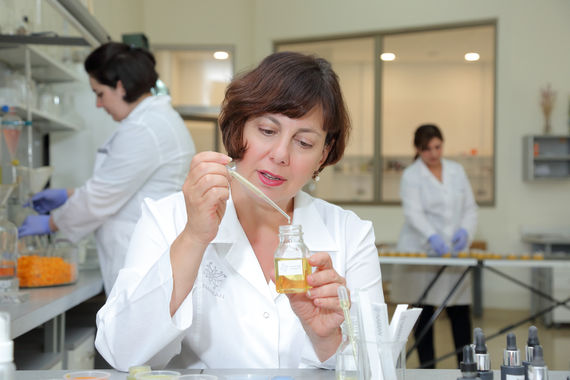 Anahit Markosyan.  Image provided by Nairian.
Today, everyone working at Nairian, from the women who separate every single rose petal to the experts working in the laboratories, are motivated by and draw inspiration from their customers.
The company takes all organic standards into consideration when developing their products and Markosyan says that from the very beginning they decided that they were going to get certification as an organic cosmetics manufacturer. "When we choose an ingredient we check to see if it is permitted in organic cosmetics or not," Markosyan explains. "We exclude anything that is not approved."
This is one of the reasons why Nairian decided to grow the plants they need for their products themselves. "If a villager comes to me and swears that their cucumbers were fertilized using only manure, we have no way of verifying this," Markosyan says. "Our nature is amazing and has been very generous to us. There are many plants in Armenia that you can go and collect. However, we don't do it that way. Instead we grow them ourselves so we avoid even a slight deviation."
While Nairian has yet to receive organic certification, Markosyan says that their products already correspond to organic standards.
The Story of Nairian  
While Markosyan's academic and professional background has nothing to do with beauty products, it is a path that has served her well. "I was always interested in natural cosmetics," she says. "In the beginning it was more of a hobby, however, when my first child was born it turned into a necessity as I realized that I had become sensitive towards different fragrances." She says that sensitivity intensified after the birth of her second child and has not dissipated. Today, she uses only natural products including household cleaning items. "You won't find a dish washing liquid or laundry detergent with a fragrance in my house," she explains.
It was Markosyan's curiosity as a scientist and her endless thirst for research and discovery that led her to seriously research how to produce natural beauty products. She started with essential oils, however, she didn't stop there and decided to take aromatherapy classes. "I took perfumery courses, as well as classes on how to make natural cosmetic products," says Markosyan and adds with pride that the majority of Nairian products, with the exception of one or two, are created based on her formulas.
At Nairian everyone is dedicated to please each customer. It is based on this principle that every new product is tested by around fifty people and then only presented to the consumer as a Nairian product. "This process can be repeated several times," explains Markosyan. "Let's say, we tested a product on fifty people and received feedback. We collect all their reviews, observations, assessments and then start the process again in the laboratory taking all of that into account. Then we test the product again and again until it becomes that which we want."
Recently, the European Chemicals Agency (Echa) proposed EU-wide restrictions on using microplastics in products such as cosmetics because of its impact on water resources. When the consumer uses a cosmetic product containing microplastics, after washing up, that material passes through to underground waters, eventually turning up in drinking water. These restrictions however don't concern Markosyan: "This doesn't worry us even a little, because microplastics are not used in our products. They can ban it, but it doesn't concern us."
Catering to the Customer
One of the keys to the brand's success is their work ethic and the responsibility they have towards their customers. Interaction with customers helps Nairian develop new products. "This is how the idea of creating a shampoo was born," Markosyan says. "Our customers were constantly asking us to make a hair product, hence we created a shampoo without any sulphates and it has become one of our best selling products." Nairian went on to also develop a deodorant that doesn't contain aluminum, which is also in big demand in many countries.
Their core customers are women between the ages of 20-55 years of age. Markosyan says that the younger ones are most interested in their products. "The mentality of this generation is quite different from the previous ones. Most of them try to live healthy lives, preferring natural beauty products," she explains. "They prefer local, natural and high-quality products that don't have any artificial additives to the popular cosmetic brands, which are cheaper. This generation seriously thinks about the environment and takes steps to protect it, and that is very praiseworthy."
While women make up the majority of their customers, Nairian also caters to discerning males. In fact, one of the soaps that Nairian produces was the brainchild of a German customer. "He asked me to produce a soap that could be used for the body and hair," Markosyan recalls. "And since our inspiration is our customer's beauty, we developed that soap, which men also enjoy using."
The Cost of Natural Beauty
Because the company uses essential oils, which are expensive, doesn't use artificial chemicals and makes everything by hand, the cost of the products isn't cheap. "We have women in our company that work on separating flower petals by hand and have to get paid for that work. Organic cosmetics are an expensive pleasure," Markosyan says. "We import many of the ingredients which are considered the best in the world from Europe or the U.S."
One of their most popular products for both locals and customers from all over the world is the night serum, which is quite expensive and even Markosyan admits not affordable for everyone. Other products that are in demand include their cleanser, micellar water, tonic and scrub. Markosyan not only develops, produces and sells beauty products, she's a customer herself. "When I travel, I always take our firming cream, night serum and cleanser with me," she says. "These are an inseparable part of my routine."
Founded in 2015, Nairian has been expanding and diversifying its products and has already amassed loyal customers not only in Armenia, but in different countries around the world. You can often find Anahit Markosyan on Facebook Live answering customers' questions. Nairian also organizes educational tours, during which they show people how they grow their plants and their laboratory, where people can see how they work. At Nairian they can spend hours and days working to produce a small vial of the most fragrant ointment. Here they treat their customers' bodies and nature with utmost respect.
Bnatur
Most people at one point in their lives are faced with skin issues. For some, it goes away after a period of time, for others it's an age issue and some battle with skin problems their whole lives. Whatever the issue, one thing is clear – our skin always needs to be looked after and cared for. This is the motto that guides the founder of Bnatur natural beauty products, Arpine Barseghyan.
Bnatur, which is an offshoot of the English "be natural," offers high quality natural beauty products and is quickly gaining a strong customer base.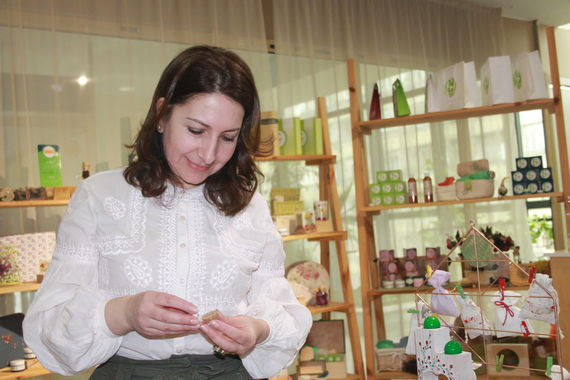 At this company they take the luxuries of nature and turn them into skin care products for women. Everything started when Arpine Barseghyan realized that all the products she used for her skin were ineffective. She had to find her own solution. "I have a skin condition which isn't curable," Barseghan explains. "However, through my products I have been able to 'suppress' it and prevent it from getting out of control." In the beginning, it was a hobby for her and the thought of turning it into a business never crossed her mind. When Barseghyan started giving away the ointments she had prepared as gifts to friends and family, she realized there was a demand.
She started making chemical-free soaps, which she says is much more difficult than preparing soaps with artificial additives. When she finally decided to turn her hobby into a business, Barseghyan's family was very supportive. They even turned the first floor of their two-story house into a laboratory, where she finds herself in her element and begins the creation process.
"If I didn't have the support of my family, I definitely would not have been able to initiate anything," she says. "When people believe in you, you start looking at your dreams differently. I create all of this with my niece and my sister-in-law. However, my husband and sons and even the elders that live in our house help out as well."
Today, Bnatur takes so much of Arpine's time that she left her government job and committed herself fulltime to her creative work. As a result, her products are in high demand by consumers.
In Armenia, most people think that cosmetics are only for women, but skincare doesn't recognize gender. Many modern Armenian men prefer natural products and despite the fact that the majority of Bnatur's products are for women, many of their soaps and shampoos can be used by men.
"My older son has a beard, which got me thinking about beard products," Barseghyan says. "He also often asked me to create something that can be used to take care of his beard. I am now working on that. Finding good ingredients and importing them from Europe is not that easy. It's even more difficult to find proper bottles for your products."
The Bottle Challenge
There is a host of challenges when it comes to making natural beauty products. In Armenia, added to this is the most basic of things – finding the proper bottles. "I've looked into companies in Armenia that manufacture glass bottles designed for natural beauty products, but I can't seem to find the one," Barseghyan says. "We fill our shampoos in plastic bottles and we wanted to at least get those bottles from local manufacturers. We found one company in Armenia that manufactures bottles, but the caps were too coarse so we declined to use them." She says that the design and presentation of their products is just as important as the product itself. "The customer is very observant and can notice everything, even a typo," Barseghyan explains. "This is a time consuming process. However, when I see my customers I realize that it's worth spending all that time."
Putting the Customer First
Bnatur's core mission is to put the customer first."When we create any product we not only make sure that it is beneficial and helps alleviate skin problems, but we also make sure it is accessible in terms of use," Barseghyan explains. When you purchase one of Bnatur's products in glass bottles, you can get refills at a cheaper rate. While the company wants to use glass bottles because they're more environmentally friendly, however they aren't always available or convenient. "We are trying to think of an alternative and I hope we will find an efficient one soon."
Bnatur products are comparably affordable. Barseghyan says that they want their customers to be able to come back time and again because skincare is something people must think about daily. "Our prices are based on market calculations, but we also always think about our customer," Barseghyan says. And when thinking about the customer, Bnatur is always experimenting with new products. They draw inspiration from their customers who come to them about issues they're having and not only. "Our latest product which is an oil intended for eyelashes was created when I realized my eyebrows were getting thinner," she explains. "I started trying to see what I can do about it. This is a product that can be used for eyelashes and eyebrows."
Barseghyan also holds master classes for her customers: "I invite people who want to know how our products are made. There is no secret. People come and learn. If they are able to, then they create the products at home." Her favorite product is their dry mask and eye serum, and balm. "Also, our shampoo is irreplaceable for my hair," she says. "And based on feedback, I can attest that it's the same for our customers as well."
Bnatur's success can be found in the indescribable love and dedication and attention to detail. At Bnatur the customer's wishes are the first priority. Arpine is guided by one principle: her customers are always right.
Dyuten
Twenty-eight-year-old Gayane Hovhannisyan is a PhD candidate in biochemistry at Yerevan State University. Seeing Gayane, it's hard to imagine that she's ever struggled with skin issues. But like many natural beauty product manufacturers, Gayane's skin was what made her take the vegetables she had in her refrigerator and create recipes out of vegetable extracts. Her first product which she made out of cucumber juice, was so effective that she started creating new recipes.
"During exams I realized that my skin was reflecting the stress I was going through. When I was younger I had great skin and never thought that one day I would have to seriously deal with skin care," Gayane explains.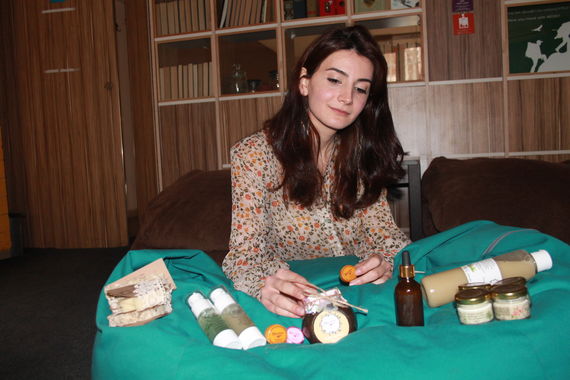 "At 24, my skin started to get inflamed. I started getting pimples and, just like many other people, I would touch my face with my hands, and next thing I know my whole skin had become inflamed," says Gayane taking a deep breath. Then she smiles, because her skin problems are now in the past.
After going from one doctor to another and taking medicine from a long list of prescriptions, Gayane was convinced that their effectiveness was temporary: "I was using medicine that was leaving my skin dry. After a time, the pimples would reappear again, because my skin had created a favorable environment for them. I had to make that environment favorable for me and not various bacteria."
You won't find the word dyuten in dictionaries. Dyuten was Gayane's creation. She was looking for an Armenian word, but wanted to add her own twist to an already existing word. This is how the Dyuten was created which turned into the brand's name. This family business has officially been working for a year now and is starting to take off thanks to their efforts.
"I'm in charge of the creative process: I create the formulas and then turn them into creams, extracts, etc. in the laboratory. The design and packaging is done by my mother and brother," Gayane says. "We know that design has great influence over the consumer's choice. That is why we are very careful about what colors, bottles and even papers we use for packaging."
Gayane says her products are natural, that is why they need to be kept in the refrigerator, because the beauty products contain ingredients that are sensitive to heat.
Dyuten is still a small company. However, its creative founder has been able to create close to 30 products. Gayane gets the herbs and plants that the products contain from local producers. However, close to 70 percent of the ingredients needed are not available in Armenia.They are imported from different European countries.
Oil and Water Don't Mix or do They?
Gayane says that their lotions are the most difficult to produce. She says she spends up to two hours to prepare five small bottles of lotion. "Lotions are difficult to make because they are made of two components: water and oil," Gayane explains adding that many people think it's impossible to mix water with oil. "However, thanks to natural emulsifiers it's possible to 'submit' them into each other, because emulsifiers are biofunctional."
One of the most used ingredients in Dyuten's products is green tea which Gayane prepares herself. "To prepare it, I process green tea leaves in grape seed oil in specific temperatures," she explains. "It's like preparing yogurt, because I wrap it in soft, hot cloths and make sure the environment is favorable." It takes a month for it to be ready to use. Dyuten's night emulsion creams are among the most popular products they offer, but Gayane's favorite product is their zinc past and lemon and ginger soap.
You can find Dyuten's products online through Facebook. Gayane hopes to be able to open her own store by the end of the year.
Photos Kushane Chobanyan.
——————————————
[1]  In the U.S. there are several certification programs such as ANSI 305, the National Organic Program (NOP) established by USDA and the Organic Sustainable Industry Standards (OASIS) established by the cosmetic industry.