It could be said that the seeds were sown at a McDonalds, the one near the airport in Copenhagen. At 15, Tatevik and her friend would hang out there watching people fly in and out and dream of all the destinations they would fly to one day together. At 19, Tatevik applied for a job at the airport check-in, boarding… but, one of the youngest people to work at the airport, did not end up serving the lines for long. "I was the only person in the whole airport who knew Russian. So one day I got tasked with helping identify Russian documentation," explains Revazian.
It was 1993, almost 1994 when Tatevik's family moved to Denmark from newly independent, post-Soviet Armenia and settled in Copenhagen, near the airport. Tatevik was five. Outside of their home, it was very much a Danish way of growing up. Inside the house, it was an Armenian upbringing, maybe even a bit Soviet says Tatevik – her father spoke Armenian and her mother, who is half-Russian, would speak Russian at home.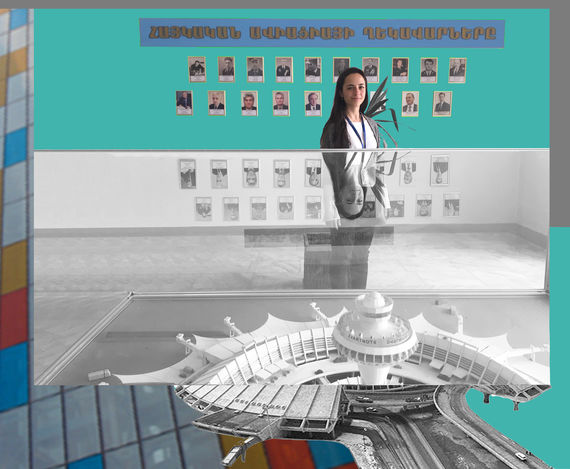 "I think a lot of my dreams were formed during the years I worked at the airport," Tatevik recalls adding that she got to meet inspiring people from different countries, who would share their stories. "I had a businessman standing in line one day and he said, 'Oh, I am not sure which passport I should use today,' and I'm like oh, it's possible to have two passports and he said 'Yes, it is, if you travel a lot then you leave one passport at the embassy, the other you travel with.' And that was the moment when I decided one day I'll be a businesswoman traveling the world with two passports."
With two Masters' degrees under her belt – one in Innovation and Business Development, and the other in International Management – and neither having to do with aviation, Revazian still managed to bring her passion into her field of studies when for her thesis she looked into government impact on airport growth through a comparison between the Copenhagen Airport and Zvartnots in Armenia. Little did she know she would one day chair Armenia's Civil Aviation Committee.
She had come to Armenia for her fieldwork through the Birthright Armenia program. "During that trip I decided that one day I would either move to Armenia or at least do projects here and always stay connected," Revazian says. "Everything is stable and things work in Denmark, but I could see the possibilities of creating something new in Armenia. But how and when was not clear to me."
Until the opportunity to work and live in Armenia would present itself, Tatevik moved on to work for Momondo – negotiating contracts with airlines, first concentrating on the Russian market, then global airlines. Momondo, a company that compares flight tickets was then acquired by Kayak a subsidiary of Booking Holdings and primarily because of the company's UK and Russian market portfolio, the one Tatevik built up.
Next was FLYR, a San Francisco-based company that forecasts future fare volatility through complex data analysis. To be closer to the airlines they were negotiating with, FLYR wanted to open an office in Europe. One of their choices was Copenhagen. "It would have been very easy for me just to say yes, let's take Copenhagen. I would be living close to my family and friends and have a great San Francisco-based salary," Revazian says. However, rather than say just that, knowing that the company was scaling its engineering team and that would be a costly endeavor in Silicon Valley, Revazian suggested they open the office in Armenia instead. "I explained how much money the company could save if they branched out to Armenia and basically offered to do two jobs –  negotiate with airlines, which was required of me, and also help the company establish a software engineering team," she explains. They agreed.
Tatevik moved to Armenia in September of 2017. "At that stage I had no team, no office, I had nothing, I had my laptop, Armenia, and all the cafes in Cascade," she recalls. Soon she paired FLYR with the Yerevan based Volo, a software development company, and ended up putting together a team of six software engineers for the company. Barely six months had passed when a national uprising, led by opposition politician Nikol Pashinyan, that came to be known as the Velvet Revolution started snowballing in the form of widely decentralized civil disobedience protests demanding the resignation of the acting government and its seemingly permanent head of state. "Basically what we did was work early in the mornings and then late at nights to make sure our work was not affected and that the company in the U.S. did not notice, and then be on the streets protesting during the day," remembers Tatevik, though she says she kept headquarters in San Francisco updated on developments in the country.
In May 2018, following Nikol Pashinyan's election as the country's new prime minister and the formation of his cabinet, Tatevik, with a colleague who had envisioned Armenia as a base for a low cost airline before they became a popular way to fly and who had tried and failed with the previous authorities, headed to Deputy Prime Minister's office. The plan was to offer to put together a working group and on a voluntary basis help the new government attract more aviation based projects. "During that meeting, the deputy prime minister asked a lot of questions: How I imagine the future of aviation? What needs to be done? How can we attract more airlines to fly to Armenia?" Tatevik recalls. "I did not realize why he was asking all these questions, I answered without holding myself back… after the meeting he asked me to send him my CV."
Then the phone call came, she was being offered to chair the Civil Aviation Committee of Armenia: "I had two hours to decide and that Pashinyan wanted to meet me in the evening."
For the Director of Global Partnerships at FLYR Inc. with a corresponding Silicon Valley salary and responsibilities that came with the contract, two hours was nowhere near enough to be prepared to make a life altering decision. The Deputy Prime Minister however insisted on a meeting right away. "I was sure I was not going to accept the offer and I was finding excuses as to why he should not hire me – me being young, not being fluent enough in Armenian. Instead, he gave me a piece of paper and asked me to read it." The deputy prime minister deemed Tatevik's Armenian more than satisfactory dismissing her concerns, and asked the question that she admits was instrumental in her decision: "Why did you move to Armenia?"
Getting the blessing and encouragement from her former employer, Tatevik took on the challenge. However, the post-Velvet Revolution media frenzy around the new administration's appointments did not bypass the young, and until the day of her appointment unknown to most, Tatevik Revazian. Not being used to or comfortable with being in the media, Tatevik says she had a hard time understanding the sensationalism Armenia media is so prone to.
A few months into her job, news of a meeting with her Azerbaijani counterpart during an international conference spread mercilessly. "They read my seven page report on the trip and they took the one sentence that says I talked to my Azerbaijani counterpart. Why is everything else not interesting? It was a very beneficial trip with a lot of significant results," Tatevik says. There were also the headlines accusing the new head of civil aviation of using taxpayer money to buy an expensive car. Tatevik says this time around the headlines gave her cause for concern and she herself called the head of the State Control Service asking him to look into the matter. It emerged that the tender announced for the car was rigged; the specifications were so narrow that only one specific car could be considered for the tender. "I did not question the procedure because the paperwork for the purchase was already approved by the previous government, because I trusted people. I am starting to trust less," says Tatevik.
Being young and female in a male-dominated industry in Armenia has actually not been a huge issue says Tatevik, but coming from a Silicon Valley mentality that assumes reaching a goal can be easy or difficult but not impossible, she says she often clashes with the primary response inherent to Armenia of listing excuses explaining why something is impossible. "Don't tell me something is impossible because I will not believe you," is the lesson she has learned from a very peculiar  experience.
A few months into her new job, Revazian had secured one of the 20 internationally contested spots for a training of civil aviation directors in Montreal. With much of the bureaucratic process completed, she is told that the paperwork has reached Pashinyan awaiting his signature, greenlighting her attendance. On October 2, 2018, two days before she is expected in Montreal, where the world civil-aviation authority is based, thousands of protestors surround the parliament building upon a call from the prime minister himself. Pashinyan is there, loudspeaker in hand calling the secret, late night assembly of the parliament to pass a bill which he calls "counter revolutionary" and Tatevik is standing in the crowd, dreading the prospect of having to write the email saying, "I am sorry our country is in chaos right now, this is why I could not come," or maybe she could make her way to the prime minister and ask him to sign the papers then and there? All requests to expedite the process had been ineffective. She was told over and over again that the situation is impossible, and advised to simply accept that she is not going to get the paper signed. "I got all these negative responses, but the morning after the rally, I just took the paper and went to Pashinyan's office. I explained the situation and got my paper signed." Tatevik made her flight that evening.
Another default setting Tatevik says she often collides with is the culture of often either underselling or overselling. Most often, the common narrative is that everything is either decrepit or just perfect. "First of all, if you undersell it's because you don't believe in your idea or you don't believe in your own country," Tatevik explains and goes on. "Then why would anybody sitting across from you believe enough to get involved? If you oversell, you simply lose trust. They all know that their countries have problems, how come Armenia is perfect?"
Revazian says her plan is to develop a healthy ecosystem for civil aviation in Armenia. "I have a huge network of airlines that I have worked with, I know how to speak to them, I know how to prepare the business cases and want to proactively attract new flights to Armenia," she says. Even though having a national carrier is believed by many to be the most purposeful investment for Armenian civil aviation, Revazian says she rather not put all the eggs in one basket; there are many other, less risky ways, "One example is opening a maintenance sector to renovate aircrafts. I talked to MRO (commercial aircraft maintenance, repair and overhaul) market representatives. They are booked for the next five years. Can you imagine what type of demand we are talking about?" Tatevik says. Other than the infamous meeting with her Azerbaijani counterpart, Revazian has met the civil aviation chairs of more than 80 countries and major aviation organization representatives. Other than sharing Armenia's challenges she also asks them what challenges they have in the next 5, 10, 50 years. "I had this thought that some companies in the private sector in Armenia might be able to provide the solutions," she says.
Aviation is not just tourists, pricing, arrivals and departure. It is IT, AI, it is engineering, mathematics, negotiations and communication… It is an ecosystem that needs nurturing and in return can nurture whole industries in Armenia.