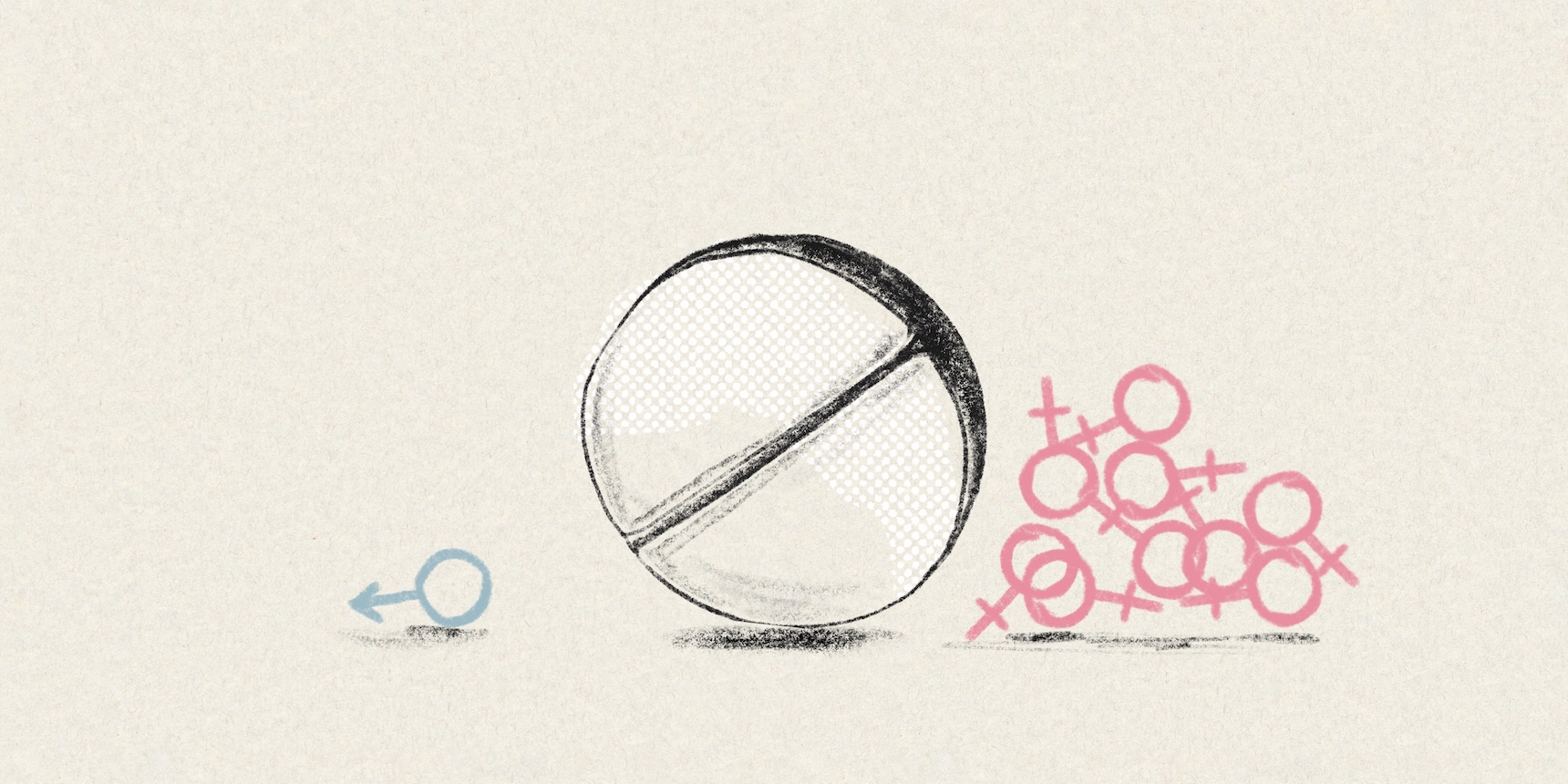 "The third abortion was done at the hospital. That was a good thing. Otherwise I probably would have died. The first two were done at home. I didn't go back [home] from the hospital. While I was in the hospital, my daughter was with my parents. I returned to my parents' house and didn't go back. My husband, of course, tried to take me back. At first he pleaded and begged, but then started to argue and fight. But my decision was final: I killed three children in four years, I can't do that anymore," says 31-year-old Ruzanna S., talking about the abortions she underwent because of pressure from her husband's family. 
A few months after their wedding, Ruzanna and her husband got much anticipated news — they were expecting. All conversations in the family were about the child that was to be born, how it would secure the continuity of the clan and carry the family name. The possibility that the child could be a girl was not even considered. Months later, during an ultrasound examination, the doctor happily announced that it was a girl.
"My husband was waiting outside, but I could already imagine his reaction. I started to cry. The doctor was taken aback because the gender of the child is generally unimportant, at least in the case of the firstborn. He started to comfort me, saying that my husband would be happy too. But I knew what was coming. My husband was silent the entire journey back. When we got home, he told his mother, 'She can't even bear a child properly.' I remember there was some talk about abortion at the time, but my mother-in-law said that one should not remove the first fetus, otherwise they would not get pregnant again," Ruzanna recalls.
Prior to the birth of her daughter, disapproval from her husband and his family were constant. A few months after the birth of the girl, her husband said that it was time to think about having a second child.
"I was suffering from severe postpartum depression and felt terrible –– on the one hand, I had to hear repulsive comments about a girl 'not being a child', and on the other, I was dealing with the baby and a new way of life. I was not prepared for a second pregnancy then, but my husband was adamant. He needed a son. I also thought that if we had a boy, the situation at home would improve. My mother-in-law consulted and procured calculations regarding when to conceive in order to have a boy. That is how I became pregnant the second time," recalls Ruzanna.
A few months later, they found out that the child was a girl. This time, the decision was quickly made: the pregnancy had to be terminated. Having an abortion in the hospital was not an option as the period allowed to have an abortion had passed and there was no medical reason for it.. Thus it was decided that the abortion would be carried out at home.
"They gave me a drug. I took it and in the morning everything was done. Afterwards, they forbade me from going to the doctor, although I was very afraid because for several days I was bleeding and experiencing piercing pain. I thought I was going to die," says Ruzanna.
Two years later Ruzanna had another at-home abortion. The reason was the same — she was pregnant with a girl. This time she experienced complications. The doctors immediately warned her that the subsequent pregnancy might be disastrous. Her third abortion was done in the hospital per the doctor's orders — the two previous terminations which were done at home had caused irrevocable consequences, putting the young woman's life and health in jeopardy.
"I don't think my husband or my mother-in-law would have been concerned, if it hadn't been revealed that this fetus was a boy. Perhaps I should be grateful that at least this time everything was done under the supervision of doctors. They prescribed long-term treatment, so there is still hope that I may be able to conceive again," says Ruzanna.
What Does the Law Say?
The abortion process in Armenia is regulated by the Law on Human Reproductive Health and Reproductive Rights; it was adopted in December 2002 and entered into force in July 2003; Article 10 of that law deals entirely with abortion.
The need for amending the law was first discussed in 2010. Nune Pashayan, Head of the Department of Maternal and Child Healthcare of Armenia's Ministry of Health said that studies carried out at that time revealed that the girl-boy ratio did not correspond to natural birth ratios. "In terms of male birth rates, Armenia was second only to China," Pashayan said. "The problem was more noticeable for the family's second and subsequent children."
Revisions to the law were thus initiated, allowing every woman the right to a safe abortion up until the 12th week of pregnancy — that is, before the child's sex is known. Abortion between 12 and 22 weeks of pregnancy is now performed only on the advice or recommendation of a medical professional — including the possibility of sex-linked genetic conditions, and only with the written consent of the mother.
Changes were also made to the Law on Administrative Offenses, which requires doctors to provide consultation on safe methods of contraception and to give a woman three days to make a final decision on terminating the pregnancy.
The United Nations Population Fund (UNFPA) Armenia Country Office issued a warning in 2011 that boys were preferred in Armenia six times more than girls. According to studies done by the UNFPA, in Armenia, 124 boys were born for every 100 girls. The split was higher in the provinces of Aragatsotn and Gegharkunik where, for the second and subsequent children born to the same family, the gender ratio was 100 girls to 160 boys.
In 2020, the draft law "On the right to life of the unborn child" put forth by the legal group Vardanyan & Partners was placed on the agenda of the National Assembly by MP Naira Zohrabyan of the Prosperous Armenia parliamentary faction and her colleagues. If the draft law passed, it would criminalize abortions and stipulated that abortion only be possible when the health of the mother is at risk.
The draft law was rejected after being discussed by the National Assembly's Standing Committee on Healthcare and Social Affairs on the grounds that it violated numerous international conventions, contradicted Armenian law, and was extremely likely to violate human rights. Experts present at the session noted that the law would in no way contribute to reducing the number of sex-related abortions in Armenia or improve the demographic situation. Instead, as evidenced by international experience, child abandonment, child poverty, and the number of children left without parental care would increase.
International Experience?
As of October 2022, abortions are legal or decriminalized in 66 countries around the world. Around 73 million abortions are performed worldwide each year. Nearly half are performed under unsafe conditions. About 40% of women of reproductive age reside in countries with restrictive abortion laws.
The latest controversy around abortion occurred this year when the U.S. Supreme Court overturned the 1973 Roe v. Wade ruling, thus nullifying the constitutional right to abortion. This means that the decision to end an unwanted pregnancy will be made according to the legislation of each state.
"…the Constitution does not confer a right to abortion … and the authority to regulate abortion must be returned to the people and their elected representatives," reads the statement issued by the Court's conservative majority.  
Following the announcement of the court's ruling, 26 of 50 U.S. states announced their willingness to ban abortion at the state level.
U.S. President Joe Biden called the Supreme Court's ruling a "tragic error" claiming that it was based on "extremist ideology", and it "takes away the constitutional right of women in the United States".
"The health and life of women in this nation are now at risk", stated Biden.
The decision sparked tens of thousands of protests across the nation.
Abortion: The Primary Form of Family Planning
Recent studies conducted in Armenia show that while the desire of couples to have children is decreasing, their level of awareness about modern contraceptives is not increasing. According to the Statistical Committee of the Republic of Armenia, the birth rate in Armenia has been steadily declining in the last three decades. In particular, compared to 1990, it has decreased by 1.8 times in 2018 –– from 22.5% to 12.3%. As a result, in comparison to 1990, the number of live births has dropped 2.2 times (36,131 births in 2019, compared to 79,882 in 1990), and 4.9 times the rate of natural growth (in 2019 it was 3.3%, and in 1990 –– 16.3%). As a result of the decline in the birth rate, compared to 1990, in 2018, the number of children aged 0-14 years decreased by one third, constituting 20.2%; moreover the unemployment rate doubled to 11.6% –– a sign of an aging population.
In 2022, the Advanced Public Research Group NGO, with financial support from UNFPA, published a study, which also found that abortion is still the primary method of family planning in Armenia. At the same time, only a quarter of Armenian women use modern contraceptives. According to the same study, 50% of female respondents and 54% of male respondents have never used modern contraceptives.
The study found that every fourth pregnancy in Armenia ends in abortion. Moreover, the number of abortions among urban women is twice as high as among rural women.
Forty-six perecent of the respondents who have been pregnant have had an abortion at some point in their lives; 20% have had an abortion once, 17% have had an abortion twice or three times. 36.9% of women who have had an abortion did so for the first time between the ages of 19 and 24, and 56% did so between the ages of 25 and 35. For the most part, the husbands had agreed to the abortions. The women claimed that after abortion, their psychological health was worse than their physical health.
The main reasons for an abortion are already having the desired number of children or wanting to have children later in life (36%); threat to the mother's health or life (22%); and financial hardship (21%). The fetus's gender was cited as the reason for 8% of the respondents, with 7% not wanting a girl and 1% not wanting a boy.
Despite the ratio of male to female newborns decreasing to 109 boys per 100 girls as of 2021 — an improvement — a child's gender remains a determining factor in abortions. The Human Rights Defender's report states that the sex of the child is especially decisive in terminating the third pregnancy. 
At-Home Abortions
According to Narine Beglaryan, coordinator of the Sexual and Reproductive Health Program of the UN Population Fund Armenia, studies indicate that in around 5.7% of abortions, women have carried out self-induced abortions at home with medication or other methods.
"At first glance, this indicator is not terrible, but it should be taken into account that the research is quantitative; that is, we form an idea about the general picture only through the answers given by the respondents," Beglaryan says. "It can be assumed that the 5.7% figure is not final or complete, but one thing is certain: this practice has dire consequences. If abortion is performed in a medical facility, by professional medical personnel, it is considered safe. At the same time, a 100% safe intervention in medicine doesn't exist; any intervention presents a risk."
Beglaryan cites data from the study "Prevalence of infertility among the population of the Republic of Armenia", according to which the infertility rate in Armenia is 16.8%. This indication exceeds the World Health Organization's reasonable upper limit (15%), and anything above that level raises concerns.
Beglarayan says that when talking about infertility and its causes, one should first distinguish between primary and secondary infertility. Primary infertility is when a woman has not conceived as a result of sexual intercourse for a period of 12 months or more. Secondary infertility is when couples have had at least one child in the past, but have not conceived in the last 12 or more months of regular, unprotected intercourse. In Armenia, 1.7% of respondents have primary, and 15.1% have secondary infertility.
"Compared to a similar study conducted in 2009, primary infertility has decreased, especially among women. In 2009, it constituted 5.7%; now it is 1.3%. Secondary infertility has increased to 13% from the previous 11.4%. Secondary infertility is more often caused by acquired issues, predominantly unsafe abortions not performed or supervised by a doctor," says Beglaryan.
According to the most recent study, while 54.4% of women wanted to have a child after an abortion, only 44.2% actually did so, or are now expecting. Sixty percent of respondents with secondary infertility reported having no children after having an abortion.