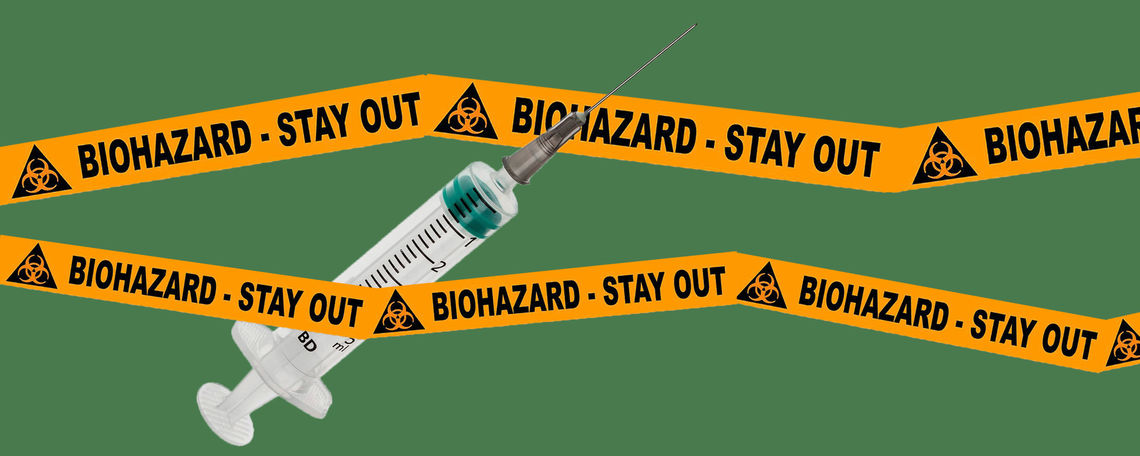 After the 1988 Spitak earthquake, when Armenia was receiving humanitarian aid from all over the world, large quantities of pharmaceuticals were donated. In fact, the amount was so large that several tons of pharmaceuticals and medical supplies simply expired without ever being used. Because Armenia did not have a medical waste destruction facility, safe disposal of these expired drugs was a major problem for almost two decades. It was only in 2013 that the Ministry of Health was able to destroy almost 30 tons of accumulated pharmaceutical waste.
Ten years have passed since the first company licensed to treat medical waste was established in Armenia, but whether the proper management of healthcare waste still remains an issue or how strictly the existing regulations are enforced remains unclear.
What is Medical Waste and How Should it be Treated?
According to its definition, medical waste is any kind of waste that contains infectious or potentially infectious materials and is generated as a result of diagnosis and treatment conducted in hospitals, polyclinics, dental and veterinary clinics, laboratories, and other healthcare facilities. The Ministry of Health's 2008 Order on "Hygienic and Epidemiological Requirements to Medical Waste Management" defines the sanitary rules and norms governing the entire process. The regulation is quite elaborate and sets the general criteria on how healthcare facilities are supposed to collect, store and handle their medical waste in order to minimize the risk that people exposed to it face.
Nune Bakunts, the Deputy Director of the National Center for Disease Control and Prevention believes that when speaking about medical waste it is important to realize that not all the waste generated in healthcare facilities should be treated as medical waste. In fact, about 80 percent of it does not differ substantially from waste produced at home or at any other large facility where people work. This mainly includes paper, food waste, or pharmaceutical packaging, all of which are considered as municipal waste and should be disposed as such. "The amount of medical waste is not as big as we might imagine," noted Bakunts.
According to the World Health Organization (WHO), the waste generated at healthcare facilities has to be separated at source, in accordance with the requirements of each type of waste to decrease the possibility of the spread of infections. As a result, the amount of medical waste constitutes between 15 to 20 percent of the generated waste.  Sharp medical equipment including syringes, needles, disposable scalpels and blades are among the most dangerous components, which if not properly managed may present a risk of exposure to infectious diseases or be used a second time. Since medical waste can include hazardous or infectious particles, which make the management process potentially dangerous, only licensed companies are authorized to work with it. The law on licensing defines the requirements companies must comply with to receive a license, which includes having the necessary expertise and technologies to safely handle medical waste. Currently, only two companies have such a license to treat medical waste in Armenia.
Who Collects the Waste?
Ekologia V.K.H. was the first company in Armenia to obtain a license back in 2009 for collecting, transporting, treating and disposing medical waste. According to the company's Deputy Director Zorik Qaramyan, it has the only medical waste destruction factory in the region with an advanced incinerator, which is entirely managed through a computerized system and requires minimum human intervention. The incinerator, which can reach up to 800C degrees, is equipped with multiple filters which guarantee that harmful emissions are substantially reduced and do not endanger the environment or people.
As of July 2019, the company has contracts with 160 healthcare facilities throughout Armenia and only two trucks with a storage capacity of up to two tons each to collect the medical waste generated at those facilities. To make sure that collection and transportation of waste is safe for everyone involved in the process, the company provides locked plastic containers to all the facilities it works with and then without opening collects containers back. "During three of the five working days, the trucks collect medical waste in the capital, while the two remaining days are spent in the regions," said Qaramyan. "And depending on the distance, sometimes the trucks would leave early in the morning or even a day earlier, to make sure that the required services are provided to all the contracted facilities." The frequency of their visits is in accordance with the 2008 decision, which states that during summer months medical waste has to be collected every two days, while during cold seasons every three days.
In case the factory has not managed to treat all the collected waste, it has a freezer with a storage capacity for 50 tons where it can be kept. Qaramyan, however, noted that the incinerator rarely operates with its full capacity because the amount of medical waste collected is substantially smaller than the incinerator is equipped to handle. On average, the factory treats between 15 to 18 tons of medical and pharmaceutical waste per month. For example, in April they treated 16.4 tons of medical and 207 kilograms of pharmaceutical waste; in May, the factory treated 18.87 tons of medical and 1.8 tons of pharmaceutical waste. Qaramyan thinks that healthcare facilities do not hand in their entire medical waste mainly because of the financial constraints (the treatment per kilogram costs from 500 to 1200 drams, depending on the amount of waste). He also complained that oftentimes payments are not made on time and that the company faces financial problems because of that.
After the medical waste is treated at the incinerator, the remaining residue does not contain any toxic or harmful components. Qaramyan even said that in some developed countries, the residue is used in agriculture as a fertilizer or as a construction material. "But we are not there yet," he added. The factory, which is located in the city of Echmiadzin has a contract with the waste management facility there, which regularly collects the residue in plastic containers and discards it in the landfill along with the municipal waste.
In 2010, Ecoprotect LLC became the second company to be licensed to treat medical waste in Armenia. Similar to Ekologia V.K.H., the company has one incineration plant located near the Nubarashen landfill and three trucks equipped with freezers which regularly collect medical waste from healthcare facilities in Yerevan as well as in some of the regions. Even though the director of the company Karen Janoyan refused to provide information about the number of facilities they have contracts with or the average amount of medical waste treated by them per month, he did say that the volume of medical waste being treated is not consistent with the amount that is being generated. According to Janoyan, the situation is especially serious with dental clinics, some of which, despite having a contract with the company do not submit their waste. Every six months Janoyan identifies the list of those healthcare facilities and eventually sends that list to the respective agencies of the Ministry of Nature Protection and Ministry of Health. Janoyan does not know what ministries do with that information or those facilities.
Speaking about the volume of their operations, Janoyan said that it is significantly less than what the incinerator is equipped to process. The major reason is, of course, the cost of treatment, which is an additional burden for those medical centers. As a result, it is possible that potentially biohazardous waste may end up with the municipal waste and become a reason for the spread of infectious diseases.
Because hospitals are the biggest generators of healthcare waste, five major medical centers in Yerevan and one in the region were contacted to understand how they manage their potentially hazardous waste in order to avoid any environmental and health risks. Three of the hospitals including Surb Grigor Lusavorich Medical Center, Armenia Medical Center, and Arabkir Medical Center did not respond to our written inquiries as well as failed to provide information via phone. According to the data provided by Surb Astvatsamayr Medical Center, on average, the hospital generates 550 kilograms of medical waste each month, which they hand in to Ecoprotect LLC for destruction twice a week. On average, Gyumri Medical Center disposed 1240 kilograms of medical waste each month, which the hospital hands to Ekologia V.K.H. every two or three days. Erebuni Medical Center, which did not provide any specific data, said that the amount of generated waste depends on the number of patients per month.
The existing regulations, however, allow for an alternative treatment of biomedical waste in an autoclave at the facility where it is generated. "It is practiced in smaller medical facilities, mainly polyclinics, where the number of people receiving services is small and the services themselves are not very complicated," explained Bakunts. The facility also has to be able to justify that handing its medical waste to a licensed company is not economically feasible. After autoclaving, which is a heat-based treatment, medical waste becomes sterilized and devoid of any possible pathogenic qualities it may once have carried and can be safely discarded with the municipal waste. According to Bakunts, autoclaving cannot be practiced in big hospitals or morgues, where the amount of medical waste is significantly larger and the waste itself is more diverse.
Prior to the establishment of licensed companies, hospitals would dispose their medical waste in a purpose-built on-site burial pit. "It was a common practice for hospitals to have a fenced area within their territory where medical waste would be dumped," said Bakunts. And since it was organic waste, some time after the pit was entirely closed, it would become compost. Burial in a special pit is still allowed in the existing regulations as another alternative to treatment by a licensed company but Bakunts said that it is not a practical alternative for medical facilities generating large amounts of waste. However, it is important to note that disposing medical waste in a burial pit can save significant resources for a healthcare facility, and whether this practice is being abused remains unclear.
Because of the existing alternatives to treating medical waste, it is very difficult to identify the number of medical facilities that should be required to hand in their generated medical waste to a licensed company for treatment. Any number should consider the possibility that smaller facilities may resort to alternative methods of treating their waste. According to the 2016 data of the National Statistical Service, the number of inpatient hospitals throughout Armenia is 129, while the number of polyclinics is 505. Bakunts assured that almost all the major hospitals, which provide regular treatment to patients have a contract with a licensed company.