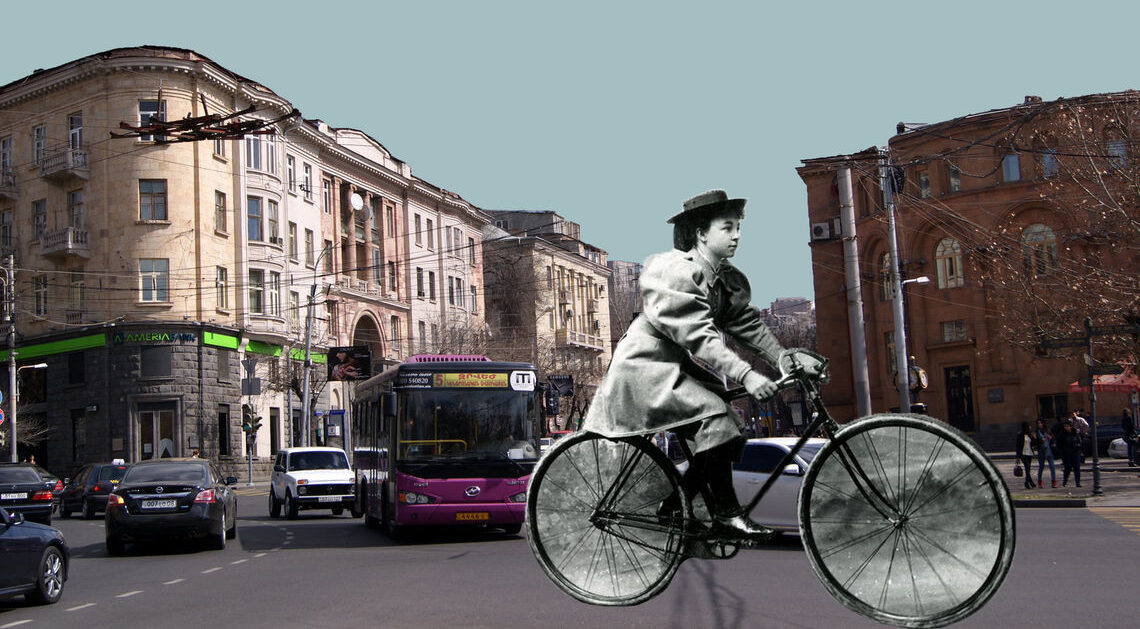 There have been some positive initiatives popping up in Yerevan to get more people on bicycles. Increasing the number of pedestrians and cyclists is crucial in the fight against rapid global warming and climate change, and as Yerevan's streets continue to become more congested with cars, it is imperative that bicycles and alternative modes of transportation, besides the automobile, take center stage. Yet how do women (and girls) come into play here?
Worldwide transportation methods and city planning tend to focus on the working male. Bus timetables and routes are geared to get people to and from work. Traditionally, these methods solely focused on the economic aspect, and more recently, the environment and sustainability have become significant considerations in planning. Yet these methods still do not consider other groups with non-traditional needs, mainly women, who rely on transportation outside of peak hours. Even bicycle lane designs do not account for women's needs. For the most part, these lanes have been designed by men, for men. This is evident in data across the world indicating that a vast majority of cyclists are male, while the population continues to be 50/50 male/female.
Transportation is a major factor in providing independence for city dwellers, and can help to create a "Right to the City" (RTTC) for the city's least represented populations. As economic geographer, David Harvey states, "The right to the city is far more than the individual liberty to access urban resources: it is a right to change ourselves by changing the city." Taking this further, Harvey explains that RTTC includes "a collective power to reshape the processes of urbanization." Making transportation more inclusive for the less represented, will allow them to participate more in decisions made about their city's future development. Bicycle transportation can create such freedoms for the under represented groups in Yerevan when it comes to city planning and city ownership.
History has shown us how bicycles gave women independence and paved the way toward independence. Many suffragette leaders used bikes to spread awareness about women's rights. Susan B. Anthony, one of the more famous suffragettes once said, referring to the bicycle, "I think it has done more to emancipate women than anything else in the world. It gives women a feeling of freedom and self-reliance." Bicycles additionally helped create major changes in women's attire. Amelia Bloomer, another famous suffragette, championed dress reform and created the "bloomer" – an 1800s women's trouser. She said that a woman in a long heavy skirt or dress could not ride a bicycle easily and thus switched to trousers. This helped slowly change the societal image of what is feminine. Bicycles have been instrumental in people's health as well, but not in the way you would imagine. Since the creation of the bicycle, female nurses and midwives used bikes to reach patients in large cities as well as remote villages.
While understanding the historical importance and benefits of bicycles in women's lives, why are less females riding bikes? Some major cities in the U.S. and Europe have conducted studies to understand this, and the main factor is safety. Overall, women do not feel safe riding their bicycles where there is heavy traffic. In the studies conducted, an overwhelming number of women, and a majority of men would prefer riding on protected bike lanes. Furthermore, in a field experiment conducted in Hennepin County, Minnesota, drivers drove closer to female cyclists than male cyclists. In some reports across the U.S. and Europe, female bicyclists have been touched or groped by drivers passing by.
Culture also plays a big role in why there are less female cyclists. In some cultures, cycling is seen as something masculine and not feminine. Furthermore, women are still expected to have a polished image in their daily lives. This creates yet another barrier for women who would like to try cycling to work, school or university, without worrying about their appearance and judgement from others. Cultural expectations can also create issues for men who would like to cycle as well. According to YerevanRide, a micro-mobility rental company based in Yerevan, 100% of participants who attend their biking workshops are women. Perhaps there are men who would like to gain knowledge on bike safety, yet due to the cultural norms, will not attend these workshops.
Women4Climate, a C40 Cities initiative helped conduct a study in an attempt to find solutions in increasing the number of women cycling in San Francisco. Some of their findings can be used in Yerevan as well:
Both male and female cyclists prefer protected bike lanes. These are cyclist only lanes that are protected by a line of parked cars, planters or posts. Some of the best cycling cities in the world increased the number of users when they introduced and implemented protected bike lanes. In Copenhagen for instance, 55% of the city's cyclists are women. In Amsterdam, there are 72,000 people cycling during rush hour alone, which is twice the number of cars on Amsterdam's streets.
Drivers must be educated on how to share the road with cyclists, especially if bike lanes are not protected. Yerevan should continue to hold workshops where people can learn how to ride a bike, and also how to ride around Yerevan safely.
Cycling is for everyone, no matter the gender, age or fitness level. This can be done in schools, at home, in television shows and movies, in advertising, etc. Women and girls (and any demographic outside of the norm) should know that biking is for them as well.
Forming partnerships with schools, employers, merchants, churches, museums, etc. to encourage the creation of bike parking or facilities to make it easier for people to bike to those locations without worrying where they would park their bikes.
Secured bike parking throughout Yerevan will turn out more cyclists because they will know that their bikes will be safely locked away.
Creating an infrastructure for cyclists and pedestrians also helps build the city's economy. When you walk or bike through a city, you get to know it better than when you drive through it. You get to see the small shops, boutiques, bookstores, restaurants and bakeries that you normally would drive drive past. This freedom of mobility helps smaller shops economically, especially when the difficulty of finding a car parking spot is taken out of the equation. Furthermore, as women make up 70-80 percent of consumer purchasing power, it would make economic sense to create better infrastructure focused on women.
By creating a better biking infrastructure, especially for women, Yerevan can be an example of how bike lanes can create a desirable city to live in, in a developing country. This infrastructure can also directly help Armenia to reach some of the 17 United Nations' Sustainable Development Goals as biking can help with: Goal 3 – Good Health and Well-being, Goal 5 – Gender Equality, Goal 8 – Decent Work and Economic Growth, Goal 10 – Reduced Inequalities, Goal 11 – Sustainable Cities and Communities, Goal 13 – Climate Action, Goal 15 – Life on Land, and Goal 17 – Partnerships for the Goals.
With the numerous benefits that cycling can provide to Yerevan and its citizens, the city should take this matter as a priority, and to seriously look into the planning and implementation of cycling lanes, especially protected ones, that are well connected.  
---
References:
Further Studies Not Directly Referenced: