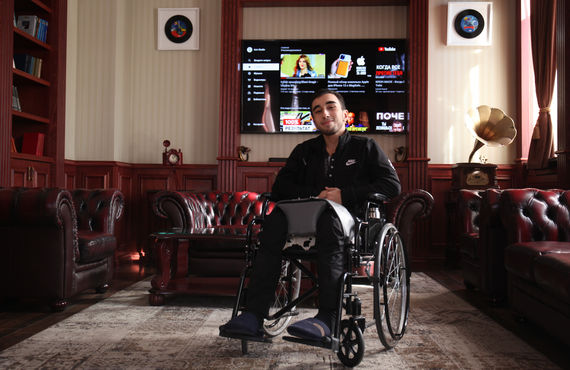 Manvel was injured on October 1 and after spending 85 days in a hospital in Yerevan is now completing his treatment at the Homeland Defender's Rehabilitation Center. 
"Sundays are peaceful for soldiers," says 18-year-old Manvel Hakobyan, adjusting the wheels of his wheelchair, recalling the last but not peaceful Sunday of his 38-day military service.
"Reveille is 30 minutes later on Sunday, at 7:00 instead of 6:30. That day is for personal time and general hygiene. On September 27, 2020, I had woken up early, as is my custom. I got washed and dressed… and then at 7:10 they began to fire. The first shell fell near our barracks, which was built in 2017. It was a new building, and I would have enjoyed spending my two years of service there. We then saw how bombs were going off near Yeghnikner. The countryside is so beautiful there. I did not have a chance to travel much and the landscapes were truly a revelation for me," Manvel recalls. "Our commanding officer immediately raised the alarm; we picked up our arms, bulletproof vests and helmets, and sat in the corridor. There was a window: they had told us to stay away from windows. They were firing shells in our direction – innumerable, countless. We joked that we had fewer bullets than they had shells."
A blast breaks the window, the shards of glass wounding several of the sheltering boys. After the injured had been transported to the infirmary, the rest sheltered in small groups for several hours in underground areas.
When Manvel and his fellow soldiers emerged from the shelter, they saw their barracks destroyed and the surrounding hills on fire. "Later on, after walking about 15 km through the mountains, we reached Karvachar from Mataghis. I tried not to talk on the phone but when they were calling from home, I was forced to answer and say, 'I'm alright' or 'we're watching a film and you're disturbing us.' I was saying that all was well, but a shell was exploding just 100 meters away. We weren't saying what was happening – continually tricking them so they wouldn't worry," he says, smiling, rubbing his forehead to hide his eyes betraying fathomless pain.
After moving to Russia with his family at the age of 15, Manvel had returned to Armenia last year on August 19 and was drafted into the army to serve in Mataghis, Artsakh. He said that they knew an impending war was on the horizon: "They were preparing us periodically. They said it was an alarming situation. They had even divided us into groups as to who should go where in case of a war. I was to be a senior rifleman; however, the war began, as always, in the most unexpected and brutal way. We thought there would be shooting; we would be able to get organized. However, the air force suddenly began to operate and all our plans evaporated."
Manvel was injured on October 1.
"We were sitting in our bunker when three shells fell, one of them very close. The shrapnel killed two of my friends, and damaged my spine," Manvel says. "The guys dragged me out of the bunker and took me to the hospital in Stepanakert, from where they brought me to Yerevan."
Manvel spent 85 days in a hospital in Yerevan and was then moved to the Homeland Defender's Rehabilitation Center on December 27. This is where we meet Manvel, sitting in a corner of a bright spacious room with picture windows, changing the channels on the television.  He smiles as he greets us.
"When I was injured, I thought to myself that even if I survived, they would amputate my legs, so it would be best if I didn't live. But my attitude to life changed in this center," Manvels says. "[It] has become a very important place in my life. Many have been able to get back on their feet again here after being seriously injured, and that is extremely motivating. Boys have been brought here who have been in our situation and it helps you understand that everything will be alright; it's simply a matter of time. Time and work." Manvel has only had a few rehab sessions so far, but after some time, his treatment will intensify.
Manvel is receiving in-patient treatment and all of his needs are and will be taken care of by the center for the duration of his stay. Along with his treatment, he is also taking part in English and math classes. "I wanted to become a psychologist. I have to work toward that in the future, but meanwhile a psychologist is working with me here," Manvel says. "I spoke to the psychologist just a short while ago, spoke about all my anxieties, and I feel much lighter."
Soldier's House of Hope
Soldier's House (Zinvori Tun, in Armenian): This is what they call the Homeland Defender's Rehabilitation Center, which was created around three years ago. In that time, for hundreds of disabled servicemen, it has become a house of hope on the road to recovery.
The history of the Center begins with the coming together of several individuals. The current director of the Center, journalist Haykuhi Minasyan, decided to establish the "Support for Wounded Soldiers and Soldiers with Disabilities" NGO in 2014 after periodically reporting on the issues that servicemen with disabilities have to deal with.
In the summer of 2016, members of the NGO were visiting one of the remote villages of Armenia to see soldiers in need of assistance and medical intervention. Armen Muradyan, the Minister of Health at the time and the current rector of Yerevan State Medical University (YSMU), joined the team. When they saw 20-year-old Shiraz Amirkhanyan, who had received a serious firearm injury a year earlier, they immediately took him to Yerevan for treatment.
In the hospital, in parallel with Amirkhanyan's treatment, kinesiologists Davit Paryan and Davit Arsenyan got to work. After the 2016 Four Day April War, the Davit duo had begun going from hospital to hospital as volunteers, trying to restore the mobility of injured servicemen.
During this time, the members of the "Support for Wounded Soldiers and Soldiers with Disabilities" NGO continued to reach out to disabled servicemen. In 2018, the Homeland Defender's Rehabilitation Center was finally founded with the cooperation of the organization, the YSMU, the Ministry of Defence and the team of volunteer kinesiologists dealing with the recovery of servicemen, with donations from Armenia and the diaspora.
"Thus, the State entered the home of disabled soldiers for the first time. Many were absolutely astonished because for many years no one had remembered them, no one had asked about them. There were servicemen with disabilities who needed to be moved to Yerevan and, because the Center did not have a facility, they rented space in the Mikayelyan hospital where our specialists worked. However, it was not well equipped and the conditions were not favorable. The time had come to think about having a Center worthy of servicemen with disabilities," says Saten Mikayelyan, head of the Center's media and public relations department.
One of the buildings of Heratsi No 1 University Hospital – the first city hospital in Yerevan, built in 1914 – was eventually chosen as the location for the Center. However, it was run-down, and fundraising was needed for the reconstruction of the building. The first sum was collected by the soldiers themselves, by making and selling greetings cards.
A short time later, the completely renovated and furnished center was equipped with specialized state-of-the-art equipment, offering over 60 different services and becoming the only such facility in the region. In two years, the Center has helped over 3,000 servicemen with disabilities free of charge. Before the 2020 Artsakh War, there were 9,000 disabled servicemen in Armenia. However, this number has now doubled. Unofficial calculations put the number of injured at around 8,000.
The war was a test for the specialists of the Center, who from the first days of the war were visiting hospitals to begin the process of rehabilitation.
The Center's chief physician, Lusine Poghosyan, says rehabilitation begins immediately after injury, once the patient's condition stabilizes:
"We worked in intensive care units from the first day of the war. There are boys who are still in hospital in grave condition. Our Center's physiotherapists are assigned to and work with the boys, and our nurses also visit those units and provide special rehabilitative care, such as skin care, hygiene, positioning of lungs to prevent pneumonia and so on. When they are in a fight for life or death, it is of course pointless to talk about rehabilitative treatment. But after hemodynamic stability is achieved, we don't wait for them to regain consciousness; we start immediately at that stage. If we do not act right at the beginning, complications will set in. A physiatrist assesses the situation and starts to prevent developing problems."
Poghosyan says that each patient's treatment program is developed individually depending on age, problems and secondary diseases, the scale and depth of the injury, and so on. It is difficult to say how productive the treatments are, but if for example there is no intervention at all, this problem results in first degree disability while, after intervention, it may become only third degree or there may even be no permanent disability whatsoever.
"A patient must not be left without further supervision, even after the most successful surgery. A patient must not be told to just go home and find exercises on the Internet for themselves, do them, and everything will be alright. Only a specialist knows how they should work at any given stage. Being left to one's own devices without supervision usually leads to complaints, poor results or the absence of any results," the doctor points out.
The Center has served over 300 injured soldiers from the start of the war. After graduating from the Vazgen Sargsyan Military University in 2016, Harut Davtyan, 26, from Goris continued his service in Jrakan (Jabrayil) in Artsakh. He was injured by shrapnel on the third day.
"I liked my work as a soldier, the order and discipline, command, and was impatient to serve. I had seen tensions on the border in 2014 and the 2016 April War, but this was something else; everything started abruptly," says Davtyan.
After being injured on September 28, he was first taken to the hospital in Stepanakert, where he underwent surgery. From there, he was transported to one of the hospitals in Yerevan. After 46 days, he was brought to the Center with weakness on his right side and impairment in his vision and speech. After about a month of treatment, the young man's speech, vision and gait were rectified.
"The Center gave me strength and the will to recover. After my injury, it felt as if my life had ended, but everything changed when I came here. Now I'm waiting to recover completely so I can go home to Goris. I am learning programming here, and I hope to be able to work in that sphere," says Davtyan.
Besides dealing with the immediate health issues of the injured, the complete rehabilitation process also deals with social integration, education and employment.
"They must become the most competitive," Saten Mikayelyan stresses. "When their physical condition permits it, first we offer them basic education in English, mathematics, computer science, etc. After that, we try to understand which area they would like to work in by providing professional orientation services. Sometimes, they have a profession and wish to continue it. And sometimes their physical condition won't allow them to do so, or they decide to change their career. We try to understand the needs of the job market together with employers and, taking individual qualities into account, carry out the training process."
Over ten servicemen with disabilities have been hired directly from the Center.
"If the conditions in the workplace are not adequate, we also solve that issue. The improvement of living conditions is also part of social integration. For example, if they are from rural communities, the individual cannot use their wheelchair in wooden outdoor toilets. So, we also try to improve their living conditions before they leave the hospital," says Mikayelyan, adding that they also provide walkers, wheelchairs, medicine and so on, if necessary.
The Center has also helped Shiraz Amirkhanyan learn a new profession, and assisted in his employment. "I studied programming here for some time and studied English. The Center mediated my being hired. Having a job was absolutely vital for me," he says.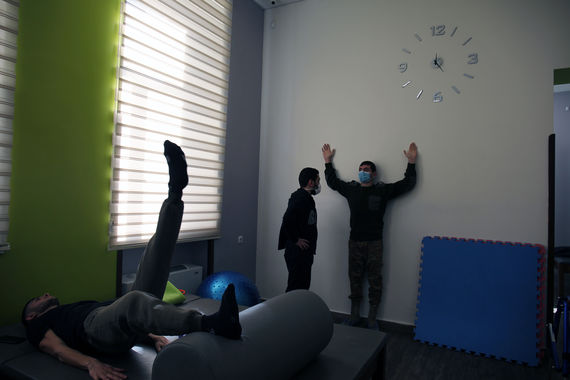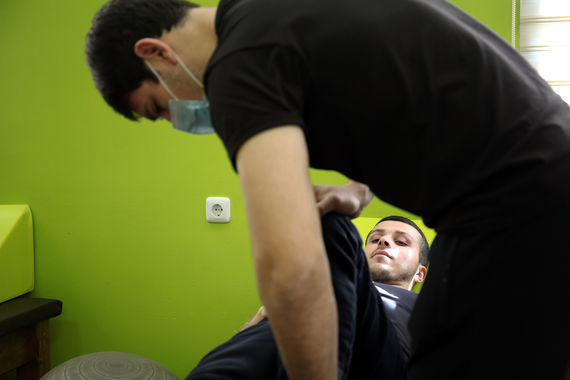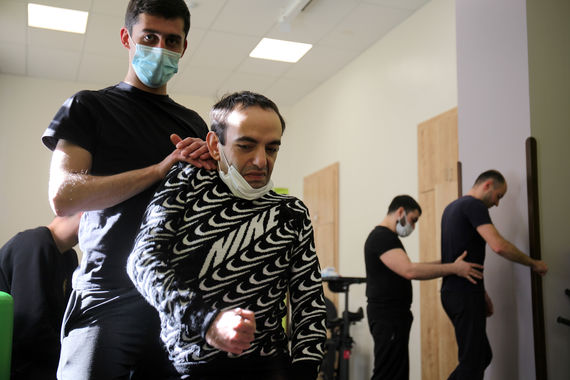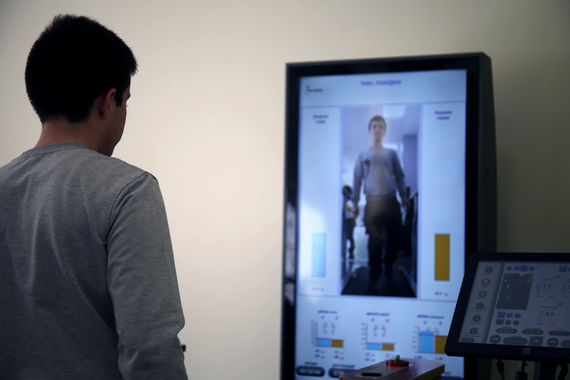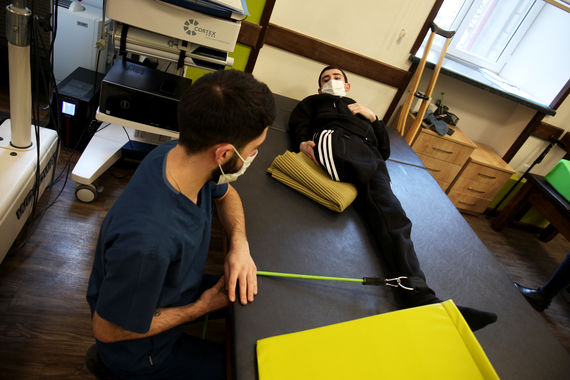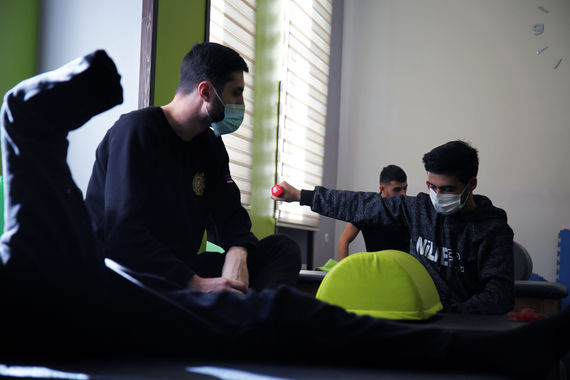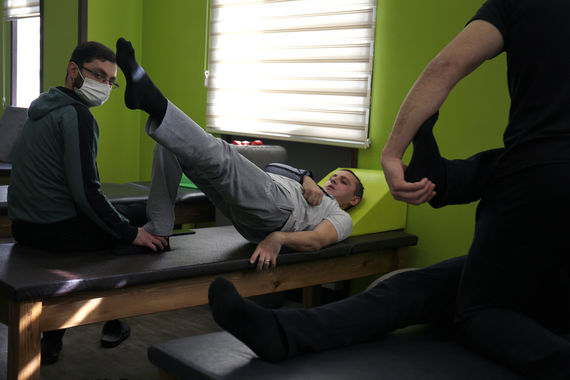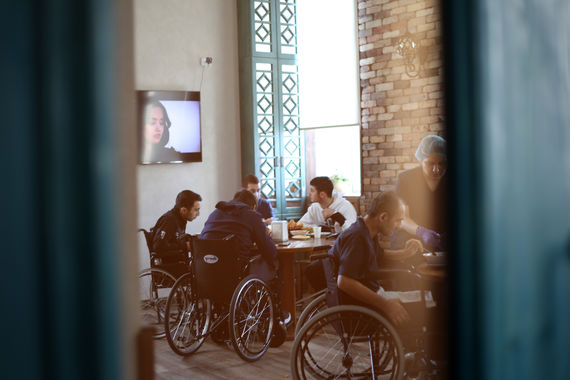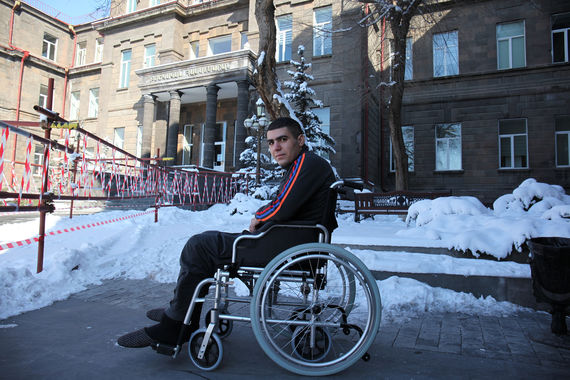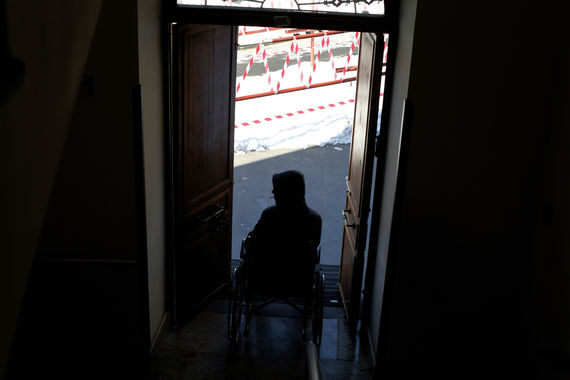 Yervand Muradyan, 34, was on the gait correction device during our visit. He had served as a military scout in Artsakh from 2002-2006 and was called to the frontline at the start of the war. "They can observe and correct the gait using 3D cameras. The procedure takes 30 minutes," he says after finishing his exercise.
"During the war, the most horrific things were taking place, which are impossible to imagine, even in your most brutal nightmare. Where I was, they either did not return or returned in the most horrific condition," Yervand says, displaying his burnt hand, and his leg, injured by shrapnel.
The Center has been treating Muradyan since January 11. Since he can walk independently, he will continue his treatment as an out-patient with planned visits. Even after a few visits, a distinct improvement in his health is already noticeable.
"I always had a feeling of repulsion when I passed this building. I thought it was an unpleasant, black structure. I didn't know that there was such a center inside. Moreover, I could not have imagined that I would end up here and that there is such a positive environment; the specialists are extremely professional and their approach is so warm. Everything is so clean and tidy. I have to go for hand exercises now. They torture us terribly there, but after just a few days I can already move my fingers," Muradyan says with a smile.
The Center is also a hub of education. The specialists are constantly being retrained, sharing their experience with beginners and training new specialists. Additionally, a Department of Rehabilitative Treatment is envisioned to be set up at YSMU.
Because of the COVID-19 pandemic, the Center has strict rules. Visits by friends and family members, including visiting hours, are limited. Thanks to their diligence, not a single case of the virus has been registered in the Center.
Those escorting the soldiers wait in the spacious waiting rooms on the first floor. Sargis Muradyan is the uncle of 26-year-old soldier Tigran Antonyan, and accompanies the young man to the center to participate in kinesiotherapy courses. Antonyan was on the front line near Karvachar from the second day of the war, where he received a shrapnel wound to his head.
"At first, Tigran was in hospital for more than a month. Then they transferred him here," Muradyan says. "We knew about this center for a long time. We had heard that the best specialists are here, and now we are convinced that everything is done according to the highest standards. Due to the injury, Tigran's left side has weakened, but there is already positive progress; we see the change after every visit."
Saten Mikaelyan says that both before and after the war, many people realize that addressing the health problems of servicemen with disabilities is one of the most important issues, and continue to support the existence of the Center.
"There is always the need for funding. Unfortunately, the number of servicemen with disabilities is very high at the moment, and all of them need to be attended to," says Mikaelyan.
Of course, it would be wonderful if not only the benefactors but also the State thought about the recovery of the defenders of the homeland. And yet, while the Center has applied for state funding many times, it has yet to be approved.
Meanwhile, work in the Center – located in this historic building – is in full swing. Their ongoing work is an expression of gratitude to the boys who were there for us when we needed them, to whom we all owe a debt that can never be fully repaid.