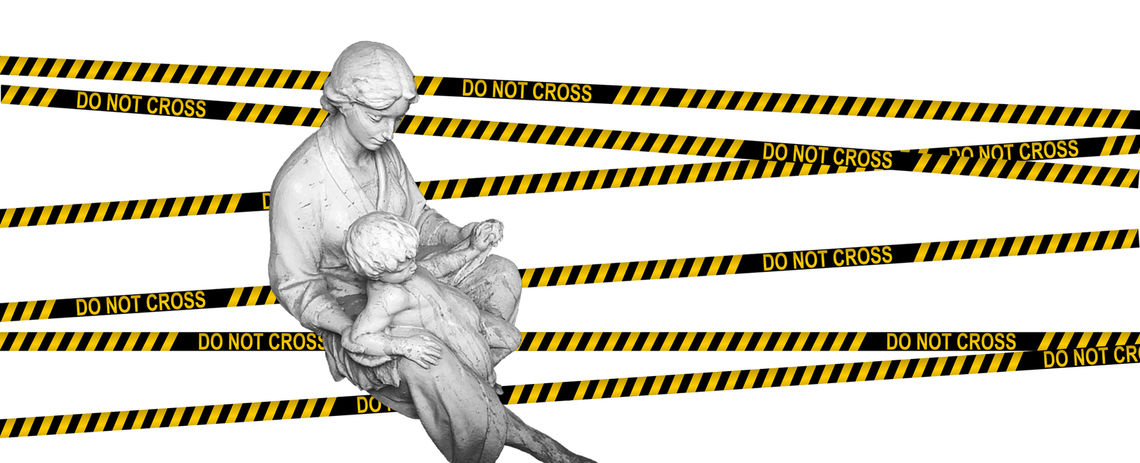 Narine: Six Years in Hell Searching For Her Son
With her wheat-colored hair, gray eyes and gentle smile Narine relays her story. It is a story you can't fabricate or retell because it is more horrific than you can ever imagine. Restrained, naive, honest…she brings her long fingers to her cheeks and wipes away the tears. She takes out a picture of her six-year-old son. She has only ever seen him once in the maternity ward.
"I often look at this picture, because it is the only thing I have of him. I saw him once from a distance when he was four years old. I wanted to go up to him and tell him that I am his mother, but I was suddenly overcome with fear. I thought my child would be scared, he would think I was crazy. Even now, I sometimes think that he would have difficulty adjusting to a new life with me. Sometimes it feels like I will lose my mind consumed as I am with these thoughts," Narine says.
Born into a disadvantaged family, Narine was the third daughter of parents who were hearing impaired; she was a most unexpected child. During her school years, the whole family's burden was on her shoulders; she cared for her parents and her older sister's children, whom she loved more than life itself. Even under these conditions, Narine was the pride of her teachers and also of their regret because she was often absent.
Years later, already a young woman, she had "issues" with her sister's husband that resulted in her parents kicking her out of the house. She doesn't want to talk about the reasons, she simply cries. That story was the beginning of Narine's nightmare and a life that was a chain of endless trials, one, which she believed, could only have ended with a miracle.
The birth of her son was supposed to be the miracle.
"When I met my son's father, I immediately fell in love. He was very attentive and caring. No one had ever treated me like that. Years earlier, I had health issues, so I had gone to see a doctor. At the time, the doctor's diagnosis had finally broken me. After a number of tests, he told me that I would never bear a child," Narine recalls.
Narine, however, decided to not give up. After years of treatment, she developed a close relationship with her doctor and his wife. After six years of struggle, Narine had lost all hope, when a miracle happened.
"I hadn't been feeling well for months. Finally, I overcame my fear and went to the hospital. I was sure I had a tumor. During the examination, the doctor said that I didn't have a tumor, I was pregnant. It was the happiest day of my life. I wasn't scared for a second. I didn't think that I couldn't keep the baby, although I knew that I could only place hope on myself. My parents were alcoholics, I didn't want to have any connection with my sisters, and my baby's father already had a family," Narine says.
That night, Narine told her unborn child's father. He placed money on the small dining table and left, giving her an ultimatum – either him or the baby.
"The following day I went to the Repulican hospital to terminate my pregnancy. In the waiting room, something unexpected happened to me. I could feel my baby moving and shrinking in fear, as if begging me not to kill it. I quickly collected my belongings and ran out of the hospital," Narine says.
Losing the support of her baby's father, her pregnancy clearly showing, and working as a maid left Narine with little choice. She succumbed and asked her parents for refuge. But two weeks of hunger, physical and psychological abuse was enough for Narine to escape from her family.
"I had gone to my regular appointment with the doctor. I was sad. I told him that I didn't have anywhere to live. He said that he had acquaintances who had an apartment outside of the city and were looking for someone to take care of it. He said I could live there for free and take care of it. Having run out of options, I agreed. The first time I entered that home and saw the owner, I immediately had a bad feeling. The elderly man was standing in front of a picture hung on the wall of the empty apartment. I later found out that it was a photo of his dead younger brother," Narine explains.
During the last months of her pregnancy, the owner of the apartment would often visit Narine, sometimes accompanied by his relatives. Narine's pregnancy was difficult, her visits to the doctor often. Toward the end of her pregnancy, a routine visit had an unexpected ending. After taking what she thought was a vitamin, the doctor told her to lie down for a few hours. After a while, Narine's labor pains began.
"Suddenly, the doctor said that my labor had begun, but he could not deliver the baby, he was too busy. He said that he would accompany me to the 8th hospital, he had already made arrangements. I was scared because I knew it was too soon, that it would be a complicated delivery and he had been my doctor throughout the pregnancy. He started yelling at me, saying that I was ungrateful, that he had done so much for me and that I was doubting his decisions. He then told me that when I got to the hospital, where no one knew me, I shouldn't say that the baby didn't have a father, that they would treat me like an immoral woman. He said that I should tell them that the father was his acquaintance, the owner of the apartment I was staying in. He had already prepared a suitcase with everything necessary for the birth," Narine recalled.
After she delivered, they never brought the infant to Narine. The nurse said that the baby was born dead. When Narine insisted on seeing her child, they brought a healthy baby boy to her and announced that there had been a mistake.
After that, everything seemed to be in a fog – the delivery, postpartum depression, the constant medication she was forced to take, the pain, the almost unconscious state. Upon her release from the hospital, they brought three documents for Narine, she signed them all. She only read the first one. The other two according to the doctor were simply copies of the first. It later became clear that one of them was a document stating that she had given up parental rights to the child.
"On the day of my release, I was holding my baby as I left the hospital. Waiting for me in the car, was the owner of the apartment I had been staying in and his female relative. I felt that something wasn't right. I was terrified, but I couldn't understand why. I could barely walk, I was very weak. I don't know what kind of pills they had been giving me. As I approached the car, the woman sitting in the car suggested that she hold my baby, so I can get in. As soon as I handed her the baby, they sped away. I collapsed to the ground. I tried to get up, to scream for help, but I couldn't make a sound. I thought I was screaming, but not a sound was coming out. My doctor said that nothing had happened, they had simply taken the baby home. Sadly, that wasn't the case," Narine says.
For the last six years, Narine has been fighting in the courts to reinstate her rights as the mother of her child.
The man, who kidnapped Narine's son, was given parental rights as the father of the child, based on the documents that she had been deceived into signing. Thus, this is how it is possible for a stranger to be declared the legal father of a child in Armenia.
The Victims: Who Are They?
Narine is not the only woman who has found herself in this situation. Experience has shown that women like her – alone, vulnerable – and even families, who have socioeconomic or psychological issues, after the birth of their child, often become victims of such a practice, especially if the child is born with a disability. They tend to give up their babies mainly in institutions, maternity wards, hospitals, where their vulnerability is preyed upon.
The circumstances of a woman being single, the "secret births" or poverty often serve as a basis to believe that these people will never be able to prove the crime happened, to protect their rights or be heard by the public.
Mothers of children with a disability are more vulnerable. They are coerced to give up their child not only by medical staff in hospitals, but also by their own families.
Armenia: A Country Where Children Are Not Sold? 
In Armenia there is the misconception that we are a child-loving, child-centric society. If there are issues or problems involving children, the practice is to turn a blind eye, to not speak about them. Other than ignoring issues, there are plenty of legal loopholes.
According to police data, from 2015-2018 there have only been two reports of child trafficking, both in 2018. A criminal case was never launched in the first case, in the second instance, the case was terminated.
In 2013, the regional police department of the Lori region arrested a group involved in child trafficking. Three members of the group were convicted. According to article 168 of Armenia's Criminal Code – payment in return for getting custody of a child or receiving payment in return for granting custody of a child – is punishable by four to eight years imprisonment.
In 2011, the prosecution of crimes committed against the interests of the family and the child were studied and analyzed for the first time in Armenia. According to the study, medical staff in maternity wards are often complicit or even if they are not directly involved, they are aware of such crimes. Quite often, the sale and purchase of a child is "legalized" by establishing paternity through the registration of civil acts.
Revelations: How and Why? 
On November 14, 2019, it was revealed that between 2016-2018 there were 30 cases of illegal child adoptions in Armenia, in other words, child trafficking. The news was officially reported by the National Security Service of Armenia.
These cases, however, were first reported to the Ministry of Labor and Social Affairs of Armenia, which in turn sent the documents as evidence to law enforcement for further investigation.
The first suspicions arose when statistical data pertaining to the process of adoption presented by different state agencies had significant discrepancies. The disparity in the numbers were in the dozens. Numbers, behind which are children.
Additionally, the Ministry had received numerous reports that Armenian citizens who wanted to adopt a child, couldn't do so, while there had been no significant change in the number of foreign citizens adopting children from Armenia in recent years.
According to the "Manuk" information system, 52 children were adopted by Armenian citizens in 2008, of whom three had a disability. In 2009, 47 children were adopted; 73 in 2010; 65 in 2011, and 42 in 2012. Not a single child with a disability was adopted by Armenian citizens in this time period. In 2013, 34 children were adopted (two with a disability); in 2014, 35 were adopted of whom only one had a disability. In 2015, 49 children were adopted by Armenian citizens; in 2016, 36; in 2017, 28; in 2018, 23 and in 2019 only 11 children. Among the adoptions in this time period (2015-2019), not a single child with a disability was adopted.
For the same time period, the data on foreign adoptions shows a different picture. In 2008, 96 children were adopted from Armenia by foreign citizens, including 18 children with disabilities; 58 in 2009, including nine with a disability. In 2010, 66 children were adopted, 59 in 2011, and 41 in 2012. In these three years, 33 children with disabilities were adopted by foreign nationals – 11 children per year. Four of the 44 children adopted by foreigners in 2013 had disabilities; ten of the 27 children adopted in 2014 had disabilities; 13 of the 56 in 2015; 11 of the 41 in 2016. In 2017, 29 children were sent to other countries, nine of whom had disabilities; in 2018, of the 25 foreign adoptions, 10 of the children had disabilities; in 2019, five of the eight children adopted by foreigners had disabilities.
These numbers are telling: Only six of the 495 children adopted by Armenian citizens in the last 11 years had a disability, while 122 of the 550 children adopted by foreign nationals from Armenia had disability.
Looking at these numbers, it becomes clear that people living in Armenia are not willing to adopt children with a disability, while foreigners are more than willing despite the law giving adoption priority to Armenian citizens.
The law mandates that the information available on the "Manuk" information system about children put up for adoption must first be available to Armenian citizens who want to become adoptive parents and only after three months, when no Armenian citizen has taken an interest in the child, does the information becomes available to foreign nationals.
The process of foreign adoption falls under the jurisdiction of the Ministry of Justice. After the completion of the adoption process, the supervision of these children is carried out by representatives of Armenian embassies in the corresponding countries.
The authenticity of the paperwork regarding the "health condition" of the children also gave cause for suspicion in this latest revelation. Armenia's Investigative Committee revealed that there had been breaches in this regard as well. Given the fact that Armenian citizens are unwilling to take on the care of a child with a disability, nonexistent health issues were added to the personal files of children who were up for adoption, making them "less attractive" for local adoption.
Within the scope of the criminal case, the director of the Republican Maternity Hospital Razmik Abrahamyan, who was also the head Obstetrician and Gynecologist of Armenia for years, the deputy director of the same hospital Arshak Jerjeryan and the director for the last 23 years of the Yerevan Mankan Tun Orphanage, a State Non-Commercial Organization, Liana Karapetyan were arrested. They are accused of conspiring with a group of others in illegally separating children from their parents, swapping children and forging official documents.
Armenia's police also issued an official announcement regarding the cases of illegal adoption in the country. In contrast to the statement by the National Security Service announcement, the police noted the possible complicity of certain orphanages and their directors in the process.
Adoptions from orphanages between 2016-2018 show the following picture. In 2016, 30 children were adopted from Yerevan Mankan Tun Orphanage by foreigners, four by locals. The same year, five children were adopted from the Gyumri Children's Home, all by foreigners. Four children were adopted from the Missionaries of Charity organization and the Marie Izmirlian Children's Home in 2016, (two from each), all by foreigners. Two children were adopted from the Vanadzor Orphanage and five from the Our Lady of Armenia Center, all by locals.
In 2017, foreigners adopted 21 children from the Yerevan Mankan Tun Orphanage, locals adopted 12. One child was adopted locally from the Vanadzor Orphanage. One child was adopted from the Gyumri Children's Home, three from the Missionaries of Charity organization, two from the Our Lady of Armenia Center, all by foreigners.
In 2018, foreigners adopted 17 children from the Yerevan Mankan Tun Orphanage, locals adopted 12. Two children each from the Gyumri Children's Home and Mari Izmirlian Children's Home and one child each from the Gavar Orphanage, Missionaries of Charity organization and Our Lady of Armenia Center, all of them by foreigners.
It is worth noting, that the cases under investigation pertain only to the previous three years. It's hard to imagine what took place with adoptions before this time period.
Why Now?
Mushegh Hovsepyan, assistant to the Minister of Labor and Social Affairs, whose active involvement made it possible to detect and reveal these cases, notes that alarms were raised at the highest levels years ago.
From May 12-19, 2015, the UN Special Rapporteur on the sale of children, child prostitution and child pornography Maud de Boer-Buquicchio was in Armenia. At the end of her visit, the Special Rapporteur, putting aside any unnecessary political correctness noted, "Irregularities committed in adoption processes, which can amount to sale of children for the purpose of illegal adoption, continue to be a major concern in the country."
The statement also noted that "adoption, particularly interstate adoption, must be a measure of last resort."
During her visit, Boer-Buquicchio met with Justice Minister Hovhannes Manukyan, Deputy Justice Minister Arman Tatoyan, head of the Agency for the Registration of Civil Acts Argam Stepanyan, Minister of Territorial Administration and Emergency Situations Armen Yeritsyan, Deputy Minister of Labor and Social Affairs Filaret Berikyan, Deputy Minister of Foreign Affairs Ashot Hovakimyan, Members of Parliament Margarit Yesayan and Edmon Marukyan, General Prosecutor Gevorg Kostanyan and a number of other officials and representatives of civil society.
Several other facts about adoptions were also noted following the Rapporteur's visit: "Despite the decline, the Special Report notes that the number of international adoptions continues to remain high, compared to the number of adoptions by locals (although reliable numbers is a serious issue). Statistics regarding adoptions in Armenia are often contradictory and deficient, something which leads to contradictory conclusions."
"Although the number of Armenian citizens interested in adoption is quite significant, applicants have difficulty because of the absence of available information about the adoption process, insufficient understanding of the process and the absence of information about children who are eligible for adoption," says Mushegh Hovsepyan.
The Special Rapporteur also said: "Adoptions must be governed by the best interest of the child, instead of the prospective adoptive parents." Moreover, international adoptions must be considered for those children who cannot benefit from national care and protection measures.
Nevertheless, the existing financial transactions in the international adoption process illustrate that the protection of the interests of the child is not a priority, which is a problem that Armenia and relevant receiving countries must resolve immediately (see UN Convention on the Rights of the Child, paragraphs 18 & 19). Financial transactions made by foreign organizations working in Armenia must become more transparent and the authorities of the host countries are obligated to require their accredited organizations to comply with this requirement.
"The Special Rapporteur also urged the government create monitoring mechanisms, to minimize the risk of adoption through establishing procedures and organizations. Efficient monitoring for adoption processes is necessary so that adoptions are not realized with improper motives, violating international norms and criteria of human rights," Hovsepyan says.
What Comes Next?
Months before the scandalous revelations of illegal child adoptions, discussions had taken place with the Prime Minister of Armenia. Through a decree issued by his office, a working group was created in August 2019 to work toward improving the adoption process. Law enforcement agencies and representatives of relevant government agencies were also included in the working group. This body was tasked with looking at the legislative gaps that have created the conditions allowing for the illegal adoption of children in Armenia and create mechanisms to mitigate such cases in the future.
The Ministry of Labor and Social Affairs is also considering changing the "Child Adoption Procedure" which contains multiple risks.
As to what happens with the disclosed cases, well, the question of returning these children is not currently being discussed. Adoptions can be nullified only if it can be proven that the adoptive parents were complicit in the adoption process.
Narine: A Glimmer of Hope
The six-year-long lawsuit has been yet another journey through Narine's hell. This year, finally, the court accepted her lawyer's request to conduct a DNA examination. Narine is certain that the court will be influenced once it is revealed that the man who kidnapped her son has no blood relation to him.
Narine is already looking for schools for her son. She is confident that all her fears and doubts will disappear when her son finally calls her "mama."

When parents have a child born with a disability, it is usually healthcare professionals who often apply social pressure on them to reject their baby. This White Paper argues in favor of targeted intervention, that is, retraining medical staff, among other things, about their responsibility to communicate with parents professionally and without bias.
Read more

A child's right to family life is enshrined in Armenian and international legal documents and considered a priority in Armenia's 2017-2021 Strategic Plan on the Protection of the Rights of the Child. Here is EVN Report's White Paper about specialized foster care for children with disabilities.
Read more
This project is funded by the UK Government's Conflict, Stability and Security Fund.
The opinions expressed are those of the author and do not necessarily reflect the official position of the UK Government.