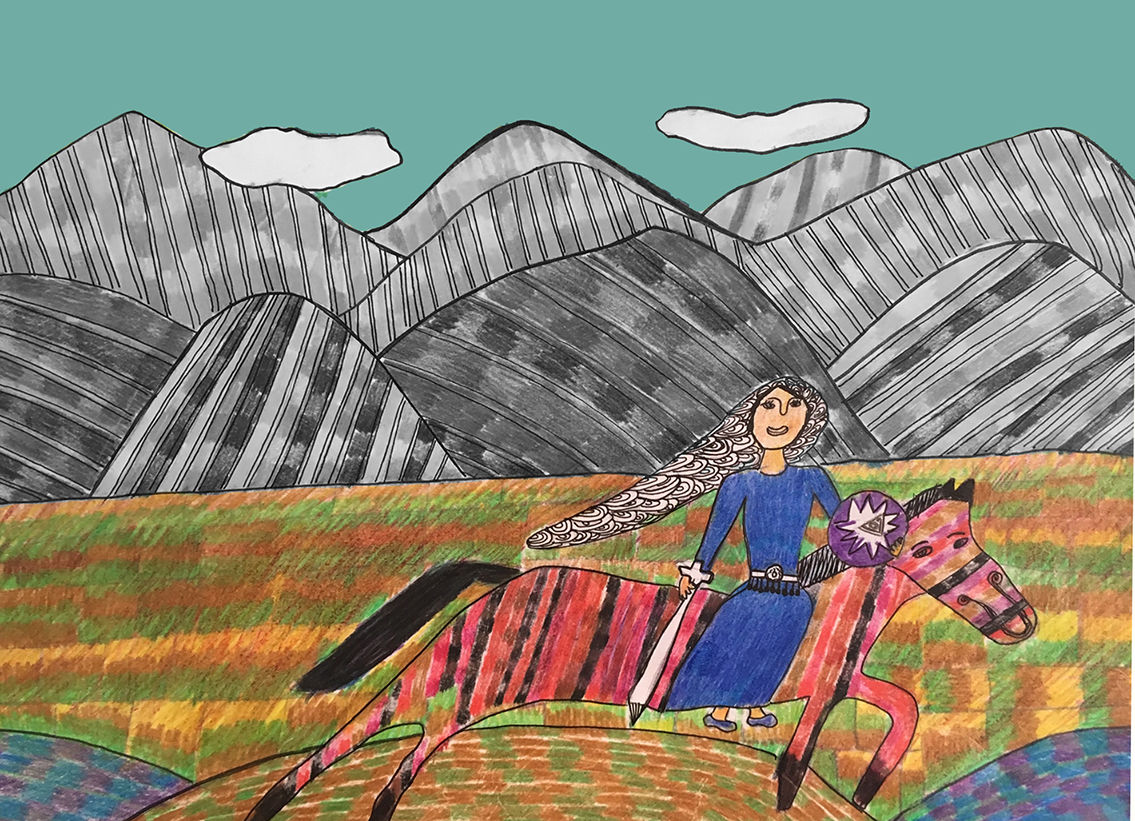 Image courtesy of the SOS Children's Village, Kotayk, Armenia. 
"My husband told me our child had died, that he did not survive the surgery," recalls A.M. "Several days later I discovered that our son was born with a disability and they were taking him to an orphanage because my husband did not want another child with a disability."
Although several months have passed since she gave birth, A.M. still gets emotional. She squeezes her son closer to her chest as if to apologize for having had to "abandon" him for several days.
A.M. was torn. On the one side was the man she loved, on the other, her two children. However, her decision wasn't long in coming. "How could I abandon my child? How could I leave him so helpless and continue to live my life peacefully?" she asks.
At only 27, A.M. has a 2.5-year-old daughter with Down syndrome and now, an 11-month-old son with congenital hernia of the spine. She says that both her pregnancies were stressful. She didn't eat properly, never took prenatal vitamins and worked in labor-intensive jobs. When she found out about the "death" of her son and then discovered the truth, she was shocked.
"My child was still in the hospital when the medical staff contacted the volunteers at Bari Mama and informed them that they had an abandoned child no one wanted to take care of," recalls A.M. "The volunteers were able to find and contact me. They said, 'We are by your side and will help you with anything, take your child home.'"
A.M. dug down deep and found the strength to keep her family together. However, because her husband refused to stay with her and the children, she was forced to move to Bari Mama's shelter. "We've been here now for six months," she says. "It's true, my husband and I have reconciled, however, I don't know what the future holds. What's important now are my children and that I am with them."
Bariner (the Kind Ones)
Armenia has moved to deinstitutionalize orphanages and place abandoned children into family-based care. A group of mothers, who call themselves the "bariner" (kind ones) have decided to stand by the state as it embarks on this path. Bari Mama, which translates to kind mothers, is what the NGO is called. Their aim is to prevent the practice of abandoning newborns because of their disabilities, supporting children with disabilities residing in orphanages, and fostering the reunification of children with their biological families. They also support those mothers who have children with disabilities and are left on the streets.
How did this group of mothers come together? In December 2014, they found out about a child who had been abandoned in hospital through a popular closed Facebook group called Armenian Parents Corner. One of the group members, a new mother who had just given birth and was still in hospital, wrote that around midnight a newborn in the room next to hers who was born without hands and one leg. The parents had abandoned him. She wrote the child was constantly crying and needed milk, diapers and clothing.
Several group members, all mothers, decided to go to the hospital in the middle of the night.
"I had just had my second child. I remember it was a cold night. A few of us mothers went to the hospital. We brought what we had," recalls Marina Adulyan, one of the founders of the organization.
However, the concerned mothers were not allowed to enter the hospital. At that moment one of the mothers had an inspiring idea. "When they didn't let us in to see the child, one of the moms said, 'I'm the president of the Bari Mama International Organization,'" says Adulyan, "And we started calling ourselves bari mamaner (kind mothers) jokingly. Later, when things got serious we created an NGO with that same name."
This abandoned child would not be the only reason for these mothers to band together. Days later, the group heard about another child that was also abandoned at the hospital, probably due to health problems. They decide to help this child as well and provide her with milk, diapers and clothing.
"At that time I decided to organize an awareness campaign with different singers," Marina recalls. "We bought t-shirts and printed the two children's names on them calling for people to adopt them or for their families to take them back." She happily told us that several days after the campaign, one of the children was returned to their family.
Thanks to the unwavering dedication and difficult work these kind mothers have carried out, the lives of 121 children have been forever changed.
Based on statistics by the Ministry of Labor and Social Affairs, as of June 2019, 835 children continue to receive care in state and private orphanages; 468 out of the 835 are children with disabilities.
In Armenia, children with disabilities are housed in three specialized orphanages – the Mary Izmirlyan Orphanage, the Kharberd Specialized Children's Home and the Children's Home of Gyumri. Despite the fact that orphanages are being deinstitutionalized and institutions are being restructured in Armenia, until now there had been no mention of any of these three orphanages and the children who lived there.
Children with disabilities who have been abandoned by their own biological parents, also remain outside the radar of potential adoptive and foster care parents
When it comes to adoption, only 15-20 percent of adopted children have disabilities. The majority of children who have disabilities are adopted by non-Armenian citizens (9-11 children). According to data from 2016-2018, not one child with a disability was adopted by an Armenian citizen. As for non-Armenian citizens who have adopted children with disabilities, the majority has adopted children aged one to six. In terms of foster care, which was officially established in Armenia in 2008, as of 2018 only 75 children were taken into foster care, only five of whom had disabilities.
According to the ad hoc public report by the Human Rights Defender, in the past three years, 97 of the 181 children moved from maternity wards to orphanages have had health issues.
Marina Adulyan, however, is positive that no parent wants to abandon their child. They are forced to do so because of poor services, difficult financial conditions, societal stereotypes, and in many cases, wrong advice from doctors. She's met many mothers who have abandoned their child due to pressure from the mother-in-law. These older mothers were convinced that a family who had a child with disabilities could never be happy. Adulyan unfortunately notes that parents of children with disabilities often don't know what to do and, instead of finding support during the most difficult times, are only met with sympathy.
"One of our mothers had decided to have an abortion on her own because she lived in a very tough financial situation and her husband had health issues. She had taken medicine and thought she was done," says Adulyan. "However, she later discovered that the fetus was still intact." The baby was born with a diaphragmatic hernia, did not have a rectum and had issues with his legs. After the surgery the parents had left him in the recovery room. The doctors had even told the father that surgeries were expensive and he was better off leaving the child at an orphanage.
However, the NGO members were at the right place at the right time – when the father was making his final decision. They helped and continue to help his family with psychiatric and financial support.
Bari Mama NGO operates solely on voluntary donations. At first, financial assistance would trickle in, but today they receive donations by dozens of people daily.
From Concern to Action to Building
Marina Adulyan is a professor at Yerevan State University, and the NGO's other founder is a program director at British Council Armenia. However, these accomplished and working women have decided to change anything they can in society.
After four years of carrying out tremendous work, members of Bari Mama NGO decided to organize a fundraiser to build what they call their Bari Tnak, which translates to Kind Home. And they were successful: at a spot on the road from Yerevan to the village of Garni in Kotayk Marz, they transformed a three-story building into a place where these mothers can band together.
"Unfortunately, we have seen many cases where mothers have been forced to take their children with disabilities to orphanages because they didn't have any shelter. We decided to solve this issue with our Bari Tnak," explains Adulyan. "Today we have three mothers and four children who live here. We also provide therapy services to an average of 40-60 children monthly." Adulyan says that children with disabilities, who have to leave the orphanage once they turn 18 will have the opportunity to work here, as well as mothers of children with disabilities.
They are now building the second building of Bari Tnak for young people with disabilities and health issues over the age of 18 who have had to leave the orphanage. Here they will be taught how to live independently within one year. As of July of this year, they have already constructed the main building, however, they are currently fundraising to complete the roof and are waiting to see how much they can raise.
The colorful rooms at Bari Tnak are filled with furniture and personal items of the people taking shelter there. Toys are in demand the most and the reason why these rooms are always messy. They start their mornings with breakfast after which the children receive their treatments. During that time the mothers prepare food, clean the house, interact with each other and meet with therapists.
"We are one family, we do everything together, we are very united," says A.M. "During our free time we go to the forest with our children, we organize many events there. They also help us choose a field of study and help us find work. For example, I'm getting ready to learn to be a cook."
Institutionalizing Deinstitutionalization
The work the members of this NGO have been doing has not gone unnoticed by the state. On April 25, 2019, the Ministry of Labor and Social Affairs and the Ministry of Health signed a trilateral Memorandum of Cooperation with Bari Mama aimed at preventing children from ending up in orphanages and ensuring their right to a family life.
"The memorandum does not include any financial support, however, it will allow us to avoid obstacles and help us work with professionals who are accomplished in the fields of sociology and health," Adulyan explains. "Signing this memorandum means that we are not alone and children and their families can rely on state support."
Minister of Labor and Social Affairs Zaruhi Batoyan emphasizes the importance of preventing children from ending up in orphanages, because the process of returning them to their families becomes twice as hard. "By signing this memorandum we are embarking on a hard and difficult road. We will face many obstacles," explains Batoyan. "However, I am confident we will be able to achieve more meaningful and substantive results by working together, rather than all of us individually." She also emphasized the importance of the experience the NGO has.
Minister of Health Arsen Torosyan notes that within the framework of this memorandum the Ministry will try to provide mental, social and health support to those families who are contemplating abandoning their children at the hospital. "These families have to be sure that they are strong enough to not abandon their children. With the help of Bari Mama we are going to train our medical workers so that they can provide help to the parents by working directly with them so they make the right decision," explains Torosyan.
However, the daily hard work, the failed attempts at securing funding, as well as the obstacles and threats have not slowed down Marina Adulyan. She is aware of the importance of this mission.
"For nearly four years we did our volunteer work. We were met with many obstacles in hospitals, orphanages and with state bodies," says Adulyan. "It's only been this past year that we've significantly felt that the state is by our side and on the same page as us. I'm confident that soon there won't be any orphanages in Armenia."
A.M. is also confident that there is no reason to abandon your child:
"I hope that Bari Mama will grow and help others like me. They have a very strong team. No one is guaranteed anything in this life. Every single person has to find their strength and stay by their child's side. For me, my children don't have health problems, they are simply special. Right now there is no obstacle I can't overcome, I can even turn the world upside down. I especially wish that Armenian mothers discover the strength within them."
on foster care for children with disabilities

A child's right to family life is enshrined in Armenian and international legal documents and considered a priority in Armenia's 2017-2021 Strategic Plan on the Protection of the Rights of the Child. Here is EVN Report's White Paper about specialized foster care for children with disabilities.
Read more
This project is funded by the UK Government's Conflict, Stability and Security Fund.
The opinions expressed are those of the authors' and do not necessarily reflect the official position of the UK Government.