Photographs by Mariam Loretsyan.
It Is All About People
Stepanakert is the capital of the Republic of Artsakh, which was formerly known as Nagorno-Karabakh from 1991 to 2017, but you should make sure to call it Azat Artsakh when you're checking in on social media platforms.* The word azat (freedom in Armenian) is one of the most common names given to children (Azat for boys, Azatuhi for girls) and a symbolic combination of letters for this unrecognized state in the South Caucasus.
Architecture is the first thing that catches your eye in many European cities. One can walk endlessly along avenues lined with buildings breathing art-nouveau or baroque, get lost in gothic quarters, feed birds in piazzas, view the rooftops, admire the vibe of museums, take photos of duomos and cathedrals. Then there is Stepanakert, many times smaller than Paris and hugged by mountains, associated with war and conflict for many, the heart of a de facto independent country that doesn't make any attempt to compete with its architecture, because this place is about the people.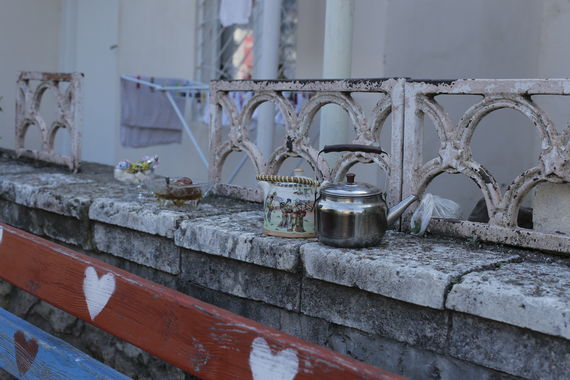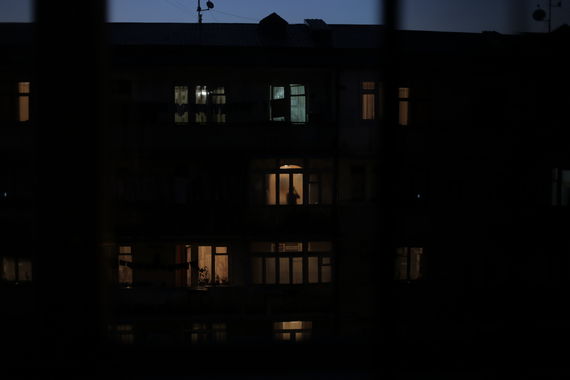 Artsakh is cloaked in myths, legends and stories that enhance its mystery and beauty. According to one of these stories, the ancient name of Artsakh is derived from the name of King Artaxias I of Armenia, who had risen to the throne around 189 BC and was the founder of the Kingdom of Greater Armenia. Legend has it that his love affair with the beautiful princess Satenik began with the invasion of the Kingdom of Armenia by the Alans during his reign. The army of Artaxiad captured the young son of the Alanian king, whose sister, Satenik came to beg the Armenian king to release her young brother. "I speak to you, oh brave Artashes, for you have defeated the brave Alan people, come, listen, to the bright-eyed Alan princess, and return the youth," she said. The king fell for her beauty. The story of this royal love has been told by travellers and medieval entertainers for centuries. Storytelling is still one of the main characteristic features of people here, each turns into a storyteller the moment they see an interested glance.
The first mention of Artsakh dates back to the Greek philosopher Strabo, who wrote that the people who lived in Greater Armenia, including Artsakh, spoke the same language, namely Armenian. While the official language of the region is Armenian, people use a dialect that is a mix of Armenian and Russian words. One of the most frequently used words that you will hear is "ghashang," translated as beautiful. People here are generous in giving compliments if they like you.
You pass by fields that seem to have no limits, mountains that form an endless loop and caves witnessing history. As soon as you pass by the "We Are Our Mountains" monument, it means you are in Stepanakert. Two years have passed since the Four Day War in Artsakh and the city goes on with its usual life, but the wounds are still too fresh to avoid the topic.
Stepanakert is a city of smells and unique fragrances. Rows of acacia-like trees leave their trail of sweet scents throughout the city. These trees have much in common with the city`s character; bearing beautiful flowers symbolizing its open-hearted residents and thorns, symbolizing the readiness for self protection. The courtyards of the city spread the aroma of washing detergent, fresh laundry is everywhere come rain or shine.
The Never Ending Cycle of Stories
I don't remember the exact moment when my love for laundry began. First it was Italy, then Lebanon. Laundry is a never ending cycle of stories here, connected on a single line, a special way for people to sort out their life. These endless lines, stretching and decorating the air across the now peaceful sky of Stepanakert are written sentences, reading the story of people, living in each apartment or house of a land that is primarily associated with conflict.
No matter what the weather is like in the city, heavy rain or an invisible fog, clothes are exposed to prove there is no war, that children are born and soldiers are back. Maybe home is a place where you fold your laundry
Laundry is always a grand notion here and a rather large undertaking. First of all there is the planning, because you will never see two similar colors or types of clothes hanging separately. There is a logical connection between each item that is going to be displayed. There is a local saying, if a boy wants to marry a girl, he should first check how she folds laundry. So love and laundry are synonyms here. This is a perfect way to wash worries, problems or pain away. People living here make art out of a mundane routine, turning it into a modern installation and an open air performance. And probably "ghashangutyun" beauty lives in between these lines of everyday life.
Laundry, children laughing and playing football, or riding bicycles are the true symbols of Artsakh, the living evidence of patience and strength.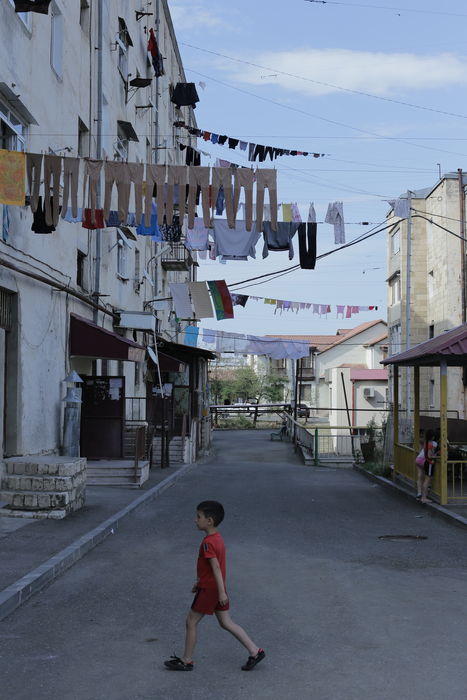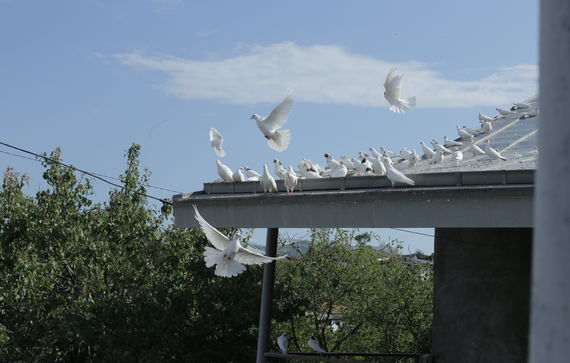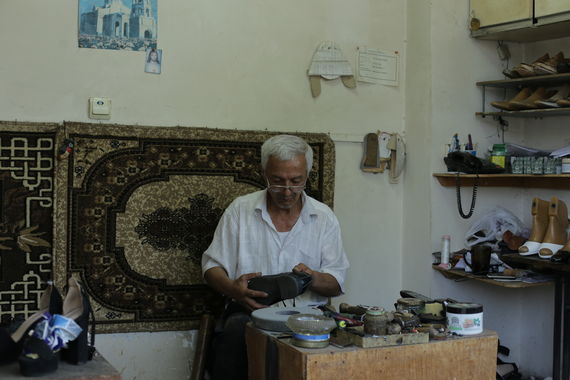 The Golden Rule of the City
The streets are full of modern and old half-ruined houses. You can see sewing ateliers and barbershops on every corner, markets full of colorful fruit and simple shops offering trendy clothes. You can easily become friends with people here, no matter where you are from. The only golden rule is to communicate and tell about yourself as much as possible. Because even before you start talking, they already know everything about you in detail.
There is an old tailor near the house where I used to live. A short man with his hair as white as the top of the mountains surrounding the city. No matter the weather, he always wears a brown coat. Every morning he comes to work at his tiny atelier, opening the door and bringing a wooden chair out. He sits on that chair for almost an hour, drinking his morning coffee, smoking a cigarette and greeting passersby.
Once I asked him to repair my raincoat, because you are literally no one without a raincoat or an umbrella here. He refused to take money for his labor, because "I'm a guest" and hospitality is a matter of pride here. I brought some chocolate for him the next day and we became best friends. So talking to him for a few minutes every morning became one of the most pleasant rituals for me in this city.
Oceans of Rain
Stepanakert doesn't pay any attention if it is summer or autumn, it has its own, independent weather here. If it is sunny and hot on Monday, don't even try to put away your fur coats; Stepanakert wakes up in the morning and decides what the weather should be like depending on its mood.
The rain here is like a beautiful and wise woman who has seen a lot in her life, has experienced difficulties, has lost her son but continues to believe and hope and then suddenly bursts into tears, creating oceans out of a few teardrops and then smiling through her tears the very next moment. Fog is a "national tradition" in Stepanakert; you get used to it, you begin to love it, you start searching for it everywhere and can't imagine your days without it. Time passes and you learn to look and see through the thick clouds. You start missing it fiercely when you leave the city.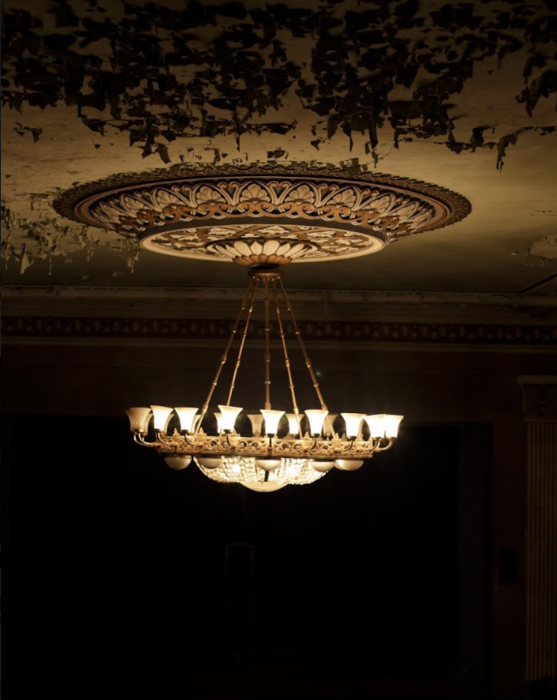 The "Ghost" of the Theatre
The State Drama Theatre, named after Soviet Armenian actor Vahram Papazyan, bears resemblance to an old wise man, observing everyone and knowing so many secrets. It witnessed war and peace. The empty building is almost demolished inside, soaked in humidity, though has managed to preserve its elegant atmosphere with its grand chandelier. You can close your eyes and imagine the performances that once took place on its ruined stage covered with torn red carpet and lost in the dust. Sometimes it cries for help, because ruins lead to the road of transformation. Sometimes it "sings." One day the Armenian song "Horovel" spread loudly throughout the district, breaking the silence and calmness of the streets, reminding everyone of their roots.
Talks of the City
Samvel lives not far from the city center, he keeps more than 400 doves in his house. His father used to have doves, now Samvel and his son continue to take care of the birds that have been here for more than 50 years. His granddaughter, Lisa does not want to continue the family affair, she wants to become a doctor to save soldiers.
Children here do not replace their traditional games with devices. They prefer spending all their free time in yards. You can hear their boisterous shouting and laughter even after midnight. They are ready to show you the way if you are lost or just talk about the place you have come from. Stella is 9 years old, she says she loves to gather green leaves, because they become brown a few days later and it is a kind of magic she believes in.
Every evening people dress up, put on their best perfume to go for a walk in Renaissance Square. This is another unwritten rule of the city. Families and relatives get together to meet each other and celebrate another peaceful day. The most important thing here is peace, ask anyone in Artsakh, they can get over anything just to have a peaceful sky above.
The sky is unique in Stepanakert. It changes its color every second. It turns into a ''television" in the evening so you can watch the birds until it becomes dark. They fly so close to the ground and often hit the windows of the buildings, singing their songs, probably using their own dialect.
Nighttime in each city is never the same. Even the darkness is diverse. Night here in Stepanakert has a special vibe. The deafening silence at nights is so noisy. There are so many unsaid words hanging in the air of those, who left forever so early for freedom, the most important combination of letters. The city is in constant conversation with you, it has so much to tell and to share, just listen. There are millions of stories that build this city like bricks. The stories are different, made of people, doors and windows, stairs, footsteps and touches, nights and days, clouds and stars, air and rain. Life here still stays beautiful even if we are asleep. The phrase, "I dream'd in a dream, I saw a city invincible to the attacks of the whole of the rest of the earth," is hanging in the air of Stepanakert, as if Walt Whitman himself has been here.
*Most social media platforms still use the Azerbaijani names of towns and cities in the Republic of Artsakh.