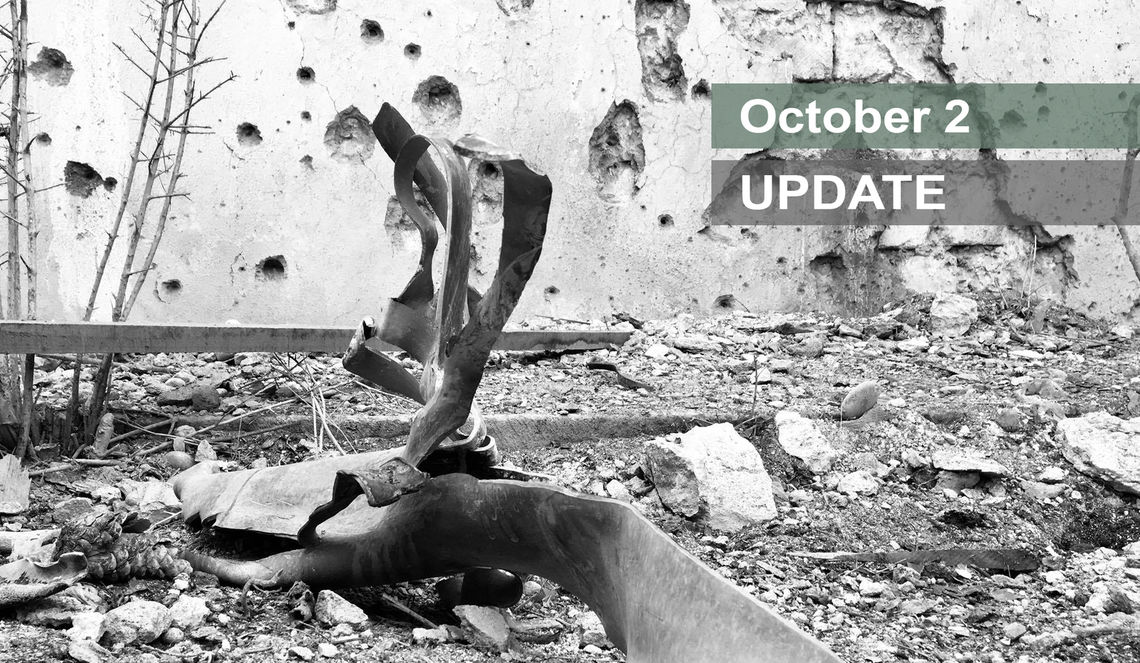 Today, the sixth day after the Azerbaijani armed forces launched a wide scale offensive in Artsakh, the capital Stepanakert came under the heaviest shelling since the end of the first Karabakh War. According to official reports, Artsakh's emergency services building was targeted. Ten employees were wounded and the building sustained damage. Artsakh's Ombudsman tweeted that this is the heaviest strike on Stepanakert so far. Later in the evening, the capital came under attack once again with heavy missiles. The southern city of Hadrut was also hit twice by a Smerch multiple missile launcher, a sophisticated weapon system. A van carrying a group of international and local journalists came under gunfire, no one was injured and a number of restrictions have come into force today regarding movement of people and vehicles toward the Republic of Artsakh.
Late last night, an Azerbaijani reconnaissance drone was shot down by Armenian Armed Forces in the Kotayk region of the Republic of Armenia marking a severe escalation of the situation. In fact, yesterday, seven Azerbaijani drones, violating Armenia's air space, were shot down.
Here is a full recap of the events
8:30 a.m.: MoD Spokesperson Shushan Stepanyan: At approximately 7:55 a.m., air defense units of Armenia's Armed Forces shot down one Azerbaijani aircraft and one drone "in the northeastern direction of Artsakh." Fighting continues along the Artsakh border. The attempts by Azerbaijani forces to break through the defense lines of Armenian troops at different sections failed.
Deputy Commander Says 55 Armenian Servicemen Killed in Battle
10 a.m.: Artur Sargsyan, Deputy Commander of Artsakh's Defense Army, during a press briefing said that they found an Israeli-made radio transmitter on the body of a killed Azerbaijani officer. Sargsyan said that after examining the transmitter, they discovered that the instructions through the radio channel were communicated in Arabic. He said that the Azerbaijani side suffered significant human and equipment losses, including 830 servicemen, an artillery division, 39 armored vehicles, four SU-25, 17 UAVs, and two Mi-24 helicopters. Sargsyan said that 55 servicemen of Armenia's Defense Army were killed during the battles, bringing the total number of Armenian deaths to 158 with a large number of servicemen wounded; the exact number is now being determined. Speaking about the exchange of bodies, Sargsyan noted that a relative ceasefire is required for that to take place.
Statement by Armenia's Ministry of Foreign Affairs
11:15 a.m.: Armenian's Ministry of Foreign Affairs issued a statement regarding the joint call of the leaders of the OSCE Minsk Group Co-Chairs countries:
"We welcome the fact that the Minsk Group Co-Chairs at the level of their leaders reacted to the use of force in the Nagorno-Karabakh conflict zone by way of strong condemnation.
"Armenia has been consistently rejecting and condemning the threat or use of force by Azerbaijan and the direct involvement of Turkey in the hostilities against Armenia and Nagorno-Karabakh. The aggressive joint actions of Azerbaijan and Turkey and the use of foreign terrorist fighters have been undermining regional security and peace, significantly raising the risks of a full-fledged war. This aggression against Nagorno-Karabakh must immediately cease.
"Armenia remains committed to the peaceful resolution of the Nagorno-Karabakh conflict. While this aggression against Nagorno Karabakh will continue to receive our strong and resolute response, we stand ready to engage with the OSCE Minsk Group Co-Chair countries to re-establish a ceasefire regime based on the 1994-1995 agreements."
11:51 a.m.: According to Artsrun Hovhannisyan of the Armenian Defense Ministry, the city of Hadrut was hit by an Azerbaijani heavy multiple rocket launcher, Smerch. There are civilian injuries.
12:30 p.m.: The Artsakh Defense Ministry released the names of an additional 55 Armenian service killed in action.
Galstyan Sevak, b. 1986
Petrosyan Edvard, b. 1991
Gharibyan Tigran, b. 2000
Sadoyan Mekhak, b. 2000
Abrahamyan Arshak, b. 1978
Hayrapetyan Karen, b. 1997
Galstyan Edgar, b. 1999
Baghdasaryan Khachik, b. 1987
Hovhannisyan Vahram, b.1978
Khachatryan Vahram, b. 1988
Avanesyan Semyon, b. 1984
Stepanyan Grigor, b. 1994
Hovhannisyan Edgar, b. 1988
Minasyan Avetik, b. 1974
Chilingaryan Artsrun, b. 1985
Harutyunyan Arsen, b. 2001
Voskanyan Lyova, b. 1987
Chagharyan Narek, b. 1991
Chobanyan Yura, b. 2001
Manukyan Arsham, b. 2001
Khachatryan Emil, b. 2002
Harutyunyan Patvakan, b. 2001
Bakunts Vahe, b. 2001
Hovhannisyan Aghvan, b. 2000
Harutyunyan Harutyun, b. 1991
Azaryan Hrant, b. 1997
Sergoyan Koryun, b. 1979
Avetisyan Slavik, b. 1980
Ghazaryan Davit, b. 1989
Gevorgyan Arshak, b. 1990
Mkrtchyan Vahe, b. 2001
Abrahamyan Seryoja, b. 2001
Muradyan Arsen, b. 2001
Ivanyan Davit, b. 2001
Hovsepyan Karen, b. 2000
Najaryan Aram, b. 1996
Movsisyan Vigen, b. 2000
Torosyan Serob, b. 2001
Varunts Erik, b. 2000
Danielyan Grisha, b. 2000
Alaverdyan Harut, b. 2001
Hambardzumyan Davit, b. 2001
Avetisyan Davit, b. 1987
Beglaryan Artashes, b. 1982
Bejanyan Robert, b. 1975
Sahakyan Roman, b. 1986
Melkumyan Vigen, b. 1987
Asriyan Artur, b. 1999
Avetisyan Levon, b. 2001
Badalyan Vyacheslav, b. 1998
Hovhannisyan Gagik, b. 2000
Palikyan Arkadi, b. 2001
Bulghadaryan Arman, b. 2001
Sahakyan Hovik, b. 2001
Movsesyan Vigen, b. 1977
12:45 p.m.: MoD spokesperson Shushan Stepanyan said that at 12:15 p.m., Armenian Air Defense Units shot down an Azerbaijani plane in the southeastern area of Artsakh and between 12:07 and 12:10 two UAVs in the northern direction. Battles are continuing in different portions of the front, the adversary's manpower and armored vehicles, in particular tanks, have been destroyed.
1:20 p.m.: According to the Artsakh Infocenter, there was a second Smerch missile attack on Hadrut, Artsakh by Azerbaijani forces. Artsrun Hovhannisyan of Armenia's Ministry Defense Ministry said there are five wounded.
Stepanakert Shelled by Azerbaijani Forces
1:55 p.m.: Stepanakert, the capital of Artsakh was shelled by Azerbaijani forces. Artsrun Hovhannisyan of the Armenian Defense Ministry said that there is extensive damage to civilian infrastructure and wounded. Artak Beglarian, Artsakh's Ombudsman tweeted that this is the heaviest strike on Stepanakert so far.
4 p.m.: According to Armenian Unified Infocenter, following the shelling of Stepanakert, the capital of Artsakh, 10 workers of Artsakh's emergency services were wounded. They did not sustain life-threatening wounds. The building of the rescue service in Stepanakert was damaged, windows were broken, walls destroyed, cars in the parking lot were damaged.
4:25 p.m.: According to Artsrun Hovhannisyan of MoD, at around 4 p.m. Artsakh's Defense Army shot down five Azerbaijani planes and three helicopters.
5:43 p.m.: According to the Armenian Unified Infocenter a van transferring a number of international and local journalists to Martakert came under fire by the Azerbaijani side. No one was injured.
6 p.m.: During a press briefing from Artsakh, the Rector of Yerevan State Medical University, said that doctors from Artsakh, Armenia and from abroad are providing large-scale professional medical assistance to the population. He noted that the injuries of the wounded indicate that the weapons used by the Azerbaijani side are inhumane. According to Muradyan, most of the injured have shrapnel wounds. He went on to say that the shelling and explosions are causing not only physical harm but also mental health issues. "As a doctor, a person who has the biggest humanitarian mission, I think that doctors from all over the world should raise their voice in protest and say stop to the aggressor." Muradyan stressed that Azerbaijan launched an offensive at a time when the world is fighting against Covid. According to the Rector, as the situation remains volatile, there will be a need for additional medical staff and medicine.
Nikol Pashinyan Has Phone Conversation With Russian President
Prime Minister Nikol Pashinyan had a phone conversation with Russian President Vladimir Putin. The two leaders discussed the situation in Nagorno-Karabakh and expressed their concerns over the ongoing military operations. They also expressed concerns regarding the involvement of foreign militant groups from the Middle East. PM Pashinyan stressed Turkey's highly destabilizing behavior and interference in hostilities. Vladimir Putin prioritized the importance of ending the hostilities, resuming the peace process, in accordance with the October 1 statement by the OSCE Minsk Group Co-Chairs.
Restriction of Movement From Armenia to Artsakh
As of October 1, the National Security Service will have mobile checkpoints to restrict movement to Artsakh: only those persons and vehicles with relevant documents will be allowed to travel to the Artsakh Republic.
The Government of Armenia announced that in addition to the checkpoints, for security reasons under martial law, a number of restrictions and arrangements will come into place starting from October 2.
To ensure uninterrupted communication between Armenia and Artsakh and to minimize congestion on the roads, the exit of persons and transportation of vehicles from Armenia to Artsakh, with the exception of transportation for the needs of the Defense Army and the Government of Artsakh, as well as in exceptional cases on the basis of permission issued by the Armenian Government will be restricted. To obtain these exit permits from the Republic of Armenia, you need to apply:
a. Individuals need to send an email to [email protected], attach a photocopy of a passport/ID and substantiate the purpose of the visit. Citizens will be allowed to leave Armenia only in exceptional cases.
b. Legal entities need to send an email to [email protected], substantiate the purpose of the visit and mention the tax number of the organization.
c. Local media representatives need to send an email to [email protected].
d. Diplomatic missions accredited in the Republic of Armenia, consular posts, international organizations need to send an email to [email protected].
e. Representatives of international media need to send an email [email protected].
2 ․ We urge you to refrain from collecting goods and transporting them to Artsakh through individual initiatives. It is important to consider that all foodstuff and non-foodstuff items and medicines have rules of sorting, expiration, safety and storage, which can be monitored only by appropriate specialists. Therefore, any support should be provided through local self-government bodies, which will provide a list of necessary items.
3. A unified headquarter headed by the PM's Chief of Staff Eduard Aghajanyan was set up to coordinate the process of providing social and material assistance to Artsakh. Starting from 10 a.m. October 2, a hotline has been set up (117) which will be providing information about Martial law in the country, except for questions related to the Ministry of Defense.
From inquiries from abroad, please call (+374) 10527000.
Statement by French President Emmanuel Macron
French President Emmanuel Macron demanded that Turkey explain what he said was the arrival of jihadist fighters in Azerbaijan — and urged NATO to face up to its ally's actions. He said: "A red line has been crossed, which is unacceptable. I urge all NATO partners to face up to the behaviour of a NATO member." He alleged that intelligence reports had established that 300 Syrian fighters drawn from "jihadist groups" from the Syrian city of Aleppo had passed through the Turkish city of Gaziantep en route for Azerbaijan.
"These fighters are known, tracked and identified," he said, adding that he would call Turkey's President Recep Tayyip Erdogan "in the coming days." Macron expressed his worries after a summit in Brussels at which EU leaders agreed to threaten Turkey with sanctions over its gas drilling in Cypriot waters. But the French leader was also infuriated by events in Nagorno-Karabakh, where there has been heavy fighting between Armenian and Azerbaijani forces.
Statement by the ICRC Regarding the Violence Against Civilians
As the recent escalation of the Nagorno-Karabakh conflict worsens, civilians are bearing the brunt of the surge in violence, the International Committee of the Red Cross said on Friday.
Civilian deaths and injuries, including of children, have been reported on both sides of the line of contact, and in Armenia.
"Since the escalation started, the ICRC has provided emergency medical supplies to hospitals and body bags to the forensic bureau in Nagorno-Karabakh. We are currently trying to assess health-related and other humanitarian needs, including the situation of those who have left their homes. Our ability to move in the field is limited because of the intensity of the fighting and the volatility of the situation," said Bertrand Lamon, ICRC head of Mission in Nagorno-Karabakh.
"We are already seeing the terrible impact this escalation is having on civilians. The ICRC is ready to assist where needed, when conditions allow it, including supporting the Azerbaijan Red Crescent society local branches as they work in the community," said Gerardo Moloeznik, head of Sub-delegation, Barda, Azerbaijan.
The ICRC has received reports of people trying to move themselves and their families to safety. Many other families, including babies and young children, are spending days and nights sheltering in the unheated basements of their buildings, trying to escape the violence.
There are also reports of hundreds of homes and civilian infrastructure such as schools and hospitals destroyed by heavy artillery and where buildings have been damaged, people are exposed to the dangers of unexploded ordnances.
This new upheaval comes at the onset of winter, with children just weeks into their school term and when people are already trying to protect themselves and their families from the effects of coronavirus pandemic.
"People have been in touch with the ICRC, terrified for themselves and their families and at a loss as to where to go or what to do to stay safe. They are caught in the crossfire and deeply fearful for their safety and future. We are committed to helping all those who are feeling the impact of this escalation in violence. We call on the sides to protect civilians and the key infrastructure and services they need to survive, and abide by their obligations under international humanitarian law," said Martin Schüepp, ICRC Eurasia regional director in Geneva.
The ICRC is extremely worried that the current turmoil and displacement may lead to a surge of COVID-19 cases due to people taking refuge in shelters for hours or being accommodated in communal buildings or places with inadequate sanitation.
What's more, this escalation will take a toll on the mental health of the population, who have already lived with the impact of this conflict for almost 30 years, and are now additionally anxious about their health and future due to the COVID-19 pandemic.
The ICRC has been present in the region since 1992 carrying out humanitarian work in connection with the Nagorno-Karabakh conflict. Through the delegations in Baku and Yerevan and the mission in Nagorno-Karabakh, the ICRC supports communities living along the line of contact and international border between Armenia and Azerbaijan.
The ICRC also works to clarify the fate of missing persons and help their families, visits detainees and acts as a neutral intermediary to facilitate transfer and repatriation of released persons or the return of the bodies of deceased soldiers.
We collaborate closely with the Armenian Red Cross and the Azerbaijani Red Crescent, coordinating activities aimed at assisting people affected by the Nagorno-Karabakh conflict across the region..
8 p.m.: Armenia's Foreign Ministry decided to recall its Ambassador to Israel, Armen Smbatyan for consultation. During a press conference, Anna Naghdayan, spokesperson of the Foreign Ministry, said that Israel continues the supply of weapons to Azerbaijan, which is unacceptable for the Armenian side.
10 p.m.: Yeghishe Kirakosyan, Representative of Armenia at the ECtHR announced that the Arrmenian government has submitted new evidence to the European Court substantiating Azerbaijani government's failure to comply with the decision of September 29, 2020 on applying an interim measure. Azerbaijan continues to violate the European Convention by targeting civilians and civilian settlements. According to the announcement, the Armenian government will take all the measures under the European Convention to immediately stop human rights violations.
10:30 p.m. MoD Spokesperson Shushan Stepanyan writes that all four drones that were downed by Armenia's Armed Forces – one in Kotayk region, the other three in the Gegharkunik region – were reconnaissance drones. Thus, over the course of the day, seven Azerbaijani drones were destroyed over Armenian airspace, she said.
Armenia's air defense shot down an Azerbaijani drone in Armenia's region of Kotayk.
10:40 p.m. According to Shushan Stepanyan of MoD, the Azerbaijani side used artillery in the direction of Shatvan village, Gegharkunik region and a drone strike in the direction of the Mets Masrik community. Gevorg Vardanyan, born in 1967 died, two other civilians were wounded.
Armenia's air defense forces destroyed three Azerbaijani drones, including the combat drone that fired a missile at Mets Masrik settlement.
Foreign Minister Has Phone Conversation With His French Counterpart
Foreign Minister Zohrab Mnatsakanyan had a phone conversation with Jean-Yves Le Drian, the French Minister for Europe and Foreign Affairs.
Mnatsakanyan briefed his French counterpart about the deliberate targeting of journalists covering the situation in Artsakh and the condition of the French journalists who were targeted by the Azerbaijani strike. The Ministers then spoke about the situation in the Nagorno-Karabakh conflict zone following the large-scale offensive launched by Azerbaijan. Minister Mnatsakanyan expressed his deep concern over the destabilizing actions of extra-regional forces, particularly over Turkey's unconditional and unilateral military support to Azerbaijan. The two also stressed that the direct involvement of foreign terrorist fighters in the conflict is unacceptable.
During the conversation, the sides touched upon the statement of the leaders of the OSCE Minsk Group Co-Chair countries, which call for an immediate cessation of armed hostilities. Armenia's Foreign Minister highlighted the important role of the Co-Chairs and Co-Chair countries in neutralizing the threats to regional security.
Foreign Ministers of Russia and Turkey Have Phone Conversation
On October 1, Sergey Lavrov, Foreign Minister of Russia had a phone conversation with his Turkish counterpart Mevlut Cavusoglu.
According to the official statement by the Russian Foreign Ministry, the two discussed the escalation of tensions in Nagorno-Karabakh and expressed serious concern regarding the ongoing military confrontation. They called for the immediate cessation of hostilities and stressed that the involvement of the illegal armed forces from other regions is inadmissible. The Ministers also confirmed their readiness for coordinating the settlement of the Nagorno-Karabakh conflict through peaceful negotiations.
Artsakh's Ombudsman: Civilian Populations Threatened
On October 1, Artak Beglaryan, the Human Rights Defender of Artsakh gave a press conference regarding the civilian casualties across Artsakh. Beglaryan noted that the civilian population has become a target by Azerbaijani forces. As of October 1, 2020, there are 11 deaths and more than 60 wounded, 42 of whom have serious injuries. Information about the latest casualties will be reported further.
During the press conference, Beglaryan said that on October 1, the Azerbaijani side targeted civilian infrastructures in Martuni; as a result of the shelling, four civilians were killed and 11 wounded. Civilian deaths in Martakert on September 30 were caused by bombing. Beglaryan also said that on September 27, an elderly woman was killed in Hadrut by a kamikaze UAV.
Beglaryan stressed that targeting civilian populations is a violation of international law. He also noted that the eldery comprise the majority of casualties. 23 out of 31 wounded were injured in residential areas meaning the Azerbaijani Armed Forces did not use precautionary measures and specifically targeted civilians.
According to Beglaryan, schools, residential houses and apartments, civilian infrastructure, cars, roads, gas pipelines, electric lines have been damaged. He went on to say that the roads were specifically targeted because during military operations people try to move to safer locations; that is why several people were injured on the roads.
The Ombudsman also talked about the types of weapons used by the Azerbaijani side. He noted that they have registered that the adversary used cluster munitions that are banned  internationally especially when targeting civilian populations and civilian infrastructures. Some of the wounds sustained by civilians were caused by these munitions, which, in some cases, did not explode.
Artak Beglaryan stressed that the Ombudsman's office is also tracking possible human rights violations directed against servicemen of Artsakh's Defense Army. Beglaryan said they are in possession of sources that there are bodies of Armenian servicemen in the territory controlled by the Azerbaijani side and taking into consideration the war crimes committed during the April War, the bodies of the soldiers are in serious danger. He went on to say that after the April War, Azerbaijan's President Ilham Aliyev specifically awarded those soldiers who mutilated the bodies of Armenian soldiers and thus there is a high possibility of repetition of these types of crimes.
Conclusions by the Artsakh's Ombudsman
– the Azerbaijani Armed Forces are continually and intentionally launching attacks on civilian populations and objects;
– Azerbaijan is violating the right to life of the population of the Artsakh Republic;
– the bodies of the dead soldiers, which are under the control of Azerbaijani Army, are threatened;
– atrocities committed by the Azerbaijani Armed Forces during recent days are based on a state Armenophobia policy;
– Azerbaijan is intensively using prohibited weapons and applying forbidden war methods. With the help of official sources from both Armenia and Artsakh, as well as international mass media, there are a number of certain facts that Syrian mercenaries are fighting against Artsakh on the Azerbaijani side. Thus, there is a real threat of a humanitarian crisis in the region;
– Azerbaijan widely applies intimidation techniques, prohibited by international humanitarian law;
– military aggression was launched and continues in the midst of a global pandemic ignoring the international community's calls for restraint;
– tens of thousands have become internally displaced persons (IDP), refugees.