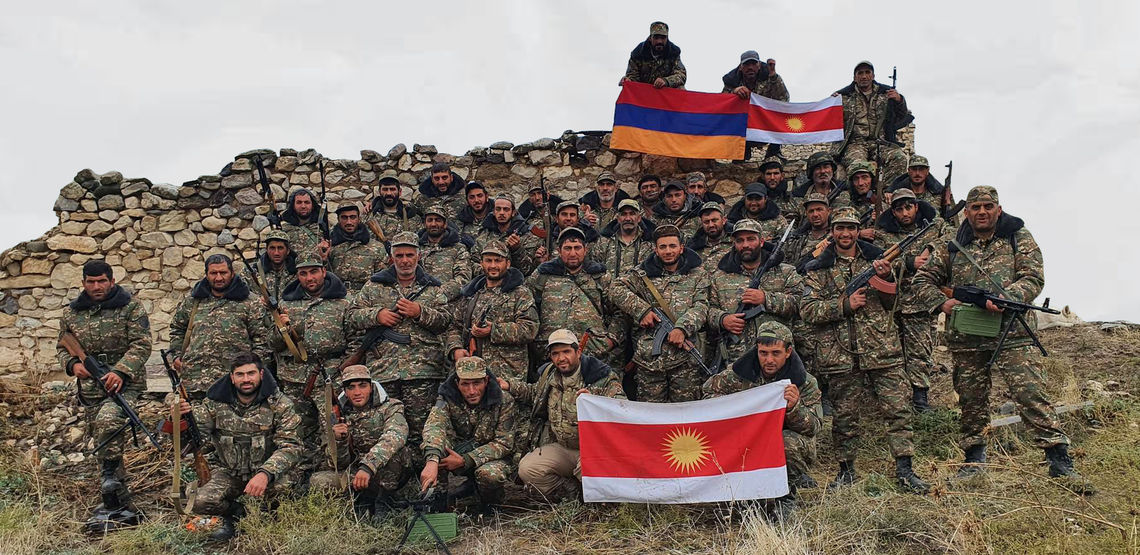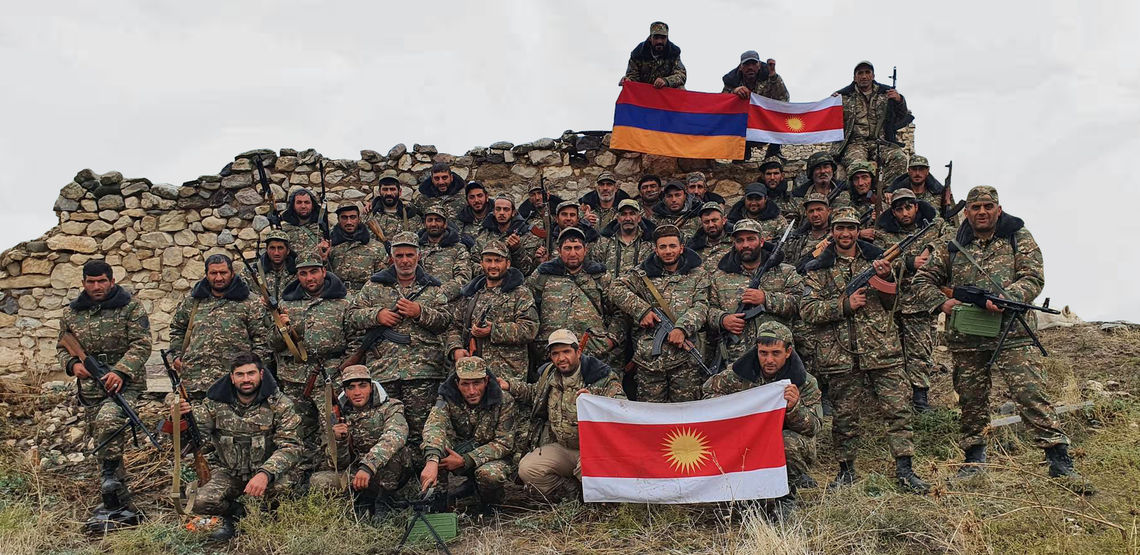 "We were returning to Yerevan after staying in Jabrayil for 15 days. It is only a few kilometers from Artsakh to the border of Armenia, yet they are two completely different realities. On the road to Goris, I would see bright lights, restaurants, gas stations, shops and people standing around and conversing. Yet beyond the mountains, there was war, and beyond the mountains were our soldiers…"
Dilbar Khudoyan, 52, remembers every detail of the 2020 Artsakh War. She had set out in October to defend her homeland alongside a Yezidi volunteer detachment that bore the name of Kyaram Sloyan, a Yezidi-Armenian soldier that was killed in the 2016 Four Day April War, at the age of 19. Sloyan's father had also fought in the 1990s Karabakh War. Khudoyan says that she was certain they would be successful in defending Artsakh, as they had been every time before.
A waitress in a restaurant in Armavir, Dilbar, whom Armenians call Hasmik, was finishing her regular working day on September 29. The conversation that whole day had been about news coming from the front line, which Dilbar simply could not avoid. After all, it was about the borders of her homeland, the land of her forebears who had come to Armenia at the beginning of the 20th century. She constantly reminded herself that she is a nurse by profession, and that it was her duty to go and help the soldiers.
"You probably know that, within the Yezidi community, it is not acceptable for women to work. However, I had already overcome that challenge. I was embarrassed; I was constantly asking myself what our Yezidis would say if a woman went to war," confesses Dilbar. "One day, I saw our Yezidi MP Rustam Bakoyan's speech. As soon as he had finished giving his speech, I called him and said 'I am going to war.' He said, 'Come to Yerevan, and we will arrange everything.'"
Dilbar says that when she arrived in Yerevan to receive her uniform, she did not know any of the men who had also shown up for the 43-member detachment. She stood there, watching them silently. Some seemed to be the same age as her son. She grew concerned. What if they accepted her poorly?
"I was mistaken. They were so caring toward me. The boys would bring pomegranate and sweets and offer them to me, which was a real joy for me in that colorless environment," Dilbar recounts.
On the night of October 1, the Yezidi detachment, which included four non-Yezidi Armenians, reached Goris, then Kubatlu, then Jabrayil. Dilbar says that her most fearful moment throughout the war was in the bus, driving through the rain and cold, listening to the instructions: "The driver said 'I understand that it is raining, it is cold, but we need to keep all the windows open. Do not make a sound. Look upwards continuously and if you see an unmanned aerial vehicle (UAV), we stop immediately.'"
Dilbar's female friends wanted to join her at the front. She insists, however, that none of them could really imagine the full force and intensity of the war, until they were close to it. After crossing the border, the war entered every cell of your being; everything started and ended with that war, she says.
Dilbar has now returned to the rhythm of her usual work in Armavir, but says that she cannot sleep at night. People often come to the restaurant, wanting to meet the only Yezidi woman who went to war. Dilbar does not talk about it much. She keeps in touch with the boys of the detachment every day, remembering that, even during the most intense moments of the war, they did not forget to joke, hearten each other and remain good people. And they did not forget the most important thing: there was no difference between Armenian or Yezidi; there was a piece of their homeland for which they were responsible and for which they fought.
***
Sayid Avdalyan, founder of the Young Yezidis Association of Armenia, says that there is no precise data on the number of Yezidis who participated in the war. While two Yezidi volunteer detachments left for Artsakh, there are also Yezidis serving in the Armenian army. He makes an important observation: "If there were no other detachments consisting of national minorities living in Armenia, it does not mean that the Assyrians, Molokans and others did not fight to protect the country. Many of them are carrying out their compulsory military service and therefore have been on the front line. It is just that, besides this, we Yezidis also formed volunteer detachments."
The majority of the Armenian public only became aware of the participation of the Yezidis in the Artsakh war during the 2016 Four Day April War, when Kyaram Sloyan was among the first to be martyred. He did not leave his commander, Armenak Urfanyan, alone at the fiercest moments of the battle and fought to his last breath. During the most crucial events in Armenian history, the Yezidis have always stood by their Armenian brothers.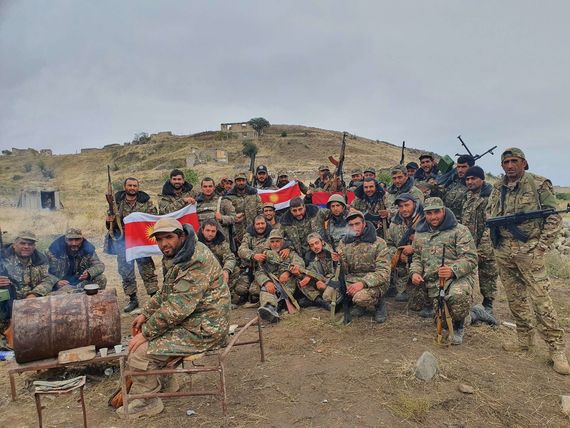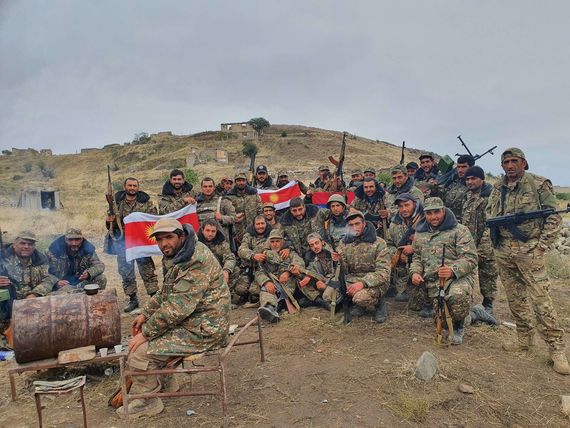 The Yezidi detachment on the front line. 
"During the first war, about 500 Yezidis fought for the defence of Artsakh. We lost 42 souls. Many of them went to the front line voluntarily, to defend their homeland," Avdalyan says. "Gagik Hajoyan, a Yezidi, was killed in Artsvashen in 1992 and Artsvashen fell on the day he died. Gagik was a volunteer, like many, many Yezidis because, when your country is in danger, nationality is unimportant. What is the difference? It is our land, our water, also."
Avdalyan says that during the April War, the Yezidis had three losses: Kyaram Sloyan, Boris Ozmanyan and Hamlet Hajoyan. During both the first Karabakh War and the April War, there were no volunteer detachments consisting exclusively of Yezidis. They simply joined their Armenian comrades-in-arms and left for Artsakh. Among these fighters was Avdalyan's uncle Omar Avdalyan, who was wounded in the battle for Karvachar, was transported to Yerevan and died some time later.
In the 2020 war, two Yezidi volunteer detachments fought in the battles in the southern parts of Artsakh. "I am told that there were more than fifty volunteers in the second detachment," says Avdalyan adding that before the formation of the Yezidi volunteer detachments, many Yezidis had already left for Artsakh with the Armenian detachments. "It takes a long time to present this information and the numbers accurately, since we are still trying to come to our senses from the aftermath of the war. As long as we do not have information concerning the many missing and captured soldiers, it is impossible to publish the exact data."
Sayid Avdalyan has followed the Azerbaijani press closely, and notes that it included baseless disinformation. Dilbar Khudoyan, for example, was portrayed by the Azerbaijani press as a terrorist. They had published photos of many other Yezidi volunteers and stated that Armenians were using mercenaries in the war. The name of the Kurdistan Workers' Party (PKK) was thrown around without any evidence that the Turkey-based Kurdish militant group had any presence in Artsakh.
"It was really ridiculous that Azerbaijani journalists presented Armenia-born Yezidis, who took part in the protection of their homeland voluntarily, as PKK terrorists," he says. "I don't know, maybe it is hard for them to believe that the Yezidis are full-fledged citizens of Armenia, that this is our country, the graves of our ancestors are here and the future of our children is here."
Avdalyan refers to yet another manufactured conjecture: that the Yezidis were forced to go to the front line. The young international studies expert asks, "How can they force the formation of a volunteer detachment? Couldn't they invent a more reasonable lie?"
"No state or military figure forced the formation of volunteer detachments. It is the initiative of the Yezidis, their drive to stand up for the homeland, to fight alongside their Armenian brothers and sisters," he says. "Yezidi citizens both within Armenia and abroad have transferred millions in funds for the defence of the homeland. Was this also mandatory? No. Emphatically, no."
Avdalyan has taken part in funeral services for fallen Yezidi soldiers. He says people are most sincere at funerals, as they allow their emotions to overflow and talk honestly about their feelings. "I have not heard anyone question why their son died for the sake of the homeland. People are mourning the loss of their children and that of Artsakh," he says. "They are more enraged that the land soaked with the blood of their children has fallen to the hands of the enemy, but there are no regrets for martyrdom. Everyone knows what their children fought for."
***
"Oh, Ozman is a character, a character. Everybody knows him. Go on tell them, tell them what your nickname is," Fayzo Bakhchoyan, who took part in all three Artsakh wars, lightly snorts and taps the shoulder of his comrade-in-arms, urging him to reveal his well-known nickname.
"Oh come on, it's embarrassing. Shall I say it?" Ozman lowers his eyes and confesses, "Ok. My nickname is Chort [Devil, Hell]. You know, from the Russian word."
The combat buddies laugh wholeheartedly before a sadness sets in.
"These youngsters will not remember," Bakhchoyan points to Kamo and Slavik who are younger than him and who fought during this last war. "We had nothing in 1992. There were no normal weapons, no modern military equipment, but we were fused to this land. We knew there was no way not to win."
It seems that regardless of time, war is war, with its pain, its difficulties and its horrific events, but Bakhchoyan, having fought in three wars, cannot remember anything like this one.
"When there was a war in 1992, my comrades and I were in almost all the territories of Artsakh," he recalls. "Artsakh is historical Armenian land. There are traces of Armenia on every stone; every piece of land is filled with Armenianness. And yes, we liberated our land in 1994, not occupied it, as they did now with such vile and cruel methods. This was an inhuman war."
Kamo Aloyan went to Artsakh with a heavy heart, certain that his son, who was martyred on that land, would be at peace knowing that his father is fighting for Artsakh. Sidar Aloyan had been serving for a year when he was killed in 2015 following an Azerbaijani incursion. Aloyan cannot control his emotions when talking about his son. Sidar was studying at the National Agrarian University of Armenia, played sports, played a musical instrument, painted, was a wonderful child, and simply a patriotic boy. Sidar means the shadow of a tree, his father says.
"I live with an enormous and indescribable pain over the loss of my son, but he died for his homeland," Aloyan says. "The only thing over which I fight with myself is that there is nothing left from Sidar. Most of our relatives live in Europe. We told him to leave countless times, but my son always said, 'This is my duty, I was born here and I will stay here.'"
Aloyan sighs, once again mentally argues with his son as to where he has gone. "That land is soaked with the blood of our children. That is our land. No one will be able to enjoy their life there."
Ozman Kaloyan, who is a Yezidi clergyman, a Pir, seems to confirm what his young comrade-in-arms says with a nod. Kaloyan remembers well how he left for Artsakh as a young man during the first Karabakh War. Nobody at home was surprised; they knew him well and knew that it was pointless to try to persuade him otherwise.
"I don't remember how old I was, but I was a fine young man," says Kaloyan proudly and laughs. "I always wore a headscarf and that was my calling card, so-to-speak, in this war too. I was in Hadrut during the first Karabakh War. I was in the forests alone and without a commander for 45 days, gathering intelligence and passing it on to my unit."
"Yes. He froze in fear when he came across a Turk in the forests," interjects Bakhchoyan, teasing his friend once again.
"I was with Ozman in this war, and I will go to the far corners of the world to fight alongside him," Aloyan adds. "He is a reliable, honest commander and he will give his life for a soldier. There is so much to learn from him."
Ozman Kaloyan says that, even during the first war, the Azerbaijanis had set a bounty on his head, but he was both careful and determined to avoid capture: "The Turk could not catch me, not then and not during the April War, and not during this ill-fated war. I have participated in all three and, if need be, I will go again for my homeland. I am a farmer; I constantly play with my land, fight with it and then make up. How can I not stand up for the dignity of my land?"
Slavik Tamoyan, the youngest of his comrades-in-arms, is from the village of Yeraskhahun in the Armavir region. He left for the south of Artsakh with the first volunteer detachment, named after Kyaram Sloyan. He says that, before the war, he was busy working his land and raising five children with his wife.
"This is not my first war. I also left for Artsakh as a volunteer during the [2016] April War," Tamoyan explains. "Nobody in the family agreed with me – five children, a house, a home. It was not easy for my relatives, but I had no second thoughts about it, and I know that my departure and those of the other boys is justified. We had a land to defend."
"You are correct, father of many children, land is important," smiles Bakhchoyan and remembers how, even back in 1989, he and his friends formed a detachment and began to hold positions within the territory of Armenia: "When we went to Artsakh, we went happily. We went with warmth and faith in our hearts; we did not go for power or money."
In 1992, when the struggle for the liberation of Shushi and Lachin was already underway, Bakhchoyan left for Lachin, where the Azerbaijani side was carrying out a large-scale attack. He remembers the terrifying noises of planes deafening them: "There were many fighters. When I say there were heavy battles, I do not mean there were those who were afraid or fleeing from the war – no – there were no weapons, or, to put it another way, they were insufficient. We would think multiple times before firing each bullet, deciding perhaps we should save it for the moment a more precise strike would be possible."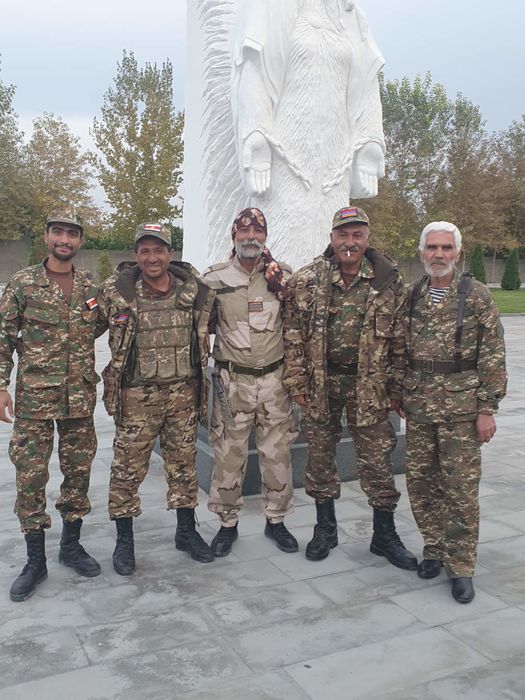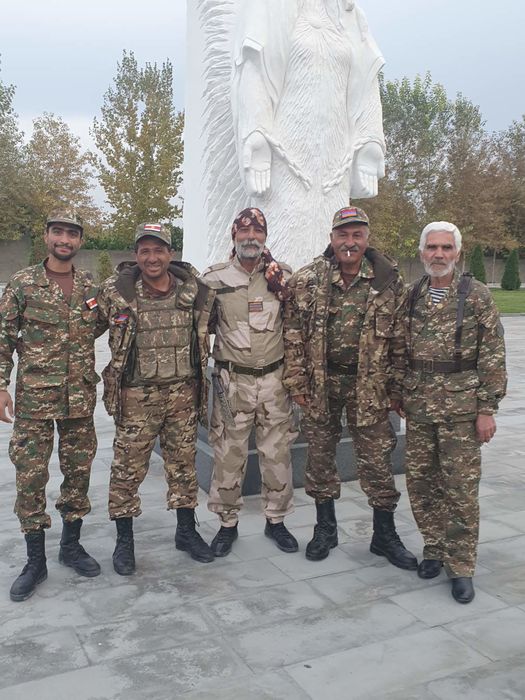 Slavik Tamoyan (second from left) with Ozman in the middle and Fayzo Bakhchoyan (first from right).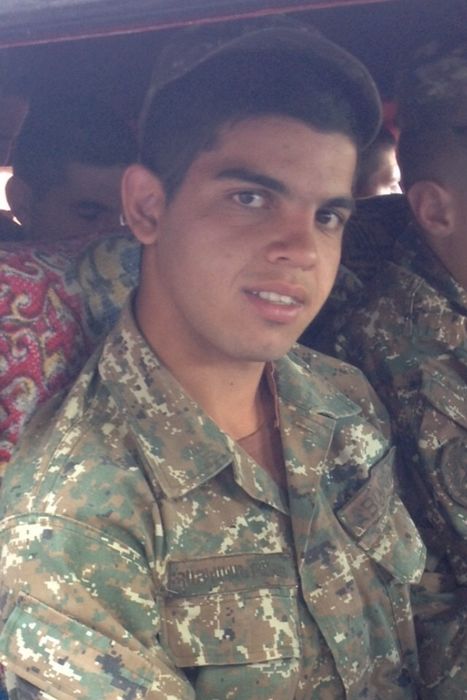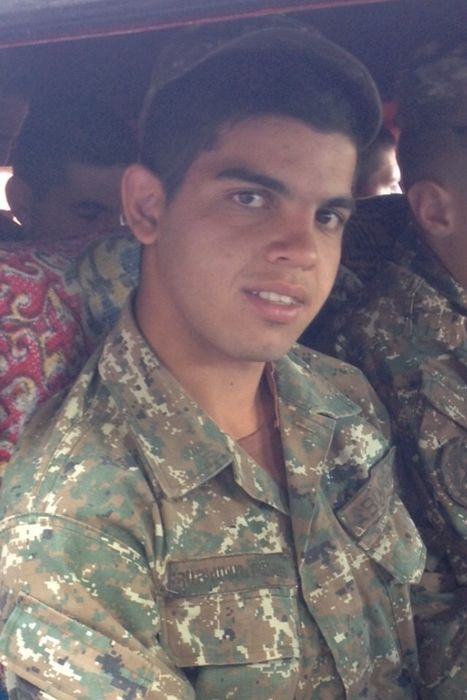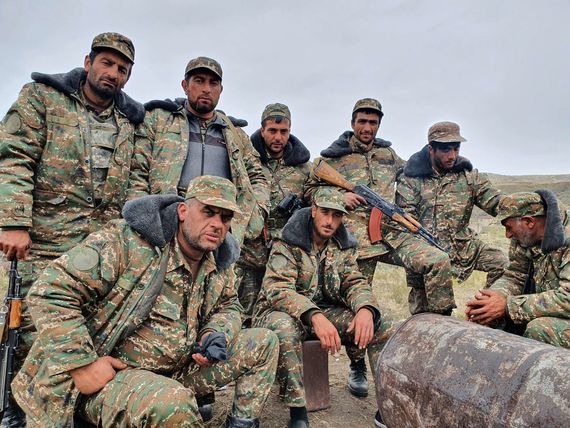 Kamo Aloyan (bottom row, first left) with comrades.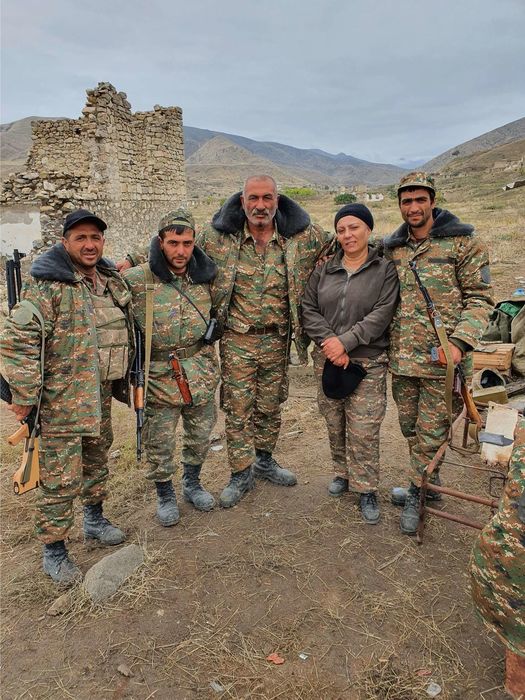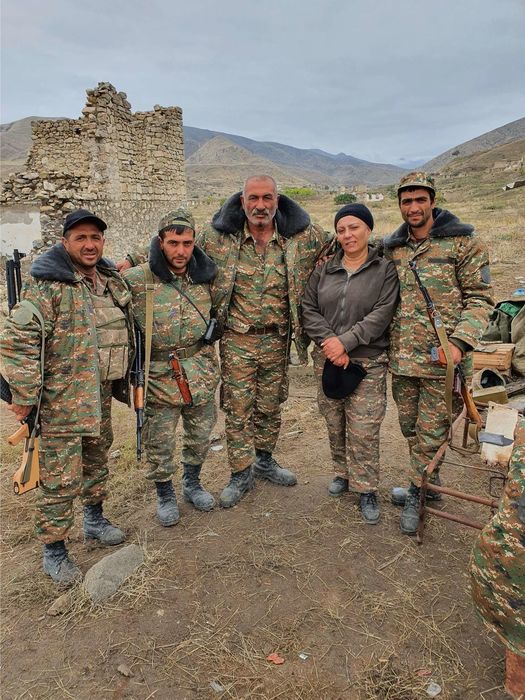 Slavik Tamoyan (first left) with Dilbar. 
Bakhchoyan jokes that they are physically not what they used to be, that they are not young anymore, but nevertheless experience helps them out in various issues.
"We can distinguish any sound: a plane, a drone, a Smerch, a Grad," he explains. "This comes from experience. We could even quickly distinguish the sound of new military equipment. In our time, the enemy did not have this much equipment; it was still a lot, but it was not this much."
Slavik Tamoyan says that he proudly left for the front line with the volunteer detachment. They had very difficult days. They had needed help, and they had waited until support arrived, but they had not surrendered their position. They put their lives on the line to keep it.
"We have fulfilled the task given to us with dignity," he says. "We knew that we could even give our own lives, but we would not surrender the position: that we would retreat to take a better position, but we would not run away."
Kamo Aloyan remembers that, as a young child in the 1990s, he would try to help the soldiers anyway he could: "I would go from house to house, collecting potatoes to send to the boys. The Azerbaijani will not understand this. He is fighting for territory. What does he know about the value of land? Whereas I grew up in this land, my son was martyred in Artsakh. My homeland needed help, how could I leave her an orphan and say 'My son died, my heart is heavy?' Yes, my heart is heavy, but I am obligated to this land."
Ozman Kaloyan, who took part in both the first war and the April War in Artsakh, says that from the very first day he picked up a notebook and was recruiting volunteers. The Yezidis know him well, and that is why Ozman's phone did not stop ringing for a second. They would call, asking for the steps to becoming a volunteer and take up arms for the sake of the homeland.
"Having a Yezidi detachment was not a principle for me. On the contrary, I was against having a Yezidi-only detachment," he explains. "If we try to consider it more thoroughly, we will understand that, when a Smerch falls on a detachment where there are only Yezidis, it is equal to genocide. As it is, Yezidis are already few in number. That is why our detachment was not solely comprised of Yezidis: it included Armenians as well."
Slavik Tamoyan says he attended the funerals of 98 Yezidi soldiers. There is no exact data on the number of Yezidi soldiers, martyrs and all those missing and still in captivity. The information is constantly being updated, but an important fact is indisputable: the Yezidi people stood shoulder-to-shoulder with the Armenians and defended their homeland with dignity. Yezidi mothers gave birth to heroes whose names must be written in capital letters in textbooks, and their feats must verbally be passed on to future generations.
***
The soil of the Ararat Valley is sweet and generous. Fayzo, Ozman, Slavik and Kamo have laid down their weapons and taken up shovels. They are farmers. Who knows? Maybe, in the shade of the trees, Sidar is surveying his native land, which is so stubborn that it yields with difficulty; it requires love and care. The small seeds that they put into the soil – small, like the territory of our country – will then become rebellious sprouts that will one day fight again for their great history.
***
In April 2016, Azerbaijanis beheaded Yezidi soldier Kyaram Sloyan. They believed that, in that way, they were beheading the love the Yezidi people have for their own homeland…