Armenian history has been etched in stone for millennia. This is why our stories, despite constant turbulence and upheaval, have survived. Much of our contemporary culture is a product of these struggles past and even present. Revered artists like film director Sergei Parajanov, poet Paruyr Sevak and painter Martiros Saryan are icons of Armenian cultural identity and their greatness has stood the test of time. However, many young people today find themselves disconnected from these artists of the past. They see and live a different Armenia.
Our culture sometimes feels as if it is throttled by its own past. Many young local artists sometimes face pushback when experimenting with new methods, formats and mediums even from the established artistic community itself. Armenia needs new breath, new life. Generations to come will surely study everything and everyone between Sayat Nova and William Saroyan, but there's a new generation of artists, innovators and entrepreneurs that are writing a new story. One that goes beyond the classical interpretation of art, and dares to explore and combine different mediums, one that includes the intersection between art and entrepreneurship.
Toros Khachatryan
At just 23 years old, Toros Khachatryan has become the man you have to know if you want to shoot film photography in Yerevan. He started his company, Box Photo Lab, at 19 after meeting another film fanatic, Victor, on his university campus. As Khachatryan describes it, "he was shooting black and white, but he didn't know what he would do with that film, because he knew that he couldn't develop it in Armenia. I offered, 'I can do your film.'" At the time, Victor was renting what Khachatryan calls a "strange house" next door to a boxing school on Yerevan's Sakharov Square. The yard behind their building is known as the "Box Courtyard", which became the inspiration for the name of their project.
The apartment started as a place to hang out, watch films and discuss art, but quickly transformed into an arvestanots, an open space for artists to meet, collaborate and experiment with any kind of art. Khachatryan started developing a lot more than just his and Victor's films at Box. When he realized there was more lacking in the Yerevan photography scene, he travelled to Georgia to collect film to sell and a scanner to digitize his friends' photos.
"I was just looking at the labs in other cities, in other countries, and I was saying, 'Damn, it's not okay that we don't have [this],'" Khachatryan explains. "So I was thinking that I need to open a lab, like a real lab where people can come to buy film, buy their cameras. To develop, to print."
Four years later, that idea has become a reality. After Victor left to join the army, Khachatryan decided to keep their project going and has now teamed up with other artists to form the art collective, Vajrapar. Located on Tchaikovsky Street, near Vernissage's busy markets in the city center of Yerevan, Vajrapar is a shared space with a clothing store, a bar, a gallery and, of course, Box Photo Lab.
Khachatryan and his collaborators started this space intending to provide, "an open place for everyone to come to [see] how some very different projects work together… We just want to give people an opportunity, because at most other places you can't just enter and say, 'Oh, hi guys,' and talk directly to the founder." They hope that other artists will be inspired to create their own arvestanots and continue to grow the community.
When asked if he felt that he had reached the goal he originally set out with, Khachatryan replies, "No. I was thinking the last few days, 'Damn, this is not the end.'… Now I'm getting some print orders for exhibitions. Now people are saying, 'If you [can provide] bigger print sizes, we will do more exhibitions.'" Almost single-handedly, he has built his darkroom into one of the most well-equipped film laboratories in Armenia, but he has only just begun.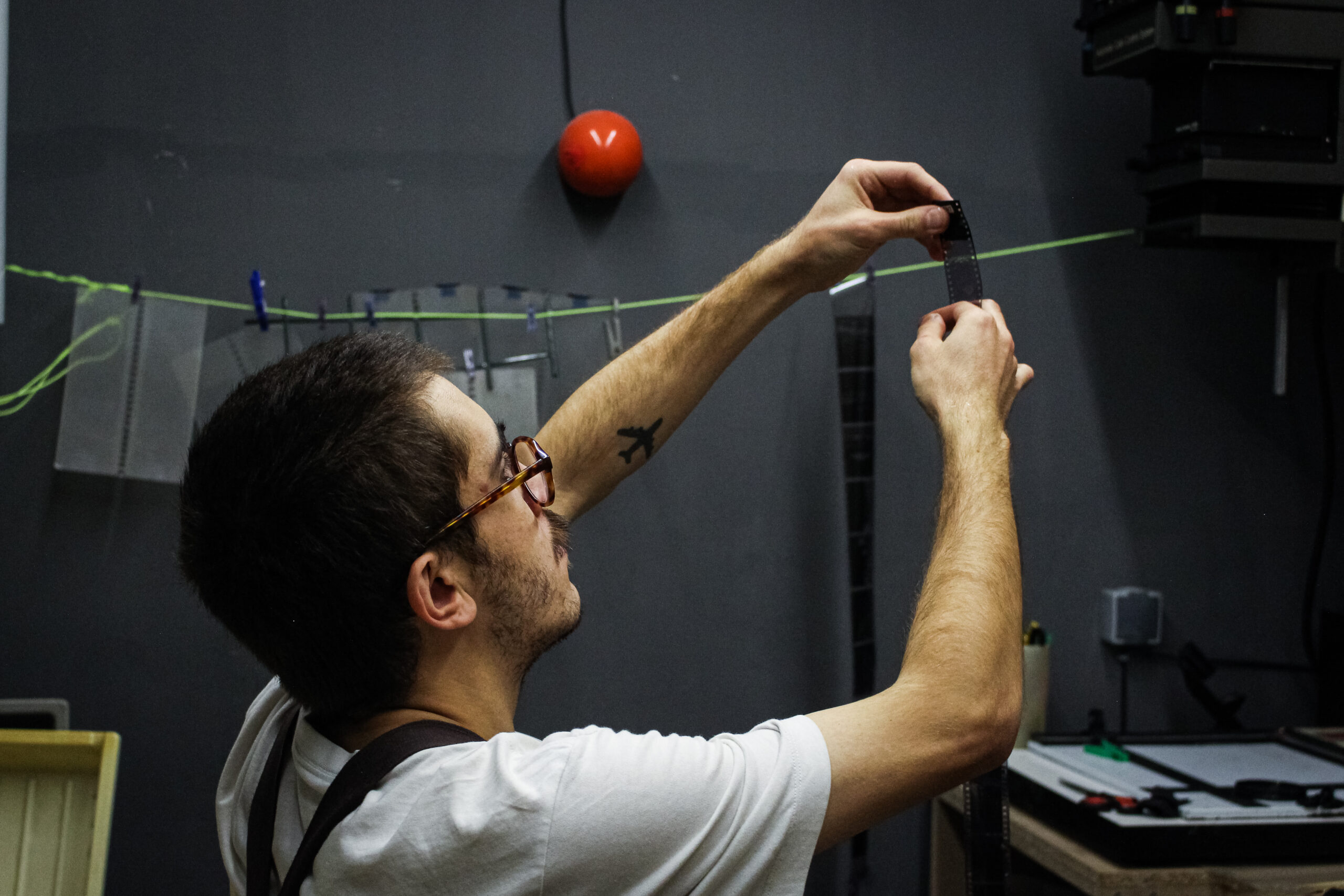 Khachatryan says it goes beyond just art; we need to look at what else is missing in Yerevan. "So, now I think that I need to open a skate shop, because it's really missing. [The] skate community is growing and if someone opens even a five square meter skate shop, he will [be successful]. He will. It will be very, very easy."
Like many other artists, especially those around his age, Khachatryan feels jaded by the negative attitudes of many Armenians about new and experimental art, but he is not discouraged. He firmly believes that there should be more exhibitions and more galleries, but notes that younger artists fear that their work would be scrutinized by older, more established artists, "because in Armenia, everyone judges everyone in everything," and that prevents the movement from growing.
"It's not about the art," he says. "It's not about 'real photographers.' I'm just saying that people are [so] scared about judgment that the art can't even be." He points out that if you look at our classic heroes of Armenian culture, they did what they pleased when it came to art, they pushed boundaries and that is what made them so successful. They created and experimented without fear.
Khachatryan hopes that Vajrapar and other similar spaces will dissolve that fear and allow young artists to express themselves however they please. "You don't need to have a big message in your art," he says. "In Armenia, everyone is doing something with a very, very big message or very, very artsy. People need to be more about feelings, more about [themselves], or about some relationships with life." He plans on leading by example.
Khachatryan has a message for all young Armenian creators as well: "Sadly we're a nation with scars… I just want to tell people to live in the day. Not the past, not the future. Because today [makes] tomorrow. And if you do something today, tomorrow it will be better and the past is gone."
Khachatryan admits that he doesn't shoot photos much these days. He works at the lab every day and hardly has any time to enjoy other kinds of art. However, he is working on an experimental photo series that he plans to exhibit soon. For him, there is no difference between success in life and in his business: His objective is to encourage and inspire artists around him and break taboos that exploratory art can't hold a light to the classics.
Zara Karapetyan
Gyumri is widely known for being the creative hub of Armenia. Its narrow stone streets, historic buildings and quieter city life have attracted many creatives to the Shirak regional capital. Among those is 32-year-old pastry chef and business owner Zara Karapetyan. Karapetyan was born in Gyumri, but her family moved to Moscow when she was three. Two decades later, she realized that she felt happier in Armenia and participated in the Birthright Armenia program, volunteering in Gyumri. After that, she says, "I started to understand that I can live here. I want to live here, and I want to make something for people here." She took the opportunity to make a permanent move to Gyumri and started her business, Nazuk Bakery.
Karapetyan started baking and decorating cakes and biscuits 10 years ago, selling her sweets on Instagram. Meanwhile, she dreamt of owning her own cafe that specializes in cakes and desserts made with responsibly sourced, healthy ingredients. Thus began the first inception of Nazuk Bakery. "For me, it was to have some place where I can share my ideas for the quality cakes in town," she says, "because here in Gyumri, no one makes [desserts] with the right, natural ingredients… I want people to have the opportunity to choose, to decide what they want."
The choices Karapetyan offers go beyond offering tasty desserts made with natural ingredients. She offers unique goodies that are rare finds in Armenia. Nazuk Bakery derives its name from the dessert, nazuk, which is a Western Armenian form of the classic gata. Although they share common tastes and qualities, they each have unique textures and flavors. She also makes the Greek honey pastry melomakarona, which found love in historic Western Armenia as well. Karapetyan believes that presenting people with these options diversifies the type of foods that people consume and broadens their horizons when it comes to flavor and food health.
There have been difficulties, of course. Gyumri is a traditional city, and many people are surprised to see a single woman running her own business by herself. According to Karapetyan, Gyumri can often be a man's town: "All deals, everything, are decided by men."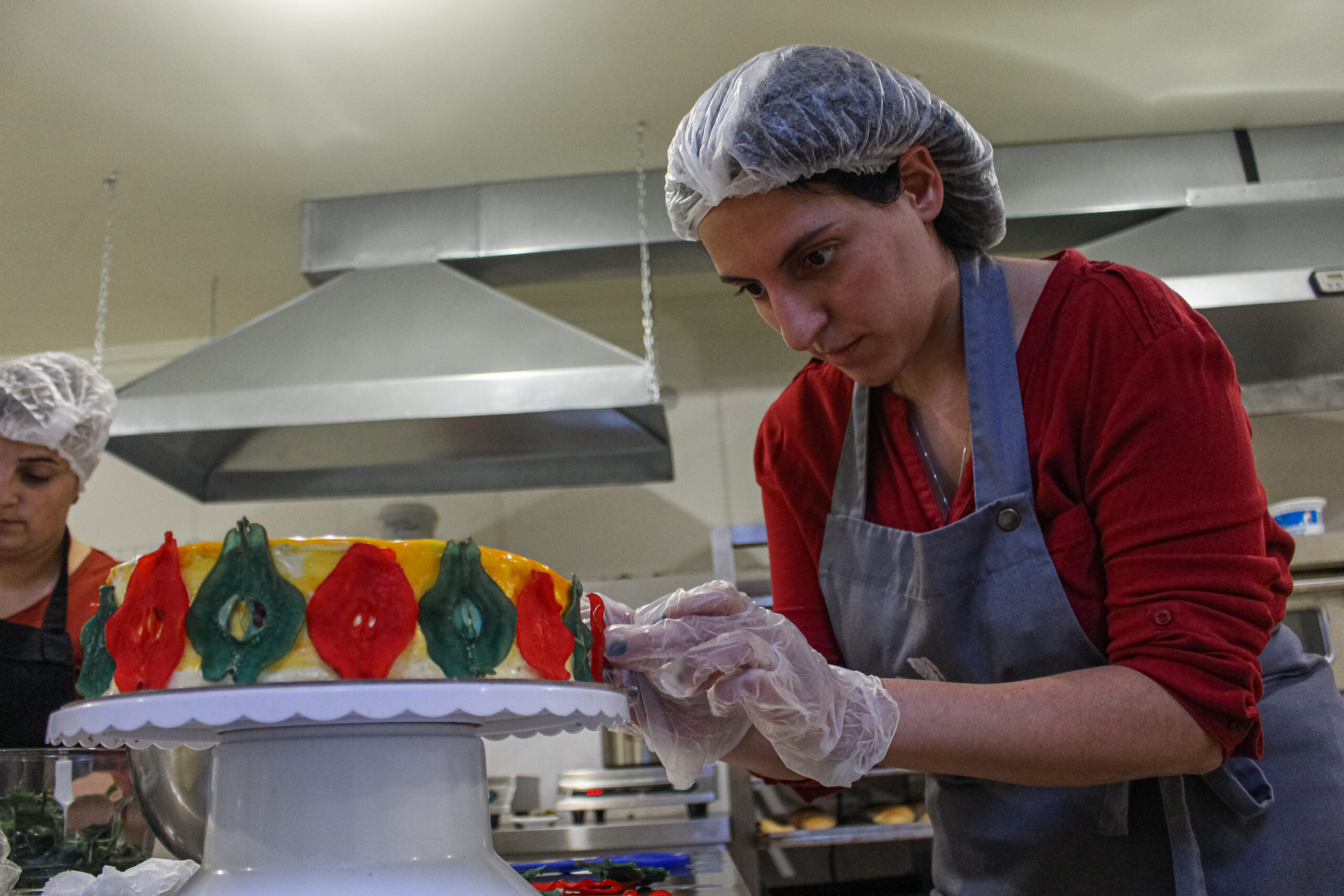 Many also struggle to understand her intentions with the cafe. She wants to create a fun and artistic space for people to come and work, hang out with friends, and enjoy. She notes that, because Shirak is a poorer region, many people don't have money or time to spend lounging in a cafe talking with friends, but she says, "step by step it's changing, so they will go to a cafe to see their friends just for a cup of tea or a cup of coffee. Not [everyone] in town is ready for that."
Despite this, Karapetyan wouldn't trade Gyumri for anywhere else. "I don't know, maybe [it's because] I'm from Gyumri, but I realized that people here for 30 years after the earthquake haven't had a chance at normal life." She believes that bringing more infrastructure and business to Gyumri will help improve the lives of those living there. Nazuk Bakery is just her doing her part to help that happen. She hopes that, by creating a joyful and creative spot for her customers to enjoy, it could become a more popular trend for people to choose the cafe as their meetup spot.
Armenia's culture is at the beginning of a rebirth, and a new wave of great Armenian artists is on the horizon. Karapetyan feels this is because "we're living in changing times. These times always bring the strongest people, because they need to stay [strong to] survive… [The cafe] is not for survival, yes, but art is on top of our human needs, right?"
She admits that some mindsets must become more flexible to allow a new renaissance of Armenian art, but hopes that the new generation of great artists will help the Armenian population adapt to new creative ideas and outlets. Some of those greats will likely find a bit of inspiration while sipping coffee and eating an eclair at her cafe.
At only a year old, Nazuk Bakery has made impressive strides. Karapetyan has been able to source the best quality ingredients for her pastries, and their menu has expanded from just desserts to include meals and snacks as well. She is also dedicated to being as eco-friendly as possible, offering paper packaging and natural fiber straws instead of plastic. She says that success to her means impacting someone else's life for the better.
Karapetyan feels that a great deal of her success lies in her impact on other Armenian girls who see that she is chasing after her dreams without the help of a man. "It gives them hope that they can do it…they can be more than just mothers or sisters or daughters," Karapetyan says.
Karapetyan's advice is to welcome risk and follow your heart, regardless of fears of failure. Her important advice is this: "Don't listen to your mind when it's saying 'No, it's not going to work.' No. If you believe in it, maybe it's not going to work, but it will be a lesson for you, and the next time you will do better. Do not be afraid." As her popularity increases with the residents of Gyumri, she heeds her own advice as she enters this new chapter as a business owner. From selling cakes on Instagram to offering a cozy place to satiate, caffeinate and ruminate, Karapetyan is paving her way through the hurdles of an artist and business owner – establishing new expectations for what art means in Armenia's future.
Cot
While walking down the winding streets of Yerevan's Kond district, you would be hard-pressed to miss some of the amazing graffiti and street art along the way. But there is a hidden gem you might easily pass by without noticing. The only notable feature of the gate to the entrance is a faded crown drawn with spray paint in its center. Although rather unassuming from its exterior on Frik Street, upon entering the courtyard, it becomes clear what kind of venue you are entering.
The three-story house is covered from top to bottom in murals and graffiti. Some of the drawings are mere doodles that cover every bit of exposed wall and the courtyard features sculptures and mannequins in strange and beautiful displays. This is Gareggin Studio. Among other artists, this is the haven for the tattoo master known as Cot.
Born and raised in Yerevan, Cot moved to Argentina to study tattooing and street art when he was 25. After four years of studying, he returned to Armenia to visit family. "I understood that, after studying all this time, I needed to give back to my people…" he says. "Each tattoo is your story. It shows who you are, what your culture is, and what you want to achieve." He saw that there was an abundance of tattoo artists who copied pieces over and over, and didn't adopt a signature style. So he wanted to encourage people to create their own personal style.
Now 31, Cot has been tattooing in Yerevan for two years, but his aim isn't to leave his mark on skin alone. He's been working extensively in street art to try to inspire new ways of thinking in local artists. He strives to show people that we can travel outside Armenia and leave our mark on the world. He encourages artists to introduce their work, and in turn our culture, to the world because, "We are a small country, but in order to have a future, we need good art."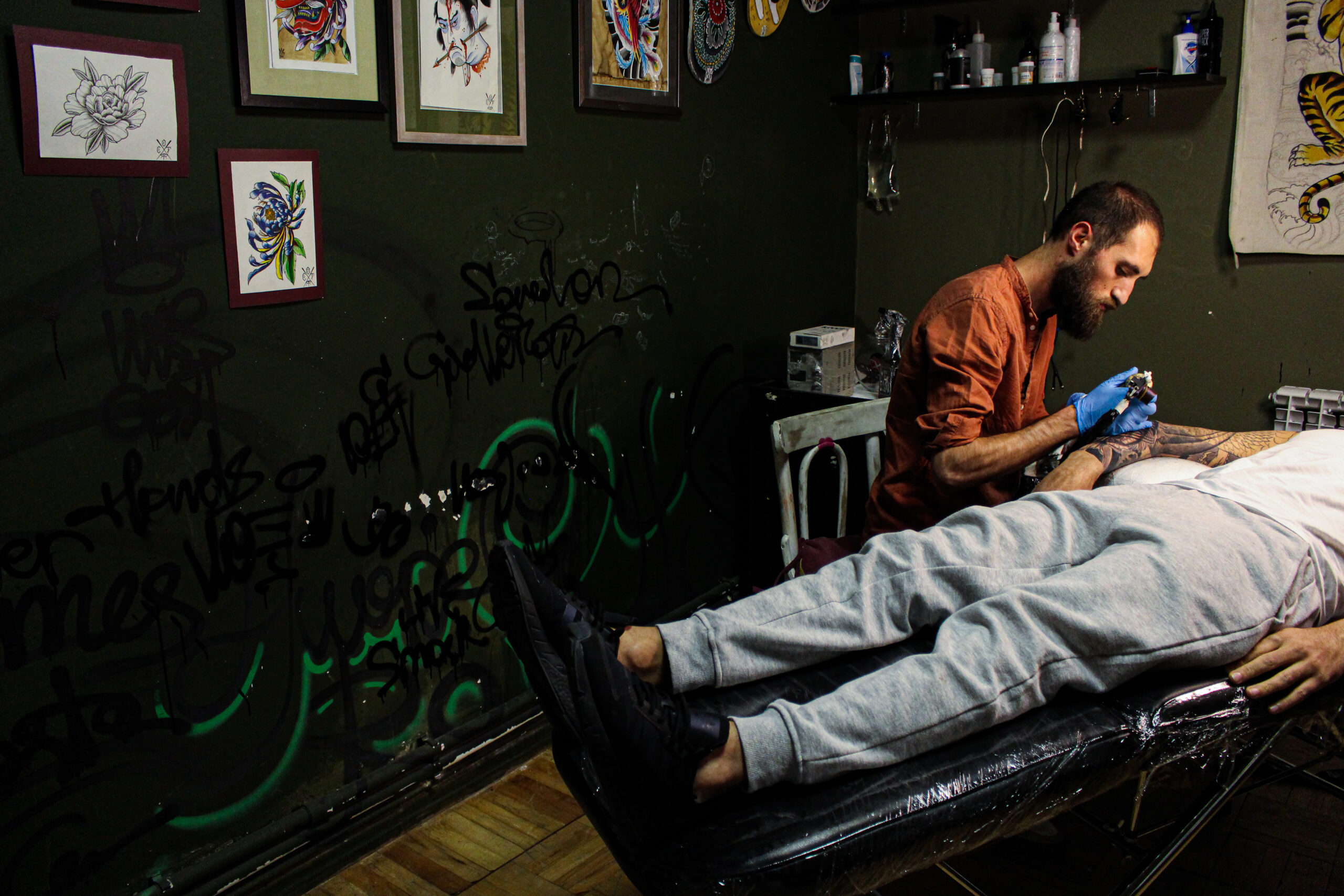 Cot believes that, as people of a historically and culturally wealthy land, we all have to make our mark on the world. He uses the example of Italian artists who brought their work to the world. Today, most everyone knows what Italian culture is. He believes we need to
do the same: "I would feel like a good Armenian if I could do street art in Armenian, for example, in New York and explain the meaning behind it."
Besides his street art, Cot is very specific about the styles of tattoos he does. He specializes in old school, Japanese traditional, and lettering tattoo styles, something that is rare in Armenia, especially at Cot's skill level. He was first attracted to Japanese-style art because, "[Armenians and Japanese] have lots of points in common if you look at the stories, especially stories before Christ. If you look at the clothing and the masks, they have similar meanings." His graffiti-style lettering is also rather unique in that it draws inspiration from the classic cholo graffiti often adopted by Latin American gangs in the 1980s and 1990s. His style of lettering remains unmatched by any other artist in Armenia. "Now I only do lettering in Armenian… We can all speak English, but I want to show the world they can use our letters for street art and for tattoos," he says.
For Cot, classic artists like Sergei Parajanov and Minas Avetisyan are amazing Armenian artists, but he notes that the rest of the world only sees them as Soviet artists. He believes that their responsibility is to create artwork in the next 10-20 years that new artists can draw inspiration from. That goal is within reach, he thinks, and is already coming to fruition. He adds that there are Armenian artists that have been very successful abroad. In the last decade, we've seen great improvements in our art scene locally, but there is still a lot of work to do.
"We need to work, practice and be fearless. We don't need to ask anything from anyone," Cot says. "We just need to start from within us." He acknowledges that people need to make a living and that often you don't have time to think about the arts. He recounted how, when he was living in Argentina, there were times when he had to choose between paying for a place to stay and resupplying his tattoo ink, so he would spend two or three nights sleeping in the streets. "You have to choose what's better for you. For me, if you choose money, you can't grow as an artist."
Cot says there is a lack of appreciation for tattoo art in general in Armenia. Some people think that each tattoo is easily repeatable like a stencil, he says, and they don't believe that it is worth the price he asks for. The most difficult part, according to him, has been trying to change that mindset in people. He considers it deeply important that, "people understand that tattoos are also an art and for good art, you have to pay and respect the artist and their style. In Argentina, people know this. They don't ask an artist for random styles. They go to the artist that does the style that they want."
The same goes for the art business as a whole. Cot's partner, Gareggin, the eponym of Gareggin Studio, says that they have found it difficult to be successful as a studio when people prioritize the money before the art. Our culture can't mature if we think only of its financial potential. They usually have six to seven artists working in the studio doing tattoos, designs, prints, paintings and more. They want it to be a free space for creativity and strongly encourage other artists to come work and hone their craft, especially if they are experimenting with fresh and original ideas.
Cot says he will only stop tattooing when he dies or when he can no longer draw a straight line. "I can express myself if I'm feeling happy, if I'm feeling sad, if I'm feeling angry, and you can reflect that in the tattoo," he explains. For him, succeeding in life is not a goal to be achieved someday in the future as much as it is a steady journey. "To me, success is doing what I like every day. Getting paid for my job and especially peace for our country and for people to grow artistically… I want to do my best to grow [not just] as an artist, but also as an Armenian artist." His pride in being Armenian and his dedication to his unique craft make him a shining example of the type of artist who can shape the future of our Armenian culture. With his unparalleled tattoo portfolio, it is reasonable to assume that his work will stand out not just at home in Armenia, but abroad as well.
Images taken by the author.