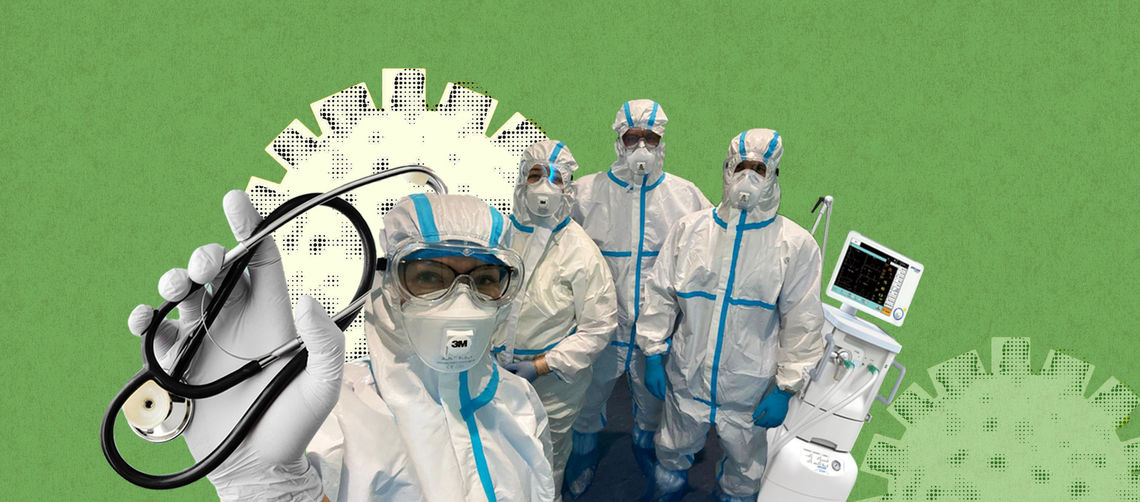 I have no idea what is awaiting me, or what will happen when this all ends. For the moment I know this: there are sick people and they need curing.

― Albert Camus, "The Plague"
The novel coronavirus (COVID-19) unapologetically barged its way into our lives, with its horrific scenes of death, fear and loneliness. Individuals, each with their own life story, were summarized into numbers and a wave of headlines washed away fundamental aspects of daily life. Not long after people got used to calling it "the new normal," innate signs of humanity, solidarity and compassion revealed themselves.
Marius Čiurlionis, the team leader of the first group of eleven Lithuanian medics who arrived in Yerevan to support local medical staff, says Armenia is not alone in the fight against COVID-19. "We are bridged. We are friends. Whenever we are needed here, we are willing to come back," he says.
Marius and his team arrived in Armenia on a military aircraft in the heat of summer. They worked with doctors at the St. Astvatsamayr Hospital and the Traumatology and Orthopedics Medical Center in Yerevan, two of the more than dozen hospitals treating COVID-19 patients across Armenia.
In June, other groups of medical experts, from France, Russia and Italy, had also arrived in Armenia to stand side-by-side with their colleagues in the country, to share their experiences and help in overcoming the challenges posed by the virus. Soon, the third group of French doctors will arrive in Armenia and another group of doctors from Germany is expected to be here by the end of the month. The interstate collaboration in the fight against the spread of COVID-19 has demonstrated how this is not a local, but a universal struggle.
In a strange twist of fate, Marius had been planning to visit Armenia with his family in the fall. "Because WizzAir was about to launch direct flights from Vilnius to Yerevan, we were planning to come here in September with family, because we had heard a lot about Armenia, about the food, wines, churches and mountains," he explains adding that unfortunately, that trip will now be postponed.
Though the fight against the spread of COVID-19 has repeatedly been labeled as a war against an invisible enemy, the young Lithuanian doctors on the frontlines of this fight did not see it that way, even while sitting inside a military aircraft. "We do not define it as war. We define our mission as support and sharing our experiences and knowledge," says Marius, looking at his colleagues who unanimously agree with him.
Despite the stigma on travel amid the pandemic, the decision to come to Armenia was made with relative ease for the medical team. "As anesthesiologists and intensive care physicians, we usually make decisions on what we are doing next in five seconds," says team member Ainius Žarskus. "Ten minutes later, I knew I was flying to Armenia." Speaking about his experience in Armenia, Ainius says the two weeks he spent here have been the most interesting times he has ever had. "If Lithuania organizes another mission next year or another time, I will be the first to volunteer," he states confidently.
The call by Lithuania's Ministry of Health for volunteers to take part in the mission to Armenia did not have to wait long to fill its quota. "And here they are," says Marius, pointing at the members of the team sitting in tranquility after two weeks of working intensively at hospitals with their Armenian counterparts.
"I was called by a doctor who invited me on this journey, and I agreed. I was keen on new experiences. I wanted to help people and to test myself in different situations, and maybe to grow," says nurse anesthetist Donatas Mečislauskas as he shares his thoughts about his inspiration for coming to Armenia, a decision he made within an hour after getting the call.
The team of Lithuanian medical workers and experts usually work 24-hour shifts in intensive care units in their home country. While in Armenia, they worked in the early morning hours until midday when the workload was the heaviest. As soon as they arrived in Yerevan, they quickly identified the pressure points and the areas which needed the most help. "Within a few hours we were able to divide our group, manage our resources and had a very clear plan of action," Ainius explains.
Working in Armenian hospitals, the team observed the attitude of Armenian doctors, of local social norms, particularly empathy. "Especially in nurses, we saw a warm and empathetic attitude toward the patients, which is the main difference with Lithuanians," Ainius notes. "We are a bit cooler." Donatas says he witnessed the strong interactions between nurses and patients, as well as the deep bond doctors and nurses had developed to undertake their responsibilities as a team. "Patients trusted the medical workers and the caregivers," he says.
Although the approach in treating patients differs slightly between the two countries, Ainius notes one important difference with regard to an antiviral medication being used to treat COVID-19 patients. "We heard from the Health Minister [Arsen Torosyan] that you will receive Remdesivir in a few days," he says. "I am not sure if Lithuania was able to buy this drug which is the only one that has an A1 recommendation to be used. In this condition, I would say we are at a point where Armenia developed an even better approach." Notwithstanding the few differences, Ainius stresses that at this stage the main objective in treating the virus is the destination and not the journey to get there.
In a country with no knowledge of the local language, the Lithuanian medics did find ways to communicate with their patients. "With some patients we spoke in Russian," Ainius says adding that this is how patients understood they weren't Armenian given the difficulty of seeing who is behind the white-covered personal protective equipment doctors and nurses have to wear. With those patients that Ainius managed to talk to, he says that despite some of them being in ICU and in critical condition, they remained positive.
Talking about the ICU teams in Armenia, Marius says that local medical staff have the right standards in place and are working together. "But there is always room for more training," he says. "Because the protocols are constantly being updated, to provide the best healthcare procedures and to reach the best healthcare outcomes, we need to train staff." Besides the need for ongoing training, the leader of the team also mentioned that one of the key measures to prevent the spread of COVID-19 is the compliance of the population with the guidance set by the government. Marius says that misinformation and conspiracy theories did not get much attention in Lithuania, as people trust evidence-based policies and confirmed information. "Ninety-eight percent of our population complied and worked with the government," says Marius.
Regarding to what extent Armenians have been following the anti-epidemic rules, Marius said that, before arriving in Armenia, they were expecting to see worse. "I see people wearing masks everywhere: they wear them on the streets, they wear them on public transport and in the shops," he says, adding that some people, however, were not always following the rules. He reiterates the three main principles: "Wear a mask, keep distance and wash your hands."
To date, Lithuania, a country with a population of 2.7 million people, has registered only 1865 cases of COVID-19, of which only 207 are active cases and 79 deaths. Lithuania has been able to achieve this success with the cooperation of the population. "The Government can make the best decisions ever, but without the cooperation of society, it is not going to be feasible," Marius notes.
After long days at the hospital, the members of the Lithuanian medical team, not having their families by their sides, had more time to talk in the evenings, reflect on the day and discuss the ongoing situation. When they walked in the streets of Yerevan wearing their white shirts with the flags of Armenia and Lithuania, people applauded them and expressed their gratitude for their assistance. Though the role of doctors and medical staff is being revered throughout the crisis, the team members don't consider themselves to be superheroes. They say they are simply doing their job and there's nothing special about them.
The team arrived in Armenia at a time when the tourism industry is at a standstill, as borders continue to be closed. However, they still had the chance to do some exploring in Yerevan despite the limitations and were cautious of not spreading the virus themselves. When the life of a medic, who is in the trenches fighting against COVID-19 becomes overwhelming, the need to get out and breathe some air and get a good cup of coffee is healing. Marius says they tried to go places where there were few people. "The country is amazing with its beautiful architecture, beautiful nature, and very warm-hearted people," he says. "I will definitely come and I will also tell my friends to come here as well."
Donatas says that he too would like to come back with friends or family in the future, "because Armenia has stunning culture, cuisine and charming people." Like in medicine, Ainius noticed a difference in Armenian cuisine, especially a dish made of lamb marinated in wine for 24 hours, and later slow-cooked for 18 hours. "In Lithuania, we are usually not able to find such a thing, but in Armenia we are," he says looking at his colleagues for confirmation. Marius also shares his favourite discovery of Armenian cuisine, although he has trouble remembering the name of the dish, he goes on to describe the texture and ingredients: "They are small, with meat inside and covered with grape leaves." After double-checking the name, Marius exclaims, "Yes, this was dolma! Those are amazing."
Ainius says that he found Armenia richer than he had imagined. In the limited time the team had to explore, Ainius managed to draw similarities between the history of the two countries. "Armenia has its own tough history, same as Lithuania. We are small countries. We have managed to live behind big nations," he says, noting that Armenians are friendly and very social. "I will definitely be taking the people I met back with me, because they are really friendly, they are always ready to help, they are always ready to sacrifice. What I am going to miss most about this country is going to be its people. The people I have met," Marius says.
The team left for Lithuania on July 4, after spending two weeks in Armenia, having made new friends and uplifted by the positive attitude they encountered. With all of the experiences and discoveries of Armenia in mind, Marius also took the most delicious apricots from Armenia back with him, which he hoped would survive the journey, to share with his family only after the fourteen days of isolation they must undergo in Lithuania.
———————-
Photo courtesy of Marius Čiurlionis; photographs from various sources with permission to be used in the article.