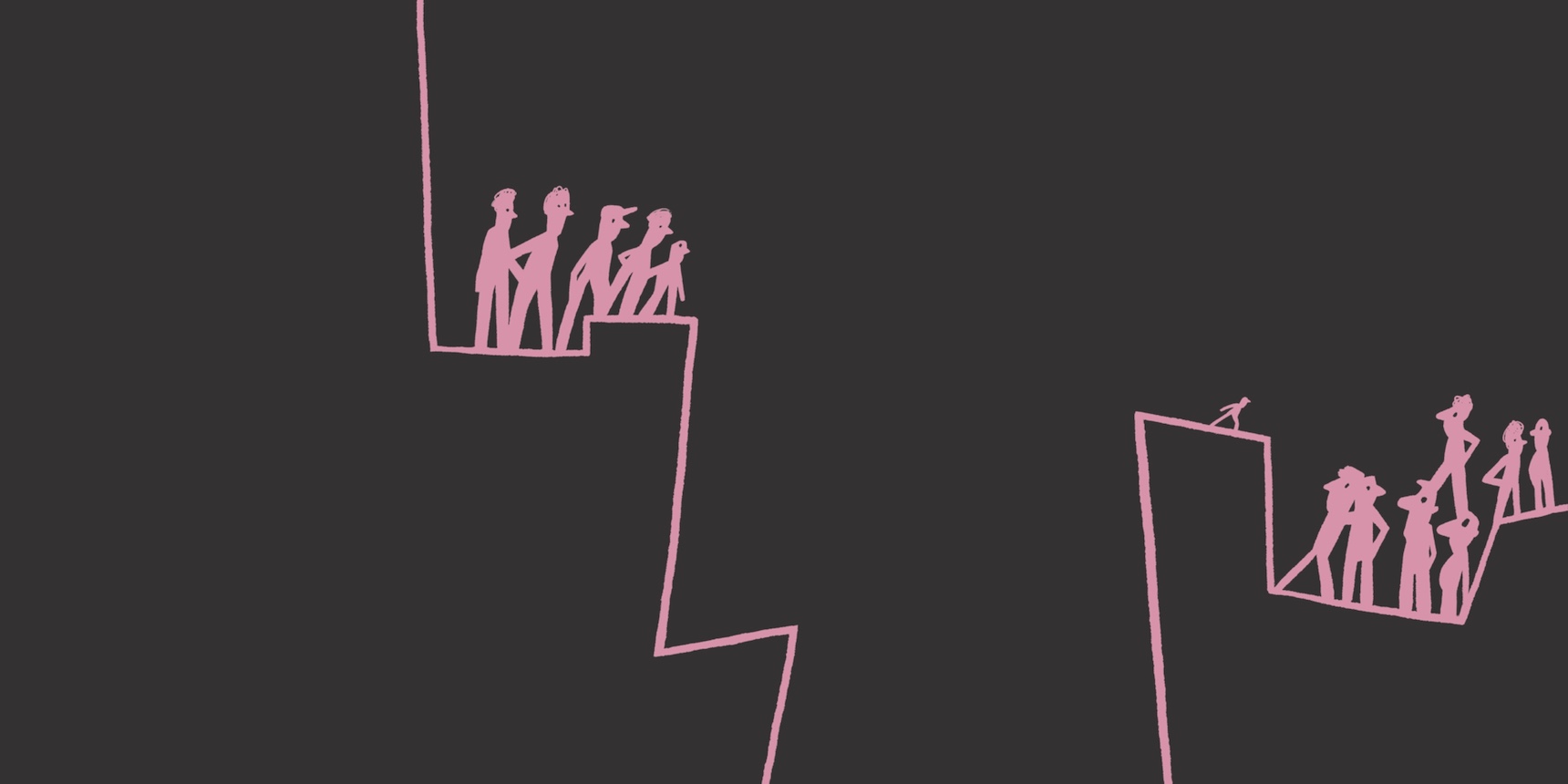 Illustration by Maïda Chavak for "374"
In 2020, the City of Glendale set out to develop an accelerator program that would stimulate the growth of its start-up ecosystem and, in the words of Mayor Vrej Agajanian, "take the next step in establishing itself as a comprehensive regional hub for technology and innovation." So it put forth a tender to find an operator that would do just that. 
What it found was Hero House Glendale.
Hero House Glendale was awarded $500,000 over the course of three years to implement a non-industry specific "Gateway to LA" program that would focus on international and out-of-state companies looking to find a foothold in the Southern Californian marketplace and expand their product. 
With the COVID-19 pandemic still looming large globally, Hero House Glendale did not officially open its doors until 2021. Since then, it has been operating as an entrepreneurship hub in Glendale that combines the scientific potential of local leading universities with the expertise and network of business leaders in entertainment, aerospace, bioscience and other fields in the Los Angeles area. 
Hero House Glendale was established by SmartGateVC, a Yerevan-based venture capital firm investing in deep tech companies, with a primary focus on AI. Hero House Glendale operates in Southern California as a community arm of SmartGateVC — and this isn't their first project. Back in 2017, the team established the first Hero House in Yerevan in order to, in the words of co-founder Ashot Arzumanyan, "kickstart the start-up scene and bring the spirit of Silicon Valley to Armenia." Hero House Yerevan also hosts the Armenian Startup Academy, a 14-week program that helps connect engineers and start-up founders with mentors to bring their ideas to life. 
SmartGateVC has a proven track record of success when it comes to smart investments. Its portfolio includes Krisp (noise cancellation technology), SuperAnnotate (annotation platform and services for training AI) and Podcastle (an AI-based tool for making the creation and streaming of audio content more accessible). 
Introducing the Glendale Gateway Program
Arzumanyan believes that Glendale has all the ingredients to establish itself as a thriving tech start-up scene, with AI-focused companies at its helm. He references universities like Stanford, Harvard and MIT, whose science and technology research programs are "spinning out companies" in the field. Universities in Southern California, like UCLA, USC and Caltech, are all on par with these schools in their research facilities and capabilities. But when it comes to venture building and business, Arzumayan believes there is huge untapped potential. 
According to Arzumanyan, Glendale is perfectly positioned to become "a hub for innovation technology and venture building," and the opening of Hero House Glendale lends it the infrastructure to do so. Arzumanyan believes that in five years, it will have a similar reputation to Hero House Yerevan and become the first place where techies and venture builders who want to build in Southern California visit.
With this goal in mind, in 2021 SmartGateVC launched Hero House Glendale Gateway, an accelerator connecting business development talent and opportunities in Southern California with deep tech teams in Armenia and Eastern Europe, allowing them to find entry into the North American market. 
The 12-week program is broken down into a nine-week individual development program tailored to establish growth frameworks, advance sales and seed round preparation, followed by three weeks of on-site, in-person customer interviews, sales meetings and investor introductions to grow U.S. sales and raise funds.
To complement the Glendale Gateway Program, Arzumanyan and his team also introduced Hero House Angels, a community of angel investors and mentors who want to back the growth of deep tech and science-driven companies across Armenia and Southern California with capital, network and mentorship. Events like Glendale Tech Week and regularly scheduled conferences keep Hero House buzzing with the exchange of ideas and expertise. 
Building a Bridge Between Southern California and Armenia
With its sister start-up hub located right in the center of Yerevan, Hero House's Glendale Gateway program connects venture builders in Southern California with founders and engineers based in Armenia. 
This bridge forged halfway across the world benefits both parties in one word: accessibility. According to Arzumanyan, starting a venture in the U.S. means paying "a takeoff cost of one or two million," a hefty sum for a first-time founder to allot. 
"The idea is to connect those founders with the growing industry of science and technological development we have in Armenia, offloading some of the initial research and development costs," Arzumanyan says. 
This model has a proven track record of success, with companies like SuperAnnotate and Biosim owing much of their initial success to Armenian R&D. 
But these start-ups could not have found success without the right connections. Only a few years ago, Arzumanyan knew few people in Los Angeles who could help him build ventures with the talent and technological potential he already knew existed in Armenia. With Hero House Glendale and the Gateway program as a window to the U.S. market and its vast network of corporations, companies and investors, the SmartGateVC team continues to make these connections, navigating the scene with increasing ease. 
"Easy access is the main thing," Arzumanyan says. "Now that we've spent the time making those connections, we can share our knowledge and operate as a real accelerator for others." 
This also makes for continued success with initiatives like the Armenian Startup Academy, which — with SmartGate's newfound network in Southern California — is better positioned to connect participants with investors in the U.S. 
"Because we invest in pre-seed companies," Arzumanyan explains, "we invest in people," rather than cash flow or data. Assessing whether a new founder, scientist or engineer has the potential to establish a successful start-up is SmartGateVC's strength and follows an intuitive approach — at least in Armenia. According to Arzumanyan, this is because both parties participate in a shared culture, in which trust is easier to build and honesty and determination are easier to identify from the onset. 
When it comes to finding executive-level talent for SmartGate's portfolio companies in Armenia, Arzumanyan wants to expand his search abroad. Hero House Glendale and its growing presence in Southern California offers an avenue for finding that talent. 
The bridge that Hero House has built is invaluable to both Southern California and Armenia. 
"Armenia is an extension of Silicon Valley," Arzumanyan says. "But if you are an extension that is not well-connected to the main body, you die. We are building the backbone that connects the two and makes for a successful start-up business scene in both Armenia and Glendale." 
The Armenian Diaspora as a Resource
The success of Hero House Glendale is largely thanks to the Armenian diaspora. Arzumanyan believes that Hero House Glendale won the tender from the City of Glendale in 2020 because of the significant support and dedication of the local Armenian community.  
"A lot of our success is thanks to the Diaspora," Arzumanyan says. "That's Armenia's unfair advantage." 
He adds that although Armenia is a small nation, some Armenians in the diaspora are working in institutions where millions or billions of dollars are invested. He believes this human capital is an important resource that has gone largely unused or incorrectly utilized for the past 30 years.
Arzumanyan thinks that it is time to tap into that potential. As an example he cites Biosim AI, an Armenia-based laboratory whose goal is to accelerate the process of pharmaceutical drug discovery and reduce their costs. Armenian-American Garegin Papoian, who founded Biosim AI, helped put Armenia on the map of the industry's most cutting edge innovation by quickly building a team of local Armenians. 
Arzumanyan believes that, among most tech hubs in Eastern Europe and the Middle East, Armenia is the best connected to the U.S. Although thriving tech ecosystems exist in European countries like Estonia, and they are well-connected in Europe, they are not necessarily positioned closer to the U.S. market than Armenia. 
The Armenian diaspora positions Armenia right at the doorstep of opportunity in North America.  
"There is no closed door for an Armenian," Arzumanyan says. "You can knock on it the wrong way, you can screw up your pitch and lose your opportunity. But, if you use it wisely, there is no closed door for an Armenian in the world. In any corporation, there is an Armenian who can make the introduction and open that door." 
Today, Hero House Glendale is a buzzing community of mentors, investors and founders looking to launch successful start-ups in tech and AI. And while much of that community is composed of both local and diaspora-based Armenians, Arzumanyan and his peers are actively branching out and building relationships and trust with non-Armenians in universities and big tech companies.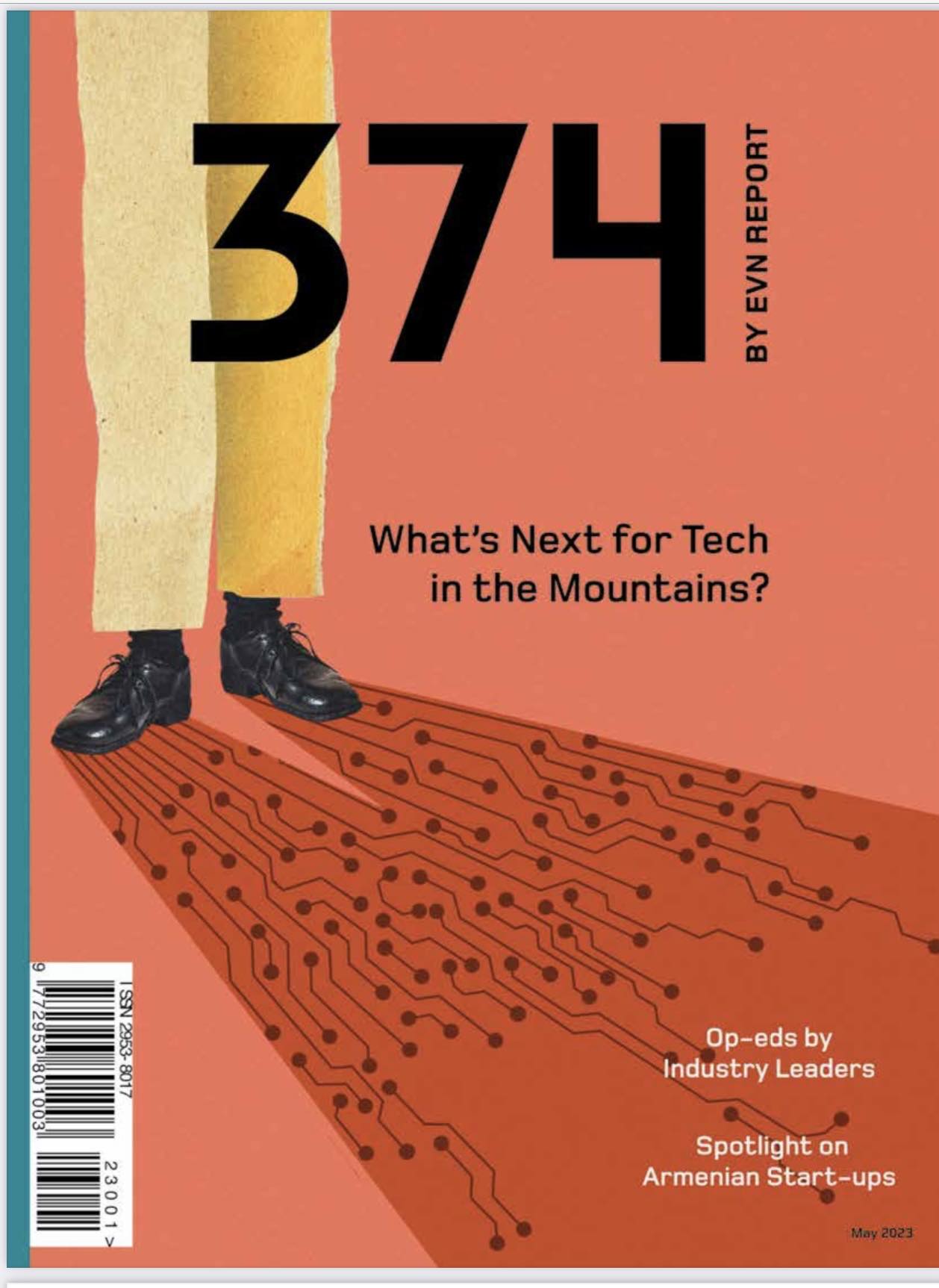 Motivated by the lack of global awareness and understanding surrounding Armenia's tech sector, EVN Report published "374," the first print tech magazine in Armenia. The inaugural issue sheds light on the fascinating work being carried out by Armenia's most innovative companies across various sectors such as AI, education, blockchain, and biotech. Additionally, we explore the necessary steps to ensure that the recent success witnessed in the industry translates into sustainable and inclusive growth for both the sector and the entire country.
The magazine issue for June features some of the pieces found in "374". We are delighted to feature prominent voices like Nina Achadjian, Armen Orujyan, Raffi Kassarjian, Ashot Arzumanyan, and Hovsep Patvakanyan, who provide valuable insights on these topics.