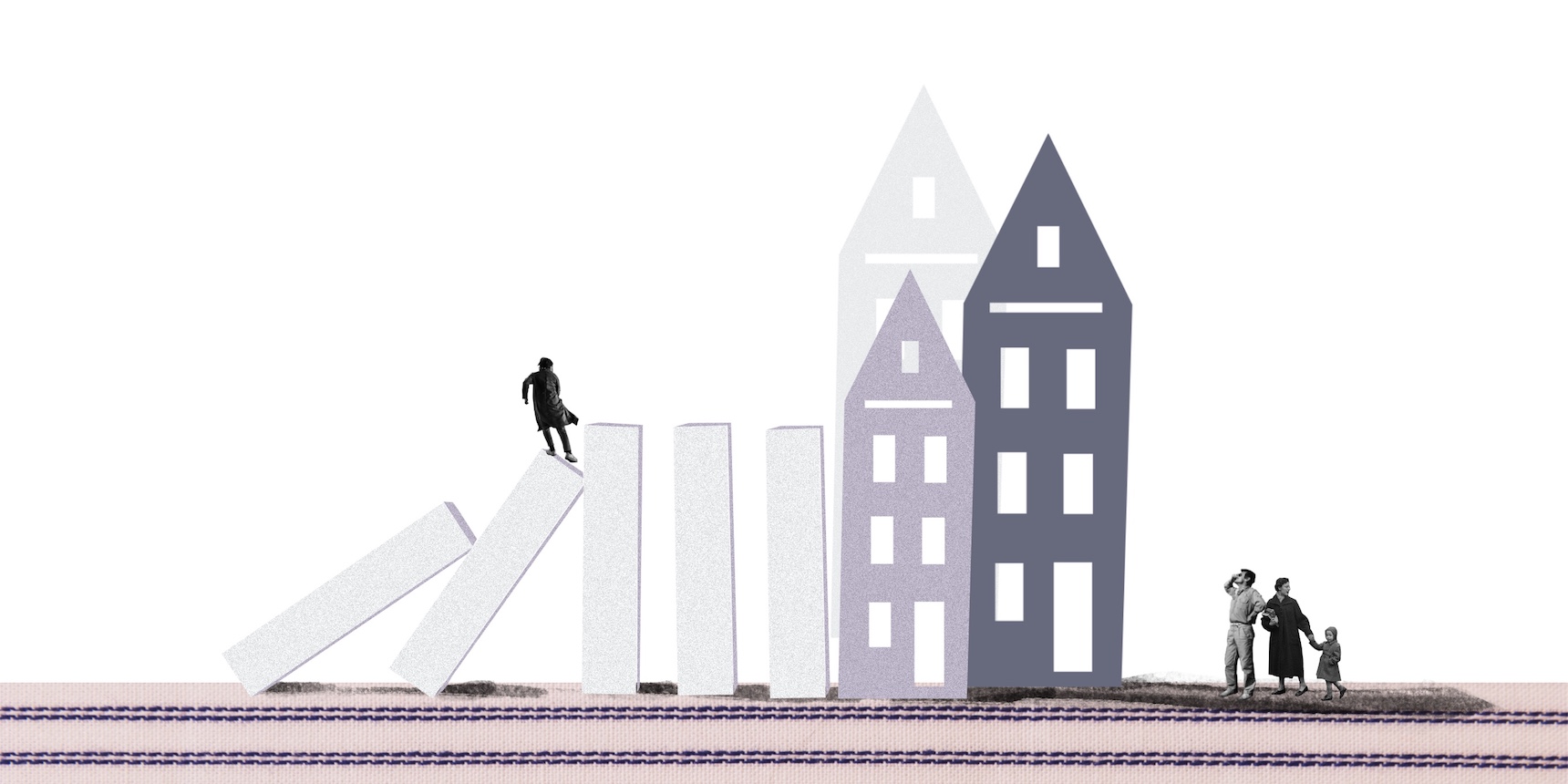 The Armenian real estate market is a significant sector in the economy and remains active although the number of transactions and prices can be preposterous at times.
According to the State Cadastre Committee, there were 204,910 state registered real estate transactions in Armenia in 2022, the highest number in the past 12 years. The lowest number was in 2015, with only 127,150 transactions.
In 2022, Yerevan had the highest number of real estate transactions (31.5%), while the region of Vayots Dzor had the fewest (2%). Transactions declined in the regions of Ararat (17.2%), Gegharkunik (4.6%) and Armavir (0.6%).
Of all real estate transactions, 14% were presale purchases, 19.3% of transactions involved inheritance and of the 38.2% of real estate agreements, 25.8% were sale and purchase, 11.3% were gifted and 0.1% was property swaps. 
The Leaders
In 2022, 25.8% of real estate transactions were sale and purchases. However, it is worth noting that such transactions fell by 5.6% in 2022 compared to the previous year, from 56,044 in 2021 to 52,928 in 2022. The number of sale transactions declined by 9.5% in urban regions and 7.9% in rural areas, compared to 2021.
As with practically all other transactions, Yerevan and neighboring Kotayk region were the forerunners, accounting for more than half of all real estate transactions throughout the republic. Furthermore, there was a 0.7% increase in sale transactions in Yerevan and a 2.1% increase in Kotayk compared to 2021.
Land had the highest percentage of sale transactions (42.8%) and industrial structures had the lowest (1.2%) in 2022. However, overall land sales fell by 8.5% over the previous year.
Azat Manukyan, a partner in the auditing and consulting firm of Grant Thornton Armenia, notes that land sale transactions declined for the first time in five years in 2022, after consistently increasing previously.
"Real estate sale transactions in 2022 have generally decreased compared to the previous year," says Manukyan. He notes that the only type of property where there is an increase in transactions is apartments. "However, in the case of apartments, the growth rate has also slowed down, returning to about the same level as in 2019. Following the constraints imposed by the coronavirus pandemic, we saw a significant rebound, but only a 3% increase in 2022, compared to a 30% increase in 2021."
Apartments: The Target 
Apartment sales account for 32.3% of all real estate sales.
In 2022, there were 17,084 transactions involving the purchase and sale of apartments in residential buildings throughout the republic, which is a 3% increase from 2021. Of these transactions 5,618 were carried out in the regions, of which 7.6 % were in rural areas, representing a 1.6% increase from 2021. The majority of transactions (11,466 or 67.1%) were completed in Yerevan, which is 3.7% more than in 2021. The Arabkir administrative district of Yerevan had the highest number of transactions (19%), with the lowest in the Nubarashen administrative district.
When it comes to buying and selling apartments in Yerevan, one has to keep in mind the income tax refund program. This program has had a significant impact on the market. According to Manukyan, judging from the ongoing construction and real estate development in Yerevan, most transactions are presale purchases.
According to a 2015 Government decision, people who purchase an apartment directly from the developer can receive a refund for the income tax paid to service the interest on their mortgage. However, in 2021, the Armenian government decided to gradually curtail this program in Yerevan; it will be discontinued altogether in 2025. Analysts suggest that these restrictions have sparked more interest in buying apartments, boosting the number of real estate sales and increasing the price per square meter of apartments.
According to Manukyan, the income tax refund program can only be used once. "Considering that the program has been in effect for quite a long time, it's likely that those who could have taken advantage of it already have," he says, adding that the recent slowdown in transactions may be due to fewer people being able to afford the high prices. "The high prices are essentially driven by the possibility of a tax refund, which seems to artificially create demand," Manukyan says. "In my opinion, the market will eventually return to its natural equilibrium once the income tax refund program is gradually suspended."
New Flows, New Prices
According to the Cadastre Committee's estimates, the price per square meter of apartments in regional cities increased by approximately 19% on average between 2021 and 2022.
In Yerevan, the average price per square meter of apartment space has risen by around 14%. The largest rise is 17.5% in the Davtashen suburb, while the smallest is approximately 8% in Nor Nork. Prices in the capital's suburbs are not decreasing.
The price per square meter of apartments for sale has also increased in all large cities outside Yerevan. The average price per square meter climbed by 29% in Gavar and Vanadzor, approximately 27% in Metsamor, Etchmiadzin,and Hrazdan, and around 26% in Gyumri, Sevan and Dilijan.
The market price of apartments in Armenia has increased over the past decade. In 2013, the average increase was 5.4% compared to 2012. Following this, prices remained steady up to 2017, sometimes showing a slight annual growth. In 2018, the market prices of units in apartment buildings increased by an average of 22.5%, compared to the previous year, representing the largest annual growth since 2012.
According to Narek Karapetyan, an expert at the Amberd Research Center, the income tax refund program has had a significant impact on the real estate market. The gradual withdrawal of the program from Yerevan is also increasing interest in newly built apartments in the capital, which is another factor contributing to rising prices.
"Prices fell in the months following the war. In the first quarter of 2020, the average price per square meter in Yerevan was 350,000 drams. This fell to 330,000 drams by the end of the year, and further to 326,000 drams at the start of 2021. This was understandable given the uncertainty in the economy, political upheaval, and currency shocks. However, with some economic recovery and stabilization of the exchange rate in 2021, the real estate market also began to recover. By the beginning of 2022, it had reached the same level as at the beginning of 2020. However the new influx in 2022 raised prices to a record level," says Karapetyan. He adds that although the price balance has risen and prices have increased, the volume of transactions in the market has not substantially changed compared to the previous year.
Who Carries Out Transactions?
In 2022, 6,214 real estate sale transactions (11.7% of total transactions) were made by legal entities. Of these transactions, 1,968 cases involved only the buyer as the legal entity in the transaction, 3,665 involved only the seller as a legal entity, and 581 involved both parties as legal entities. As a result, in 2022, legal entities purchased 2,549 real estate units (primarily land, 68.2%) and sold 4,246 (primarily apartments, 55.7%).
Foreign citizens, mainly from Russia, the United States, Iran, Syria and a number of European countries, have also shown interest in the Armenian real estate market.
In 2022, foreigners were involved in 4,936 real estate transactions, which constituted 9.3% of all transactions. Out of these, foreigners were the purchasing party in 1,763 cases (35.7%), the selling party in 2,986 cases (60.5%), and both parties were foreign residents in 187 cases (3.8%).
According to Manukyan, historically, foreigners have been more interested in selling than purchasing. However, in the last two years this trend has changed.
In 2022, foreign citizens purchased 1,950 units of real estate, which is a 22.9% increase over the previous year. The majority of these transactions (1,207) were made by nationals of the Russian Federation, which is a 44.9% increase compared to 2021. Meanwhile, foreign citizens sold 3,173 units of real estate, a 0.6% increase from 2021. Out of these sales, Russian citizens carried out the majority (2,380), but this number is 7% less than in 2021.
A total of 991 apartments were purchased by foreigners, of which 672 were Russian citizens.  Additionally, 1290 apartments were sold, of which 885 were sold by Russian citizens. Foreign citizens also purchased 369 plots of land and sold 990, purchased 330 residential houses and sold 721, purchased 153 garages and sold 90, purchased 82 commercial buildings and sold 70, and purchased 25 industrial buildings and sold 12.
Foreign citizens purchased and sold the most real estate in Yerevan and Kotayk, and the least in Vayots Dzor and Syunik.
Leasing Beyond Logic
The beginning of the Russian-Ukrainian war in February 2022 led to a significant increase of immigration to Armenia. Russia's September 21 announcement of partial mobilization spurred a new influx. Although their impact was felt in the purchase and sale markets, most newcomers rented apartments, causing prices in this sector to soar. Residents of Yerevan, in particular, complained at the time that the owners of their rentals — finding tenants who paid more  — either hiked the price or suggested they vacate the property.
Karapetyan explains that current inflation is a situation faced by countries or cities that are positioning themselves as regional or international hubs. This causes prices to approach international levels.
"They are primarily the result of international flows," he says. "When we began accepting people from Moscow and Saint Petersburg, the flows naturally created a situation in which prices began to approach the prices of the source cities of the flows." Karapetyan adds that an internationalization of prices occurs, which is one of the main dangers these flows pose to the citizens of the countries concerned. 
"We have received quite a large number of people. According to the data, it is estimated that the permanent population has increased by 30 to 40 thousand. This may not be a large number, but it has created a new balance in Yerevan's real estate market and pushed prices up," he explains.
Karapetyan argues that the rental market has overreacted, causing prices to rise faster than they should due to the sudden shock. However, prices cannot go back to their previous levels as long as this factor persists.
However, official statistics tell a different story. Since most leases are not formally registered, official data shows a decline in such transactions in 2022. In 2021, there were 11,432 lease agreements, while in 2022 that number dropped slightly to 10,638 leases. According to the Cadastre Committee, commercial buildings in Armenia are rented out the most (44.5%), followed by 24.1% land and 16.6% apartments, with garages accounting for the least – 0.5%.
The majority of lease agreements (56%) were registered in Yerevan, which is 9.7% more than in 2021.The highest number of rentals was in Yerevan's Kentron administrative district (33.8%), while the lowest was in Nubarashen (0.6%). However it is noteworthy that rentals in Nubarashen saw the biggest increase (58.3%) in 2022 compared to 2021. Commercial buildings are also the most frequently rented in Yerevan, accounting for 58.2% of all rentals.
The majority of lease agreements (56%) were registered in Yerevan, which is 9.7% more than in 2021.
Meanwhile, the non-registration of leases is a significant issue that deprives the public budget of significant funds.
Karapetyan says in the current conditions, it is not always possible to present a complete or accurate picture. "We know that there was a lot of activity in the rental market in 2022, but state statistics actually show a decrease in the number of rental transactions in 2022 compared to 2021," he says, adding that the real estate market faces serious issues with the taxation system, and there is a large strata for income generation available. Meanwhile the rental sector and the positive effects of inflows remain concentrated among people who already own real estate. Although a declaration system has been introduced for taxation, it still lacks adequate enforcement.
The State Revenue Committee recently proposed changes to the Tax Code in an attempt to address the situation. The proposed changes will allow vacant apartments, residential houses, and plots to be placed on the rental market. The proposal's authors believe that this will encourage a decrease in rental rates while also compelling official documentation of leasing, which will be useful for paying taxes in the future.
High prices are one of the primary issues of the real estate market in Armenia, a country which has an unemployment rate of roughly 11.6% and a poverty rate of more than 26.5%. With each disruption, prices become more vulnerable.