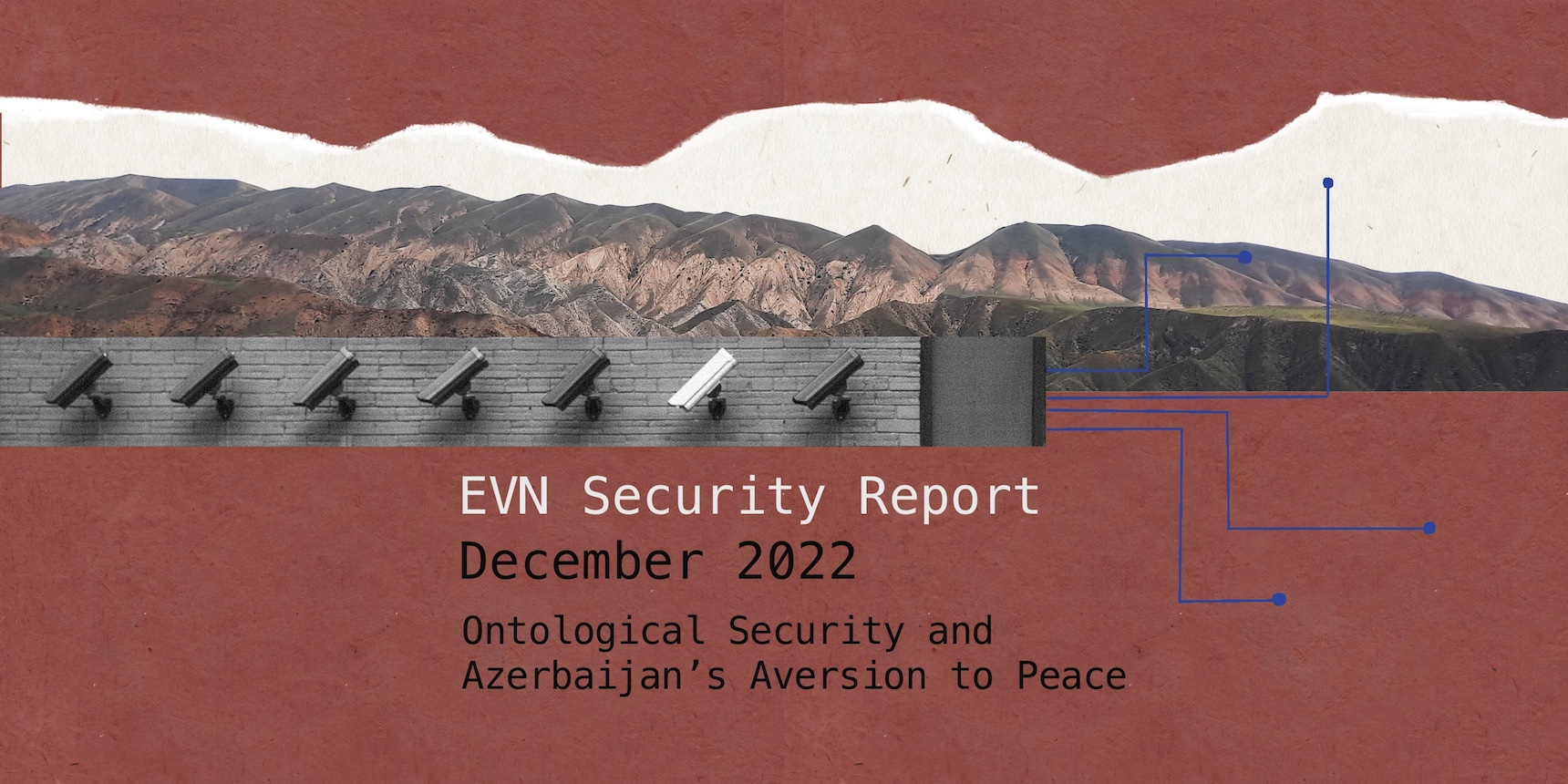 The security configurations for the Republic of Armenia demonstrated a degree of stabilization in December, as robust diplomatic engagements with Western partners, successes at the United Nations Security Council and the European Court of Human Rights, and the international pressure on Azerbaijan over the blockade of the Lachin Corridor, enhanced the broad structural parameters of Yerevan's diplomatization of its security. At the same time, the security situation in Nagorno-Karabakh immensely diminished, with Baku engaging in the hybrid warfare method of compartmentalization and transferring the conflict to the Lachin Corridor, thus giving itself escalatory dominance while implementing collective punishment upon Stepanakert. In this context, while December saw the relative strengthening of Armenia's diplomatic capabilities, as well as vigorous coordination capacities with Western partners in international institutions, it also observed the manufacturing of a new crisis in Nagorno-Karabakh that is designed to draw in and entrap Yerevan. Russia's tacit indifference to the manufactured crisis, and its inability to resolve the problem through its peacekeeping contingent, points to a new and highly volatile situation: the potential collapse of Nagorno-Karabakh's security architecture that Russia has assumed responsibility over. As Russia's regional hegemonic status continues its decline, Azerbaijan repositions itself for more conflict, primarily through hybrid techniques as well as interstate militarized disputes. The security context in December showed that regardless of negotiations or the general contours of a potential peace treaty, actual and sustainable peace with the Aliyev Government will remain elusive. To better understand why such is the case, this month's security report introduces the concept of ontological security.     
Armenia's Security Context
In December, Baku reverted its attention to Nagorno-Karabakh, seeking to utilize its international political capital to manufacture a crisis in the Lachin Corridor, thus placing Stepanakert in an impossible position while also seeking to elicit an aggressive response from Yerevan. The hybridization of the conflict, in this context, entered a new stage, designed to create a potential humanitarian crisis in Nagorno-Karabakh and thus force Yerevan, regardless of the power disparity, to act. Yerevan's measured response, and its utilization of a growing diplomatic capacity, obstructed Baku's objectives, while also diminishing its international political capital. Contextually, while Baku, with Russia's tacit consent, engaged in escalating its hybrid warfare, Yerevan engaged in de-hybridization by working with Western partners and utilizing the international legal instruments in its toolkit. Thus, the security context in December can be defined by one explanatory factor: while Armenia began its nascent application of a deterrence-by-denial strategy, Baku aligned its strategic objectives with Moscow to erode Yerevan's success at diplomatizing its security. 
In this context, while Baku's and Moscow's objectives may be different, their strategic approach is the same: both have aligned to weaken Yerevan's growing diplomatic toolkit. The reasons, however, are different. Baku's concern has been the collapse of its caviar diplomacy and the growing international political capital that Armenia keeps accumulating, thus frustrating Azerbaijan's ability to maximize its coercive diplomacy strategy. Russia's concerns, on the other hand, revolve around Yerevan's endeavor to escape the structure of dependency that Moscow has orchestrated for the last three-decades. Namely, Moscow is attempting to mitigate its diminishing clout in Armenia by worsening Armenia's security situation, thus forcing Yerevan to fall back into the dependency structure that reduces Armenia into a Russian satellite. The developments in the Lachin Corridor and the extension of the European Union's monitoring mission provide empirical attestations. In the case of the former, the positions of Russia and Azerbaijan are surprisingly aligned, while in the case of the latter, Baku and Moscow appear to be speaking from the same script.    
Lachin Corridor
On December 3, a group of Azerbaijanis in civilian clothes, posing as environmental activists and accompanied by state media outlets, closed the Stepanakert-Goris highway at the Shushi-Karin Tak intersection, thus initiating the first phase of blocking access to Nagorno-Karabakh from Armenia. The Russian peacekeepers initiated negotiations, and after a few hours, the road was unblocked. Similarly, on December 10, Azerbaijani activists, after having received conditional approval by the command staff of the Russian peacekeepers, attempted to enter and monitor the Drmbon and Kashen mines in Martakert. Simultaneously, the Aliyev Government synchronized its activities with these so-called protestors by filing a complaint on December 11 with the Russians over the "illegal exploitation and looting of natural resources" by Artsakh Armenians. The next day, on December 12, the methodical buildup to blocking the Lachin Corridor was implemented, with several dozen so-called eco-activists pitching tents and obstructing all traffic. Russia's muted response, even after an urgent call between Prime Minister Pashinyan and President Putin, was juxtaposed by immediate condemnations and demands of unblocking from the United States, the European Union, France, Canada, NATO, Greece, Switzerland, the Netherlands, Germany, Lithuania, Estonia, and the Vatican. Similarly, stipulatory language was directed against Azerbaijan during the UN Security Council meeting by Norway, Ireland, India and the United Kingdom. 
Russia, on the other hand, has not only refrained from supporting its regional ally, but has assumed a posture that aligns with Azerbaijan. Namely, Russia accepts the artificial grievances of the "eco-activists" and reinforces the legitimization of these "grievances" by creating a negotiation platform. More to the point, instead of demanding Azerbaijan to remove the so-called protesters, Russia is providing cover for its continuation, as noted by the justification provided by Russia's Foreign Ministry spokeswoman Maria Zakharova: "We are concerned about the blocking of the Lachin corridor, it was caused by disagreements between the parties on the development of ore deposits." Contextually, Russia reiterates Baku's "ecological" talking points on the topic, while engaging in bothsideism through qualifying the blockade of 120,000 people as a "disagreement between parties." Supplementing Russia's posture has been the CSTO's declaration that the security organization has neither responsibilities nor obligations towards Armenia when it comes to the Lachin Corridor. In its totality, Russia's tactical indifference is designed to enable Baku's hybridization of the conflict.       
EU Monitoring Mission and Asymmetrical Aggressive Bargaining
On December 6, French Foreign Minister Catherine Colonna expressed the broader consensus in Europe that the EU observation mission should continue after its existing mandate ends on December 19. Strongly supported by Armenia, the EU hinted at its continuation, and the subsequent visit by Deputy Secretary-General for Common Security and Defence Policy Charles Fries clearly indicated the direction that Europe was heading towards. Thus, on December 19, the Council of Europe declared that, "in agreement with Armenia's authorities," the EU Monitoring Mission will extend its stay with the objective of planning out a long-term observation mission. 
Baku had attempted to preemptively attack such developments from taking place, while Moscow continued to be highly critical of the West's diplomatic support for Armenia. Collectively, both Moscow and Baku displayed their extreme displeasure at the European presence in Armenia, while Yerevan and Brussels, with the blessings of the United States, proceeded to enhance the European monitoring presence. Azerbaijan attacked the "so-called 'needs assessment mission' to Armenia" as a "blatant violation" of the OSCE mandate, a posture designed to criticize any European presence in Armenia after December 19 as a "gross violation." These sentiments were synchronously expressed by Moscow: "We are aware of the desire of Brussels to infiltrate the process of normalizing relations between Baku and Yerevan by any means, to stake out a presence on the ground, and, ultimately, to squeeze Russia out of the region." 
As Moscow and Baku have engaged in mutual adjustment of interests, Yerevan has responded by enhancing its pivot to the West, while utilizing asymmetrical aggressive bargaining with Russia. On December 22, Prime Minister Pashinyan accused Russia's peacekeepers of failing to carry out their obligations and allowing Azerbaijan to violate the terms of the trilateral agreement. Moscow appears to have been upset by Yerevan's posture, yet PM Pashinyan doubled-down on this criticism in St. Petersburg when meeting with President Putin, and further reiterated at a cabinet meeting that if Moscow cannot do its job, then a UN Security Council mandate of multinational peacekeeping contingent would be needed. Pashinyan further accused Russia of being a "silent witness" to the depopulation of Nagorno-Karabakh. Conjointly, Armenia refused to attend a Russia-sponsored trilateral meeting with Azerbaijan in Moscow, an act that appears to have outraged the Kremlin. Armenia's aggressive asymmetrical bargaining approach, in this context, is seeking to achieve three objectives: force Russia to act like an ally or to concede that it is not one; shame Russia into fulfilling its security obligations; and tacitly delegitimize Russian-led negotiation platforms, considering Moscow's alignment with Baku. This approach was further amplified by the Secretary of the National Security Council, Armen Grigoryan, who publicly accused Russia of siding with Azerbaijan and failing to fulfill its security obligations towards Armenia in order to further diminish Armenia's security situation and force Yerevan into a union state with Russia and Belarus. While Moscow feigned outrage at the accusation, Armenia had made its point clear to Moscow: either act like an ally, or refrain from claiming to be one. In essence, asymmetrical aggressive bargaining is placing the onus on Moscow: if you won't do your job as a partner, Armenia has no other choice but to seek other partners.         

Examining the Context: EVN Security Report, December 2022
EVN Report's Editor-in-Chief Maria Titizian speaks with political scientist and international security expert Dr. Nerses Kopalyan, author of the monthly series "EVN Security Report". The security context in December showed that regardless of negotiations or the general contours of a potential peace treaty, actual and sustainable peace with the Aliyev Government will remain elusive. This month's security report introduces the concept of ontological security.
Deterrence by Denial and Azerbaijan's Aggressive Opportunism

The security context for the month of November demonstrates observable decline for Armenia as Azerbaijan intensified and amplified its hybrid warfare activities, attempting to neutralize Armenia's growing attempts at the diplomatization of its deterrence capabilities.
Read more
Hybrid Warfare and the Asymmetrical Disparity

The security context for the month of October can be better understood as the changing configuration between Armenia's implementation of its diplomatization-of-security doctrine against Azerbaijan's multi-tiered hybrid warfare doctrine.
Read more
Diplomatization of Security

Armenia's security situation remains precarious, as Azerbaijan has exponentially increased its use of interstate conflict mechanisms, undertaking both large-scale invasions as well as incrementally utilizing hybrid warfare to justify violations of the ceasefire.
Read more
Ontological Security and Azerbaijan's Aversion to Peace
Russia's behavior towards its allies or regional partners is no secret: it is highly transactional and based on unilateral advancement of Russian interests. In simplified terms, Russia expects subservience from those within its spheres of influence and utilizes frozen conflicts to control the outcomes and behaviors of states in its periphery. In this context, it is understandable why it is not in Russia's strategic interest to establish peace in the South Caucasus: the freezing and unfreezing of conflicts between smaller states allows Russia to act as arbiter and influencer, while the attainment of peace removes this important lever of power and influence that Russia utilizes. Armenia understands this, and it cannot expect anything more from its northern neighbor.
But what explains Azerbaijan's aversion to peace? What accounts for Azerbaijan's posture of ultimatums and unreasonable demands? What explains the fact that at the very heart of Azerbaijan's state policy is not peace with Armenia, but the perpetual cultivation of animosity that remains conducive to war and conflict? The answer is quite complex, but robustly supported by scholarship: ontological security.[1]       
States as security-seeking actors seek physical security, that is, protection of their territory, governance structure, and social system from those who can cause material harm. Yet there are states that are not physically threatened by their neighbors, or states whose power parity supersedes those of their neighbors, that still continue to engage in aggressive behavior. Such states do not have a physical security dilemma, but rather, engage in ontological security-seeking.[2] Ontological security refers to the need of a state to preserve and sustain its identity in order to formulate a sense of agency.[3] In more simple terms, states need to feel secure in their identity to be able to establish the agency needed to achieve their ends. 
For states like Azerbaijan, where identity construction is incoherent, revisionist, and conflict-driven, it must constantly engage or initiate conflict to establish agency. As such, being conflict-prone becomes inherent to the very identity that it is seeking to construct. In layman's terms, states that suffer from an identity crisis tend to become "attached to conflict," and they "actually come to prefer their ongoing" state of conflict. Thus, states that suffer from identity-induced ontological security problems become attached to some modality of warfare as an extension of their state identity. In the case of Azerbaijan, its state identity is constructed on the Nagorno-Karabakh conflict and some configuration of anti-Armenianism. Without these two factors, Azerbaijan loses agency, for it deepens its identity crisis and enhances its ontological security dynamics. Thus, concepts such as "intractable conflicts" or "enduring rivalries" become cornerstones of state preferences, since Azerbaijan's self-perception of itself as a state is hinged on "conflict persistence." Further, where "conflict persists and comes to fulfill identity needs, breaking free can generate ontological insecurity."[4] This is precisely why the Aliyev Government has an aversion to peace: it conflicts with the identity that it has constructed for Azerbaijan, and the breaching of this identity structure would only increase its ontological insecurity.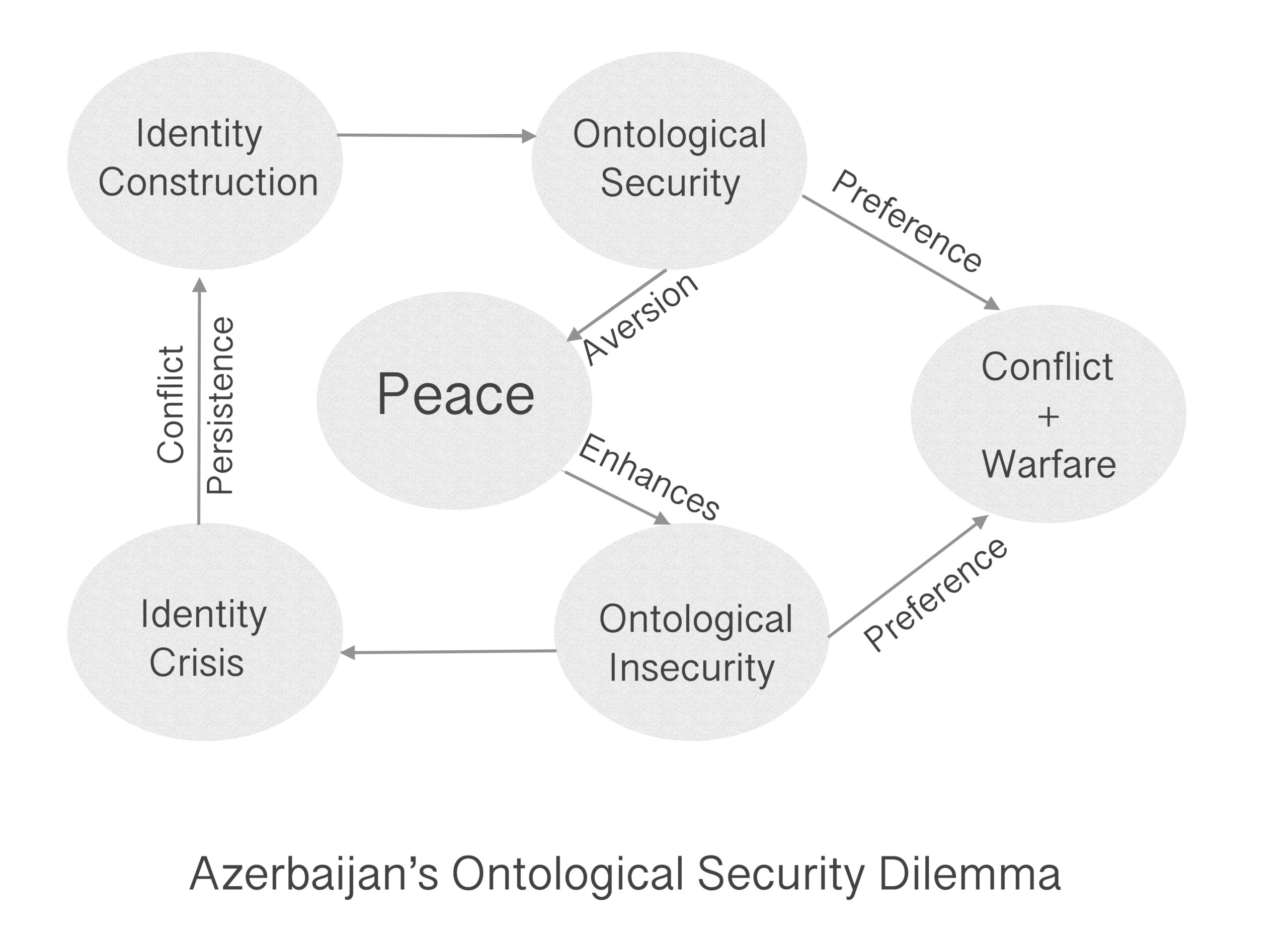 Since research demonstrates that ontologically insecure states like Azerbaijan have a "conflict persistence" preference, it is important to understand that aversion to peace is inherent to its identity preservation. Based on this understanding, it becomes a lot clearer as to why Azerbaijan cannot have any genuine interests in establishing peace with Armenia, or engaging in good-faith negotiations, or agreeing to compromise. In this context, states that are ontological security-seekers demonstrate two characteristics: 1) peace is not commensurate with its conflict-prone identity; and 2) peace will actually create ontological insecurity. 
In this light, Armenia (and those facilitating the negotiations process) must understand three important configurations: 1) peace cannot be achieved with Azerbaijan as long as Baku suffers from ontological insecurity; 2) even if a peace deal is somehow reached (primarily due to external pressure), Azerbaijan will continue with its hybrid warfare doctrine since it must engage in some modality of warfare; and 3) Azerbaijan's conflict with Armenia is neither territorial nor physical, but rather ontological, and as such, territorial claims are designed to conceal Baku's ontological insecurity. To this end, Azerbaijan suffers from a reverse security dilemma: it must risk physical security (war and conflict) to attain ontological security (state identity).    
Understanding these configurations are fundamental to re-establishing the terms of negotiations and the parameters through which Armenia and the international community engages with Azerbaijan. Azerbaijan's extremist rhetoric, for example, its claims over lands in Armenia-proper, or its incoherent historical claims over names and places, are not simply designed for its domestic audience. Just as importantly, these are acts of self-validation, an exercise in identity-construction and a desperate attempt to establish ontological security. In essence, ontologically insecure states are prone to be bullies, for bullying is an act of insecurity against a weaker actor. More so, ontological security-seeking is leading Azerbaijan to construct an identity that is based on denying the identity of another, i.e., Armenia. Contextually, the very concept of Armenianness is viewed as a threat to Azerbaijani identity, and when understood within this configuration, it becomes clear that negotiations over territories or borders will not lead to peace. Namely, for Azerbaijan, these are not negotiations to achieve peace, but rather, these are "processual" exercises in ontological security. As such, Baku engages in "performative deference" when accepting the negotiation forums offered by Russia, Europe, or the United States, but in reality, it is engaging in "obstructive resistance."[5] To this end, when conversing and negotiating with Azerbaijan over "peace," the most fundamental question that needs to be asked is not the terms that it wants, but rather, what does Baku understand by the very concept of peace?      
Footnotes: 
[1] For a deeper inquiry into ontological security, see Mitzen, Jennifer, and Randall L. Schweller. 2011. "Knowing the Unknown Unknowns: Misplaced Certainty and the Onset of War." Security Studies 20 (1): 2–35.; Mitzen, Jennifer. 2006. "Anchoring Europe's Civilizing Identity: Habits, Capabilities and Ontological Security." Journal of European Public Policy 13 (2): 270–85.; Buzan, Barry, Ole Weaver, and Jaap De Wilde. 1998. Security: A New Framework for Analysis. Boulder: Lynne Rienner Publishers.; Subotic, Jelena. 2015. "Narrative, Ontological Security, and Foreign Policy Change." Foreign Policy Analysis.

[2]
Mitze, Jennifer. 2006. "Ontological Security in World Politics: State Identity and the Security Dilemma." European Journal of International Relations 12 (3): 341–70.

[3]
Giddens, Anthony. 1991.
Modernity and Self-Identity.
New York. Polity Press.

[4]
Mitze, Jennifer. 2006. "Ontological Security in World Politics: State Identity and the Security Dilemma." European Journal of International Relations 12 (3); pg. 343.

[5]
Pratt, Simon F. 2017. "A Relational View of Ontological Security in International Relations."
International Studies Quarterly
, 61; pp. 78-85.