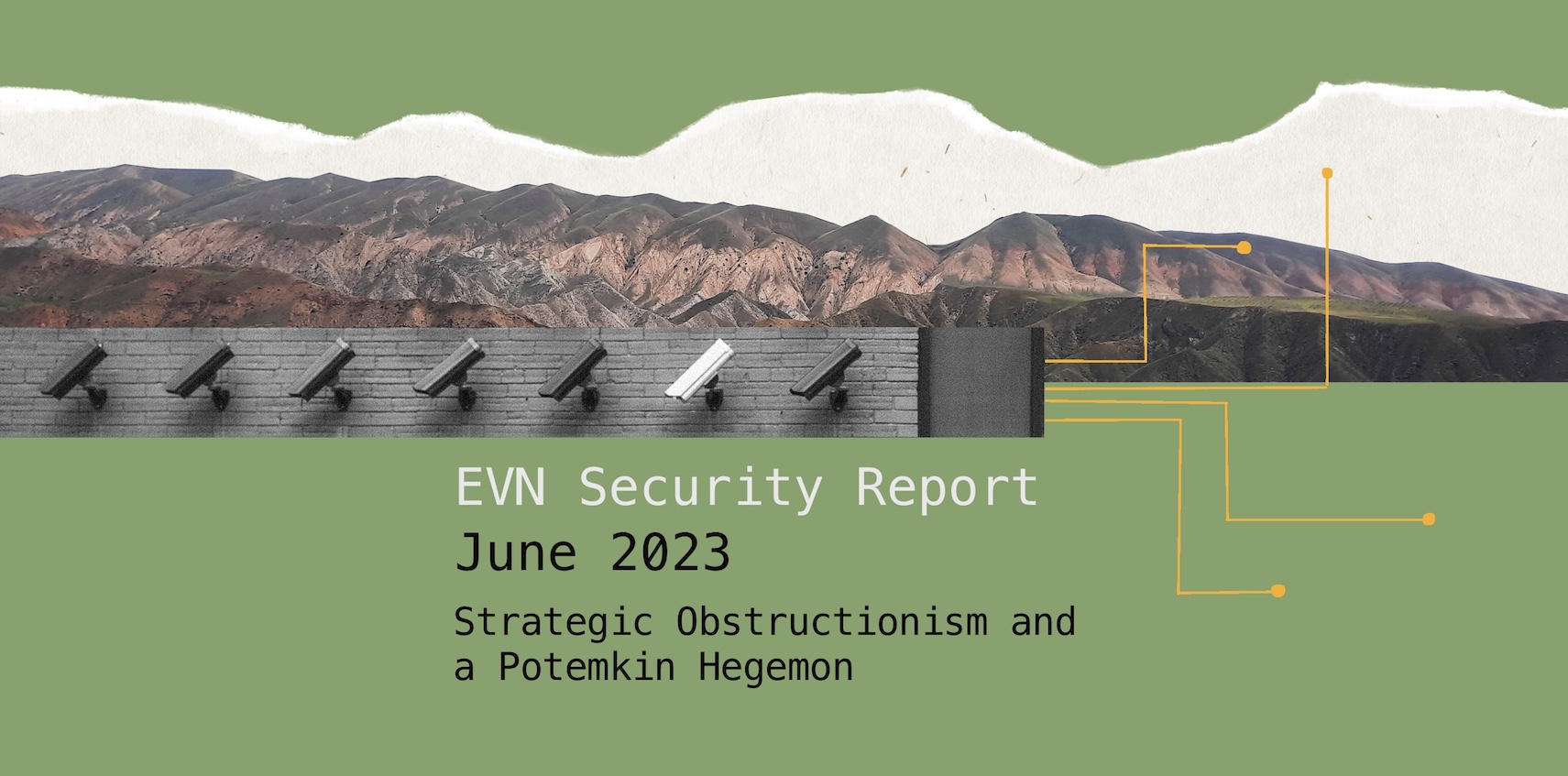 In the month of June the security context for Armenia underwent two parallel yet contradictory developments: as the peace negotiations intensified, so did the scope of Azerbaijan's ceasefire violations, both against Armenia-proper as well as Nagorno-Karabakh. The intensification of the negotiation process, at the same time, should be qualified within the context of the West's stabilization efforts, a process designed to curb Baku's irredentist demeanor and allow for liberal peacebuilding. Considering the Aliyev regime's penchant for illiberal peacebuilding and authoritarian conflict management, the Western-led negotiation tracks (both the U.S. track and EU track) have caught Baku off-guard, as both tracks are stipulating a formula that is conducive to sustainable and quality peace, as opposed to the victor's peace assumed by Aliyev. Feeling evermore pigeonholed by this process, and unable to enforce its maximalist posturing, Baku has resorted to kinetic diplomacy and strategic obstructionism to collapse the negotiation process. Hence the aporia of June: peace negotiations being supplemented by intensification of interstate violence. In the regional configuration, Aliyev's strategic obstructionism has found a champion in Moscow, as the Russo-Azerbaijani axis has worked diligently to undermine the West's stabilization efforts. However, with Russia pretty much sidelined in the negotiation platforms, and facing severe setbacks and turmoil in the Ukrainian front, the regional power constellation has changed: a potemkin hegemon supporting Baku's obstructionism. To account for such developments, especially the concerns of destabilization in Russia, Armenia must utilize scenario and contingency planning. 
Collective Western Engagement
June began with a flurry of diplomatic activities initiated by the West, including the five-sided meeting in Chisinau, Moldova, with French President Macron, German Chancellor Sholtz, and European Council President Michel mediating negotiations between Armenia and Azerbaijan. Paris followed up the negotiations with a strong statement on defining the rights and security guarantees of the Artsakhi Armenians, which was followed up by an irate response from Baku, accusing France of distorting the negotiation process. Subsequent negotiations, at the deputy prime ministerial level, took place in Russia in the tripartite format on the unblocking of transport communications. From June 27-29, negotiations were held in Washington, after Azerbaijan had requested to delay the previously scheduled meeting a few weeks before. Negotiations included a fusion of bilateral meetings as well as trilateral meetings with not only Secretary of State Blinken, but also a meeting at the White House with National Security Advisor Jake Sullivan. Contextually, while high-profile negotiations proceeded with the EU and U.S. negotiation tracks, the Russian track remained relatively dormant. 
These developments coincided with Armenia's preference for further engagement with the West, which, at the minimum, is being dictated by its decoupling from Russia. Secretary of the National Security Council, Armen Grigoryan, qualified these developments as necessary for Armenia's new security architecture: 1) control of Armenia's border services being under full Armenian jurisdiction (as opposed to selective Russian control); 2) understanding the failures of the CSTO in fulfilling its obligations towards Armenia; 3) neutralizing the problems Armenia faces as being a (non-active) member of CSTO to "working intensively with our Western partners to strengthen our cooperation in the field of security"; and 4) increasing defense capabilities through strengthening relations with the U.S., EU and India in the field of security. In the realm of economic security, Armenia's Ambassador to the United States, Lilit Makunts, organized a set of engagements between Armenia's Economy Minister Vahan Keropyan and the leadership of the Department of Commerce and the Department of Treasury, deepening bilateral coordination and collaboration on issues of export enforcement, international finance, and the role of both countries in the Eurasian and Middle Eastern markets. These developments are being further buttressed by America's growing interest in supporting Armenia's reforms within the nuclear energy sector.         
On the European front, France welcomed Armenia's Defense Minister Suren Papikyan, with heavy emphasis on collaboration within the defense and security sector, including opportunities for Armenia to access French weaponry. This engagement was an extension of the visit that Armenia's Defense Minister made to France in September 2022, the objective of which was to begin the process of procuring French arms. Between President Macron's efforts on the diplomatic front, the appointment of a military attache to Armenia, and the growing collaboration between the two defense ministries, France is becoming an important component in Armenia's nascent security architecture.  
The European Union, on the other hand, continued to expand its soft power capabilities in the country. The EU Mission in Armenia (EUMA) announced plans to open three additional operational hubs in Kapan, Ijevan and Yeghegnadzor, while the Security and Defense Subcommittee (SEDE) of the European Parliament paid a fact-finding mission to the border areas near the Lachin Corridor. Collectively, the European condemnation of Azerbaijan's blockade was vigorous, with Josep Borrel criticizing Baku's "unilateral" actions, while the Parliamentary Assembly of the Council of Europe (PACE) released a blistering report on the pending humanitarian crisis. These denouncements were further articulated by Nathalie Loiseau, Chair of SEDE, noting "Azerbaijan's illegal blockade, occupation of Armenia's territories, and the suffering of the Artsakh's population."  
Strategic Obstructionism
As the Western-led negotiation tracks continued, as did the stabilization activities of Europe within the border areas, Russia proceeded to attack the European initiatives, while Azerbaijan continued with its ceasefire violations. At the broader strategic level, a policy of strategic obstructionism is being coordinated between Baku and Moscow, as the former uses violence to disrupt the stabilization process, while the latter seeks to use its declining regional influence to obstruct Western-led efforts. Framing the European presence as a destabilizing one, Russia declared that the EU has "forced" Armenia into accepting Brussels' presence, thus portraying the EU Civilian Mission an anti-Russian endeavor that is "nontransparent," "dubious" and an "occupying" force. In the backdrop of Russia's diplomatic assault, Azerbaijan has proceeded to obstruct the Western stabilization efforts by intensifying attacks against both Armenia and Nagorno-Karabakh, with the former operations designed to snare Armenia into a broader conflagration, while the latter operations are designed to collapse the peace process.
The most telling attempt by Azerbaijan have been its continuous attacks against Yeraskh, especially the metallurgical plant being built in partnership with American business interests. This has coincided with daily ceasefire violations for almost 28 days, both against positions within Armenia-proper as well as Nagorno-Karabakh. This culminated in Azerbaijan's hybrid use of elastic geography, as it attempted to plant an Azerbaijani flag on the Hakari bridge that crossed into Armenia's border. Just as concerning was the involvement of Russian peacekeeping troops and its commander in the process, suggesting the synchronized nature of the endeavor. Subsequently, Baku used the debacle it created with the Hakari bridge incident to justify its full closure of the bridge, thus fully disrupting any traffic from Armenia to Artsakh. Consequently, Russia criticized Armenia for its frustration with these developments, reaffirming its alignment with Baku. This triggered a sharp criticism from the Armenian side against Russia's willful indifference and contradictory posturing.       
As Baku proceeds with its strangulation of Nagorno-Karabakh, Russia willingly stands by in cautious approval, refraining from fulfilling its peacekeeping responsibilities, while at the same time rigorously attacking the West for any of its peacebuilding measures. In this context, while the West has attempted to initiate a Stepanakert-Baku dialogue, and thus give Stepanakert the agency that it was robbed of two decades ago, Russia has used every lever of influence to disrupt this process. In this process of obstructionism, Azerbaijan has raised the ante by carrying out an operation, under the nose of Russian peacekeepers, that killed four Artsakhi Armenians, and precisely did this as the negotiations in Washington were underway.
A Potemkin Hegemon and the Need for Scenario and Contingency Planning         
Domestic developments in Russia during Pirgozhin's pronunciamento sent deep shockwaves throughout the post-Soviet space, and for the first time, since the late 1990s, political leaders in Russia's periphery began pondering a probability that has been uncharacteristic of Putin's regime: instability. While the post-Ukraine war period has brought about the decline of Russian hegemonic influence in the South Caucasus, this has not translated into hegemonic collapse or domestic instability. But for the first time since Putin's consolidation of power, Russia's domestic political order has been shattered by a direct militarized threat, and more so, the source of that threat has been allowed off the hook. The details of this rupture remain murky, but one thing is quite clear: the patronal system has cracked, and the extent to which these cracks will reverberate throughout the system remains to be seen. For Armenia, the post-2020 period made it very clear that it cannot rely on Russia as a security guarantor; however, the underlying assumption remains that while Russia is no longer a source of security for Armenia, it still remains its biggest economic market, and more so, the most important actor in the region. What will the consequences be for Armenia, however, should the cracks in Russia's domestic political order expand, and how can Armenia develop and prepare for such scenarios? In the realm of security studies, scenario and contingency planning provide a powerful tool in preparing small states for probable outcomes that can have extraordinary effects upon the region's political and economic ecosystems. 
Scenario planning is the triangulation of existing data, content, analytics, theoretical models, and inferential statistics to describe and conceptualize possible or probable outcomes or future circumstances. It is designed to limit, mitigate, and account for uncertainty. Scenario planning attempts to compensate for two common errors in decision making: underprediction and overprediction of change. While anticipating future events and incorporating alternative plans and contingencies, it also gauges a range of possibilities, and qualifies developments that demand a rapid response. 
In this security report, scenario planning will be fused with contingency planning to prepare courses of actions and outcomes that may address unexpected situations and mitigate significant impact to the Republic of Armenia due to the ongoing Russia-Ukraine conflict and its effect upon Russia's domestic political order. Considering the fact that the Republic of Armenia faces rapid and unexpected developments that produce unpredictable and high-risk environments, strategic outputs require scenario matrices and political-security risk mitigation analysis.  
Wide range of methodological techniques are utilized to develop the scenarios and contingency plans. For example, systematized content analysis, within-case process tracing, triangulation, and OSINT (open-source intelligence) are utilized to construct scenarios and to compile information that inform the scenario matrices. Further, probability logit models, multivariate regression analysis, correlation matrices, cross-impact analysis, forecast modeling, and time-series analysis are utilized to establish trends (deep trends analysis). Finally, risk-benefit analysis, geostrategic analysis, and political-security risk mitigation analysis are utilized to develop contingency outputs based on the scenario matrices. Political-Security risk mitigation analysis applies a three-tiered stratagem: risk minimization (decreasing the probability that the risk negatively impacts Armenia), risk isolation (separating and excluding the impact/likelihood of specific risks), and risk elimination (ensuring that the risk is no longer applicable to Armenia). 
For this report, as an exercise, two scenarios will be developed, along with contingency plans for the given scenarios. The first scenario is qualified as the "Vietnamization of Ukraine" and the second scenario "Russian Decline and Domestic Political Instability."
Scenario One: The Vietnamization of Ukraine
Ukraine's broader military strategy, and the expansive assistance it is receiving from the West, is designed to enhance the country's modern insurgent warfare capabilities. Considering the initial disparity in firepower and capabilities, Ukrainian forces were trained to utilize asymmetric warfare, which lies at the heart of urban warfare. Data shows that defeating insurgencies has an 85% failure rate, thus indicating the extremely difficult task that Russian forces will face if the Vietnamization of Ukraine becomes a reality. Insurgencies that have both organic support as well as external training and funding remain resilient, thus displaying the longevity of urban warfare. In this scenario, Ukraine's counteroffensive does not achieve its objectives and Russia consolidates the Ukrainian territories it has occupied. A war of attrition proceeds, with urban warfare the primary mode of engagement.
Outcomes for Scenario One
Insurgency warfare is conducive to internecine violence, thus giving way to prolonged periods of conflict: a Ukrainian insurgency can continue for years on end with Western support, while the probability of Russia sustaining such a conflict becomes a burden due to economic, resource, and domestic variables. 

Russia begins full mobilization to meet the demand for manpower, since insurgency warfare requires the presence of occupying forces in large swaths of the occupied-country's strategic areas and civilian centers.

Russia also calls in its troops from Syria, Transnistria, South Ossetia, Abkhazia, and Armenia's Gyumri contingent to fill a growing need for manpower. 

Russian military losses and casualties remain severely and exceedingly high. 

Ukrainian civilian losses are also severe and exceedingly high. 

A war of attrition ensures: a preferable outcome, excluding outright Ukrainian victory, for Western actors, while a worse-case scenario for Russia's domestic stability. 
Severity Assessment:  
This scenario poses a minimal level of danger and uncertainty for the Republic of Armenia. Continuation of the conflict decreases the severity metric for Armenia by the year, as diminishing Russian power translates to weakening Russian influence in the South Caucasus. This environment makes it more conducive for the continuation of Armenia's Western pivot, as well as the fracturing of Russia's authoritarian orbit. The severity metric includes the following factors: 
a) Continuous quagmire in Ukraine depletes Russia's military resources, creating issues and concerns of procurement of arms for Armenia, thus offering Armenia the opportunity to purchase arms in the international market and enhance its connectivity.
b) Russia's possible removal of troops from Gyumri, and in a state of desperation, removal of troops from Nagorno-Karabakh for deployment to Ukraine, offers Armenia the opportunity to completely restructure its security architecture.
c) Russia caught with a Vietnam "syndrome" statistically increases the probability of Azerbaijani revisionist behavior in the South Caucasus. 
d) The probability of Azerbaijani aggression exponentially increases.
e) With decrease of Russian influence, the West fills the power vacuum, introducing conflict resolution mechanisms that are not favorable for Azerbaijan. 
Contingency Planning for Scenario One 
In the configurations of scenario outcomes for the Russo-Ukrainian crisis, this scenario is the best-case outcome for the Republic of Armenia. While the probability of this scenario is in the high-range of outcomes, the severity level remains quite low for Armenia. Considering the manageable risks that Armenia faces within this scenario, constructive contingency planning is necessary. The risk propensity of this scenario entails the diminishing role of Russia in Armenia's security architecture, the removal of Russian troops (levels uncertain) from both Gyumri and possibly Nagorno-Karabakh, and the high probability of increased Azerbaijani military action. In the domain of risk-benefit analysis, Armenia finds itself in the domain of equilibrium, while Azerbaijan's ratio exceedingly increases in the domain of gains. More specifically, Azerbaijan's security architecture has very little reliance on Russia's performance, and within the domain of risk-calculations vis-a-vis Armenia, absolutely zero reliance. Thus, Russian military complexities in Ukraine, and the depletion of resources due to the Vietnamization of the conflict, highly correlate with decrease of Russian hegemonic presence. Decline in Russian hegemonic influence is correlated with increase in Armenia's democratic consolidation and Western pivot.
For this scenario, contingency planning should entail the following: 
Contingency plans for strategic mobilization of reserve forces, or the increased incentivization and hiring of contract soldiers, to fill the gap of Russian soldiers leaving Gyumri or Syunik. 

Contingency plans of training and developing active reserve forces, especially enhancing its nascent Territorial Defense Forces, that will supplement and support the professional army during Azerbaijani-initiated incursions or crises. 

Develop back channel communication with the EU and the United States specifically for direct crisis communication, begin developing mutual contingency plans, and establish mechanisms of requesting immediate assistance should Azerbaijan instigate a new crisis. 

Develop a proactive contingency plan with EU partners that will be immediately activated if Azerbaijan initiates hostilities; preset and mutually agreed contingency plans, courses of action, and mechanisms of coordination must be established with both the Europeans and Americans should Azerbaijan initiate conflict. 

Request and initiate contingency planning with the United States on diplomatic and humanitarian assistance in anticipation of Azerbaijani hostilities. This entails a proactive approach that is designed with U.S. guidance, conducive to U.S. proposals, and coordinated mutually and immediately should Azerbaijan attack. 

Formulate contingency plans, limitations, and parameters of how to engage, accommodate, and meet Russia's requests during this scenario without alienating Russia but also without being associated with Russia's actions in the eyes of the international community. 

Considering the longevity of this scenario, the depletion of Russia's military resources, and the limitations of Armenia to continuously receive arms supplies from Russia, Armenia must develop active contingency plans for mass procurement of arms from alternative sources.

Active negotiations of possibly purchasing advanced armaments must be negotiated with France, India, Serbia, Greece, Estonia and Israel.  

Armenia's vast mines have never been part of its security architecture, nor has the potential securitization of this sector ever been considered a fundamental cornerstone of building alliances or strategic partnerships. Mining-for-security should not be qualified as a political act, but rather, a fundamental security act, Nerses Kopalyan writes.
Read more
Frozen Conflict Persistence and Strategic Negligence

Russia's refusal to either enforce or impartially implement the terms of the November 9 tripartite statement that ended the 2020 Artsakh War has generated a growing cleavage between Armenia and Russia, revealing Moscow's preference for frozen conflict persistence.
Read more
The Geopoliticization of Democracy and the Problem of Illiberal Peace

The region's security arrangement remains in flux as Azerbaijan amplified its rhetorical aggression and engaged in expansive troop movements and build-up in border areas. Greater Western involvement has deepened the alliance between Azerbaijan and Russia. While Moscow and Baku have established a united front against the West's presence in the region, Armenia has proceeded to reconfigure its strategic interests, advancing its democracy narrative, while aligning its preferences to the resolution of the conflict with the Western-led stabilization efforts.
Read more

Armenia's precarious security situation is compounded by its underdeveloped institutions and infirm infrastructure. For the February security briefing, Nerses Kopalyan writes that in this context, the entirety of Armenia's social and governmental approach must revolve around building resilience.
Read more
The Growing Russo-Azerbaijani Axis and Why Armenia Must Adopt a Porcupine Doctrine

Taking into consideration the security context in January and guided by a strategy of deterrence-by-denial, Armenia must develop a "porcupine doctrine" to deter Azerbaijan's objectives and the destabilizing designs of the Aliyev regime.
Read more
Ontological Security and Azerbaijan's Aversion to Peace

The security context in December showed that regardless of negotiations or the general contours of a potential peace treaty, actual and sustainable peace with the Aliyev Government will remain elusive. This month's security report introduces the concept of ontological security.
Read more
Deterrence by Denial and Azerbaijan's Aggressive Opportunism

The security context for the month of November demonstrates observable decline for Armenia as Azerbaijan intensified and amplified its hybrid warfare activities, attempting to neutralize Armenia's growing attempts at the diplomatization of its deterrence capabilities.
Read more
Hybrid Warfare and the Asymmetrical Disparity

The security context for the month of October can be better understood as the changing configuration between Armenia's implementation of its diplomatization-of-security doctrine against Azerbaijan's multi-tiered hybrid warfare doctrine.
Read more
Diplomatization of Security

Armenia's security situation remains precarious, as Azerbaijan has exponentially increased its use of interstate conflict mechanisms, undertaking both large-scale invasions as well as incrementally utilizing hybrid warfare to justify violations of the ceasefire.
Read more
Risk Minimization for Scenario One 
The risk of partial-Russian troop withdrawal from Armenia-proper remains quite high if insurgency warfare develops in Ukraine. To minimize this risk, the Republic of Armenia must institute training programs for both its reserve forces (active reserve training), as well as enhance its Territorial Defense Forces. Relying on volunteers, without the scope and degree of training required to engage in modern warfare, cannot serve as a tenable policy. Both the reserve forces and territorial battalions must be professionalized through active training programs. These two tiers of non-active military formations must be trained to supplement and support the professional army. Collectively, contingency plans of professionalizing Armenia's reserve and civilian battalions must be developed as a risk-minimization method for the scenario of partial Russian troop withdrawal. 
Risk Isolation for Scenario One
Since risk isolation entails mitigating or excluding the likelihood of specific risks that Armenia faces within this scenario, a crucial specific risk to isolate is the process of appealing to the international community during a high-risk crisis that is induced by Azerbaijani violence. For this scenario, risk isolation is achieved by developing robust contingency communication plans with the U.S. and EU. The development of a proactive communication policy, and the formulation of mutually-developed contingency plans, will isolate the difficult risk of appealing or communicating with the international community when a crisis breaks out. A proactive contingency plan isolates this risk by establishing mechanisms of coordination, courses of diplomatic action, and mutually-agreed basis for collective action in the face of crisis. 
Risk Elimination for Scenario One 
The economic consequences for Russia during this scenario increases exponentially when compared to the economic crisis it is beginning to face as Western-led sanctions marginalize Russia from the international economic system. One very crucial outcome with respect to this scenario is the severe limitations to the productive capacity of Russia's military-industrial sector. As important heavy industries are closing due to lack of access to capital and resources, and as supply chains to Russia are closed due to sanctions, a very high-risk development for Armenia is the inability of Russia to continuously serve as Armenia's primary arms supplier. Namely, while Russia has not been able to properly fulfill its contractual agreements to Armenia in the last two years, contingency plans should anticipate this problem to become even more acute for the next several years. Access to weapons, purchase of complex weapons systems to keep up with Azerbaijan, and re-stocking of Armenia's stockpiles remain in a severe state of danger. To eliminate this risk, Armenia must begin negotiating with partner countries for the purchase of specific types of armaments to meet its needs, while at the same time, considering the limitations that Russia will face for a prolonged period, establish relations of arms procurement from different countries for advanced weapons systems. In the case of the former, Armenia must develop contingency purchasing plans and negotiate pre-arrangements with Serbia, Greece, Estonia and Lithuania. With respect to the latter, Armenia must negotiate a pre-arrangement with France, India and Israel for the purchase of advanced or cutting-edge weaponry. To robustly eliminate this risk, Armenia must arrange purchasing rights and terms with France for advanced weaponry, which will serve as deterrents to Azerbaijani provocations. Similar to Ukraine's loan-for-weapons program with the United Kingdom, or the $200 million loan that Armenia received from Russia to purchase the set of Iskander missiles, Armenia must negotiate a loan-for-weapons program with France for the purchase of advanced French weaponry as a risk elimination mechanism to the crisis that Russia's arms industry finds itself in.
Scenario Two: Russian Decline and Domestic Political Instability 
In this scenario, Russia's military advances have completely stalled, the "stage of attrition" in its revised war strategy has produced mass destruction and civilian deaths, the West's arming and support of Ukraine has exponentially increased, the West's funding of the Ukrainian government has made this war of attrition sustainable for Ukraine, and international sympathy continues to be strengthening on the side of the Ukrainians, while Russia remains limited to few sets of friendly states, with India remaining silent and China slowly retracting its support for Russia due to American and European economic threats. The state of stagnation offers Ukraine the opportunity to undertake a large counteroffensive, utilizing the latest advanced weapons systems provided by the West, thus pushing back Russian forces further east. Due to exhaustion and depletion of resources, Russian counter-offensives do not produce the desired results. It becomes a war of stagnation, but with high casualty rates for the Russian military. Domestically, the increased economic sanctions have gutted the Russian economy, inflation has skyrocketed due to the collapse of the ruble, standards of living have crumbled, the security apparatus has tightened its control over society, internet censorship has increased, draconian laws are implemented, and political dissent is suppressed. The confluence of economic collapse and state repression, as extensive research findings demonstrate, provide a fertile ground for domestic instability. This probability is increased in the face of military setbacks and inter-elite competition within the armed forces. Coupled with a continuous war, high casualty rates, and collective public fear and uncertainty, the environment is ripe for social and political decay. In this scenario, instability begins both at the bottom-up level within society, as well as the top-bottom level within the corridors of government power. The rift between the siloviki (strongmen) and the military generals increases, while tycoons of the economy become frustrated and begin forming factions of power. Rifts within the elite are exasperated by the public's recognition of the cracks in the political order. Inter-elite conflict gives way to the outbreak of public protests. 
Outcomes for Scenario Two
 Concentration of power within the Putin Administration slowly becomes dispersed, as powerful

siloviki

resign or are fired, and blame for shortcomings in the war leads to recriminations, resulting in such actors forming factions to protect themselves from being used as scapegoats. 

Oligarchs, having suffered heavy economic losses due to the war, recalibrate their interests and splinter into supporting different centers of power. 

Regional centers of power within the Russian Federation also display signs of detaching from the authority of the Putin Administration. 

Russian civil society, long suppressed, awakens and mobilizes amid the broader turmoil within the political elite and the relative dysfunction this is creating within the state institutions. 

Organic public protests, separate from civic society, and due primarily to economic issues of poverty and resource-scarcity, break out throughout the country. 

The security apparatus becomes overstretched between domestic upheavals and a war of stagnation in Ukraine, and slowly begins to crack under the pressure. 

Politicians, public officials, public intellectuals, and a wide range of people of influence and visibility begin both expressing their anger and frustration at developments as well as speaking up against the government. 

The government, as research demonstrates, attempts at policies of liberalization, which provide for cosmetic reforms to curb the demands of society, while seeking to absorb defectors within the elite, in what is known as a "broadened dictatorship." 

Public protests increase in both size, scope, and intensity, as the government lacks the ability to resolve the economic crisis, while the resources of the state remain overstretched due to the war. 

Different political factions appeal to the people, calls are made for change in leadership, end to war, new elections, and an overall change to Russian society.

Similar to the 1990s, but at a much higher level of politicization, Russia enters a period of "Smuta" (Time of Troubles).  
Severity Assessment: 
This scenario poses a mid-level of danger to Armenia, for the scenario envisions political upheavals in Russia and even the possibility of regime change, but it does not entail the collapse of the Russian state, the Russian military, or Russia's geopolitical capabilities. The probability that the Russian state will collapse remains exceedingly low and is thus excluded from scenario construction. The severity metric, for this reason, qualifies developments within the domain of risk that is specific to domestic instability, but not the collapse of the Russian state. In this context, the severity of risk faced by Armenia is specific to three main areas: 
a) Uncertainty in the formation of new political centers of power and whether these elites are favorable or supportive of Armenia's interests. 
b) Continued economic decline due to domestic instability and the residual impact of such developments upon Armenia. 
c) Due to preoccupation with domestic instability, there is a lack of clarity or policy coherence concerning Russia's security obligations for the South Caucasus, and how this may impact the Russian presence in Nagorno-Karabakh. 
Contingency Planning for Scenario Two
In this scenario, the largest risk Armenia faces is the degree of uncertainty of how developments in Russia will play out and how this will impact the Kremlin's policy posturing towards Armenia and Azerbaijan. Considering Russia's role in Nagorno-Karabakh and its alliance with Azerbaijan, and considering the importance of Russian markets to Armenia's economy, the immediate risk propensity for Armenia remains within these two domains: impact on regional security and impact on economy. While robust contingency plans may be constructed to mitigate the economic fallout, the security concerns are a lot more complicated and would require multi-tiered contingency planning. Similarly, Armenia must develop contingency planning with respect to Russia's domestic political configurations, and must anticipate some level of involvement, interactions and engagement with the various factions that will be struggling for power within Russia's destabilized environment. Collectively, contingency planning for this scenario remains unique, for Armenia must not only develop contingencies specific to its security, geopolitical posturing and interstate relations, but it must also develop contingency plans of having some level of active involvement within Russia's domestic sphere. To enhance Armenia's risk mitigation propensity, the following developments must be addressed in well-defined contingency plans: 
Effect and impact of Russian domestic instability on the Eurasian Economic Union, Armenia's economy, and how Armenia and Armenian interests engage with the changing economic power actors within Russia. 

Change of leadership within Russia's military, and contingency plans in developing backchannels and interpersonal relations with this new leadership. 

Change of leadership within Russia's security apparatus, and contingency plans in developing backchannels and interpersonal relations with this new leadership. 

Calibrating the leading social forces that are struggling for political leadership, and developing backchannels and working relationships with each force separately. 

Establishing formal diplomatic neutrality, but developing a contingency plan of action for actors/factions that are favorable to Armenia and providing indirect or risk-averse support to such actors/factions.
Risk Minimization for Scenario Two 
Since this scenario establishes a high-volatility environment where factors and variables are constantly changing, risk minimization planning must account for the unstable nature of such developments as well as the actors involved. To minimize the potential risks that a politically destabilized Russia may present for Armenian interests, and to insulate adverse effects that may develop, Armenian contingency planning must formulate a very proactive contingency plan that requires direct, yet informal engagement. To minimize risks in the realm of political economy,  Armenia must develop a contingency plan of directly, yet informally, establishing ties and relations with economic actors and centers of economic power within Russia. In this context, aside from formal and established relations, in the realm of instability and risk, Armenia must form established mechanisms of engaging and interacting with such actors outside of formal structures. The development of backchannel communication, indirect engagement, and mutually-beneficial interactions are crucial in strengthening Armenia's position with the wide range of diverse actors within Russia's economic sphere. The formation and development of such interactions will minimize the risk of adverse effects should the rate of uncertainty and destabilization intensify. 
Risk Isolation for Scenario Two 
The most important risk to isolate pertains to potential changes or shifts in the leadership of Russia's military and security apparatus. To isolate this likelihood from having adverse effects upon Armenia, and specifically upon Armenia's security architecture, multi-tiered contingency plans must be formulated to allow Armenia a wide range of options and course of action to isolate such risks from reaching the domain of loss. A four-tiered contingency plan must be initiated that isolates the risk of potential changes or shifts in the leadership of Russia's military and security apparatus: 
a) Direct and comprehensive channel of communication between Armenia's military leadership and Russia's military leadership during political crises; consideration of mutually-agreed contingency plans in case of unexpected changes in Russia's leadership. 
b) Indirect and informal backchannels of communication between Armenia's political leadership and Russia's military leadership. Mutually-agreed contingency protocols must be discussed in the case of unexpected changes in Russia's leadership, and reaffirmation of the commitment of both sides to not disrupt the security architecture of the South Caucasus. 
c) Direct and comprehensive channel of communication between Armenia's security apparatus (NSS and the Security Council) and the leadership of Russia's security apparatus during political crises; consideration of mutually-agreed contingency plans in the case of unexpected changes in Russia's leadership. 
d) Indirect and informal backchannels of communication between Armenia's political leadership and the leadership of Russia's security apparatus. Mutually-agreed contingency protocols must be discussed in the case of unexpected changes in Russia's leadership. 
Risk Elimination for Scenario Two 
In the domain of risk-benefit analysis, the probability of loss is relatively minimal in this scenario, while the probability for benefit is statistically higher. Thus, propensity for risk-aversion remains robust, and the biggest objective within this domain is to secure the support of potential leading factions/actors that may come to power. In this context, since the highest risk is the loss of political capital within the existing or changing political leadership in Russia, contingency plans must be designed to eliminate such risks. Mechanisms for eliminating such risks entail a two-tiered contingency plan:
a) A robust and highly-scientific calibration of the leading social forces struggling for political leadership in Russia, the goals and policy positions of these factions, and the alignment of each faction's interests with that of Armenia. 
b) Constructing tailored and specific mechanisms of engaging each faction through backchannel and informal communication, and developing contingency plans of actors/factions that are favorable to Armenia and providing risk-averse support to such actors/factions.
Conclusion
Collectively, the risk propensity for Armenia has relatively diminished with respect to instability within Russia when compared to previous years. Armenia's security decoupling from Russia, and Armenia's Western pivot has, to some extent, insulated Armenia from the potential fallout that would otherwise have been a lot more severe if Armenia was more dependent on Russia. Contextually, scenario and contingency planning offer a wide range of strategic initiatives, policy considerations, and broad foresight in preparing a country, especially a vulnerable one, from absorbing the collateral damage that will come from the decline or collapse of a regional hegemon. Further, noting the relationship between high-risk propensity and higher-dependency, the less dependent Armenia becomes upon Russia — that is, how successful Armenia remains in escaping Russia's dependency structure — the less risk it will face should domestic turmoil and instability become a reality in Russia. To this end, as Armenia's security architecture drives towards resiliency and small state security, scenario and contingency planning should be at the forefront, for much of the region's developments will be outside of Armenia's control, but at the very least, Armenia may be able to more strongly prepare for uncertainty.