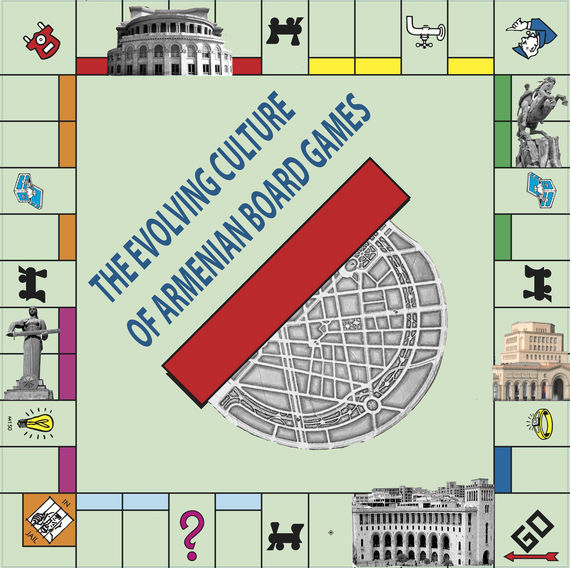 Had two students from Armenian State University of Economics  not tried to think of a new way to earn money one day after writing an exam, the Armenian market would not have had the board game De Khagha (Go Ahead, Play). The game became a novelty for Armenian society, quickly gaining popularity and began to be played in different clubs and cafes.
De Khagha is not the only Armenian board game created recently. The company "Hol" (Spinning Top)  recently launched the board game Qayl Ara (Take a Step), which is the Armenian version of Monopoly. The company entered the Armenian market with four board games: Zangi (Ring)[1], Tarber (Bring a Letter)[2], Exkursia (Excursion)[3] and Evrica (Eureka)[4]. These games were followed by Barakhagh (Play on Words) [5] and Ov Em Yes (Who am I?) [6]. The founding director of the company "Hol," Davit Hovhannisyan, who is also the mastermind creator of all the games listed above and the co-creator of  De Khagha, says that the main inspiration behind his interest in creating games was the chance to do something fresh.
Davit first understood the excitement of Armenian customers towards board games around the New Year, when on December 28,  he realized that his company's storage unit was empty.
"Six years ago, classmates were not giving board games to each other as gifts," Hovhannisyan explains. "Today, people are playing and giving board games as presents in schools, universities, kindergartens. When we entered the market, that was not the case. Our attempt to teach people that they could buy intellectual and entertaining games in Armenian, may be considered as lucky."
The young entrepreneur says he's not a romantic, but rather insists that one has to be sure that the product being developed is interesting and has a market before embarking on the production process. He also thinks that anti-cafés, establishments that reject the standardized café stereotypes and offer their customers alternative ways to spend time, played a big role in the spread of board games.
While the market for Armenian board games was gaining ground, Vahan Sargsyan's brother and sister started to actively play a foreign board game on their phones. Then one day, Vahan came home to  discover that they were no longer playing on the phone and had bought the real version. This form of entertainment became routine in Vahan's house, and they started playing with friends, giving board games as gifts, etc. That's when they came up with an idea. "We said why not have an establishment like this by putting the emphasis on developing the culture of playing board games in Armenia," Vahan says.
The establishment is Board Game House Anti-café and it has been operating for almost a year now. It is a place where people come to play board games with friends or to spend time and relax with their families.
"Many people were interested on the day of the opening, mainly people who were not board game  enthusiasts but they learned how to play here," Vahan explains. "They started to come more often because they were simply enjoying themselves. There were people who were kind of familiar with board games and we introduced them to some new games."
The most popular Armenian game played in Board Games House is Barakhagh. Vahan happily notes that when customers come to their Anti-cafe, it allows them the opportunity to get away from their gadgets. And if they want to get together and spend some quality time in each other's company, then coming together over board games make their communication more interesting.
In childhood, board games satisfy the need for competition as well as help children acquire new skills. It is not necessary for board games to be strictly academic in order to be considered educational: oral communication, sharing, waiting for one's turn and enjoying others' company are social skills which develop when playing board games.
These were some of the critical areas that were taken into consideration by the Eiva Foundation when they were creating the game Arvest (Art). Co-creators of the game, Lia Mkhitaryan and Gayane Ayvazyan, say that you don't need to have any knowledge of art to play this game because you will learn as you go. There are five games for different age groups in the Arvest package. "We have put the emphasis on pictures: less text, more pictures," Gayane explains. "Our goal was to give less but important information which would have been very accurate and the player would easily memorize an interesting fact about a painter or about a work of art. We did not choose to launch a digitized version because we wanted kids to be able to communicate with each other. We wanted to develop skills such as the ability to negotiate and memorize."
"Our goal was breaking the 'art is only for art lovers' stereotype," Lia says. "When the game launched for the first time, we gave many free samples to schools and others were put out into the market. We were surprised by the public demand and that demand was the reason the game relaunched time after time."
All of the creators of board games agree that the hardest part of developing a new game is coming up with a name. Davit Hovhannisyan says it's like shooting a movie, the name is as important for the board game as a title is for a film. Design is another challenging element. All of these young entrepreneurs agree that it is not enough to have an amazing idea, there needs to be an enormous amount of work done towards the aesthetics of the game.
The owners of Arvest say they are looking to expand and create games connected with other branches of art in the future. The "Hol" company's next step is a surprise for its customers. "We are going to start a new interactive show soon, which is connected with our game Exkursia," Davit Hovhannisyan says."It is not going to have a commercial purpose, and the development of Armenian board games is what we are going to concentrate on by doing this project."
——————————————
1- A game based on how fast one's brain and body work. During the game, players put cards with fruit pictures on them one by one. And, if there are five of the same fruit in a round, the player who is the fastest to ring the bell wins.
2- The idea is to create a very long word. By using the letters of the Armenian alphabet, the goal of the players has to be to take 10 painted letter out of the game board faster than the opposite team.
3- Includes a map, a small creature and 100 cards which take the kids on a memorable field trip.
4- This game, which also includes 100 cards, makes one to have to remember significant years and to try to find the historically closest card with a year on it to the one that the opponent has put.
5- One has to guess the words a teammate describes in this game.The catch is that every card that is used to explain words, includes certain words that cannot be used during the process of explaining.
6- For playing this interactive game one has to download a certain application and to strengthen the sense of fast orienting.

The only thing this fairy tale needs to become a reality is peace and peace perhaps needs a fairy tale.
Read more

What happens when the heart wants a day on the shores of Lake Sevan but you hardly have enough for a train ticket and a bar of snickers but the train is not working? Would you consider hitchhiking? A group of girls did.
Read more