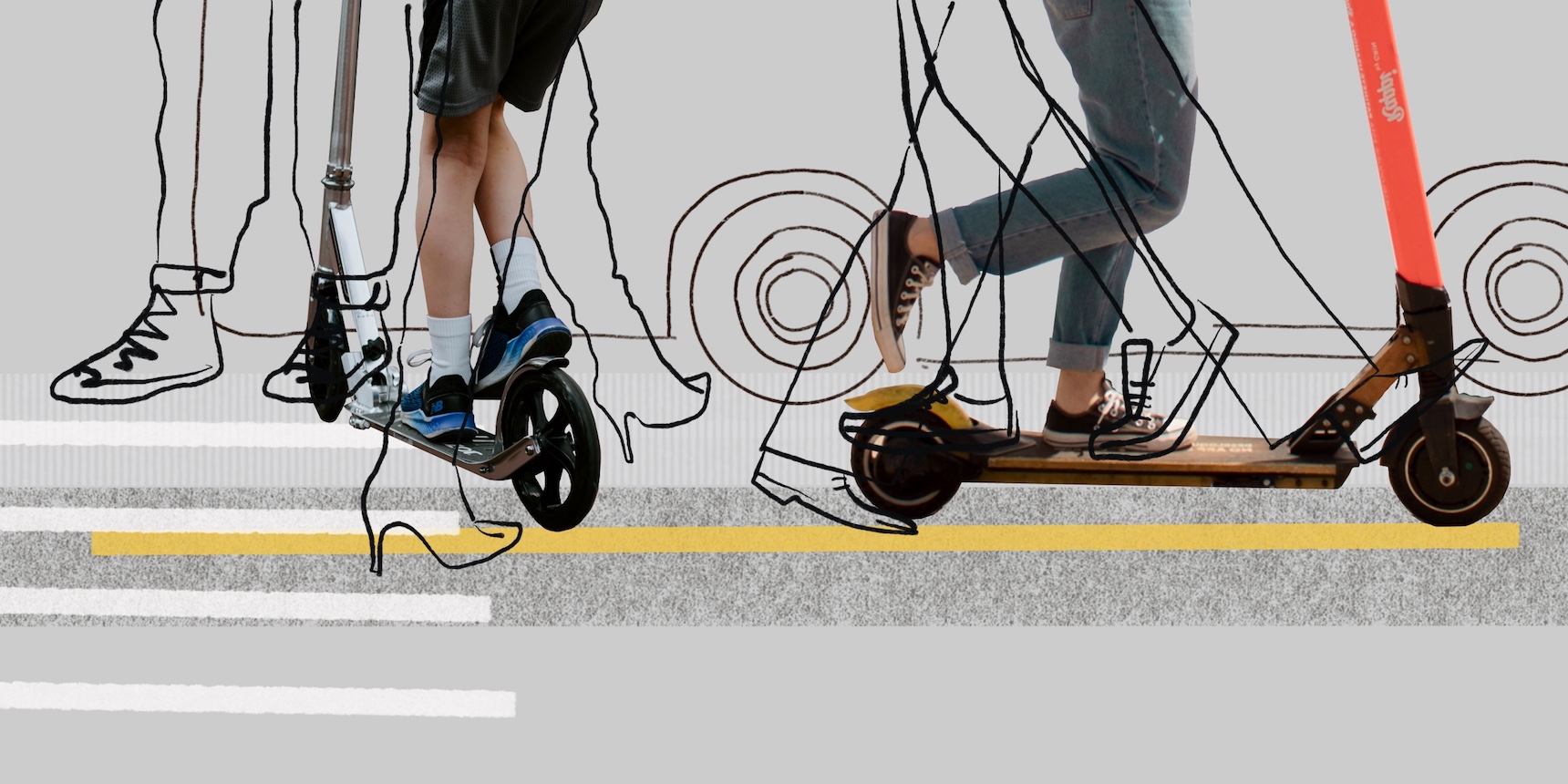 Rental e-scooters were first introduced in the fall of 2017 with the launch of Bird, a micromobility company, in California. With the rapid popularization of this new form of urban mobility, shared e-scooters soon became available in Europe. At present, they are one of the most popular alternative modes of transportation in many European cities. 
E-scooters first appeared in the streets of Yerevan in October 2021. Since then, their numbers have rapidly increased as more people opt for e-scooters to get around in the city. With heavy traffic in the city center, they have become an ideal form of transportation for short-distance commutes. 
Today, there are three main providers of rental e-scooters in Yerevan: YerevanRide, Jet, and Mimo. Jet provides only shared e-scooters and has already deployed more than a thousand devices in the city. YerevanRide has 500 devices, that includes e-scooters, bikes and e-bikes. Mimo, primarily a bike rental company, also offers e-scooters in the capital city. Additionally, there are other emerging companies in the e-scooter sharing market in Yerevan. For instance, CitySlide has its own rental e-scooters, which are available for rent through the YerevanRide application.
Some e-scooter companies, such as Jet and YerevanRide, have established rules and regulations that specify the usage of their e-scooters. For example, YerevanRide requires users to wear helmets, ride predictably, park without blocking pedestrian sidewalks, and use bike lanes, where available, instead of sidewalks. Likewise, Jet instructs users to wear helmets, drive at slow speeds, and avoid having two people ride one e-scooter simultaneously, among other things. 
These rules, however, are mostly disregarded. Walk a few minutes in the city and it becomes obvious that most e-scooter drivers don't wear helmets, they drive in a zigzag on sidewalks, confusing pedestrians, and park the e-scooters in the middle of the sidewalk. They also ride at high speed in crowded spaces and sometimes even ride in the street alongside cars and public transportation, risking accidents.
The usage of e-scooters is not overseen by any state body, making it almost impossible to regulate compliance with some of the rules. Currently, e-scooters are not under the supervision of either the municipality or the road police. Zarzand Gabrielyan, Armenia's Police spokesperson told EVN Report that e-scooters are not considered part of the transport system and are thus not under their jurisdiction for now. This lack of regulation and designated areas for riding e-scooters has led to a growing number of accidents, ranging from collisions with pedestrians and vehicles, to loss of control over the e-scooter. Consequently, e-scooters pose a serious threat to pedestrians who must always be on the lookout to avoid getting hit by them.
E-scooters are not only a nuisance to pedestrians but also to drivers. Some e-scooter riders, especially those making food deliveries, use roads designated for automobiles and often go back and forth between pedestrian spaces and roads, which have different rules and regulations. As a result, accidents involving e-scooters have been on the rise.
In 2022, Yerevan State Medical University published a report which revealed that within a span of five months, 38 individuals who were involved in e-scooter accidents had to be taken to the university's Heratsi Hospital for treatment. Of these accidents, 95% involved injuries to drivers of e-scooters, while the remaining 5% involved injuries to pedestrians; 24% of these accidents resulted in fractures.
One year on, the number of accidents involving e-scooters has continued to increase. The Ministry of Health does not keep a record of the total number of e-scooter related injuries for people above 18. However, in 2023, Heratsi alone reported that 15 people were brought into their emergency room with head or face injuries, two of which involved elderly pedestrians who were hit by e-scooters. The hospital only keeps the record of head and face injuries, however the number of other injuries is much higher. 
Gayane Stepanyan, the head Emergency Department in Heratsi, stated that collisions occur with pedestrians, cars and other stationary objects, with the drivers either losing control or braking suddenly. "I understand they are easy to use and convenient for avoiding traffic, but they must be ridden in designated areas to avoid injuries by colliding with pedestrians or other vehicles," said Stepanyan. Interestingly, in Heratsi, there have been no reported cases of patients wearing helmets or other protective gear, despite their importance being emphasized on company websites. 
Many people are still unaware of recommended safety regulations for e-scooters. Armine Melkonyan, 21, didn't know about these regulations nor had she seen an e-scooter driver following them. The first and last time she drove one, she had an accident. While trying to stop the e-scooter, she fell off and had to be taken to hospital by ambulance. She sustained a knee injury that required her to use a cane for a month. Armine has not used e-scooters since. "After the accident, I realized that e-scooters are good transportation modes, but only if you use them correctly," she says. "You have to follow safety rules." Armine also notes that there should be designated lanes and as a pedestrian who frequently encounters e-scooters, she finds them disruptive.  
The issue of e-scooters has become more complicated with children and adolescents using them. Despite Jet and YerevanRide specifying age limits of 18 and above, and 16 and above, respectively, in practice, anyone with access to credit card details or even cash (in the case of YerevanRide) can use e-scooters. Teenagers are often seen riding e-scooters with two people on one device, which is very dangerous and can cause loss of control. The Ministry of Health reported 14 cases of injuries among minors resulting from riding e-scooters in the past two years (2022 – May 2023). These injuries included fractures and soft tissue injuries. 
These incidents, as well as the nuisance and safety issues they present, have raised concerns among the public. To address these concerns, the police presented a legislative package for public discussion that would make amendments and additions to the law "On ensuring road traffic safety" and the code "Regarding administrative offenses"․ The legislative package aims to regulate the usage of e-scooters and proposes a number of limits and restrictions, such as speed limits, age limits, and riding lane specifications. Breaking these regulations will result in a fine of five times the established minimum wage. The package was proposed in August 2022 and is still under development. 
Although a year has passed with no movement on the matter, even if the proposed package is ratified, only part of the problem will be addressed if infrastructure availability remains unchanged. 
E-scooter regulation has been a contentious issue in many countries since their availability. Different countries have approached the issue in different ways. Some European countries have designated bike lanes for e-scooters, while others require a license to ride them or mandate helmets for underage drivers. In some cases, the problems caused by e-scooters have led to their outright banning. For example, in April of this year, Paris banned e-scooter usage following a referendum with 90% of voters supporting the ban. The referendum was in response to the growing number of accidents involving e-scooters and the traffic disruptions caused by their use. 
International experience shows that the rise of e-scooters created a need for regulations and adjusted infrastructure in almost all areas where they have appeared. Armenia has yet to address this need, starting with bike lane construction to policy-making and regulation. For now, with none of these measures in place and no appropriate infrastructure, the growing preference for e-scooters has become a public hazard. 
While e-scooters are an efficient and eco-friendly alternative mode of transportation in cities, they have become a source of problems for both pedestrians and drivers. To integrate e-scooters with other modes of transportation and ensure proper usage, separate bike lanes are essential. This infrastructure addition will allow e-scooters to be used without hindering pedestrian mobility and other transportation modes. Moreover, regulations like the law amendment package introduced for discussion a year ago are essential for more orderly usage of e-scooters.