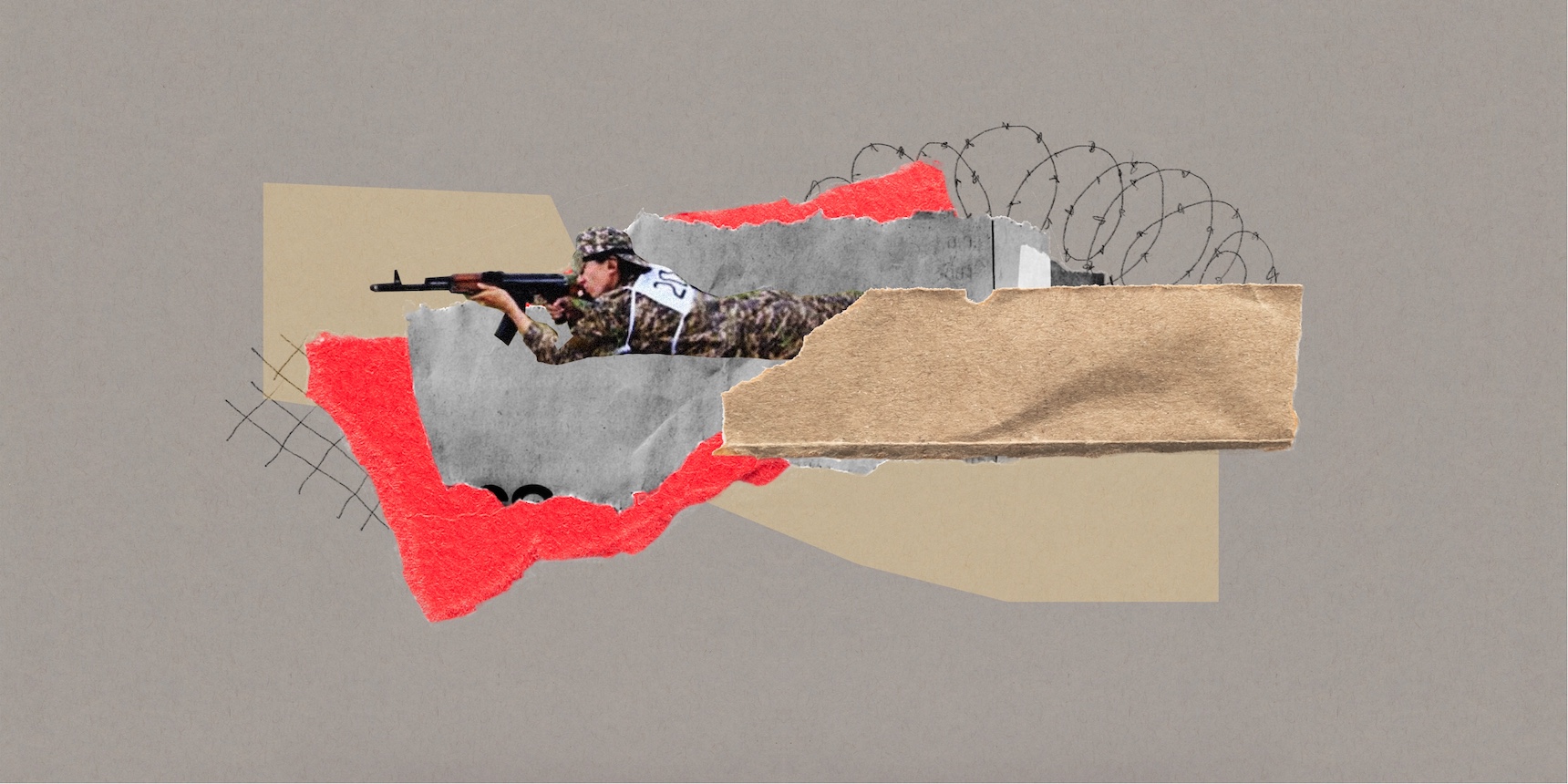 The Government of Armenia has proposed a confusingly worded system of "mandatory military service for women on a voluntary basis."
In February 2023, a bill proposing amendments and additions to the law "On Military Service and the Status of Servicemen", regarding military service of women, was put to public discussion. The initiative was approved during a government session on April 21, and has since been sent to parliament for ratification.
The draft law proposes the following:
"The package of initiatives defines the relations between female citizens who express a desire to undergo mandatory military service voluntarily, their military registration, conscription, assignment to the place of service, and the calculation of honorarium at the end of the service."
During the cabinet meeting, Defense Minister Suren Papikyan explained the term "voluntary mandatory". According to him, women will be drafted on a voluntary basis, but once drafted, it will be mandatory to serve for six months.
Military expert Karen Vrtanesyan questions the difference between this and existing contractual service. "If a servicemember has signed a contract, it is clear that they cannot leave service whenever they please. If this is not contractual service, an explanation is needed for what this is and why it is necessary. Additionally, why is it applicable to women but not to men?" 
Women in Military Service
The conscription age in Armenia is 18 to 27, which also applies to women who may volunteer to serve.
Under the draft law, women in the same age range can submit an application to their local military commissariat before March 1 or October 1 of each year to participate in the winter or autumn drafts, respectively, for the six-month compulsory military service.
Amendments to a number of government decisions following the adoption of this bill are planned. Furthermore, detailed information on additional procedures for its implementation has been released, even though no legislative proposals have been announced yet. 
One issue pertains to honorariums. According to the bill's justification, women will receive an honorarium of one million AMD after six months of full duty. Furthermore, Minister Papikyan stated during a government meeting that if a woman is discharged early due to health issues, the honorarium will be determined by the number of months of service. The honorarium amounts to approximately 166,000 AMD per month. 
Gegham Manukyan, a member of parliament on the National Defense and Security Affairs Standing Committee, has raised concerns about the possibility of women enlisting in the military being discharged early due to pregnancy. Regulations are expected to be adopted to address this and similar situations.
The bill also includes provisions for women who are deemed unfit for military service or temporarily unfit for medical reasons, or in need of treatment, to not be drafted. Additionally, according to the government's 2018 Decision, pregnant women are recognized as "Unfit to study in a military educational institution" at any stage of pregnancy, and are therefore not conscripted into military service.
Individuals will also be ineligible for military service in certain family circumstances, such as caring for a disabled or incapacitated parent, sibling, two or more children.
The bill stipulates that women's service will be conducted exclusively in military training camps. Manukyan has expressed concerns about this. The MP notes that individuals undergo formal training in these military camps before being transferred to combat units, where they are expected to carry out combat-related duties.
"For example, a woman who undergoes military training for a particular anti-tank weapon is discharged. This means she's learning something that she won't be able to apply while performing combat missions," Manukyan explains and adds that there are concerns about the availability of accommodation for women and how issues related to hygiene, household tasks, and other matters will be addressed.
Manukyan responds skeptically to the observation that women may be encouraged to enter into a five-year contractual military service by means of a six-month service and honorarium  He doubts that there are reasonable expectations that they will continue their service after the initial six months.
Papikyan announced that female servicemembers will now have the option to undergo five years of contractual military service under the Motherland Defender Program, instead of being discharged after just six months of service. Participants in this program can receive a monthly salary of up to 380,000 AMD and enjoy all the privileges of a contractual soldier, such as free medical care. If a participant is forced to terminate their service before the end of the contract period due to a health condition, they will receive an honorarium of five million AMD. Furthermore, if they leave the service before the end of the term due to contract expiration or a medical problem, they will still earn a five million dram honorarium.
Women in National Defense 
Mariam Hambardzumyan, a 44-year-old member of the Azatazen Military Educational NGO, suggests that given the current situation in the country, women's service could even be made mandatory.
Hambardzumyan believes that the state's honorarium for six months of service, although not a large amount, can encourage women to apply for military service.
"We can't just rely on patriotism and pathos," says Hambardzumyan, adding that it is necessary to show society that women can also participate in the defense of the country. "If a concept is not discussed or popular, it won't be actively applied. Even though there is no law prohibiting women from serving in the military, few women would choose to do so. Other small countries facing defense issues have successfully included women in all aspects of defense, such as in Israel."
Hambardzumyan suggests that women do not necessarily have to go to the frontline. Instead, they can serve in roles such as communications or drone operators, and perform other jobs just as well as men. "It is also possible that the inclusion of women may lead to men becoming more willing to serve," she says.
Hambardzumyan acknowledges that women's service may not be easy, but she thinks it is possible to tailor military conditions to meet their needs gradually.
"The state lacks the resources to address these issues all at once," she explains. "Even conditions for men are currently, to put it bluntly, flawed. They often lack accommodation and their positions are not reinforced. It is clear that it will be challenging to adapt the army to women at present."
The Military: An Unsafe Environment 
According to human rights activist Zaruhi Hovhannisyan, women in the military are at risk of violence.
"The military, as a patriarchal and violent institution, as of today, does not create safe conditions even for men in terms of resolving non-regulatory, interpersonal relationships. This situation can be even more complicated for women," says Hovhannisyan.
Hovhannisyan notes that international reports show that women are also subjected to sexual violence in the militaries of different countries. For instance, as of 2021, 8.4% of female soldiers and 1.5% of male soldiers in the United States military reported being sexually assaulted.
"Sexual violence is an issue in the military. Yet in Armenia, they are attempting to include female soldiers without even introducing mechanisms to prevent it," says the human rights activist.
According to Hovhannisyan, the wording "voluntary" and "mandatory" in this context is not accidental.
"The word 'mandatory' may suggest that military service will soon become compulsory for women. Otherwise the word 'mandatory' is redundant," Hovhannisyan says. "In reality, we are not moving toward developing a professional army, as they try to assure us, but rather toward increasing the size and composition of mandatory military service."
There are also concerns about the proposed honorarium. Hovhannisyan does not rule out the possibility that economically disadvantaged individuals may join the military service solely for financial reasons and out of desperation.
The Goal: A Professional Army?
"We asked Suren Papikyan whether the purpose of this is to recruit manpower, and he said no. In that case, what is the purpose?" inquires Gegham Manukyan. 
According to Karen Vrtanesyan, if Armenia were preparing for a large-scale and long-term war, the question of women's military service would then be appropriate to discuss and develop reasonable solutions, such as under what conditions and in what supporting positions women can replace men?
"They call it reform; there are endless changes, neither the purpose nor the outcome of which are clear," he says.
During the government session, Prime Minister Nikol Pashinyan announced that this is a step toward a professional army.
"What exactly does a professional army mean? I'm assuming we're talking about an army that is replenished only on contractual grounds. There is always a threat of war in Armenia, and countries under threat of war must always have a mobilization reserve, which is only conceivable if mandatory conscription is in place; otherwise, you cannot train these people from scratch," says Vrtanesyan.
Regarding the new mandatory military service for women, the bill's justification states:
"Given the development of the military service –– including increased professionalism, giving the defense of the Republic of Armenia an all-inclusive nature, and expanding opportunities for female citizens to participate in the defense of the Republic of Armenia, one of the program principles of the government is the provision of legislative and practical opportunities for female citizens to undergo mandatory military service on a voluntary basis."
The bill's justification does not clearly explain what tangible outcome the six-month service of women can provide for the defense of Armenia. The legal act is justified by the government's 2021-2026 plan to create an opportunity for female citizens to undergo mandatory military service on a voluntary basis.
The Minister of Defense expects the law to be in force in time for winter conscription, but as of yet it is not on the agenda of the National Assembly.