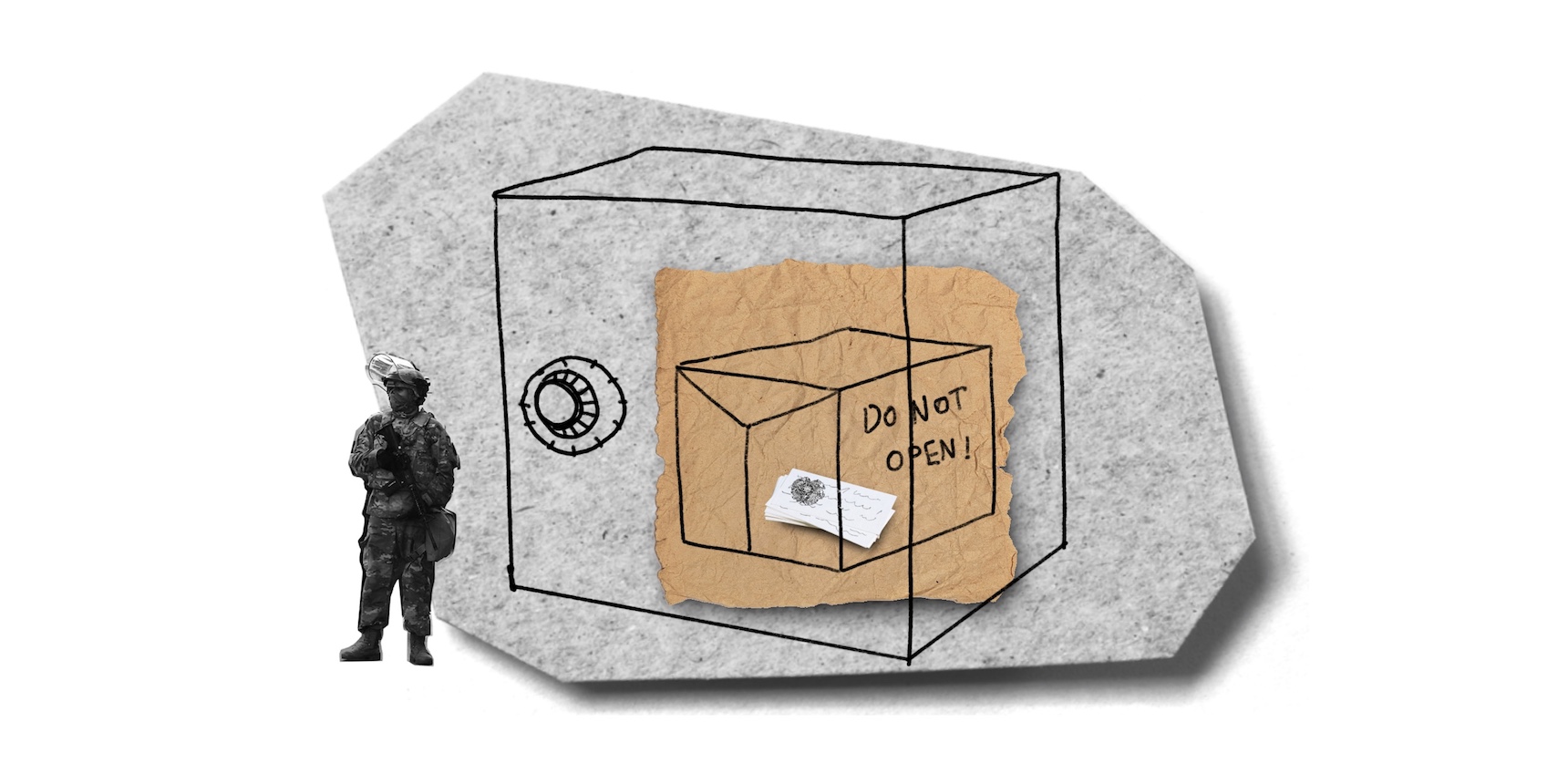 Armenian authorities have imposed new restrictions and tightened regulations on keeping state information secret. On March 1, 2023, the National Assembly passed a new law "On State Secrets" and amendments to other related laws during its second reading.
According to Tigran Harutyunyan, the Deputy Director of the National Security Service, the new law is based on the existing law "On State and Service Secrets," which has been revised and adapted to current legislation and international standards.
Under the new law, information related to the military, foreign relations, economy, science, and intelligence sectors in Armenia is considered a state secret if it is protected by the state and its dissemination may harm national security or state interests.
The law defines three levels of secrecy based on the degree of national security risk: "special importance" when particularly serious damage can be done, "top secret" for cases of serious damage, and "secret" for cases of significant damage.
Extending Duration of Classified Information
The new law has extended the duration for keeping information containing secrets classified.
Under the current formulation of the law, information deemed as "secret" is kept classified for 10 years. This will now be extended to 20 years. Information containing "special importance" and "top secret" are currently kept classified for up to 30 years. With the new law, "top secret" information will be kept classified for 30 years, and information of "special importance" for 40 years.
Under the current law, officials authorized to classify information as state and service secrets may extend the duration of keeping that information confidential for no more than five years, based on security considerations.
The new law, however, grants these officials the authority to extend the term of keeping that information classified for up to five years each time.
According to Shushan Doydoyan, President of the Freedom of Information Center, the process of keeping information classified can become endless and it is possible that specific documents will remain secret indefinitely.
"Under the current law, the maximum duration for keeping 'top secret' information classified was 30 years, and it could be kept secret for a maximum of another five years," Doydoyan explains. "But now, the confidentiality can be reviewed every five years and permanently keep the status of that document classified."
Secrets May be Destroyed Sooner Than Intended
Article 15 of the new law defines the grounds on which classified information can be declassified and destroyed.
Classified information may be declassified if Armenia has undertaken an international obligation to disclose that information publicly, or if circumstances have changed and its preservation and protection are no longer relevant.
The government can reduce the duration of keeping information classified.
After declassifying information, the head of the institution that held it secret can decide to transfer that information to the state archive.
The new law requires the destruction of confidential information that has expired but is not subject to declassification or transfer to the state archive.
In certain situations, such as during martial law or a state of emergency,  or in the presence of an immediate threat of an armed attack, information containing state secrets may be destroyed if it cannot be protected and there is a risk of loss or publication. The decision to destroy such information must be made by the relevant officials.
Additionally, information may be destroyed before its confidentiality deadline if circumstances have changed, making its preservation and protection irrelevant.
The above provision is new. This means that if a document has been classified, it may never be made public again.
Grisha Balasanyan, a lawyer and journalist at the investigative news outlet Hetq, warns that any case in which the law can be subjectively interpreted and arbitrarily applied is dangerous.
"The wording 'irrelevant' is already dangerous and poses a high risk of premature destruction of information," says Balasanyan. He believes that this amendment was made specifically to destroy information prematurely. This could cause problems for future authorities. "The public will not have information on many facts, which will create an information vacuum," he explains. 
Freedom of Information Is Being Eroded 
A change made by the National Assembly to other laws is in Clause 1.1 of Article 8 of the Law on "Freedom of Information". This clause previously allowed for the rejection of information that "contains state, banking, and trade secrets." The new changes add the words "service information of limited distribution."
However, regulations concerning "restricted information" are already established in Chapter 7 of the Law "On State Secrets".
According to Ashot Melikyan, Chair of the Committee to Protect Freedom of Expression, most of the documents circulated in state bodies can be considered restricted information.
Melikyan explains that the wording allows for subjective and arbitrary interpretations, and that, "a civil servant can decide whether a document contains restricted information or not." He continues, "With this small change, the Law on 'Freedom of Information' loses its value."
According to Doydoyan, the process of preserving the secrecy of a document will be decided by a single official.
After the legislative package was adopted, several media organizations issued a statement on March 13, 2023, demanding that Armenia's president not sign the laws and that he contest their constitutionality. The statement notes that similar changes were made to the new "On Ecological Information" law. It also reminds readers that a bill of amendments and additions to the Law "On the Legal Regime of Martial Law" is currently under discussion, which may allow for arbitrary and disproportionate restrictions on obtaining information.
According to the statement, "a whole backward chain of legislative initiatives has been created which limit freedom of information." The statement notes that receiving official information from state bodies already involves appalling complications and that individuals, media, and non-governmental organizations face many unjustified rejections.
Despite this, the President signed the Law "On State Secrets" on March 24. The law will come into force ten months after its official publication.
Government Transparency Is Dwindling 
Experts have noted that the declassification process in Armenia is quite complicated. "Throughout the past 10 years, not even 10 secret documents have been declassified by the government," says Doydoyan. She cites Albania as an example, where more than 1,000 documents are declassified and published on official platforms every year.
According to Doydoyan, there are many documents that can shed light on the past. However, secret information in Armenia remains closed forever. "They are not reviewed at all," she notes. "On the contrary, the Law 'On State Secrets' is being changed with the opposite effect – with a more closed and restrictive approach."
Melikyan suggests that if the current government has made democracy its brand, then it should proceed with caution when imposing restrictions.
"We are in a difficult situation, constantly engaged in an information war. It is understandable that military operations could start at any time," says Melikyan. "However, everything should be done in a reasonable manner that does not undermine freedom of information."
Grisha Balasanyan recalls a case in which classified information was finally declassified. Journalists requested documents related to the purchase of POS terminal devices, which the government had classified as containing service secrets.
"We went to the Administrative Court which granted partial access," says Balasanyan. "But after that, since the government had changed, the new authorities disclosed the secret information. It turns out that decisions they found unacceptable in the past are now acceptable. And they are trying to strictly limit freedom of information even more."  Balasanyan adds that under these new laws, information on state purchases or trips taken by high-ranking officials can be considered as "restricted information" and kept confidential.
Balasanyan fears that restricting access to information will not only hinder freedom of information but also the authorities' obligation to be public, transparent and accountable.
"The Constitution states that the Republic of Armenia is a democratic and legislative country," he says. "If that's the case, why are the people not allowed to receive information about the expenses of the authorities, renovations taking place in their private residences, and so on?
Balasanyan recalls that when Prime Minister Nikol Pashinyan first came to power, he would take pictures and show every corner of the government residence as if he was going to be accountable, showing the conditions he lived in and having nothing to hide.
"However, it turns out that was all temporary. Now the authorities do not want to be transparent and accountable," he claims. "This not only poses a problem  for the Constitution but also for the European Convention on Human Rights and other international legal acts." 
Balasanyan concludes that the more the right to freedom of information is restricted, the more Armenia's democracy will suffer.