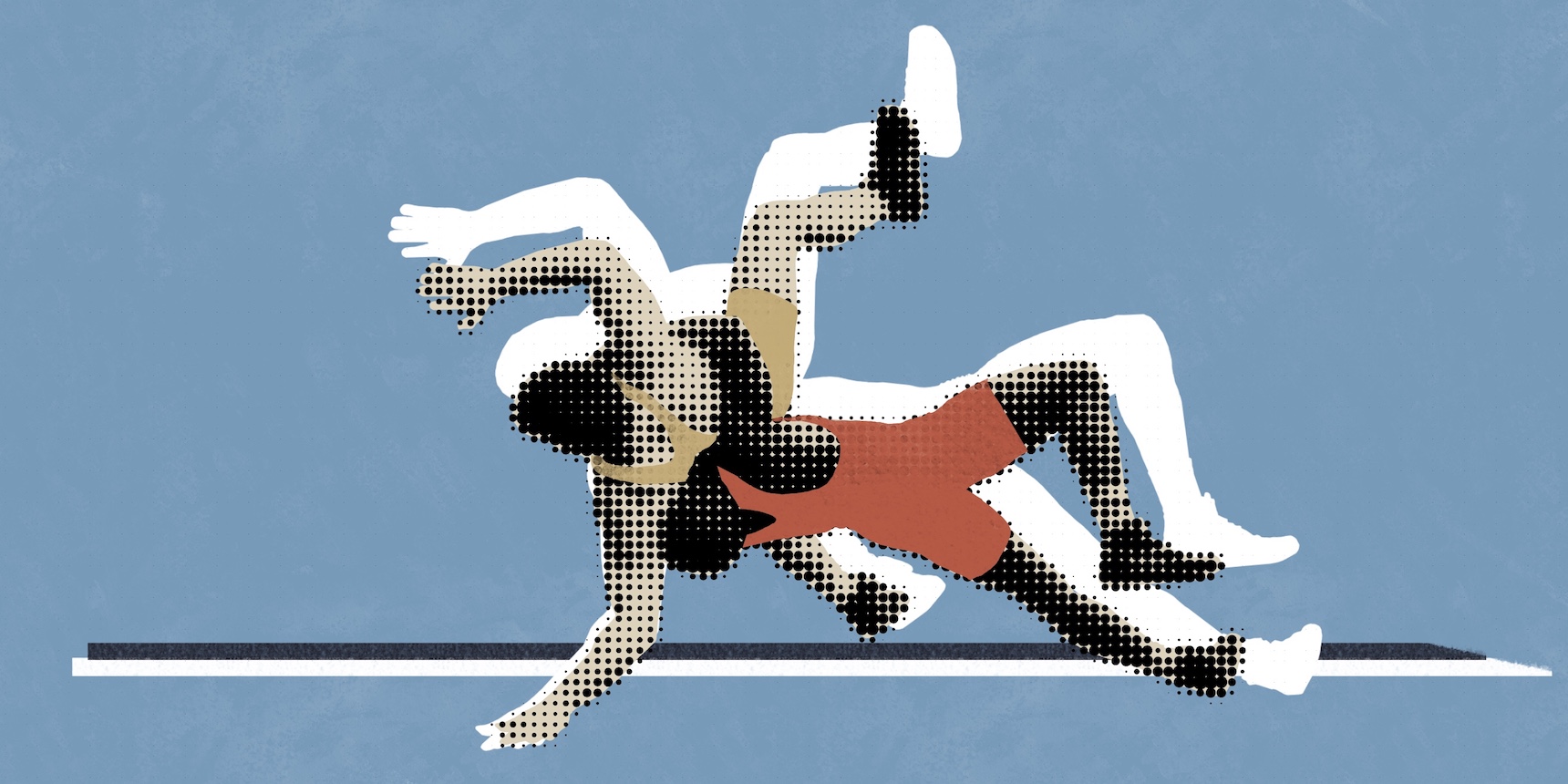 In 1992, athletes from war-torn Armenia, including wrestler Mnatsakan Iskandaryan, shooter Hrachya Petikyan, and weightlifter Israel Militosyan, won gold medals at the 25th Olympic Games in Barcelona. 
Since then, Armenian athletes have continued to triumph despite difficult circumstances, such as wrestler Artur Aleksanyan who won the gold medal at the 31st Olympic Games in Rio de Janeiro following a 20-year hiatus. After the 2016 Four Day April War, he dedicated his victory to soldiers protecting the borders of his country and to the heroes who gave their lives. During the medal ceremony, Aleksanyan wore a T-shirt featuring the image of one of those heroes, Robert Abajyan. 
Despite facing tough competition at the Individual World Wrestling Cup held in Belgrade from December 12–18, 2020, shortly after the 44-day Artsakh war, Armenian athletes emerged victorious and gave their fellow countrymen cause for celebration after so much loss.
According to Armenian chroniclers, the first sporting successes of Armenian athletes can be traced to antiquity. The first Armenian to compete in Olympic competitions was Trdat from the Arsacid (Arshakuni) Dynasty, who won a wrestling match at the 265th Olympiad in 281 AD. Trdat would later be crowned king in 287. Nearly a century later, in 385, King Varazdat won the Olympic gold medal in boxing during the 291st games.
The development of Armenian sports in modern times began in the 1920s and, since 1946, Armenian athletes have been able to compete in international tournaments. When the Soviet Union first competed in the Olympic Games in Helsinki in 1952, gymnast Hrant Shahinyan won the gold medal, becoming a new benchmark for Armenian competitors in the Olympics. Since then, Armenia has produced 13 more champions, including four in wrestling, three in weightlifting, two in gymnastics, and one each in shooting, boxing, modern pentathlon, and athletics discus throw.
In 1954, Shahinyan also opened a chapter for the history of Armenian athletes who became world champions, which currently consists of 50 names (13 in wrestling, 10 in sambo, eight in weightlifting, six in chess, three each in gymnastics and shooting, two each in boxing and fencing, and one each in modern pentathlon, wushu and cycling).
The journey towards becoming European champions began in 1947, when weightlifter Ivan Azdarov won the European Weightlifting Championship in Helsinki. Azdarov had already won the USSR championships in weightlifting five times since 1944. Armenia has 102 European champions, with the majority of them –– 24 in total –– being wrestlers.
Armenia is ranked 106th out of 206 countries in the annual world sports rankings of Worldsportranking.
While the types of sports Armenian athletes won competitions in were more diverse in the last century, in recent decades they have mainly been in wrestling, weightlifting, and sambo.
The Domino Theory
Wrestling, considered one of the oldest types of martial arts, is a mainstay sport in Armenia. It is reminiscent of the traditional "kokh" sport popular among Armenians in the past, which was often accompanied by Armenian folk tunes during competitions. Before the start of the match, everyone would dance traditional Armenian dances.
Today, two forms of wrestling are recognized for this type of grappling: Greco-Roman and Freestyle. Both styles aim to throw the opponent off balance and press them to the mat. However, unlike Freestyle, Greco-Roman or traditional wrestling only allows maneuvers above the belt line; and the use of legs is prohibited.
According to Araik Baghdadyan, the Secretary General of the Armenian Wrestling Federation, over 9,000 athletes currently compete in wrestling in Armenia, with only a small number of women participating. Historical data suggests that wrestling has traditionally been the most popular sport in Armenia.
"Although wrestling is a challenging sport, it's easy to start training as it doesn't have many requirements: it's not swimming, it's not football, it's not tennis where conditions are not satisfactory," says Baghdadyan. He notes that wrestling is popular in Yerevan, Gyumri, Vanadzor, and Artashat. Baghdadyan adds that Araik Gevorgyan, the three-time world champion of 1995, 1997, and 1998, is from Artashat. Following his wins, the number of people who wanted to start wrestling increased in the city. The same thing happened in Gyumri when local wrestler Artur Aleksanyan started winning tournaments, including becoming an Olympic champion  in 2010. Baghdadyan notes that some parents are unsure whether they prefer Free or Greco-Roman style for their children when they call to enroll them, but they all say, "We want Arthur's sport."
Armenian Greco-Roman wrestler Malkhas Amoyan's sporting career began in the footsteps of his wrestler uncles Roman and Azat Amoyan. Roman won the title of European Champion twice, in 2006 and 2011, while Malkhas followed in their footsteps to become the 2021 World Champion and won the gold medal at the 2022 European Wrestling Championships. 
"Following my uncles, I fell in love with this sport, and I started training from the age of six. To this day, I train every day," says the 24-year-old athlete. He adds that successes in sports often inspire others. "Today we have Olympic champion Artur Aleksanyan. Can you imagine how many children will look up to him, get excited, and want to go wrestling? Our victories also contribute to the development of the sport."
Amoyan acknowledges that wrestling is one of the most challenging sports, and despite the difficult losses and injuries that come with it, these obstacles have made him stronger and helped him advance.
"I feel incredibly honored to raise the Armenian flag each time I compete," he explains. "With each victory, my responsibility only grows. Sometimes it's hard to fully grasp the significance of a win, but when I return home and see the support of the public, the joy I feel doubles."
Following the 2020 Artsakh War, the athlete suffered poor mental health as a result of the military defeat. However, the sport both helped improve his well-being and lifted the spirits of his compatriots with his win.
"In 2020, about a month after the war, I participated in the World Cup Championship and took second place with great difficulty," he recalls. "The training sessions were held in parallel with the war, and it was very difficult to concentrate. Sometimes we were unable to train."
Arsen Harutyunyan, a three-time European champion and Olympian, who was the runner-up in the same championship, says it was the most challenging competition for him. He served in the war, returned, and after much effort and training, he was able to recover in just a few sessions and compete.
"When we achieve success in Armenian sports, it inspires others as well. Many people get motivated and bring their children to play sports," says Harutyunyan. "I remember watching Artur Aleksanyan's wrestling and being very inspired by it. Now, I interact with a lot of kids, and one of my main objectives is to use my presence to encourage them to participate in sports and to support them in realizing their aspirations."
The 23-year-old Harutyunyan who is from Masis, Ararat region, began attending the Yerevan State Sports College of the Olympic Reserve when he was 11 years old. He still visits frequently, inspiring the pupils who study there. They whisper "it's the champion" to one another upon seeing him.
"To achieve victory, one must be patient, persistent, and work through their emotions," Harutyunyan advises. "Everything happens at the right time; you only need to succeed. Plan your trajectory early on and know exactly what you want from the sport."
The Vision
Vardan Haroyan, coach of the State Sports College and co-founder of the Surb Trdat Mets wrestling club, was inspired by his uncle to take up wrestling. He began training at the age of eight in 1992, during the First Nagorno-Karabakh War when there was no electricity and facilities were in poor condition. "In winter, we practiced in buildings with broken windows and hanging icicles. We took cold showers and wore four pairs of pants to keep warm. There were few opportunities to become a successful wrestler –– very often there was no money to go to championships," recalls Haroyan. Despite the harsh conditions, Haroyan is proud that they were able to create champions.
However, the coach laments that children's interest in sports isn't as great as it used to be, which he views as a significant challenge. In response to this issue, he co-founded a wrestling club in 2018 in the Shengavit district of Yerevan, where there was no previous facility teaching this sport. Children are introduced to wrestling in this free-of-charge school, starting at the age of seven. The focus is on fostering a love of the gymnasium, the coaches, and the team they are part of, and gradually encourage the children to achieve great sporting results.
"When the coach-child bond begins to strengthen, a commitment to fulfill the coach's assignment arises, and so the life of sports begins, where dedication and non-stop, uninterrupted work is needed to achieve results," Haroyan says, adding that today, athletes from their club compete in international competitions, travel to numerous countries, become more independent, gain valuable experience, and make new friends outside of the country. 
Haroyan hopes that the club's students will build on the recent successes of Armenian wrestlers in international competitions.
Arayik Baghdadyan believes that the future of wrestling is secure thanks to both experienced current competitors who have already achieved success and promising new successors. Still, he acknowledges problems, noting that while Yerevan has well-equipped sports schools, the same cannot be said for the regions. He believes that providing at least two or three villages with one gymnasium could also yield great results.
According to the Ministry of Education, Science, Culture and Sports, as of the end of 2019, 174 children's and youth sports schools operated under the supervision of the Ministry, the Yerevan Municipality, communal and regional administrative centers and four non-governmental sports organizations. Of these sports schools, 60 are located in Yerevan, 32 in Shirak region, 19 in Lori, 13 in Kotayk, ten in Syunik, nine in Armavir, nine in Gegharkunik, eight in Ararat, six in Aragatsotn, five in Tavush, and three in Vayots Dzor regions. A total of 40,640 pupils study in these schools, with 22,614 of them in the regions and 18,026 in Yerevan.
"After numerous defeats and disappointments, it is our athletes' victories that lift the mood and spirit of our people. However, sports today seem to be limited to football, and our legendary athletes, the success stories of our youth, remain in the shadows," laments Baghdadyan. He recalls the hardships  of the 1990s when, despite difficulties, people were much more involved in sports. "The general population has weakened. It is rare to see children playing football on the streets. Everyone is obsessed with phones and new technologies; there is no playing, running, falling. In the past, the street was our playground: we played outdoors a lot, and it contributed to the development of sports in its own way. Today, at the very least, physical education should be prioritized in schools."
On February 21, 2020, Prime Minister Nikol Pashinyan announced that the government was giving priority to sports in the government's Armenia Transformation Strategy 2050: "As we set our national and state objectives, we aim to achieve at least 25 Olympic gold medals by 2050. While many may consider this goal too high, we remain undaunted. In fact, it is inspiring because the crucial prerequisite for being a champion is not wanting to do what is possible, but what is impossible."
A career in sports is not easy, of course. Many athletes cannot endure the physical demands, injuries, and health issues. Some choose other career paths that keep their name in the public's attention, while others are simply forgotten over time. Nevertheless, their achievements remain part of the country's sporting triumphs.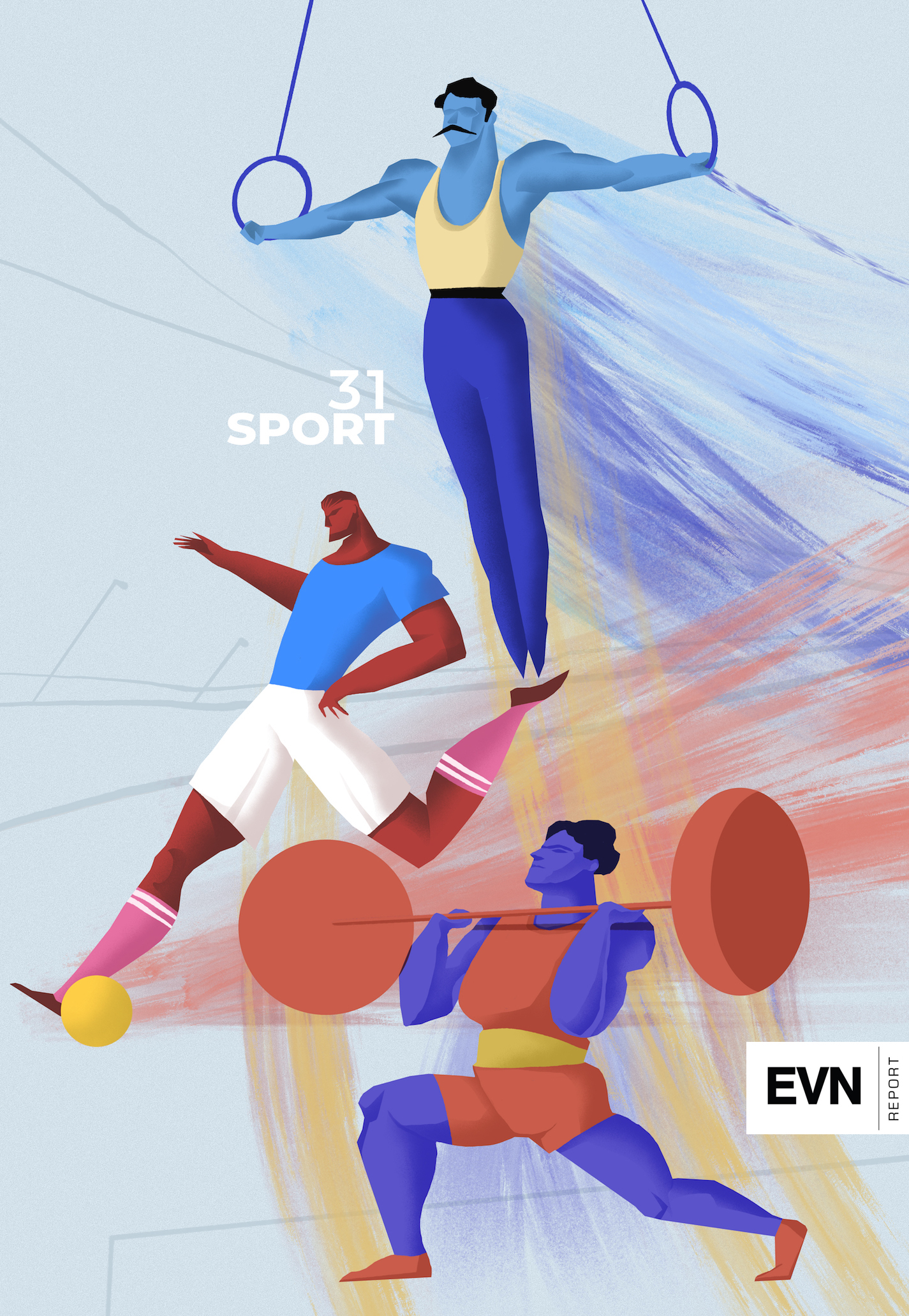 Sports have always played a crucial role in societies, contributing to the physical, mental, and social well-being of individuals, communities and nations. Their significance extends beyond mere entertainment, fostering unity, discipline, resilience and personal growth.
While headlines in Armenia, Artsakh and the region are dominated by conflicts and despair, sports and sporting events provide respite and give people, young and old, an opportunity to improve their health, and a platform for people to come together and support their athletes and national teams. Sports also can lift people up in times of crises and become a source of healing. They provide young people with role models, encouraging them to lead more active and healthier lives.
In this month's magazine issue entitled "Sports" we present articles covering the spectrum of different sports – from special schools preparing future athletes, to water polo and gymnastics, to the more traditional Armenian sports, such as football, weightlifting and wrestling.