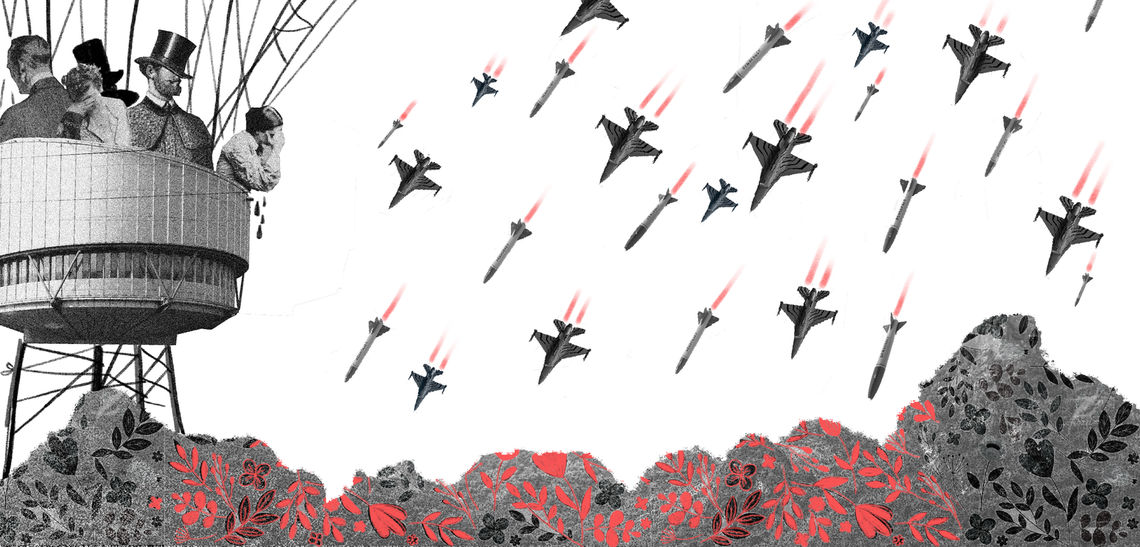 The 2020 Artsakh War lasted a mere 44 days but was rampant with war crimes committed by Azerbaijan's armed forces, their Turkish allies and Turkish-recruited Syrian mercenaries. This article lists many of the most horrendous and brutal war crimes committed by Azerbaijani military and servicemen. Since the November 10 armistice agreement, numerous videos have been posted online showing brutal war crimes, most of which were filmed by the perpetrators or witnesses.
Indiscriminate Bombing of Civilian Areas
Attacks targeting civilians and civilian infrastructure constitute war crimes, according to the Rome Statute of the International Criminal Court and the Geneva Conventions. Article 8(2)(b)(i)(ii)(iv) of the Rome Statute describes the following as war crimes: "intentionally directing attacks against the civilian population," "intentionally directing attacks against civilian objects" and "intentionally launching an attack in the knowledge that such attack will cause incidental loss of life or injury to civilians or damage to civilian objects or widespread, long-term and severe damage to the natural environment which would be clearly excessive in relation to the concrete and direct overall military advantage anticipated." Articles 51 and 52 of Protocol I to the Geneva Convention also protect civilian lives and civilian objects, respectively.From the beginning of the war on September 27, Stepanakert, a city of 55,000, and numerous other settlements in Artsakh were subject to indiscriminate shelling and bombing by Azerbaijani forces. Matthew Cassel, a correspondent for VICE News who was in Stepanakert in early October, told OC Media: "Despite Azerbaijan having seemingly precise military tech as shown in the videos they've been publishing, the bombings were still indiscriminate," including in civilian areas.
An interim report published by the Artsakh Government Ombudsman's office on October 18 noted that "In many cases, attacking civilians was targeted and intentional, since military targets were located very far from civilian objects, and the Azerbaijani forces used accurate armaments like missiles and striking drones. The absence of military targets in the vicinity of attacks further confirms their deliberate nature, which amounts to a war crime." By the end of the war, around 50 civilians were killed and 148 were wounded on the Armenian side.
Civilian infrastructure in Stepanakert and other settlements of Artsakh were heavily targeted. In early October, Azerbaijan targeted Shushi's Cultural Center, which turned into rubble. In the same days, Stepanakert's electricity company headquarters and a major electrical substation were targeted, which caused an outage.
Artak Beglaryan quoted the Artsakh Ministry of Education reporting that, as of November 2, 61 schools (around 28% of all schools) and 10 kindergartens were damaged by the Azerbaijani military.
Civilians and civilian infrastructure was also targeted within the Republic of Armenia. The Vardenis area was hit by Azerbaijan early in the fighting, even on the very first day. On September 29, a civilian bus (with no one inside) was hit by a drone strike. Later on, other parts of Armenia were also targeted. On November 2, one civilian was killed and two were wounded in Davit Bek village.
Several healthcare facilities were also targeted by Azerbaijan. On October 28, Stepanakert's maternity hospital was hit with air strikes. The same facility was hit again with a Smerch missile on November 3. Earlier, on October 14, the military hospital of Martakert was shelled. The Armenian Unified Infocenter stated that civilians also received treatment there.
Article 19 of the first Geneva Convention protects "fixed establishments and mobile medical units of the Medical Service," which "may in no circumstances be attacked." Article 18 of the fourth Geneva Convention says "Civilian hospitals organized to give care to the wounded and sick, the infirm and maternity cases, may in no circumstances be the object of attack."
Attacks on journalists occurred in several instances. On October 1, French and Armenian journalists were injured in Martuni. The next day, a minibus with 10 journalists travelling to the city of Martakert was shelled. Two Russian journalists and their guide were injured by the second strike on Shushi's Ghazanchetsots Holy Savior Cathedral on October 8.
According to Article 79 of Protocol I of the Geneva Conventions, journalists engaged in professional work in war zones "shall be considered as civilians" and "shall be protected as such under the Conventions and this Protocol, provided that they take no action adversely affecting their status as civilians."
The use of cluster munitions by Azerbaijan is well-documented. Their production, stockpiling, transfer and use is banned by the 2008 Convention on Cluster Munitions, which has not been signed by either Azerbaijan or Armenia. According to Human Rights Watch (HRW), cluster munitions have "widespread indiscriminate effect and long-lasting danger to civilians." Denis Krivosheev, Amnesty International's acting Head of Eastern Europe and Central Asia, noted that "Cluster bombs are inherently indiscriminate weapons, and their deployment in residential areas is absolutely appalling and unacceptable."
In early October, Fip.am (a fact-checking site) journalists visited Hadrut, which was shelled on October 2, and photographed evidence of Azerbaijan's use of rockets with Israeli LAR-160 MLRS cluster ammunition. On October 4, a video from Stepanakert began circulating online showing the use of cluster munitions that the Atlantic Council's Digital Forensic Research Lab (DFRLab) geolocated to Hakob Hakobyan Street. HRW released a report on October 23 documenting four incidents of Azerbaijan's use of cluster munitions in Stepanakert and Hadrut. They noted that they could not "identify any military equipment or bases in the three neighborhoods [in Stepanakert] where the attacks took place. Even if there had been, given the indiscriminate effects of cluster munitions, their use in a residential civilian setting is not permitted under the laws of war."
On October 30, Armenia's Government Ombudsman Arman Tatoyan released a video of what appeared to show white phosphorus dropping on forests in Artsakh. "These munitions have clear effects of mass destruction for the environment; now are also used against civilians by Azerbaijani military forces and in this context are forbidden under international law," he said in a Facebook post. The next day, the Artsakh military released another video. A week later, on November 6, the human rights defenders of Armenia and Artsakh released a joint ad hoc report on the use of incendiary ammunition of mass destruction against civilian objects in Artsakh. The report noted that Azerbaijan's armed forces used the then-unknown ammunitions between October 29 and 31. At the time the report was published, it was not entirely clear whether it contained white phosphorus or not.
However, independent investigations based on open sources by Fip.am and the Atlantic Council's DFRLab both noted that it was probably white phosphorus. Both investigations focused on comparing visual evidence from the apparent white phosphorus use in Artsakh to previously confirmed cases of its use elsewhere.
The Armenia and Artsakh human rights defenders' joint report included photos of severely injured civilians. On December 5, Armenia's Government Ombudsman released more photos of soldiers injured from incendiary ammunition.
The use of incendiary weapons is prohibited under the Protocol on Prohibitions or Restrictions on the Use of Incendiary Weapons, which is Protocol III to the 1980 Convention on Certain Conventional Weapons.
Crimes Against POWs and Captured Civilians
The Third Geneva Convention prohibits mistreatment and execution of prisoners of war (POWs), making them war crimes.
Hadrut
On October 11, the Artsakh Government Ombudsman's office said that at least four civilians were killed in Hadrut when Azerbaijani commando units infiltrated the town, including Misha Movsisyan, an individual with disabilities, and his mother, Anahit Movsisyan. Another civilian was killed in Martuni.
On October 15, two videos emerged on social media showing Azerbaijani soldiers, possibly from special forces units, capturing two Armenian men in camouflage, one of whom evidently an old man, and then executing them. Bellingcat geolocated the videos to Hadrut. The execution took place at a town park sometime between October 9 and 15. Although Azerbaijani authorities claimed the videos were fake, the BBC confirmed their authenticity. The two men in the videos were identified as Benik Hakobyan, 73, and Yuri Adamyan, 25, by Artsakh Government Ombudsman Artak Beglaryan, who told the BBC that the men were two locals. Beglaryan said that Hakobyan was not a soldier but a civilian from Hadrut and Yuri Adamyan was likely a serviceman from a neighboring village. A spokesperson for Dunja Mijatović, the Council of Europe Commissioner for Human Rights, told the BBC that they had received the videos and will look into them.
Beheadings
According to the Artsakh Government Ombudsman office's interim report released on October 18, 2020, a photo of the beheading of an Armenian serviceman was posted on a Telegram channel on October 8, but was later removed. The photo is included in the report.
On October 18, Arman Tatoyan stated that the brother of an Armenian soldier had contacted him and told him that an Azerbaijani serviceman had called him on October 16 and told him that they have beheaded his brother and were going to post it online, which they did on the decapitated soldier's social media page. Tatoyan noted that the calls were made from the beheaded soldier's phone number.
On October 31, a woman from Togh (in Hadrut district) told American journalist Chuck Holton that one of her neighbors was beheaded. Artak Beglaryan stated on November 4 that the man's first name was Mayor and that his office was trying to get more information about the circumstances of the reported beheading.
Executed Soldiers in Kovsakan/Zangelan
On October 30, a video emerged showing the bodies of at least 19 Armenian servicemen, some handcuffed and several naked. Some of the soldiers had bags on their heads. Open source investigator Benjamin Strick geolocated the video to Zangelan (Kovsakan), which had been recently overrun by Azerbaijani forces.
After the trilateral armistice agreement of November 10, a number of videos have been posted online that show Armenian prisoners of war and captives being mistreated, humiliated, tortured, mutilated, killed or decapitated. According to Lara Setrakian, co-founder of News Deeply, a former government contact told her that "up to half of the bodies being returned to Armenia from Azerbaijan—soldiers' remains—are coming back beheaded."
Old Man From Shushi
On November 19, a video emerged on social media showing a group of Azerbaijani soldiers forcefully dragging an elderly Armenian man while kicking him from behind. Artak Beglaryan wrote that he has been identified as Jonik Tevosyan, 80, a resident of Shushi who did not manage to leave the town as it fell under Azerbaijani control. Arman Tatoyan noted that the Azerbaijani soldiers "subject him to overtly inhumane treatment." Beglaryan and Tatoyan also noted that they "will present this case to the relevant international bodies and we will be consistent in achieving proper assessments." As of November 28, Tevosyan remains a captive.
Torture and Executions
Several videos have been posted online showing Armenian POWs or civilians beheaded and mutilated. One such video shows a severed head of an Armenian man on a slaughtered pig. Another video shows an Armenian soldier saying "Karabakh is Azerbaijan," then switches to the severed head of the same soldier impaled on a wooden stick, carried by Azerbaijani soldiers. In another video, Azerbaijani soldiers cut off both ears of an old man, held down on the floor of his home. Two men who were beheaded by Azerbaijani servicemen have been identified as Genadi Petrosyan, 69, of Madatashen (in Askeran district) and Yuri Asryan, 82, of Azokh (in Hadrut district). Both men reportedly refused to leave their homes as Azerbaijani forces approached and captured their villages.
On December 8, yet another video emerged of Azerbaijani soldiers beheading an elderly Armenian man, who pleaded for his life in Azerbaijani.
On December 2, Human Rights Watch released a detailed report on the treatment of Armenian POWs in Azerbaijan, who are subjected to physical abuse and humiliation. HRW notes that the Third Geneva Convention protects POWs "particularly against acts of violence or intimidation and against insults and public curiosity." HRW contacted relatives of some POWs to identify and verify the videos.
On December 3, Armenia's Government Ombudsman Arman Tatoyan said that the fifth closed report on atrocities committed by the Azerbaijani armed forces against Armenians, which covered the period from November 19 to December 2, was completed. "This report provides concrete evidence of all atrocities and war crimes committed by the Azerbaijani armed forces. All these were committed only because people were ethnic Armenians," he said. The closed reports are not publicly available "given the severity of atrocities and torture committed by Azerbaijan," but they have been submitted to international bodies.
Military analyst Ryan O'Farrell, who follows the conflict, argues that these war crimes are "widespread, consistent and systematic" and are "tolerated or even encouraged by commanders." He stated that "it's impossible to not assume that the Azerbaijani state has given its tacit approval to these war crimes. These aren't 'bad apples.' This is systematic."
Overall, the international reaction to Azerbaijan's war crimes in Artsakh has been largely inactive and even indifferent. Michelle Bachelet, the UN High Commissioner for Human Rights, talked about war crimes only once—on November 2, when she mentioned that the central market of Stepanakert was hit and that 47 civilians in Artsakh and Armenia had been killed. She also mentioned the execution of two captured Armenians (in Hadrut). Since September 27, Dunja Mijatović, Council of Europe Commissioner for Human Rights, has spoken about the conflict only once. On October 1, she reminded the parties about their obligation under the European Convention on Human Rights to "safeguard the right to life and to protect populations from torture and inhuman or degrading treatment or punishment. The escalation of the conflict is posing a serious threat to these rights."
It was not until November 11, a day after the armistice was signed, when the Office of the United Nations High Commissioner for Human Rights (OHCHR) released a statement on Syrian mercenaries deployed in Azerbaijan and called for their withdrawal.