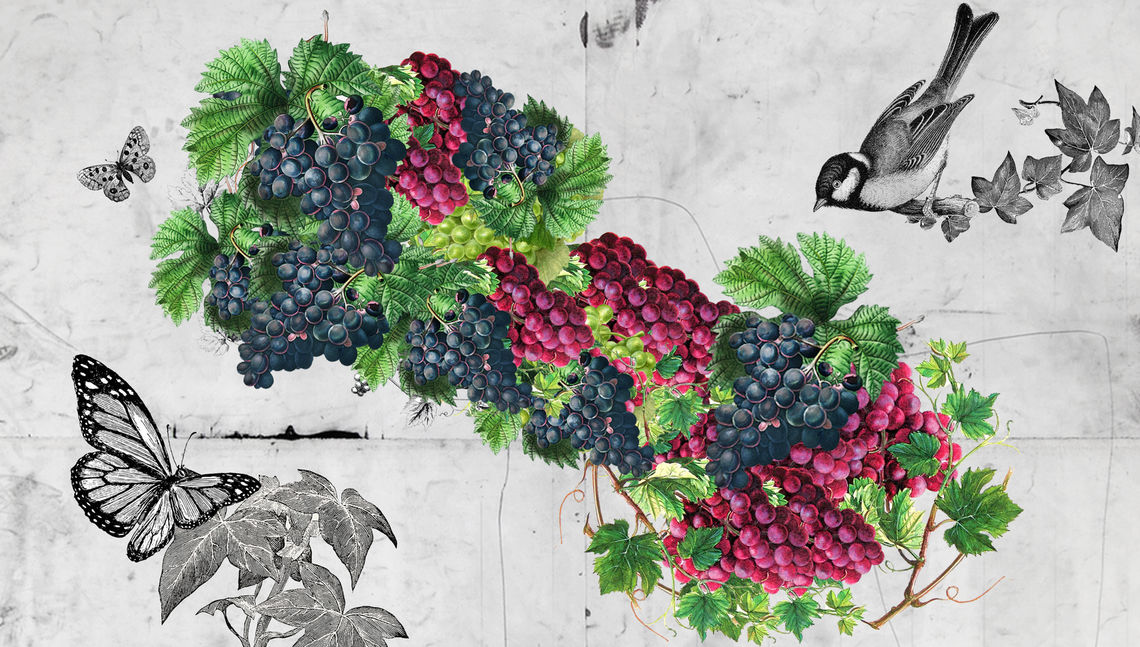 It is believed that Armenia had over 400 indigenous grape varieties but only 55 of those are currently being cultivated. Despite having diverse varieties, in the 1980s, Armenia supplied only 3% of the wine and 25% of the brandy produced in the Soviet Union. Some of the vine varieties were completely lost during the years of Soviet rule, when those in charge of the command economy forced Armenian grape growers to prioritize the varieties used for brandy. But the 2007 discovery of a 6,100-year-old winery in Areni, the oldest ever discovered, reminded the country how deeply wine culture is rooted in its history. Now, over 16,000 hectares of Armenia's cultivated agricultural area is used for viticulture, mainly in the five regions of Armavir (6924 ha), Ararat (4647 ha), Aragatsotn (1451 ha), Tavush (1364 ha) and Vayots Dzor (1214 ha).
Soviet rule also left its mark on viticulture and wine production in Artsakh (Nagorno-Karabakh). Because of Mikhail Gorbachev's anti-alcohol campaign in the late 1980s, the production and consumption of all types of alcoholic beverages was restricted and the area allocated to vineyards decreased from 18,200 to 11,200 hectares. During the Karabakh War vineyards were further damaged and the area allocated for viticulture diminished to only 2,200 hectares. As Artsakh is trying to revive its winemaking traditions, new wine brands including Kataro, Tigranakert and Arba continue emerging and gaining popularity among the local as well as international consumers. The data from Artsakh's Winemakers and Winegrowers Association shows that in 2017, 1,888 hectares of land was used for winegrowing and 220,000 litres of wine was produced in 2018.
According to the Wine and Vine Foundation, in 2019, 21% of the wine produced in Armenia was exported, with Russia being the largest destination. As the country's wine culture is starting to revive, Armenia's export geography is also dynamically expanding, from 15 countries in 2015 to 32 countries in 2019.
Vahe Keushguerian, the founder of WineWorks who played a pivotal role in the revival of Armenia's viticulture heritage says that the number of Armenians living in Russia is not the determining factor for the popularity of Armenian wines there. Russia is Armenia's main trading partner; in the first three months of 2019, trade with Russia comprised 27% of Armenia's total turnover. Besides Russia, Armenian wines are also exported to the United States, China, several European countries and Commonwealth of Independent States countries. According to Keushguerian, Asia can be a potential market for Armenian wine producers but the U.S. offers the most potential and higher profitability.
It is important to note that export figures vary depending on the wine brand, with some producers concentrating on domestic consumption, while others expand their brand internationally. For example, wines like Keush and Zulal are mostly exported, with very little consumed in the local market. This strategy is the direct opposite of KOOR and Kataro, which are focused on local consumption. Both approaches are viable and it is up to each wine producer to understand the strengths of their brand and apply them to reach their fullest potential.
According to Keushguerian, three main features set Armenia apart from other wine producing countries and regions. The first is topography, since vineyards in Armenia have a higher average elevation than any other country. The vineyards in European countries are primarily at sea level, while in Armenia elevations start from 800 meters above sea level and go all the way up to 1,600 meters. "Farming at high elevations is different, the quality is different, the temperature change is different, so the polyphenolic content, which is the amount of antioxidants in the grape, are relatively higher," says Keushguerian. This means that the same grape variety growing at the sea level and at high elevations will develop differently, which affects the overall flavor profile and structure of the wine.
The second important factor that sets Armenia apart is its volcanic and rocky soil. Growing vines in rocky soil has an added value. When vines are irrigated, the water goes deeper into the soil. Thus, to find nutrition, the vine roots are forced to also go deeper and eventually reach untapped virgin soils. "This makes the flavor profile of the wine richer," adds Keushguerian. In contrast, clay soils, which are predominant in neighboring Georgia and many countries in Europe, retain humidity and vines roots can stay closer to the surface. The third element that makes Armenia stand out is its indigenous and native grape varieties. "When these three factors are added together, you end up with a product with a distinct flavor profile, which you cannot confuse with any other wine," adds Keushguerian. Currently, Areni, Voskehat and Khndoghni are the three most commonly used varieties. To document and preserve indigenous Armenian varieties, the Wine and Vine Foundation created the Armenian Vitis Database, which now provides a comprehensive profile overview of over 170 varieties.
Some Armenian wines are made by blending a number of grape varieties. Keushguerian believes there are two main reasons for the practice. "Sometimes, you do not have a choice because vineyards were planted that way. Once the grapes are harvested, they are already mixed," he explained. "And sometimes, the flavor of the blended wine is better than the taste of any of the individual grape varieties." New vineyards, however, are planted only with a single grape variety, which allows winemakers to blend if and when necessary. Keushguerian believes that, in Armenia, blending is also a way to differentiate wines that are made from the same grape variety. Blending is practiced in many other regions of the world for similar reasons. For example, all Bordeaux wines are blends, most Champagnes are a blend and Châteauneuf-du-Pape is a blend of thirteen grape varieties. At the same time, some grape varieties have such a distinctive flavor, like Pinot noir or Sauvignon blanc, that it would be uncommon to blend them with something else.
Speaking about wine brands, Keushguerian noted that it is important to choose a name that sounds the same in every language, normally with two syllables and not too complicated, otherwise it would be difficult to remember. He also believes that, when positioning Armenia as a winemaking country, it is important to bring across the message that Armenians have been making wine for the past 6,000 years and that the wine made in Armenia cannot be found anywhere else. He believes that Soviet history is an inseparable part of the Armenian winemaking tradition and that it is through the lens of that historical period that Armenia should present what it has accomplished in the sector within the last ten years.
Non-Tangible Elements of Terroir
"Wines and vines are living organisms and can pick up the energy that we surround them with."
Ani Mouradian.
When Varuzhan Mouradian bought a plot of land in the Aragatsotn region near the village of Sasunik to plant vineyards, it was hard to believe that anything would grow there. Her daughter Ani Mouradian remembers that the land looked like a desert and everyone questioned their attempt to develop vineyards in a dry and rocky area. "My dad's decision to establish a winery in Armenia was very organic, right and easy," says Mouradian. "He realized that Armenia has all the necessary factors for the production of high-quality wine that is going to stand out in the world." About 15 years ago, Mouradian started researching where in Armenia to plant vineyards and, after considering the regions with the highest potential, literally began putting down roots in Aragatsotn, where Van Ardi was born in 2008.
The soil of the vineyard is volcanic and rocky, which, as mentioned, allows the vines to tap into deeper minerals. The vineyards of Van Ardi are at 1,050 meters above sea level. Despite the high altitude, the location of the vineyards allows for the grape vines to not be buried in winter to avoid frost. All of these factors contribute to the terroir, the distinguishing factor that makes one wine different from the rest. Mouradian believes that even vineyards located next to one another would have different terroir, because the cultivator's approach to working with the vines also plays a critical role in the process.
Non-tangible elements of the terroir approach, such as the belief that wine and vine are living organisms or the fact that chemicals are not used in the vineyards, are additional factors contributing to the quality of the wine. The people behind Van Ardi believe that vineyards have to be at the center of their attention because 90% of a good wine is made in the vineyards and only 10% is the job of the winemaker. "Wines and vines are living organisms and can pick up the energy that we surround them with," said Mouradian. Their approach to grape vines is guided by this philosophy. Grape vines listen to music throughout the year and employees are asked to not use bad words or speak angrily when in the vineyards. Organizing tours at the winery is another way of surrounding vineyards with the positive energy of visitors. The winery is surrounded by Mount Ararat, Mount Aragats and Mount Ara on different sides, which adds to the overall beauty of the setting. "It's really hard not to have a smile on your face when you are at our winery," added Mouradian.
In regions where winemaking is developed, indigenous grape varieties are any wine-making country's biggest treasure and any wine enthusiast's dream. "It is the grape variety that determines the style and the flavor profile of the wine. It is the signature that makes the wine recognizable," Mouradian explained. Kakhet, Haghtanak, Kangun and Voskehat are the four main grape varieties used for the production of Van Ardi wines. Voskehat is among the indigenous grape varieties cultivated in the Aragatsotn region but Haghtanak and Kangun are crossed varieties, made in the 1950s. Although Areni is traditionally grown in the Vayots Dzor region, Van Ardi was among the first to experiment and plant Areni in Aragatsotn. The only non-Armenian vine variety that Van Ardi grows is Sera, which they brought from California and planted in 2008, when the vineyard was founded. Mouradian thinks that whether a wine is blended or from a single variety is not a determining factor for its final quality. Instead, factors such as how well and harmoniously the blended varieties taste together and what kind of flavor profile they build are critical considerations. "It is like a dish. You can have an amazing dish with only two ingredients and an amazing dish made with ten ingredients," added Mouradian.
Since day one, people at Van Ardi have tried to pair wine with other creative processes. Throughout the years, they have held concerts, dances and art events at the winery. "Although winemaking is mostly science, there is a lot of art there, too. The energy you give to it makes a difference," explained Mouradian. "For us, wine is not just a product or a liquid, but rather it is an experience and a lifestyle."
About half of Van Ardi wines are locally consumed and the remaining half are exported to about eleven countries, including Russia, France, the United Kingdom, the Netherlands, Switzerland, the U.S. and Canada. The fact that their focus is equally divided between export and domestic consumption can be explained by Van Ardi's long-term mission to produce high quality wines that will put Armenia back on the wine map and to contribute to the development of wine culture in Armenia. "This is a project for lifetimes and, three generations from now, we will be able to enjoy the results," said Mouradian.
According to the Wine and Vine Foundation, in 2019, the per capita wine consumption in Armenia was 3.5 liters. Although this is still a small number compared to France and Italy where consumption per capita averages 45 liters, it marks a considerable increase compared to 2018 and 2017, when Armenia's per capita wine consumption was only 2.5 liters. The improvement was largely due to the ongoing development of wine culture in Armenia and the fact that locally produced wines can compete with world-renowned wine brands. Mouradian believes that older Armenians still prefer vodka or other strong liquor and that it is the younger generation that is picking up on the new trend toward wine and beer. According to her, education is the key to accelerating this process, whether it is discreetly through social media campaigns or through offering courses for amateur wine enthusiasts. "It is also the exposure to winemaking as something fun, healthy, cool and delicious," she added.
A New Generation of Winemakers
"Wine-drinking has been part of our culture for many centuries, all we need to do is revive that culture."
Zori Mkrtichyan
The wine renaissance in Armenia was one of the reasons that a new generation of winemakers became increasingly interested and involved in the industry. Zori Mkrtichyan and a group of his friends were among those people for whom winemaking was not part of a family tradition. It was their common vision and curiosity toward the industry that became the reason for the establishment of KOOR wines in 2014. Like many of the winemakers, they too want to have their input in the development of the wine industry and in making Armenian wine recognizable in the world.
About 70% of KOOR wines are consumed in the local market and only 30% are exported. Mkrtichyan explained, however, that their long-term goal is to ensure their wines are accessible and recognizable in international markets. The fulfillment of this goal requires popularizing the brand not only among Armenian communities but also among wine enthusiasts from various cultures. "If our focus was to expand the consumption of our wines primarily in the Armenian communities, we would later be challenged to penetrate into international markets," he noted. Mkrtichyan went on to say that any new emerging market can be interesting to consider but it is important to find their niche in the global wine market that is in line with their production capacity.
KOOR wines are made exclusively from indigenous Armenian vine varieties, including Voskehat, Areni and Khndoghni. The Vayots Dzor region is believed to be the region where Areni and Voskehat originated, while Khndoghni is traditionally grown in Artsakh. Although Khndoghni grows in most of the regions of Artsakh, its flavor characteristics are different depending on the location. All of the natural elements play a role and, even within the same region, the flavor of wine may differ depending on those elements. Mkrtichyan also believes that blending is not a determining factor and does not necessarily enhance the flavor of wine. KOOR's white wine is made from pure Voskehat, while its red wine is a blend of Areni and Khndoghni.
Although wine varieties are believed to have specific origins, winemakers nowadays are experimenting and taking varieties that are traditionally grown in one region and planting them in a new environment. Mkrtichyan sees it as a creative process, which allows winemakers to discover new flavors, and should be encouraged.
"Wine-drinking has been part of our culture for many centuries, so all we need to do is to revive that culture," noted Mkrtichyan. Although he believes that wine culture is being popularized again, drinking wine at home has not yet become part of the culture. Interestingly, however, in rural communities, especially those where viticulture is developed, most families drink wine and it is an inseparable part of their dinner tables. One reason that wine-drinking is "popular" and common in rural communities is that it is an affordable experience, since the villager grows and harvests the grapes and makes the wine. The picture is different in Yerevan, where a night out at one of the trendy new wine bars is a special treat rather than a daily habit. Mkrtchyan believes that producers should also take responsibility for making their wine affordable and accessible to the average consumer, while maintaining quality.
Soviet Influence on Wine-Making
"The fact the international market does not know much about Armenia as a wine producing country is an advantage."
Karlen Manaseryan
Mihran Manaseryan was among the first to buy a plot of land after the collapse of the Soviet Union, when viticulture was still a rare occupation in Armenia, and started to plant vineyards in the village of Taperakan in the Ararat region. It took over seven years to build up his winery in the Ararat valley, which he named after the city of Tushpa (which later became known as Van, where Manaseryan's family roots are from). By1999, the first batch of wine was finally available and the product entered the market. But the disregard toward the wine industry during the Soviet period kept haunting the new generation of winemakers, who started to revive the industry at a time when the market was still not ready for it.
His son Karlen Manaseryan recalls that, in the early 2000s, supermarkets were just emerging and the population, which had not been exposed to high quality wine for years, was not willing to pay extra for better quality. "The market was not very competitive and was primarily dominated by cheap wine with relatively lower quality," he added. Eventually, the winery, established at a time when Armenia was in political and economic turmoil, shifted its operations in 2003. "The quality of the wine was the most important aspect of our product, which made it relatively more expensive," explained Manaseryan. For the next 15 years, Manaseryan produced brandy, but he never gave up on his dream of saving the winery. As demand grew, Tushpa finally returned to the market in 2018.
During the last two years, half of Tushpa wines were locally consumed and the remaining half was exported to Belgium, France, Russia and the U.S. Manaseryan stressed that the way wines are exported to Belgium is very unique for Armenia, as well as for the region in general, because the winemaker is the one exporting and distributing the wines (traditionally, the importer buys the product from the producer and handles the shipment and distribution). Haghtanak and Kangun are the two crossed varieties used for the production of Tushpa wines. They were made over 70 years ago and have fully adapted to the natural conditions of Armenia. "The human factor and intervention is kept to a minimum and additives are not included to accelerate the winemaking process," Manaseryan noted. The area of the vineyard has clay soil, which keeps the vine roots cold and effectively balances the usual hot climate of the region.
Manaseryan noted that, when Tushpa wines returned to market in 2018, they first thought of selling the wine online but quickly realized that it would not be practical for the Armenian market. "Wine-drinking has not yet made it into our homes and the COVID-19 pandemic came to show that wine still has not become part of our culture," he explained. Manaseryan went on to say that, though the entire world experienced a decline in wine sales during the coronavirus pandemic (because restaurants and bars were closed), in Armenia, sales practically stopped entirely because there was virtually no home consumption to fall back on. "But I believe that Armenia is on the path of reviving its wine culture and that it is a matter of time and consistent effort," said Manaseryan. The annual wine festivals and wine tasting events at wine bars are important factors contributing to that process.
"The fact that the international market does not know much about Armenia as a wine producing country is an advantage," noted Manaseryan. He believes that Armenian wines should not compare themselves to or compete with world-renowned, established wine brands. Instead, wine-makers should position their product as an opportunity to experience exotic and undiscovered flavors. Manaseryan explained that Armenian wines are ideal for wine enthusiasts who are tired of tasting wines from the same grape varieties or from the same regions and are looking for new flavor characteristics to expand their taste. "All Armenia needs to do is to find its niche in the global wine market, which should include open-minded wine lovers looking for something new and these people are everywhere," added Manaseryan.
The revival of Armenia's viticulture heritage and indigenous grape varieties is an investment that has already begun to pay dividends. The past ten years are considered the renaissance of winemaking in Armenia. It is a return to 6,100 years of history that has only just begun.