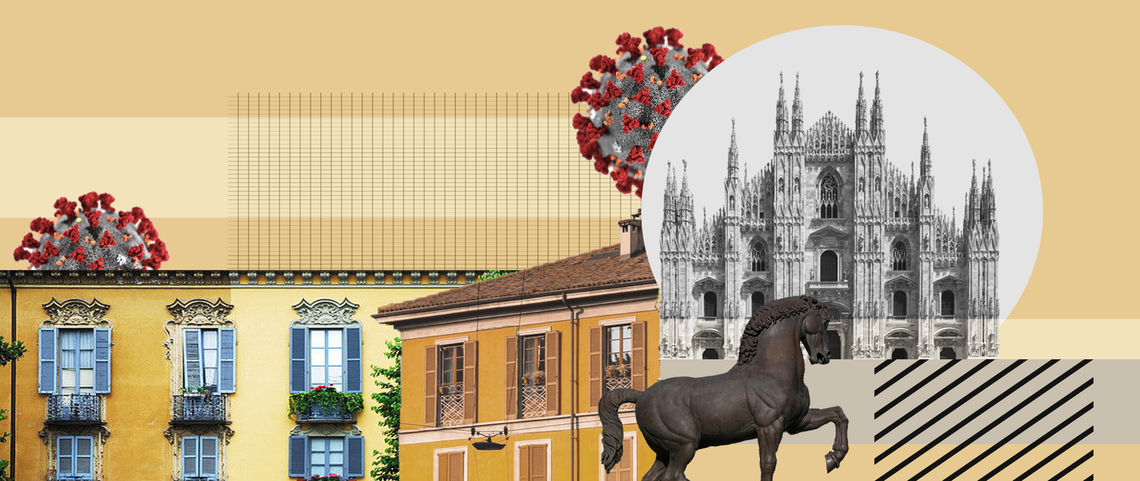 I have been living in Milan for more than a year now. The COVID-19 outbreak locked us in and put us under "house arrest," becoming a test, not only for the state but also for the nation. A group of Italian influencers and companies including Kering, LVMH, Giorgio Armani, Dolce & Gabbana donated money and some issued a call to raise funds to create new intensive care units, exemplifying empathy while tackling the issue of care unit shortages at a time of crisis in the country.
For more than a week now, there are no masks in pharmacies; we have to wait until China sends them to us, and here, occurrences that were not of particular importance before, slowly float up. Schools are struggling to figure out how to preserve their programs and help students keep up with their studies. Most higher educational institutions coped with the situation by implementing an alternative initiative to conduct all classes online. Mortgage payments are on hold, the self-employed will receive subsidies, and business and VAT taxes will be excluded as the government approved 25 billion euros to fight the crisis. But, in addition to financial issues, the mental immunity of the persistent workaholics in Milan and interpersonal relationships of families are suffering.
Because Milan is the economic center of the country, many people live here either for work or to study, and when the news of the quarantine shook the nation, most Italians fled to the south, straight to their families in one night. Ironically or lamentably, the city is famous for the title of lonely hearts; in the constant hustle, personal life perishes. Some live in pairs or share flats with other people, narrowing the communication between each other to a minimum. Now everything has changed, it's time to find a common language.
Italian neighborhoods are very tight, you can see what is happening in different apartments right in front of you just like in Hitchcock's Rear Window. My neighborhood also comes straight out of those Italian movies with yellow facades, small balconies all looking out onto beautifully landscaped courtyards. Now that everyone is doomed to spend their time at home and the only rendezvous they take ends up on the balcony, you unwittingly become a witness to teenage night parties and morning fights between couples. One of my neighbors, who I like to call Antonio, had to nervously smoke a cigarette on the balcony this morning, and shout curses to his girlfriend, who decided to wash the floors in the apartment. They say that the line between love and hate is the thinnest. Quarrels help us to understand each other…if they do not harm anyone, that is.
Social networks have already begun publishing a hotline number to help victims of domestic violence with the hashtag supporting the prevention of violence against women. But few thought about this, at least, until now. Learning from China's case, after February 24, in one center alone, almost 300 cases for divorce were filed. It turns out that coronavirus does not only test immunity but also the versatility of love. People start to get to know each other better.
The anxiety of feeling lonely, receiving multiple calls, and scrolling through all the TV channels where COVID is the only hot-news, has not broken the spirit of Italians who have always been known for their warm temperament and love of beauty. And beauty comes in various forms. In the evenings around 9 p.m., the couple in the first-floor apartment sings Rino Gaetano's The Sky is Always Bluer, turning any evening into a neighborhood reunion. Soon the entire neighborhood joins, exclaiming "Bravo" and "Andra tutto bene" (everything will be okay). The evening choir on the balcony has become a tradition to support all those who are fighting for their lives, a storm of applause in gratitude to the doctors fills the restless silence, and most importantly, an attempt to preserve the spirit of "self" amid isolation.
Meanwhile, some tried by any means to leave their homes, imagining the red zone to be an abstract line. Many news outlets, to show the severity of the rules imposed by the authorities, shared a few cases where people, who disobeyed the quarantine, were denounced. And these cases were one of the more bizarre ones:
He went to his girlfriend's house to make peace

They stop him for a check and he coughs in the face of a policeman

Young men stopped in the Duomo: "We are going to buy a gift" 

It gets better:

Two women take a horse for a walk in the center of Milan

They leave Milan to fish in Canavese 
Taking into consideration that everything was closed and one couldn't leave the house without having a reasonable purpose, people tried to find ways to circumvent the order. Is it panic or ignorance?
Almost every second person in the Lombardy region is afraid of getting infected, probably except for grandparents. They say that the virus does not bother them. But it does bother their families. Now that 84 people are infected in Armenia and I still hear "վիրուսը ում շուննա?" [who the hell is coronavirus?] and "պինցետով կհանենք իրան" [we will pluck it out with tweezers] I wonder where does the line between responsibility and consciousness lie? Is one tweezer enough to get rid of this problem? I constantly recall the speech of Prime Minister Nikol Pashinyan who led his campaign [for the April 5 Constitutional Referendum] while there were already confirmed cases of the virus but failed to take appropriate actions to prevent the further spread by quickening the quarantine regimen of people coming from abroad, and Italy, in specific.
Who would have imagined that in a single day, a strong country like Italy would be placed under house arrest and that soon the Lombardy region and later the whole country would be declared a red zone, that all the internal and external means of transportation would be limited or completely shut down and people would fear to leave their houses. It was on February 23, when the media began spreading the news of closing schools and universities and implementing the possible quarantine regimen. At that time, three deaths were recorded. Two days later, with the rising number of virus infections and deaths, the termination of work was announced, except for restaurants, bars, cafes, and grocery stores. Yet it wasn't the time to call it a day. It took a few more days to completely close all public places leaving only supermarkets and pharmacies open.
Meanwhile, the media played a crucial role in creating boundaries for residents to comply with the rules set by the government. With the rising number of deaths, there was panic (there still is), but it is slowly subsiding, thanks to people who are finding ways to spread positive news through social media outlets and those who are trying to fight the desolation and see the situation from a whole different perspective.
Some of the Armenian students studying in Milan decided to stay – some alone and some with their university mates. Not everyone took the March 15 charter flight to Yerevan. There was a long discussion among Armenians in Italy about whether to leave or stay, the reasons differed; to stay and fight anxiety or leave and possibly become a burden for family and country. Although by the comments on social platforms it was clear that most Armenians in the homeland didn't want to accept the Armenians from Italy but for those staying here the longing for a family was an ordeal.
Now that Armenia has declared a state of emergency, can we make predictions on how well Armenians will deal with the current situation by looking to Italy as an example? As of today, 2503 deaths, 2941 recovered and 31,506 patients who continue fighting the disease in Italy, while the Malatia market in Yerevan is full of sellers who are not afraid of COVID-19 and my friends sending me videos of Armenian doctors dancing Kochari. Are we all responsible? After all, Corona-ն ում շուննա? [Who the hell is the Coronavirus?]

Educational institutions around the world are moving to online learning as the COVID-19 pandemic wreaks havoc. Narek Manukyan examines the Armenian education system's preparedness for distance learning following the government's announcement of a one-month state of emergency in the country.
Read more

This week's "It Has To Be Said" editorial looks at the importance of social responsibility amid a pandemic that has rattled almost every country on the planet.
Read more