A Persistent Child
Ellen Buzand (Yeghisabet Stamboltsian) was born on April 3, 1895, in Alexandropol (modern-day Gyumri) to the family of Shoghakat and Martiros Stamboltsian. Her father, originally from Constantinople, was a well-known tailor, who specialized in sewing uniforms for high-ranking military officers. After Ellen's birth, her family moved to Kars (then, a part of the Russian Empire), where she spent her whole childhood.
Ellen grew up in a family where education was highly valued. Her father, Martiros Stamboltsian, was an educated man. He was literate in classical Armenian (grabar) and was known as a Narekaget (a person who understands and can interpret Gregory of Narek's "Book of Lamentations.") Ellen's uncle, Khoren Stamboltsian, had graduated from the Gevorgyan Seminary in Etchmiadzin and was a respected educator and priest.
Ellen, or Yeghso as her relatives and friends used to call her, was different from her peers, even in her early childhood. While other girls were engaged in household activities, such as sewing and cooking, Yeghso immersed herself in books.
Ellen's sister, Hripsime, wrote in her memoir [1] that she was always one step ahead of everyone. She recalled her saying, "I do not want to and I will not marry. I will go to school, then to university. I will become a teacher and then will teach all the girls not to rush to marry. First, get an education so we can help our nation." Ellen was also a patriotic child; all her goals and dreams were connected to the development of Armenia as an independent state and the prosperity of her nation.
In the early 1910s, Ellen graduated from the local middle school, but she refused to go to the Russian gymnasium in Kars; her dream was to study at the Hovnanyan-Maryamyan School in Tbilisi and receive an Armenian-language education. Despite the fact that her mother was afraid to send her teenage daughter to another city alone, Ellen found a way to realize her dream. She had always wanted to become a writer and nothing could stop her from receiving the necessary education. First, she secretly sent an application to the Hovnanyan-Maryamyan School and even prepared an escape plan from Kars. She packed up her belongings and hid them at her friend's house so she could run away at any possible moment. However, Ellen was luckier than she thought! Her elder sister's family decided to go and stay in Tbilisi for medical reasons and Ellen's parents allowed her to join them and enter the Hovnanyan-Maryamyam School.
After arriving in Tbilisi, Ellen discovered that her application  to the school was submitted too late. However, she did not get disheartened. Instead, she immediately walked to the Gayanyan School, took an entrance exam and became a student there. Ellen, however, did not forget about the Hovnanyan-Maryamyan School. She continually visited the school, inquiring about freed-up availability. Six months later, Ellen finally got into her dream school. Soon, people started to talk about the young and persistent girl from Kars, who was so dedicated to her studies and education. One day, Countess Mariam Tumanyan asked Ellen to visit her; that special day changed young Ellen's life.
Life With the Tumanyans
At the beginning of the 20th century, Mariam Tumanyan was one of the most prominent figures in the Transcaucasus. She was a patron to many Armenian intellectuals and was actively engaged in promoting girls' education and employment. The countess, who was a graduate of the Gayanyan School, had heard of young Ellen and decided to offer her a job as an Armenian language tutor to her younger children. She knew that Ellen was from Kars and needed a job to support herself. After meeting the countess, Ellen excitedly agreed to take the job. She moved into the Tumanyan house the next day and began a new journey into the world of the aristocrats and intelligentsia of the time.
In the 1960s, Ellen wrote an 87-page memoir dedicated to Mariam Tumanyan and her life in their family. The countess, who was actively engaged in social life, was a dedicated mother and educator. She spared no effort in providing the best opportunities for her children and Ellen.
"The countess wanted her children to discover life, not only through books but also through their surroundings. Once, she took us to a famous teahouse and cafe named 'Aninean' in Tbilisi (located on Yerevanyan Square), which had a bakery under it. We saw how men and women in white outfits were baking various sweets and candies, putting them into illustrated boxes and tying them with ribbons to sell." [From Ellen Buzand's memoirs]
"Do you like silk clothes? Then you should know how silk is produced," Countess Tumanyan would tell Ellen and her children.
In her memoir, Ellen also recalled the intellectual meetings that were held at the Tumanyan house. She would see writers Ghazaros Aghayan, Hovhannes Tumanyan, Alexander Shirvanzade and many others. Once, she also saw Komitas Vardapet, who sat in front of the piano and played a melody from the "Anush" opera, which was commissioned by Mariam Tumanyan but was never completed.
Countess Tumanyan always supported Ellen's dream of becoming a writer. She kept telling her that the title of teacher was not enough. "Go to university. We need educated girls so we do not fall behind other nations… Georgians, Russians. Why not have Armenian girls in universities?" the countess would plead.
During the summer holidays, Ellen would return to Kars and spend her time motivating and educating girls. She was also friends with young Yeghishe Charents, who lived on the next street over. They would meet, share their writings and give each other advice.
From University to the Battlefield
In 1916, Ellen graduated from the Hovnanyan-Maryamyan School and moved to Rostov-on-Don to continue her education. She started attending law classes at the Warsaw University that had relocated to Rostov-on-Don because of World War I. Aside from her studies, she also worked with Armenian lawyer Grigor Chalkhyan and taught his children Armenian. During this period, Ellen became a member of the Armenian Revolutionary Federation (ARF). Soon, the October Revolution[2] began and Ellen moved to Yerevan. Upon arrival, she decided to head to the front line and participated in the Battle of Sardarapat.[3] Several newspaper articles published in Asbarez, Haratch and Hairenik write how Ellen, a girl with a fearless spirit, would motivate soldiers with her patriotic speeches on the battlefield.
After the establishment of the First Republic of Armenia in 1918, Ellen became a secretary in the Armenian Parliament, which met at a converted theatre in Yerevan on the site where the Paronyan Musical Comedy Theatre stands today. In 1919, after the Armenian-Turkish War, the city of Kars was ceded back to the Republic of Armenia[4], and 24-year-old Ellen was assigned to reform the worker's unions in the areas surrounding Kars.
Her activities in the First Republic, however, did not last long. In 1920, the Bolsheviks[5] took control over Armenia and started to threaten and imprison the members and employees of the disbanded parliament, as well as members of the Armenian Revolutionary Federation. Ellen was among them.
Ellen: A Political Prisoner
In November 1920, the Bolsheviks came for Ellen. She was arrested and taken to the Yerevan Cheka Prison[6], and then to Yerevan's Central Prison, where she remained until the February Uprising of 1921.[7]
During her imprisonment, Ellen witnessed the dreadful treatment of prisoners by the Bolsheviks. Later in her life, she wrote a memoir entitled "Armenian Women in Yerevan's Cheka Prison" describing the cruel reality of prisons in the 1920s. In the introduction, Ellen noted that there are many memoirs about the large-scale imprisonment during the sovietization of the Republic of Armenia, however, none of them referred to the imprisoned women. This was her motivation for writing the memoir, which was later published in the 1960s in Hairenik, an Armenian-language, ARF-managed daily newspaper based in Boston.
Ellen had spent three intense months in prison. At one point, she was taken to an interrogation room where she refused to speak in Russian. In her memoirs, she writes that the police officer said: "They are talking to you in Russian, you should reply in Russian. I am sure you know the language."
Ellen's response was unwavering: "The official language of the Republic of Armenia is Armenian; we have a right to speak Armenian. If you do not know the state language, please bring a translator."
The interrogation continued. Ellen was told that all the women from the ARF refused to speak in Russian. She wrote that she was not afraid of the Bolshevik officials and wholeheartedly believed that the ARF would be able to take over the government and liberate the country.
Upon being transferred to a prison cell, Ellen discovered that some of her female acquaintances were also there. In her memoirs, she writes that some of them worked in the parliament, others were relatives of members of the ARF. There was even a pregnant women and a teenage girl.
Conditions in the prison were horrific. There was not enough space to sleep, inmates were not provided with food, they had to depend on their relatives, Ellen recalls.
Hovhannes Kajaznuni, the first Prime Minister of the First Republic of Armenia, was among the prisoners. Ellen wrote that it was an honor for her to be in the same prison as him. However, the best representation of her deep respect was the present she made for him while in prison.
"So it was January 13. We remembered that it was the day of seven names (Hovhannes, Mkrtich, Karapet, etc). We chose the best food from the abundant resources we had received. We made a big package and gave it to one of the security guards asking him to take it to the men's section in the prison and give it to Prime Minister Hovhannes Kajaznuni, who was celebrating his name day. We never found out if he received it."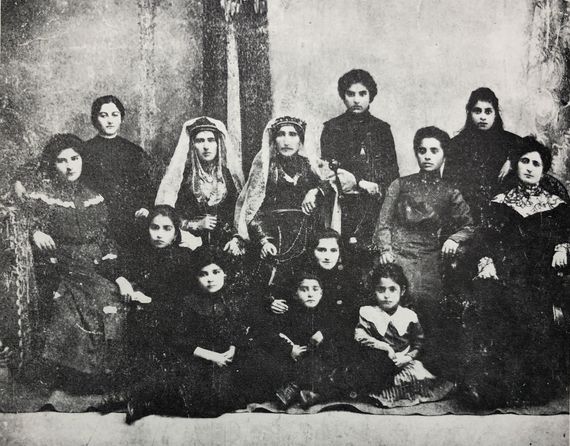 Ellen Buzand (first from the right, second row) with girls and women of the Stamboltsian family, 1905, Kars.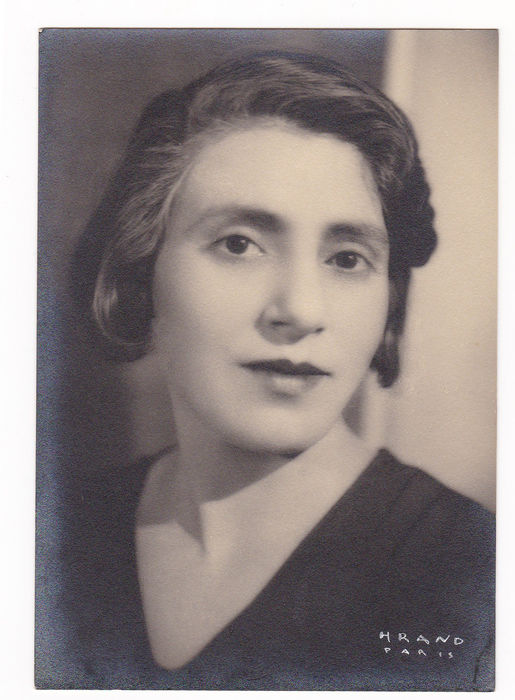 Ellen Buzand in 1930s, Paris, France.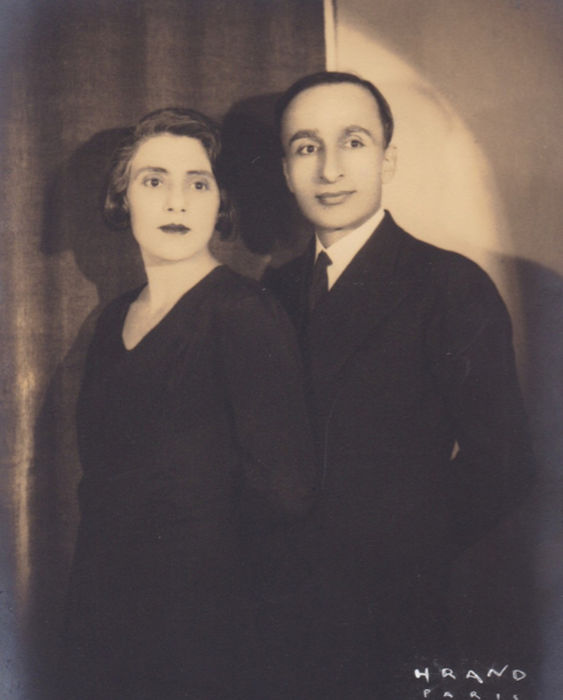 Ellen Buzand with her husband Onnik Kutukian, 1930s, Paris, France.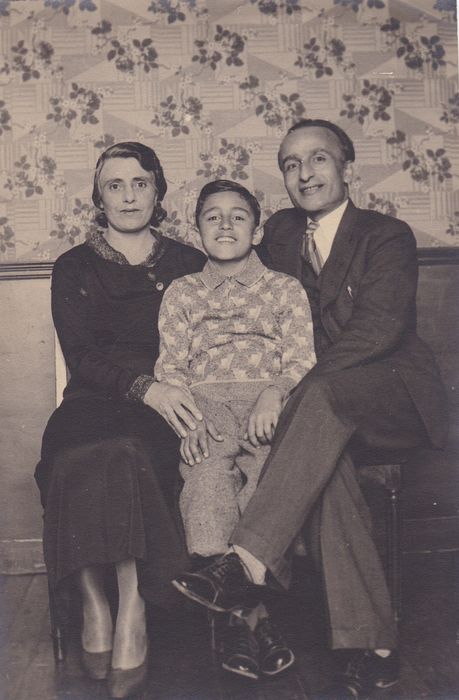 Ellen Buzand, her husband Onnik Kutukian with their son Beno, circa 1930s, France.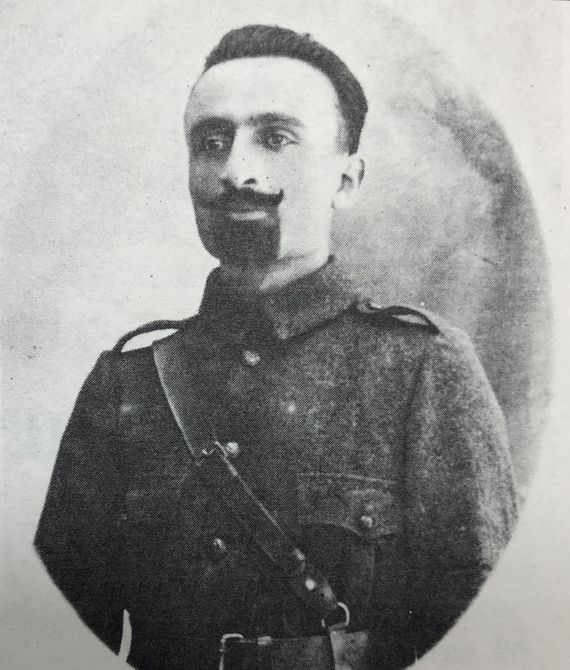 Ellen Buzand's husband, Onnik Kutukian circa 1920s.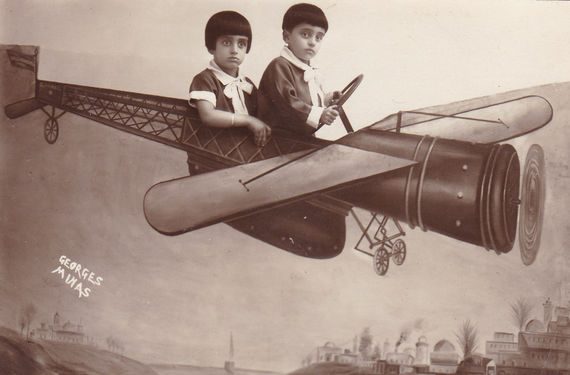 Ellen Buzand's children, Anahit and Beno, early 1930s, France. 
The most traumatizing experience in prison was the treatment of the prisoners. Several women who had not committed any crime were forced to struggle inside the jails simply because their husbands or brothers were representatives in the government of the First Republic.
"After midnight, we heard a loud scream near our door, as if something heavy had fallen. The sounds of men swearing could be heard and then… 'We don't want any games! Stand up!' We jumped out of our skins; it was a woman's scream. The door opened. Two men carried someone and mercilessly threw her onto the bed next to the door. Another man brought a package and placed it next to her. They left the room slamming the door behind them without saying a word. The package showed signs of life – it was whimpering. The woman was hysterical as she screamed continuously: 'My baby! My baby!' The woman was Manushak, the wife of MP Hakob Ter-Hakobyan, and there in the package was her baby, only a few days old… The woman was not properly dressed; she had been dragged from her bed… As long as I live, I will never forget this incident. It was a face of communist debasement that probably only we saw: to take a newborn baby as a hostage in order to find his father, who was wanted by the police."
After spending several weeks at Yerevan Cheka Prison, Ellen along with other women was transferred to the Yerevan Central Prison. As she recalled, there were again many ARF members, as well as government representatives whom she knew personally. At the beginning of February 1920, after spending several weeks at the central prison, Ellen and her fellow prisoners noticed strange developments ongoing: many trucks were coming in and going out, and there was a weird noise that would not stop. One evening, Varos Babayan, the Minister of Labor of the First Republic of Armenia, warned them to be careful of the coming night.
"What was going to happen that night and what did we have to be aware of and how were we to be careful? … We were waiting for something unknown and the ambiguity was torturing us."
For about two days, Yeghisabet felt that something was going on, although she did not know what exactly was happening. On February 18, she woke up from an uproar and as soon as she tried to understand what was going on, she heard men screaming, "Free the women, free the women…"
At first, she thought the Turks had entered Yerevan, and Armenian men, even communists, hurried to liberate Armenian women. Soon, the doors of the prison cells were opened and Ellen, along with hundreds of other political prisoners, were liberated by members of the ARF. It was the February Uprising, a revolt by ARF forces against the communist authorities. They had already liberated Etchmiadzin, Garni, Ashtarak and Hrazdan. Yerevan's turn had now come.
"Armenians entered the area of the prison – men, women, youngsters, children, Sasuntsi people with their national dress. They would hug and kiss each other and the prisoners …

When we reached the parliament building, the tricolor flag was already fluttering. It was February 18… Unfortunately we tasted freedom but for a brief moment. The battle must be continued and it continues to this day. And the immortal symbol of that struggle is the national flag."
Later Years and Literary Career
After the liberation, Ellen went to the front line in Ghamarlu (modern-day Artashat) and stayed there for about a year. During that period, she met young Onnik Kutukian (Kiliketsi), a medical student and volunteer doctor on the front line. They married and moved to Iran, where they lived for about 5 years. While in Iran, they had two children, Anahit and Beno. In 1929, the whole family moved to Alfortville, France.
By that time, Ellen had already published articles and short poems in various newspapers such as the Razmik monthly newspaper in Yerevan, Gegharvest magazine in Tbilisi, and Armenian Community newspaper in Rostov-on-Don. However, Yeghisabet's active literary career began after she moved to France.
During the 1930s, she decided to write under the pseudonym Ellen Buzand. While in France, Ellen published her writings in the Haratch newspaper. In addition, she was elected the Chair of the Armenian Relief Society (ARS) and became an active member of the Armenian community. It seemed that Ellen could finally go with the flow of life and concentrate on her literary career. But life's complications did not subside.
In the 1940s, Ellen's daughter, Anahit, died at a very young age. Ellen, a woman who had fought on the front lines and had spent months in prison, continued her activities despite the pain and trauma in her heart. In 1944, Araks publishing house in France published her first book "Guard" (Pahak, in Armenian), a collection of novels. During the same period, her children's book "Vahagn's Knucklebones" (Vahagni Vegere) was published in Romania.  Besides her activities as a writer, she also volunteered to help the city of Alfortville during World War II, for which she was awarded a special medal for her contribution to France by the municipality.
In 1958, Ellen's husband, Onnik Kutukian, died and she decided to move to Los Angeles to live with her son, Beno.
In 1960, Ellen was invited to Iran to give lectures and deliver speeches for the Armenian communities in various parts of the country. Her visit was a big celebration for Iranian-Armenians, according to newspaper articles at the time. During that visit, Iranian-Armenians decided to publish Ellen's novels. As she writes in her short biography, that trip brought needed consolation after her husband's death
Later in the 1960s, the Alik publishing house in Iran published Ellen's main novels "New Woman" (Nor Kin, in Armenian), and "Kars and Brother Arsho" (Karse yev Yeghbayr Arshon, in Armenian). Some of her writings were also published in Beirut. Most of Ellen Buzand's novels cover women's issues and women empowerment. It is believed that she was one of the first Armenian female novelists to write about Armenian women, their desire for love, and physical intimacy.
Life was cruel to Ellen Buzand. In 1965, her young son, Beno, who had just married, died. Ellen was left completely alone. Her sister Hripsime, who was also living in Los Angeles with her husband, decided to take her into their home.
Besides all the trauma and pain, Ellen continued to be an active member of the Armenian community of Los Angeles. She continued writing novels and articles for Hairenik. Among her last publications was a poem "Sare Brbche," dedicated to the Armenian fedayis. On January 15, 1970, Ellen Buzand died at the age of 75.
Ellen Stamboltsian, or Ellen Buzand, wrote several diaries and memoirs about her life that still remain unpublished in the archives of the Yeghishe Charents Museum of Literature and Art. She was an active member of the Armenian Revolutionary Federation and can be counted as one of the most important figures of 20th century Armenia. One can only imagine how many more untold stories and important details may still be hidden in the pages of those diaries…
1- "With Ellen Buzand," M.Gevorgyan, A.Tonoyan, A.Gevorgian, 1981, Los Angeles.
2- On November 6 and 7, 1917, leftist revolutionaries led by Bolshevik Party leader Vladimir Lenin launched a nearly bloodless coup d'état against the Duma's provisional government and established the Soviet Union.
3- The Battle of Sardarapat took place near Sardarapat, Armenia from May 21-29, 1918, between Armenian military units and the Ottoman army that had invaded Eastern Armenia. Armenians won the battle which became a basis for the establishment of the First Republic of Armenia.
4- In 1918, according to the Treaty of Batumi, Kars was given to the Ottoman Empire. However, in April 1919, British troops entered Kars and the city was given to the Republic of Armenia in May of that year.
5- Members of the majority faction of the Russian Social Democratic Party, which seized power in the October Revolution of 1917.
6- Cheka, or All-Russian Extraordinary Commission (Russian, Всероссийская Чрезвычайная Комиссия),was the Bolshevik secret police.
7- A revolt by members of the Armenian Revolutionary Federation against the communist authorities in response to their persecution.
References:
Ellen Buzand – My short biography, unpublished (manuscript is kept at Yeghishe Charents Literature and Arts)
Ellen Buzand – Countess Mariam Tumanyan, unpublished (manuscript is kept at Yeghishe Charents Literature and Arts)
"With Ellen Buzand," M.Gevorgyan, A.Tonoyan, A.Gevorgian, 1981, Los Angeles
Special thanks to the staff of the Yeghishe Charents Museum of Literature and Art.
Photographs were taken from Ellen Buzand's archive kept at the Yeghishe Charents Museum of Literature and Art and the book "With Ellen Buzand."
1. Ellen Buzand and her sister, Hripsime in Artfortville, circa 1950s.
2. Later years, 1960s.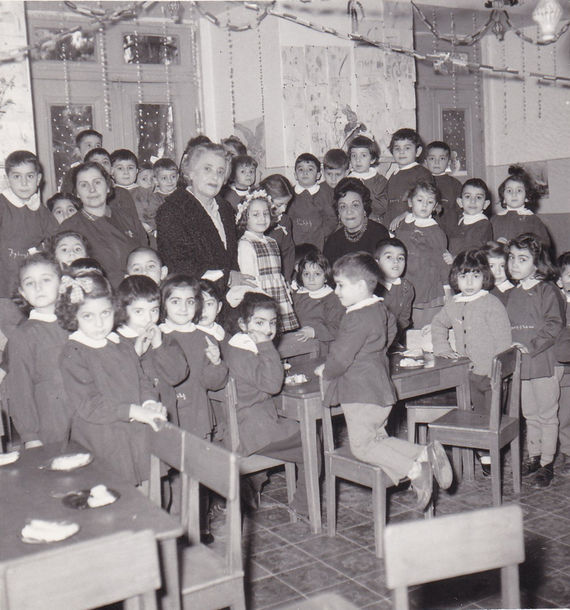 Ellen Buzand with Armenian schoolchildren in Tehran, Iran, 1960.
1. Cover of Ellen Buzand's poem "Sare Brbche," published in Beirut, 1967. 
2. Cover of a children's book "Vahagni Vegery" (Vahagn's Knucklebones) published in Romania, 1940s.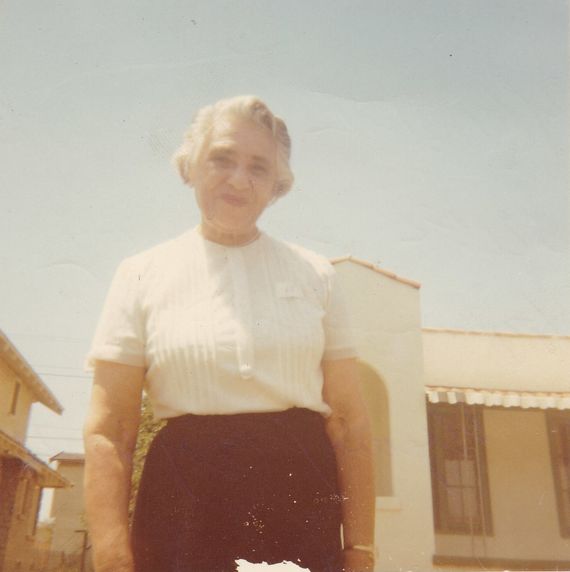 One of the last photographs of Ellen Buzand, late 1960s in Los Angeles, USA.