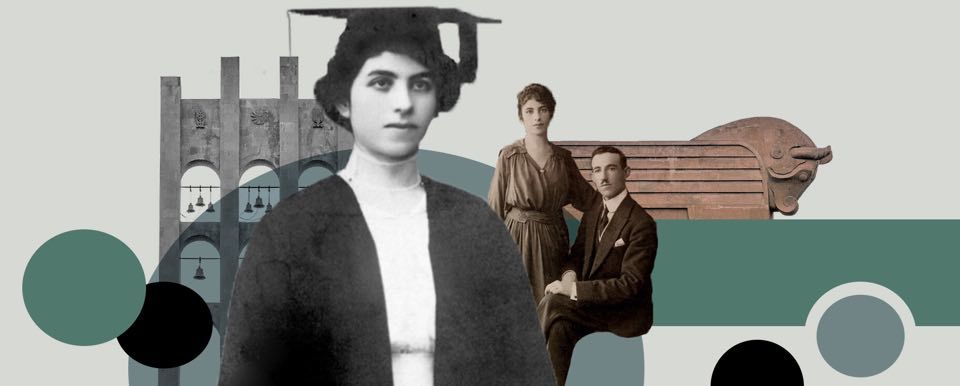 Author's note
The first thing I learned about Leola Sassouni, was that she had fought in the 1918 Battle of Sardarapat with her newborn by her side. It blew me away. How brave and patriotic should one be to put her child's life in danger while fighting for the nation? I started to search for anything I could find about Leola in an attempt to unveil her life story. Luckily, I was able to get in touch with her grandchildren – Kevo and Chris Sassouni – who kindly helped me connect the dots and uncover the story of Leola's prolific life.
Early years
Leola Sassouni (née Hripsimé Medzadourian) was born in 1893 in Pingan (or also Benka), modern-day Adatepe, Turkey, to Tatoul and Hripsimé Medzadourian. Her father was a successful businessman. Her grandfather, Asdvadzadour Medzadourian, had been the mayor of Pingan and also served as the Principal of Mesrobian Armenian School in the 19th century. Leola was the second cousin of well-known Armenian writer Missak Medzarents (Medzadourian).
In 1896, when Leola was three, her father travelled to Constantinople for business. He never returned. From 1894 to 1896, Sultan Abdul Hamid II organized the massacre of Armenians across the Ottoman Empire, killing more than 200,000 people. Leola's father was among the victims. By that time, Leola's mother was pregnant with her third child, Vahan, who was born months after his father's death.
In 1897, Leola's mother and paternal grandmother decided to move to Sebastia (modern-day Sivas, Turkey) with the children, where Tatoul's cousins were living. It would be easier for Leola's mother to raise her children with the support of her late husband's relatives.
In 1907, Leola graduated from the Armenian National High School of Sebastia. The family, however, decided to move to Constantinople where Leola, along with her sister Mannik entered Robert College (a prestigious American college in Constantinople, founded in 1863).
While studying there, Leola was actively engaged in the social and cultural life of the Armenians in Constantinople. She soon got involved in the activities of the Armenian Revolutionary Federation (ARF-Dashnaktsutyun) and attended meetings of the political party's student association. In 1910, she officially became a member of the ARF. Up until this time, she had used her birth name, Hripsimé, but upon becoming a member of the party, she took a new name – Leola. Garo Sassouni, who would go on to become a Member of Parliament of the First Armenian Republic, a prominent writer, and Leola's future husband, was the one leading the oath ceremony when she was admitted.
At the end of the 19th and beginning of the 20th century, the Armenians, a Christian minority in the Ottoman Empire, were facing difficult challenges ranging from discrimination and inequality to outright violence and massacres. Armenian revolutionaries and elites began forming secret cells (fedayi groups) seeking to defend the Armenian population and push through reforms, particularly in the six eastern Armenian-populated vilayets (provinces) of the Ottoman Empire. The Armenian national liberation movement had begun.
During this period, the fedayi groups had their supporters among Armenian villagers and people would train to get the necessary skills to join them. In 1913, inspired by the idea of liberating Armenia, Leola decided to train as a fighter. Under the guidance of Krikor Merjanof, an explosives expert, and famed military commander Hamazasp Srvandztyan (known simply as Hamazasp), she learned how to use weapons and work with explosives.
In June 1915, Leola graduated from Robert College, but soon fled to Bulgaria as the Armenian Genocide, the Ottoman campaign to eradicate the Armenian nation had already begun.
Leola The Fedayi
After spending some time in Bulgaria, Leola moved to Tbilisi under the guidance of ARF leader Barunak Kaputikyan (writer Silva Kaputikyan's father). There, the ARF Bureau briefly appointed her as the director of an orphanage. In the spring of 1916, however, the party then sent her to Van and Bitlis in the Taron region to assist the Armenian fighters, led by General Andanik Ozanyan, who were locked in open combat there against the Ottoman military. After spending some time in Van and Bitlis, Leola, now a trained fighter, moved on to Mush, joining the Armenian freedom fighters there.[1]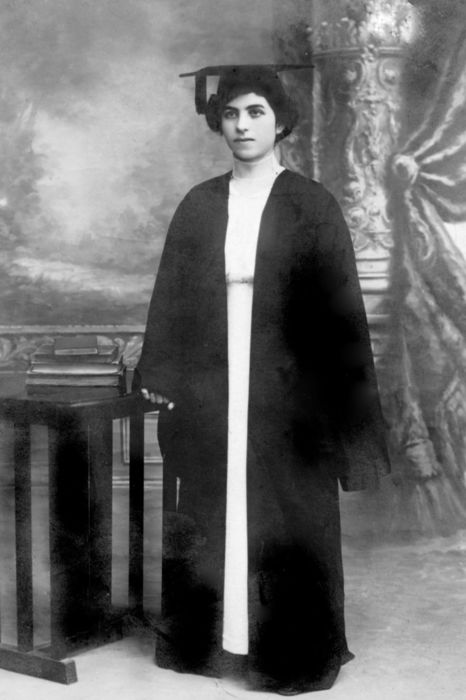 Leola Sassouni's graduation photo, June 1915, Constantinople.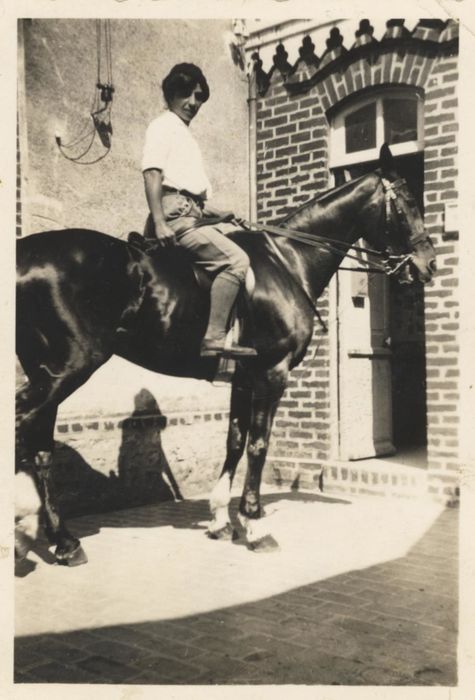 Leola Sassouni on horseback. 
Upon Leola's arrival in Mush, Garo Sassouni, who by that time was the ARF General Commander of Taron, refused to let her fight. Moreover, fedayis such as Morouk Garo, Mushegh of Sassoun and others were not humored by having a woman fighter among them. At that time, there were very few women fedayis.
Leola was given another responsibility: Garo Sassouni assigned her to gather Armenian orphans around Mush and transfer them safely to Kars, hundreds of kilometers away. For several months, Leola and her female ARF comrades traveled back and forth between Mush and Kars, transferring thousands of orphans.
In August 1916, Leola was tasked with transporting about 30,000 people. During this transfer, Garo Sassouni gave Leola weapons and she did not hesitate to show the fedayis her horsemanship and sharpshooting skills. At first, everyone thought that the skilled fighter was a young boy. After discovering that it was Leola, the fedayis were so surprised that they finally decided to let her fight as part of the rear guard.
During the second half of 1916, Leola became the head of orphanages in Khnus (modern-day Hınıs, Turkey) in the Erzurum province. She continued to supervise the transfer of orphans and took good care of them. When needed on the battlefield, however, Leola ran to fight with the fedayis.
In the midst of death and destruction, there was also time for love. In October 1917, Leola traveled to Tbilisi and married her comrade-in-arms, Garo Sassouni. After their marriage, they returned to Khnus to continue their activities. But soon, the Ottoman military advanced on Erzurum and the population in Khnus had to escape toward Eastern Armenia. Leola, who was pregnant at the time, led the transfer.
In May 1918, Leola gave birth to her first child, Joulik, in Yerevan. Intense battles were taking place that would be crucial in the establishment of the First Republic of Armenia and, indeed, the survival of the Armenian people.
Garo Sassouni had gone to Karakilisa (modern-day Vanadzor, Armenia) to fight the Ottoman army while his companions took up positions in Etchmiadzin and the surrounding Sardarapat area to suppress the Turkish invaders. It was only a week after the baby's birth, when Leola was asked to join them. Garo's comrades felt it was their honor and responsibility to take care of Leola and the newborn to ensure they were under their protection.
As Leola and the baby joined the fedayis, around 25 km from Etchmiadzin, the Battle of Sardarapat started. Fearless, Leola decided to stay and take part in the defense. During the fighting, newborn Joulik stayed on the battlefield. As impossible as it may seem, Leola and the soldiers took turns tending to him. Leola assembled all the other women on the battlefield and assigned them to various tasks, including taking care of the wounded soldiers and, if needed, arranging their transfer.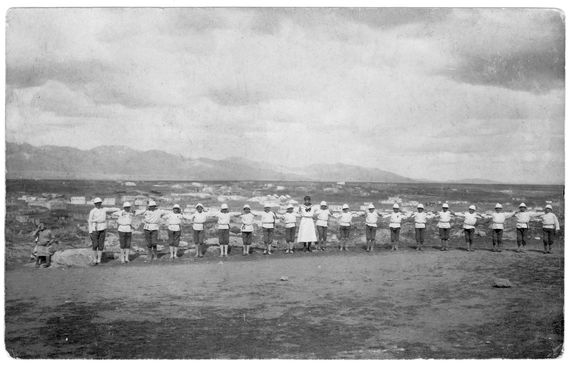 Leola Sassouni with orphans, 1917, Basen.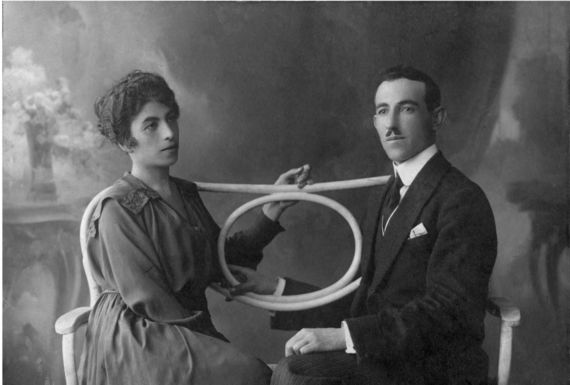 Leola and Garo Sassouni, 1919, Constantinople. 
Victories at the battles of Sardarapat, Karakilisa and Bash Aparan led to the establishment of the First Republic of Armenia. Leola returned to Yerevan and, along with her husband, took part in nation-building activities. Garo Sassouni was appointed Governor of the Shirak Region, while Leola engaged in forming units of the Red Cross across Armenia. She also assisted various government representatives and worked as an English-Armenian translator for foreign guests. By this time, the ARF had already relocated its headquarters from Tbilisi to Yerevan and Garo Sassouni was also leading the ARF Bureau.
In 1919, Garo Sassouni was sent to Constantinople to rebuild the ARF there. Leola joined him with baby Joulik and managed to find her family and friends there. After spending four months in Constantinople, Leola traveled back to Yerevan. Upon their arrival, baby Joulik died from malaria.
Leola continued her activities in the Shirak region in 1920. She assisted the director of Alexandrapol orphanages, which nurtured about 25,000 orphans from across Western Armenia. That year, Leola gave birth to her second child, Suren.
The sorrows of the Armenian nation, however, did not seem to end with the war. The Bolsheviks, who had seized power in Russia, occupied Armenia in September 1920 and began to sovietize it. They threatened and imprisoned the members and employees of the Armenian parliament, as well as members of the Armenian Revolutionary Federation. Leola was among the detainees.
Before her imprisonment, Leola wrote encoded letters to Garo Sassouni, who was away from Yerevan, and informed him about the situation. She signed her secret letters, with the name Jemma to make sure the Bolsheviks did not catch them. However, this did not last long. Soon the Bolsheviks came for Leola. During her imprisonment, she witnessed the dreadful treatment of prisoners by the communists, but she never gave in.
Later Years
In February 1921, Garo Sassouni organized the February Uprising, an armed revolt by ARF forces against the Bolsheviks that aimed to free Armenia from sovietization. The armed forces had already taken control of several regions in Armenia, and upon reaching Yerevan, they freed several hundred political prisoners, including Leola.
Unfortunately, ARF forces managed to hold power for only two months. In the beginning of April 1921, the Bolsheviks marched back into Yerevan and suppressed the ARF, which forced about 10,000 fighters and political figures to leave Armenia and move to Iran. Leola was among them; she left her toddler with her mother in Yerevan and sought refuge in Tabriz. Several months later, Leola gave birth to her third child, Viken and was able to briefly return to Yerevan before leaving Armenia for good. For a woman who fought to liberate her country from foreign forces, it would not be easy to live under the Soviet system.
In 1925, after living in several countries, Leola and her family settled in Paris. Throughout that time, she continued to be an active member of the ARF. Also, while in Paris, she started to work for the French-Armenian Blue Cross. In 1934, she moved to Cairo, Egypt, and then to Aleppo, Syria. In 1937, the family finally settled in Beirut, Lebanon, where Leola lived until the end of her life.
While in Beirut, Leola worked for the Armenian Relief Society. In 1939, she was elected a member of the newly-established ARCL (Armenian Relief Cross of Lebanon) Regional Executive Committee. She stayed with the ARCL until the end of her life and, along with her colleagues, initiated various projects and helped hundreds of Armenians across Lebanon and Syria.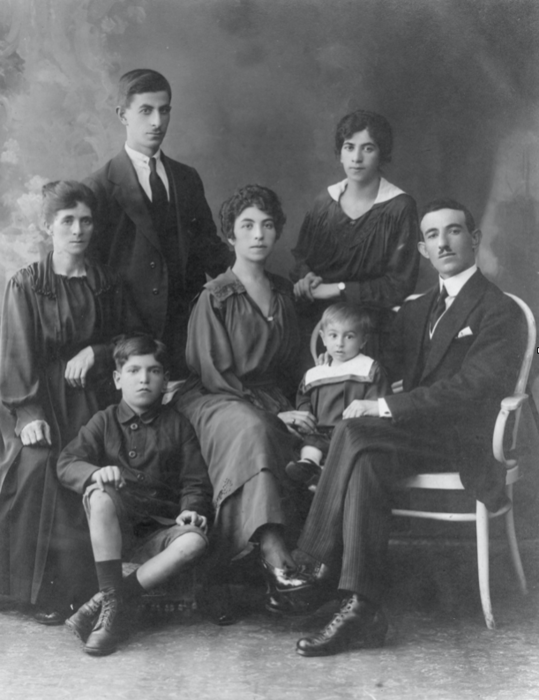 Leola Sassouni and Garo Sassouni with their family members, 1919, Constantinople. Left to right (seated) – Hripsime Medzadourian (Leola's mother), Hrair Sassouni (Garo Sassouni's nephew), Leola, baby Joulik and Garo. Left to right (standing) – Vahan Medzadourian (Leola's brother), Mannik Medzadourian (Leola's sister).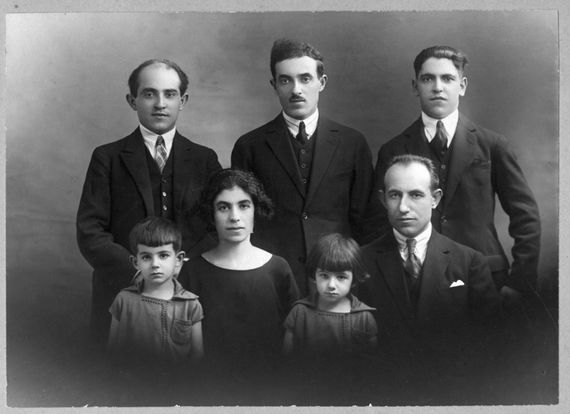 Sassouni family in 1925, Paris.
Left to right (seated) – Souren, Leola, Viken, and Garo.
Left to right (standing) – Setrag, Armen, Hrair Sassouni (Garo Sassouni's relatives).
In the beginning of the 1940s, Leola Sassouni and Javo Shant, the wife of Armenian writer Levon Shant, initiated a special food program that aimed to provide free food for students. The program was called "A Plate of Food"[2] and served food to several hundred students four times a week.
Vartan Gregorian, the famous Armenian-American academic and current head of the Carnegie Corporation of New York, was one of the young students Leola Sassouni assisted during his studies in Beirut. Young Vartan, who had moved from Tehran to Beirut was in need of financial support until he could find a place to live and start earning money. Leola Sassouni was there to help and Vartan Gregorian never forgot her support. He described his meeting with her in his book "The Road to Home: My Life and Times:"
She was an extraordinary woman… She was fluent in Armenian, English, Turkish and French. I was invited to go to the Sassouni residence. Mrs. Sassouni had big eyes and a broad forehead. She had a fierce look but a soothing voice. She asked about my finances. I told her that most of my money had gone to the Hotel Luxe, and that I had been able to sell my pashmina blanket, my gold-rimmed eyeglasses and two of my silver frames for some twenty dollars, and that I was hoping for, or expecting, another twenty-five dollars from Mr. Maloyan.[3] "This is outrageous," she said. "You cannot live on expectations. We have to find a place for you to stay and then a restaurant to provide you with meals. Don't worry. We'll take care of you!" she said with great confidence and determination.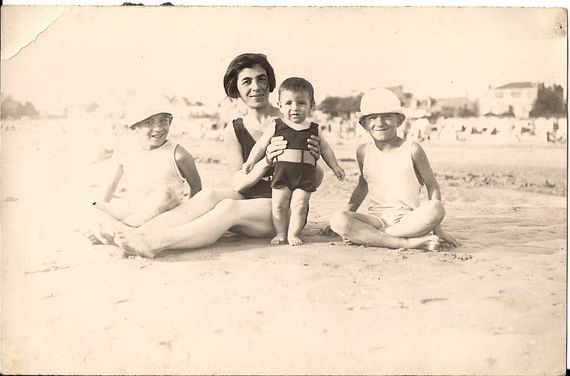 Leola Sassouni with her children, 1931. 
Leola Sassouni, with her leadership skills, played an important role in making the Armenian Relief Cross of Lebanon a strong and vibrant organization that greatly impacted the lives of the Armenian community and not only. The organization had several hospitals and support centers under its supervision, which would provide assistance to Armenians and Arabs. Throughout her activities, Leola Sassouni expanded the number of health centers. In 1954, she opened a rehabilitation center in the town of Shtoura, in Lebanon's Bekaa Valley. The center was for children aged 6-12 who were in need of rehabilitation.
In 1966, Leola Sassouni received a Medal of the National Order of Cedars by then-President of Lebanon Charles Hérou. She was a beloved and dedicated member of the ARCL. For over 30 years, she spared no effort to fundraise for various projects and assist those in need. As her colleagues recall in "Revolutionary Album," she was a very caring person; she would meet with dozens of people every day, listening to their problems and trying to find solutions.
Leola Sassouni's children left Beirut to pursue their education in Paris. In 1952, Viken moved to Pennsylvania and, in 1957, Papken joined him with his wife.
1. ARS meeting in Aleppo, 1934 (Leola is the fourth from the left, first row, seated).
2. ARS convention in Beirut, 1952. Leola is the fifth from the left, second row, seated.
3. Leola Sassouni receiving the Medal of the National Order of Cedars from Prime Minister Rashid Karamé of Lebanon on March 26, 1966.
Leola Sassouni's children left Beirut to pursue their education in Paris. In 1952, Viken moved to Pennsylvania and, in 1957, Papken joined him with his wife.
After leaving Armenia in the 1920s, Leola had always dreamt of revisiting her homeland. In 1969, despite serious health issues and her doctor's exhortations not to travel, 76-year-old Leola decided to fulfill her dream and visit Soviet Armenia. While in the homeland, she visited Sardarapat, the place where she heroically fought with the Armenian fedayis.
On October 2, 1969, ten days after her journey to Armenia, Leola Sassouni died.
Today, the Watertown chapter of the Armenian Relief Society is named after Leola Sassouni. She was a kind-hearted woman who saved the lives of thousands of orphans. She was a fearless woman who defended her nation on battlefields. She was a caring woman who combined all her efforts to preserve Armenianness in foreign lands. She was a beloved patriot who never stopped loving her country, even when thousands of miles away. Leola Sassouni was and will always be a true role model for generations.
References
"Revolutionary Album: A Memoir About the Liberation Movement," Editor Avo (Tumaean Avetis),  N10, 1970, Beirut.
"The Role of Armenian Women During the War of Liberation," Sona Zeitlian, 1992, Los Angeles (2nd edition).
"The Road to Home: My Life and Times," Vartan Gregorian, 2004, New York.
————-
1- This part of her life is documented in a periodical entitled "Revolutionary Album – a Memoir About the Liberation Movement."
2- «Պնակ մը կերակուր» in Armenian
3- Mr. Maloyan was Vartan Gregorian's acquaintance in Iran who encouraged and helped him to move to Beirut to pursue a higher education.
Special thanks to Sharistan Melkonian for her assistance and to Chris Sassouni and Kevo Sassouni for sharing their stories and personal photographs.
The image used in the graphic.