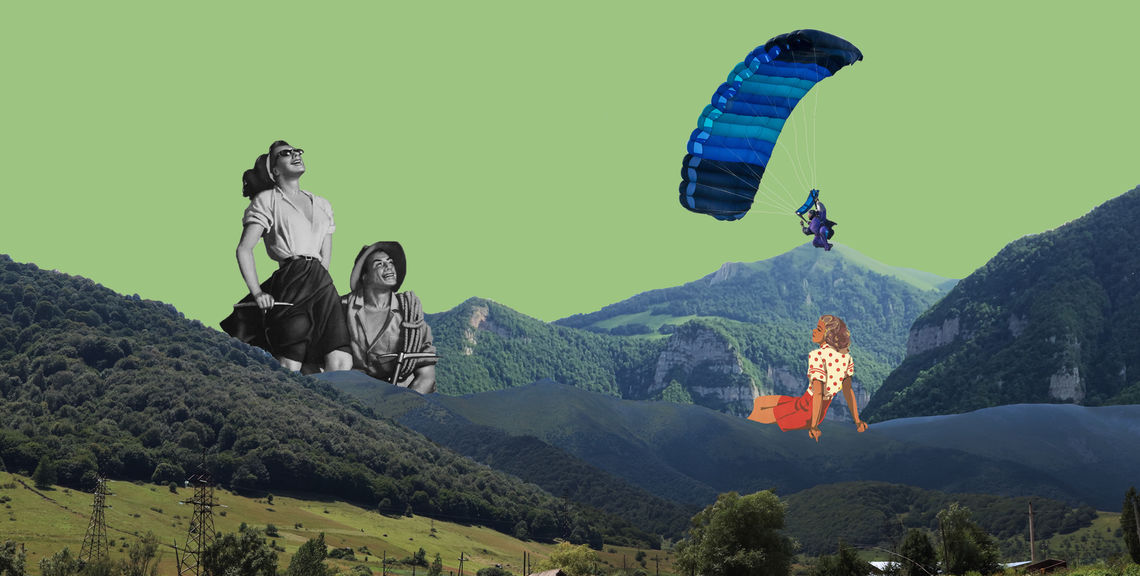 The beginning of 2020 in Armenia was marked by two expectations in regard to tourism, as well as by the fact that they could hardly become a reality – at least this year.
First of all, low cost airlines Ryanair and Wizz Air entered the Armenian market. It means that one can travel to Europe – for example, Italy or Germany – for anywhere from 60 to 150 euros. Armenian travellers had just started getting used to this reality, when almost all flights were cancelled due to the COVID-19 pandemic.
The impossibility of travelling abroad could have boosted and taken domestic tourism in Armenia to a whole other level; while many did travel domestically, this opportunity, however, seems to have been missed.
The Numbers: Outgoing and Incoming Tourism
Back in 2018, Bloomberg ranked Armenia the tenth fastest-growing destination in Europe. The country had seen an 18.65% increase in tourism in 2017, compared to 2016. The periodical mentions that tourists to Armenia can visit the capital Yerevan and find it attractive, get to know the local traditions – visit brandy factories, carpet weavers, listen to religious singing in ancient monasteries and learn how to bake lavash (Armenian flatbread).
According to the data published by the National Statistical Service of Armenia in February 2020, tourist arrivals to Armenia increased by around 1.3 million in the past decade (2009-2019). While approximately 587,000 tourists visited Armenia in 2009, their number reached 1.8 million in 2019. Compared to 2018, last year's figure is higher by 14.7%.
Annual tourism figures have been consistently growing since 2006. Only 2015 was an exception, when tourist arrivals compared to 2014 were slightly lower by 11,000.
In 2016, 1.26 million tourists arrived in Armenia – a number higher by 67,000, compared to 2015. In 2017, this figure was 1.5 million, 18.7% higher compared to 2016. In 2018, the number of tourists reached 1.65 million, with around 11% increase compared to the previous year.
The Travel and Tourism Competitiveness Index of the World Economic Forum also notes sustainable tourism growth in Armenia.
Armenia as a destination is attractive especially for its neighbors; it is a preferred destination in Russia, Georgia and Iran. Around 31% of incoming visitors are our compatriots from the diaspora, and 69% are foreigners. According to the Tourism Development Strategy of Armenia for 2020-2030, around 50% of incoming visitors are interested in our country's culture, 19% in the landscape, and 16% in leisure and entertainment. The other 13% consider Armenia a country of business, adventure and recreational tourism.
There is also, quite an impressive number of outgoing travelers from Armenia. Thus, in the last five years, around 1.5 million people annually travelled from Armenia. In 2017, this number was 1.62 million, in 2019, 1.86 million. These are the people who now have to live with the idea that it will not be possible to travel abroad this year.
The Armenian Business Model, When No Alternative is Available
"In January-March 2020, 175,000 less tourists came to Armenia compared to the previous year," notes Susanna Safaryan, Head of the Tourism Committee, and adds that it is a significant loss for the tourism industry, as these negative trends persisted also in the second quarter of the year.
The COVID-19 pandemic could have unlocked the development potential of domestic tourism, particularly for the accommodation sector. The experience of 2020 could have also created a favorable climate from a sustainability perspective: developing a culture of spending vacations in one's own country.
The reality, however, is different.
A five-day vacation in a hotel in Armenia will cost at least AMD 200,000 (approx. $400) for two adults. If you prefer a hotel with a pool, then you should expect higher prices. For the experienced, budget-conscious traveller, it is possible to find cheaper accommodation in a number of European cities.
The average monthly salary in Armenia for January-June, 2020, comprised AMD 190,000, while during the pandemic around 71,000 jobs were fully or partially cut. In most jobs kept, wages were paid only partly, because of the shift to remote work. For those who couldn't afford to travel abroad, even domestic travel became challenging if not impossible.
Life Hack for Those Planning a Vacation
If, regardless, you had or still have decided to escape the heat in Yerevan or simply want to enjoy the natural landscapes, and you belong to the middle class, get ready for a long quest.
Almost all hotels, guest houses with outdoor pools and sites more or less nestled in nature, or vacation stops are booked. Even those which are available, would not agree to less than a 2-5-day reservation. You either have to book for a longer period of time or abandon the idea of a vacation.
The alternative may be to use booking.com for a reservation, since there is no limitation of days on this global platform. This option, however, is not convenient for all cases.
Government employees were the least affected this year because of COVID-19.  With traditionally low salaries, the only way they could arrange their vacations was by relying on a 72,000 AMD (approx. $150) social benefit package[1] that can be used in Armenia or Artsakh. To qualify for the package, a government employee must pass a mandatory annual health check, present the corresponding information to the bank and make the booking through a travel agency.
With 147,500 government employees, it would seem logical that travel agencies should have no shortage of clients. However, in the context of the pandemic, many were wary of getting a medical check up. In addition, making reservations through booking.com is not allowed for the beneficiaries of the social benefit package.
The solution seems to be cozy guest houses for domestic travellers at 20,000 AMD daily in a beautiful village with breakfast made of local produce. However, not everything is ideal here either: opportunities to organize leisure and recreation for outdoor enthusiasts are limited, proper disinfection of the site is also a challenge, as it can be a serious expense for a small business.
Many people simply weren't in a rush to spend their vacation budget in Armenia. They still hope that in late autumn the pandemic will recede, the borders will open up and the world will become accessible again.
———————–
1. The social benefit package is a form of social assistance for government employees and teachers, who can spend this money in several directions, i.e. free-of-charge health insurance, mandatory annual health checkup or they can also use it to pay for a vacation, tuition or mortgage repayment.