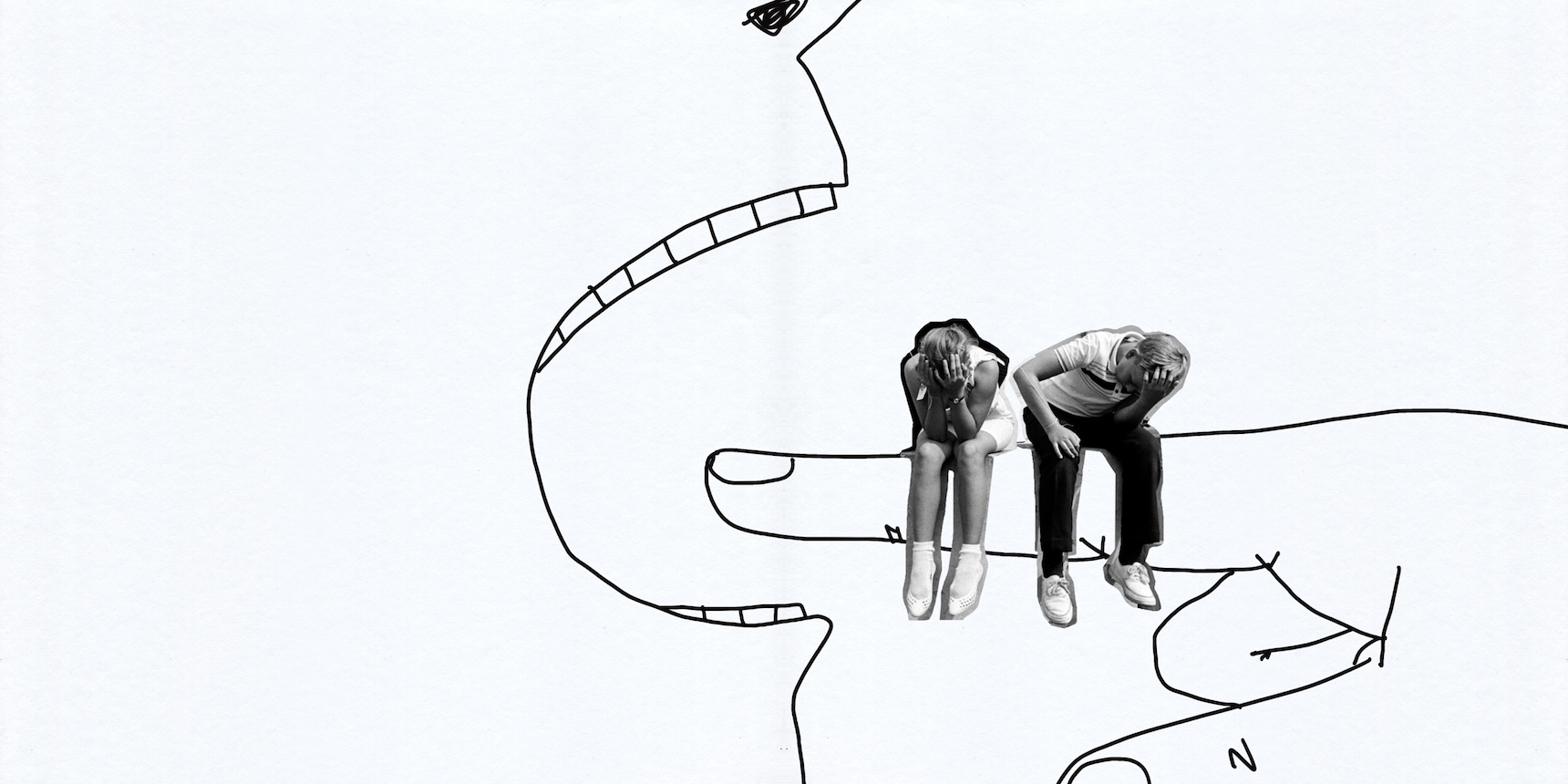 16-year-old Sosse's paintings cover the walls of her small room. She wants to "become the most famous painter in the world." Although the date of completion is noted on each painting, she already knows when and where the paintings were done. Paintings done in black and burgundy are from years ago, while those with simple and clear contours are more recent works.
"My paintings reflect my thoughts and feelings. I deliberately don't tear the paintings done on bad days off the wall, so that I remember what I have been through and that I am not broken," says Sosse, recalling how she felt in school.
It all started four years ago, when Sosse's parents decided to move her to a private school. It was supposed to be a new beginning for Sosse.
"I have my own style of dressing: I don't like fancy, colorful clothes. I find it challenging to adjust to a new setting, yet I don't close myself off to others," she recalls. "Since I never had any communication problems with classmates in my old school, the way I was treated in the new school was extremely surprising for me."
On the very first day Sosse returned home with her backpack and pencil case covered in scrawlings. Her parents merely saw it as something unpleasant and didn't perceive malicious intent in the incident. Subsequent years, however, proved to be intolerable.
"I had never heard of the word bullying," Sosse says. "I read a lot about it later on, but at the time I didn't know anything about it. What's more, I didn't expect it to happen to me, because I hadn't hurt anyone or done anything bad. To put it bluntly, I hadn't given them a reason to be callous. I also didn't expect that it would be girls humiliating me." 
Insulting language, disrespectful comments about her appearance, and petty arguments quickly escalated to physical assault. Sosse was beaten almost every week.
"I still don't know why I didn't tell my parents in the beginning. How could I tolerate that for almost two years? At that age, it is hard to talk to adults in general, let alone about your own problems, because you think it is a small matter for them. The state I was in however –– the way I felt –– was inexplicable. I was alone and completely helpless. It's terrifying to think that no one will help you and that one day they might kill you," says Sosse. The worst part for her is that other students in the class witnessed what was happening but did not intervene; some acted as if they did not notice anything, while others openly took the bullies' side. 
Months later, however, Sosse mustered her courage and informed her teacher of what was happening. The teacher's response made things worse. The teacher advised Sosse to look for the root cause within herself because nothing like it had happened before she joined the class.
"I remember that day very well. It is now clear to me that bullying either starts with the teachers or happens with their awareness of it. After the conversation with my teacher, I left school and started sobbing. I couldn't control it. It wasn't enough that I was being beaten and insulted –– the people who were supposed to help did not believe me. At that moment, I just wanted it to end. I wanted to die. Perhaps I would have taken my life if I hadn't talked to my mother that day," Sosse recalls.
Sosse's salvation came through the conversation she had with her parents. The next day, her mother went to school to meet with the other parents, teachers, and the principal, who gathered on her request. When Sosse's mother explained what had happened to her daughter, the bully's mother responded that she would not intervene as school is a place where children should learn to handle issues by themselves.
"My mother was in total shock; she did not expect such a response. The director promised to follow up on the situation. No action was taken. My mother found a psychologist for me, who I saw for around two years. The psychologist helped me a lot in addressing the anger and hurt inside me; they helped me understand that I am not at fault," recalls Sosse.
The first thing that the psychologist taught her was not to look for the reasons for the abuse in herself. They advised Sosse to try to understand what problems the abusive child has at home.
"The last time that girl attacked me, pushed me, threw me to the ground, sat on me and started hitting me, I started screaming. It was like I had become uncontrollable. I asked, 'What do you want from me?' Hearing that question, she fell backward, quickly got up and ran out of the room. I suppose she had never even asked herself that question," recalls Sosse, adding that following the incident the girl would not even come close to her. However, the situation was still not resolved. "The bullying towards me took a different form: they simply ignored me. Later on I learned that the parents of that abusive girl had separated and that she had many problems at home. Still, to this day I don't understand why I was the target. The only positive outcome from those two years is the knowledge that I am more resilient than I could ever have imagined."
What Is Bullying?
Bullying is persistent or repeated aggressive behavior directed at a member of a group by the group. The phenomenon is most common among students and colleagues, and takes the form of harassment, psychological terror, beatings, ridicule, teasing or spreading gossip. A person's physical characteristics, such as weight, a disability, physical or mental health issues, gender or national identity, or religious beliefs, are frequent pretexts for bullying. According to UNICEF, half of students aged 13 to 15 worldwide –– around 150 million –– report having experienced peer-to-peer violence in and around school.
"No Numbers, No Problem"
School bullying continues to be ignored in Armenia and there is no data on the number of children who are bullied or harassed in educational institutions. There has never been an in-depth study of the subject in the country. Only a few non-governmental organizations have done work on the issue, through studies carried out at the local level. There are also no legal regulations on bullying in Armenia. The accepted approach is that if there are no numbers, there is no problem.
Araksya Svajyan, director of the Republican Pedagogical-Psychological Center (RPPC) says that programs for preventing bullying in schools and teacher trainings in this area have never been implemented in Armenia; knowledge is primarily based on academic, science-based education, with no efforts being made in public schools on building interpersonal relationships, and communication skills. 
"Meanwhile, the school should be a safe environment for every student," Svajyan says. "Sometimes teachers directly or indirectly become participants or instigators of bullying. A careless remark made by a teacher can target a student, and for other children looking to establish their dominance, this becomes tacit approval to bully. Therefore it is very important to train teachers on bullying." 
According to the expert, parents should also be involved in the process of creating a school atmosphere free of bullying.
"It is very important for parents to know that children who bully others in school have a 60 percent increased likelihood of committing criminal offenses later on because violence is seen as the only option in resolving interpersonal conflicts," Svajyan explains. "If parents turn a blind eye to the fact that their child is a bully in school, believing that they are acquiring the skills to solve their problems on their own, then later on this behavior can lead to completely different manifestations."
Svajyan points out that small-scale teacher training initiatives to combat bullying have only begun to be implemented in Armenian schools in 2020. They initially implemented a small training program for 73 teachers from two schools in Yerevan before launching a larger, pilot program in one school in each of the Lori, Shirak, and Tavush regions and two additional schools in Yerevan.
In 2021, RPPC released its conclusions from the project on bullying in public schools. According to the report, fights, insults, jostling, and destruction of personal property are among the most common forms of bullying that schoolchildren experience. Thirty-four percent of the children surveyed claimed that they too experience problems at school.
Nevertheless, There Are Numbers
According to the 2017 Young Voices national survey, 38% of schoolchildren in Armenia have witnessed a child being beaten, and 35% of them have witnessed ridicule at school at least 1 to 5 times. Only 9% of these children reported the incidents to an adult. In other words, almost every second child has witnessed violence at school and has preferred to stay silent. 
Fourteen percent of the children surveyed mentioned that they have been always or often depressed or stressed and have found it difficult to talk about it with their family members; 49% of the surveyed children do not know where to get help if they have been exposed to violence; 40% of children are not aware whom to go to in case they are harassed or unfairly treated. 
According to the children surveyed, one out of five bullying cases (21%) occur because of physical appearance, and (10%) because of the socio-economic status of the family; 60% of bullied children or teenagers do not speak about what happened to them at all.
A 2021 study from the Nor Luys Mentoring Center for Youth also revealed worrying data. Surveys were conducted with 287 students and 147 teachers in Gyumri, revealing that both students and teachers stated that ridicule, labeling and social exclusion are common among children. These phenomena are mostly found among 5th to 9th graders. Sixty-four percent of the respondents stated that they witnessed bullying, and 24% said that they had been the target of bullying based on differences in their appearance or speech.
According to a UNESCO study, Health Behavior in School-aged Children of Armenia, 21% of 11 to 15-year-olds and 32% of 17-year-olds reported signs of depression –– despair, hopelessness, and an inability to solve problems.
According to the Armenian Police, 25 children have committed suicide in Armenia in the last five years, with another 73 attempting attempting suicide. Police do not acknowledge a connection between bullying and suicide. The link between the two has never been studied in Armenia, despite studies like Youth Bullying and Suicides, which claims that school bullying is the cause of 26.1% of suicidal thoughts and 11% of suicide attempts. Furthermore, the Bullying and Suicides study states that suicide is the world's third leading cause of child mortality. 
The Bully Is the Weak One
According to clinical psychologist and psychotherapist Rafael Petrosyan, major causes of bullying are poor self-esteem and upbringing, both of which develop in the family context. Bullying is perceived to raise self-esteem by victimizing others.
"For example, when a father wants to chastise his child and says, 'I used to do this and that when I was your age,' he is subconsciously raising his own low self-esteem at the expense of the child. The child thinks, 'I am bad and dad is good,' and then seeks to boost their low self-esteem at the expense of the other person because it is the only method they know," explains the specialist and adds that role distributions in bullying also come from the family. "For example, if a mother tells her child that they are 'not good', one child might only be upset, while another child may respond with aggression, and another child still will try to prove their worth to the mother by washing the dishes and cleaning the house. This is exactly how roles are distributed –– which the children eventually demonstrate in their other relationships."
At the same time, Petrosyan says that roles may change over time –– an abuser may become a victim and a victim may become an observer, and so on. Those three roles can continually shift depending on the situation. According to the expert, all players in this chain require psychological assistance. It is best for the child to see psychologists at a younger age. The older the bullying child is, however, the probability of receiving professional help decreases since their abuser position is beneficial to them.
According to Petrosyan, there are numerous indicators that a child is being bullied or is a bully. For the victim, these indicators can be loneliness, isolation, and not expressing feelings. In the case of the abuser, it can be irrational aggression.
"First and foremost, parents must be as mindful as possible," Petrosyan says. "It would be ideal for every family to have a round table, where each family member tells about their day and listens to the others, regardless of whether the member is three years old or an adult. This way, a person will learn that their emotions and needs are heard and that they can express them in that safe environment. It is critical that talking to and listening to one another becomes a habit –– a family tradition."
Petrosyan says that the mindfulness of parents and teachers is especially important in the post-2020 Artsakh War context, where there is a noticeable increase in aggression and anxiety in society, including among youth –– factors that promote bullying.
Confronting the Fact That You Are an Abuser
Ani, 36, a mother of three children, only recently realized that she was an abuser. This difficult admission coincided with her eldest son starting school.
"My son has a speech problem; he only began talking at the age of four and a half; he also has a concentration problem –– he often has difficulty focusing on something. When it came time for him to start school, I realized it was the most terrifying time of my life because I didn't know how his peers would treat him and whether he would be able to learn or sit through class. I was terrified that people would make fun of him because he is different from everyone else," says Ani.
Only then did she recall her own time at school. Ani remembers that one of her classmates –– quite an intelligent boy, could not read. Every time a teacher asked him to read out loud, he became a laughing stock.
"Now I understand that the boy simply had dyslexia," Any says. "No one told us about it back then; they just assumed he was lazy. I feel guilt and horror as I recall how our entire classroom started laughing when that boy would open the book in fear and begin to stammer. Maybe the teachers didn't have enough knowledge back then to grasp what was going on, but I don't think that's an excuse."
Ani admits that she personally never insulted the boy, but she also never intervened when others ridiculed him. She watched on in silence, content that it was not her in his place.
"I was a chubby kid; terrified I would get ridiculed for that as well," Ani recalls. "And I was. That's why I studied hard and was the best student in the class; I helped everyone, did their homework, and let them copy from me. I did all this just so they would treat me well and not ridicule me. That fear turned me into the same monster as the bullies."
Now Ani makes an effort to discuss everything with her children, emphasizing that people are different, but that those differences should not be used as an excuse for ridicule. Mostly, however, Ani teaches her children to be strong enough not to become a victim or a bully, and strong enough to defend others.