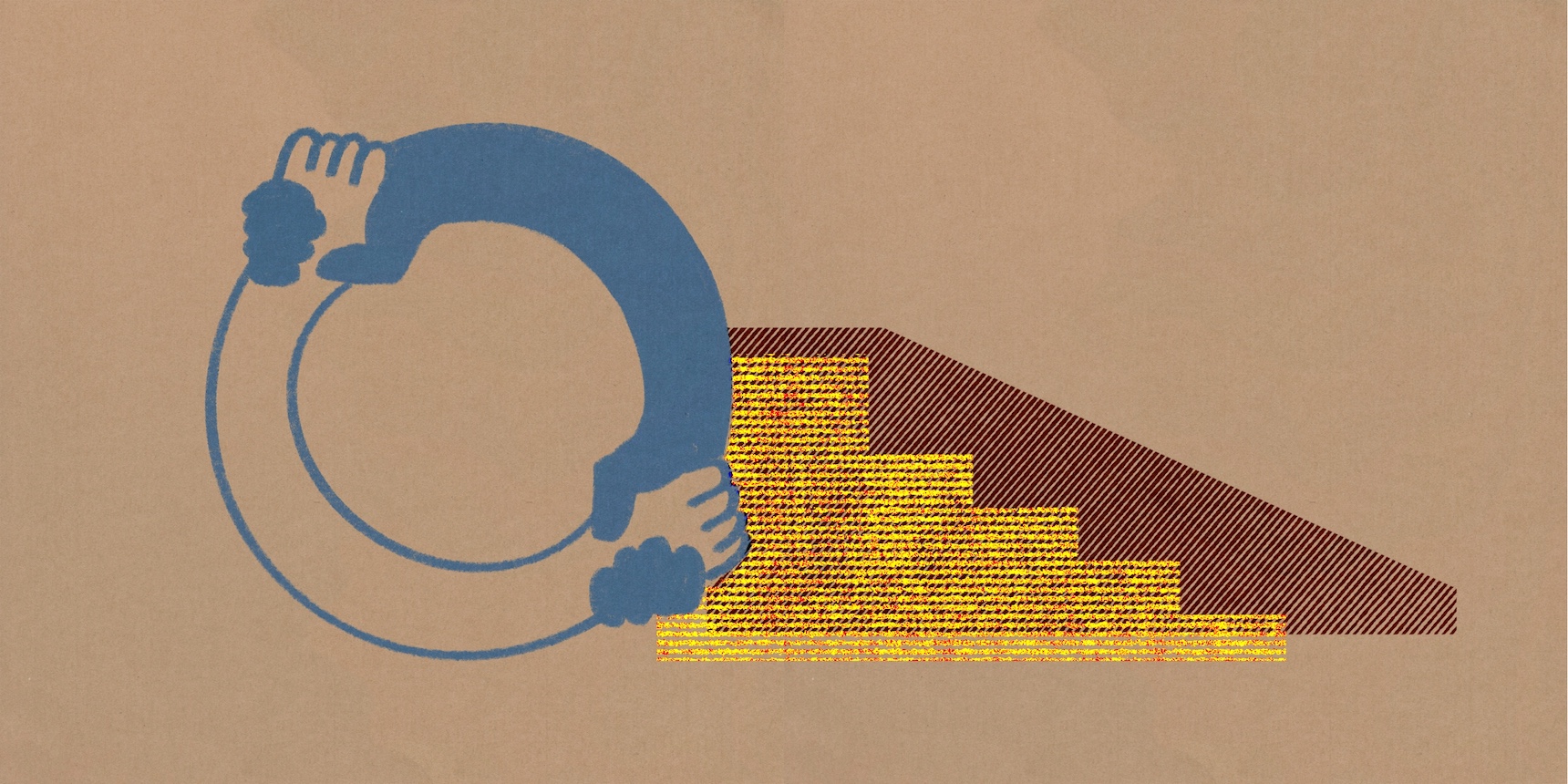 Narek, 15, has autism and frequently misses classes because he does not have a specialized personal assistant. Parents of children with special needs typically accompany them to school themselves or pay someone they trust to be with their child during school hours. Narek's mother Lena Harutyunyan, who is also the founding director of the Teach Me More (TMM) Training and Development Center, speaks about their struggles.
"I hired a university student to assist my son," she says, adding that it takes time for children to adapt to a specialized personal assistant (henceforth personal assistant), to get to know and trust them. However, Harutyunyan notes that an assistant "can suddenly decide not to come anymore" and that means that Narek won't be able to attend classes. "Once again you have to start searching for a new personal assistant, and go through the adaptation process yet again," she notes. "While we were searching for an assistant the second and third time, my son did not attend school, because there was no one to look after him."
Psychologist and behavioral specialist Haykanush Dilanyan is one of the first specialists to have worked with children with autism; she has been working as a special needs assistant since 2018. She explains that the majority of university students who work as personal assistants are finishing their degrees, and do so as a way to gain experience and earn money. Although parents might not be satisfied with the quality of their work, they can at least feel reassured knowing that their child is not alone and is safe.
In addition to the right to education, the absence of a personal assistant also prevents many other rights from being exercised. Anush Aslanyan, the executive director of Equal Rights, Equal Opportunities NGO, which works with people with disabilities, mentions how, for example, people who require assistance to use the restroom often do not attend parties or other activities. "Many people don't come to our seminars if we are unable to find someone to assist them," she says. "They feel constrained and don't want to tell their family that they want to go, because they are dependent and assistance is not always provided in a dignified manner."
The state is currently introducing a legal framework for specialized personal assistants. According to Dilanyan, this is one of the best ways to ensure that disabled people receive meaningful socialization, education, employment and care.
State-funded Personal Assistants 
By implementing a legal framework for personal assistants, the state will help ensure the right of people with disabilities to live independently and be included and integrated into their communities.
The Law on the Rights of Persons with Disabilities, adopted in May 2021, defines a specialized personal assistant as an individual who helps a person with a disability and provides for their care and supports them to overcome barriers, including mobility and communication impediments.
Article 21 of the law states that the procedure and conditions for providing personal assistant services are defined by the government. On August 11, 2022, the government adopted a decision defining these procedures and conditions.
While the decision will enter into force on January 1, 2024, a pilot program will be launched in 2023,  which will provide an opportunity to identify and correct issues within the system.
Personal Assistance Services
According to the government's decision, a personal assistant looks after an individual with a disability and carries out tasks like maintaining personal hygiene, dressing and undressing, preparing food and feeding, giving medication, taking them to medical appointments, purchasing household items and medication, ensuring the cleanliness of their clothes and home.
The personal assistant also helps the person with a disability in getting around both at home and when outdoors, and accompanies them when going to educational, cultural and sporting events, classes, and work. They also describe the main visual, auditory, and tactile features of the environment and aid in communicating with others in public.
According to Article 21 of the Law on the Rights of Persons with Disabilities, personal assistance services are provided once a contract is signed between the assistant and a person with disability or their legal representative.
Who Can Use the Service?
People who work with the disabled often share moving accounts of how those in their charge are denied access to opportunities because of the absence of mechanisms to help them live a dignified life. In this regard, a legal framework for personal assistants is indeed long-awaited.
Sipan Asatryan, communication officer of the Coalition for Inclusive Legal Reforms, points out that the adopted government decision is significantly different from the version presented for public discussion and that they were not given the opportunity to comment on the final version.
"It is of concern that a person with a disability has to go through the state's social insecurity assessment process in order to use these services," he says.
According to the government's decision, the beneficiaries of the personal assistant service are persons with severe functional limitations due to physical and mental issues, and whose family is registered in the socially disadvantaged assessment system.
Before the decision was adopted, the Ministry of Labor and Social Affairs presented a justification of the draft decision (see item 41 of the agenda), which states: "The number of people who meet these requirements is approximately 4,900, according to data from the information systems. No more than 50% of these individuals are expected to require an assistant." In other words, there are around 2450 users of the service.
According to the same document, the state will allocate 1,050 AMD per hour for the services of a personal assistant. A total of about 5 billion AMD will be provided for these services annually.
"It's the same as saying, 'We won't provide you with a wheelchair because your family is wealthy.' And why is the family wealthy? Because everyone in the family works," says Sipan Asatryan. "I believe having a personal assistant is more important for someone in that situation. Why are we pushing people into poverty by registering with that system?" 
According to Asatryan, in order to provide a service, the state should be guided by whether a specific person needs it or not, regardless of whether or not their family is registered as socially insecure or disadvantaged.
"I am visually impaired, but I organize my daily life independently and rarely need help. But if I were to need a personal assistant or a social worker, I would not be eligible for this program because I have a job. However, it should be taken into account that a person with a disability also has substantial costs," says Asatryan. He goes on to explain that if a person without disabilities can take a taxi from point A to point B for 1,000–2,000 AMD, a person with disabilities may have to pay between 15,000 and 30,000 AMD for the same trip, if they utilize a taxi service for the disabled. Even people with high salaries are unable to cover their transportation costs.
Haykanush Dilanyan, however, believes that the state's policy, which prioritizes the socially underprivileged, is reasonable: "I understand that this is unfair to those who are able to afford much more, since [even] the wealthiest families also find it challenging to care for a child or family member who has a disability. But if you choose who to serve first, you naturally choose the most vulnerable. I have witnessed families in extremely poor conditions. For instance, a child has spent the first six or seven years of their life immobile because the family was unable to afford a wheelchair. Additionally, there was no opportunity to take the child to a special developmental center. Meanwhile the parent of a different child within the same age group was able to find a wheelchair and, albeit with difficulty, took them to rehabilitation facilities for three to four years. The difference is enormous." 
Who to Contact for the Service?
According to point 11 of the government decision, independent living facilities run by the Ministry of Labor and Social Affairs are required to offer personal assistant services.[1]  Point 17 also outlines a program for people who have become disabled during military service, and stipulates that "An independent living center has been developed, which provides assistance to people disabled as a result of the war, on the basis of international best practices." 
Head of the Department of Equal Opportunities of the Ministry of Labor and Social Affairs Kristina Hovhannisyan said that independent living facilities will not only assist persons who have acquired disabilities as a result of the war. Following the government's Decision 369-L of March 18, 2021, which was adopted after the 2020 Artsakh War, discussions about the independent living center model led to these facilities now serving a wider range of beneficiaries, including minors. 
The centers have not yet been established, but according to Hovhannisyan, they are being developed.
The government's decision states that procedures for appointing a personal assistant service will be defined in the regulations for establishing and operating independent living centers. The authorized body––the Ministry of Labor and Social Affairs—must define this regulation. According to Hovhannisyan, this has not yet happened.
When these regulations are in place and independent living centers are operational, then the person with the disability or their legal representative must apply and provide identification, an individual service plan, a statement on their family security score in the socially disadvantaged assessment system, as well as details on the beneficiary's care and support needs. The application can be handed in person, by post, or emailed.
Who Can Be a Personal Assistant?
Adults who are accredited by independent living centers as having the knowledge and abilities required to offer services can work as personal assistants. A disabled person's personal assistant may also be a member of their family if they require 10 or more hours of assistance. This is stipulated in the government's decision. The person with the disability or their legal representative chooses whether they want a member of their family or a specialist the center offers.
According to Sipan Asatryan, however, this does not mean that a person can choose the personal assistant they want. "Qualified specialists will be provided by the independent living centers. The disabled person themselves, however, should serve as the best trainer. I am visually impaired and I train the person myself on how to accompany me, how to assist me in the bathroom, or when at the table. In other words, I wouldn't want someone to come and assist me if they might not be of any help to me at all."
As for family members, Asatryan says, "As a person who has traveled the path to independence, I can say with certainty that family members impede independence more than they contribute to it. Think about a person with a disability going on a date accompanied by their sister, mother or brother. Would we want something like that for someone without disabilities?"
According to Haykanush Dilanyan, however, if a person with disability wants an assistant who lacks the necessary certification, the person can get it by training at a center for independent living. "I understand that the state requires the assistant to have minimal knowledge, to have an idea of who they will be dealing with and how to interact with them," she says.
Anush Aslanyan also emphasizes the importance for the personal assistant to have the fundamental know-how and skills. "I agree that a person with a disability should train their assistant in accordance with their needs, as each wheelchair user has unique requirements," she says. "However, in my opinion, personal assistants should at least know first aid and other such basic knowledge."
Experts in the sector also stress the need of people with disabilities having control over the provision of services. The issue can often be delicate and private. For instance, does the given assistant support the person with disability in a dignified and respectful manner when using the restroom and eating?
Hovhannisyan notes that the pilot program, which will be implemented in 2023, will offer a chance to understand the issues in practice and make changes to the current legal norms in order to improve the quality of the services to be offered.
Footnotes:
[1] The establishment of these centers is authorized by Government
Decision
369-L of March 18, 2021, Clause 17 of Appendix 2.