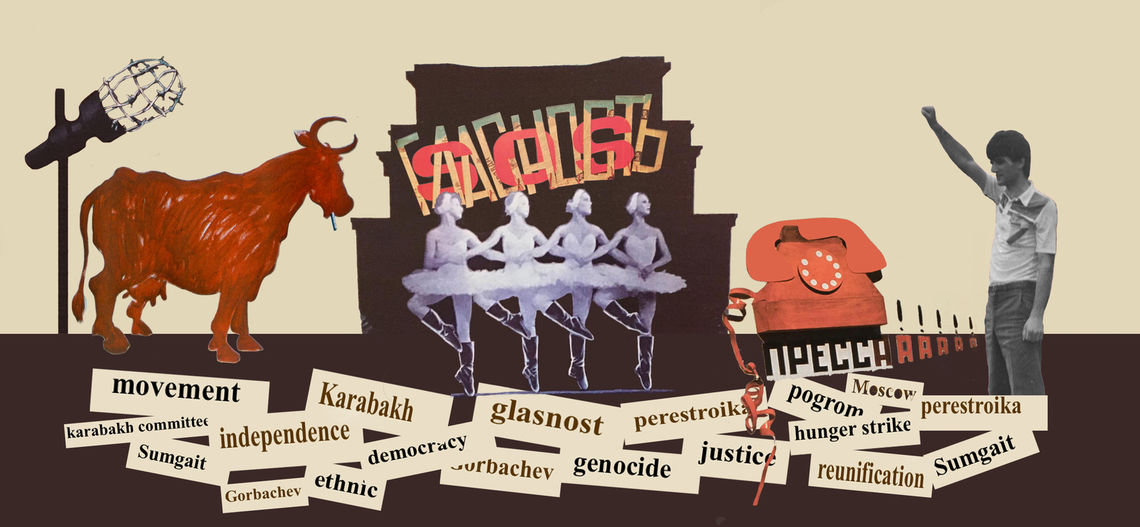 All visuals used in this article are from "Iconography of Armenian Identity: The Memory of Genocide and the Karabagh Movement," Volume 1, by Harutyun Marutyan.  
I was a postgraduate student in Moscow. I called my mom, it was February. She said, "Do you know what's going on here? There are rallies and of such scale!" There was a hint of excitement in her voice, because something was changing, it was history. The situation was unfamiliar, unexpected but also troubling. Then Sumgait happened and we, the Armenian students of Moscow State University began collectively writing letters on behalf of the members of the komsomol [1] trying to get the system to budge internally. We wanted the "central" media to cover the events in a "normal" and "balanced" manner; in our opinion, that which they considered "balanced" was pro-Azerbaijani.
This was the beginning of an ongoing process that lasted years, in fact, until independence; collect what the media was writing about the Movement and the conflict, compile personal archives, and write responses, articles, letters. Many families collected similar archives, some of which were later burned in wood stoves in the cold years. [2] People were angry to the point of madness at the way the "central" media was presenting the unfolding events in the region.
Later two students arrived from Yerevan State University's department of Oriental Studies and with our assistance filled a large auditorium at Moscow State University. They spoke about what was taking place in Armenia and why. It was astonishing that it was possible to fill an auditorium without an order from "above" and so many people came, including professors with ranks. It was even more astounding that our dean, Mary Kochar had sent these young men from Yerevan on state funding so that they could come and explain why the revolution, which was breaching the rules of that state, was taking place. At the time, this was still being done in the name of "perestroika." In other words, the idea was to present the events as an expression of the spirit of reforms initiated by Gorbachev, rather than a revolt. During the course of that year, the "center" did everything possible to ensure that this desire and the attempt to adapt evaporate and for the Movement to gradually transform into one for independence.
I was captivated by the qualities of those two students – their ability to speak, to persuade, argue and disagree. They reminded me of those eloquent early Bolshevik propagandists. Both of them no longer live in Armenia… Moscow was divided; the overriding majority of the journalists and Orientalists I knew did not want to understand what the Armenians were doing, their predisposition was that of hostility. That is what I felt back then, maybe they were right to be skeptical. But for example, people in the world of cinema were completely sympathetic and within their embrace, I finally started feeling that my wounds were finally starting to heal. Maybe that too was a deception.
I came to Yerevan that spring. I participated in the protests that had restarted. I don't know of a good timeline to recall the months and days of those years, one where I could insert my memories. Then I went back to Moscow, and returned again this time for three months in the summer.
Up until then, I had rarely experienced the presence of such a massive group of people. There had been the occasional rock concert that had attracted substantial crowds. Prior to this, there had been similar and somewhat more impressive instances of people marching on the street after a football match that would at times transform into a rally; happy that the home team had won or angry that it had not. I could not have been present at the 1965 protests[3] because of my age, but I had heard my parents' stories. Soviet official rallies, May First, etc., could have been happy occasions but they didn't emit that feeling. They had already started celebrating "Erebuni-Yerevan," another rare instance of mass participation but in no manner a match for the rallies at Opera Square. This was a new historic era.
Being present at the rallies, and they were massive, would generate contradictory feelings in me. At first, an enchanting, mystical sensation; my emotionality would intensify. "This is my people." There was a scent of sanctity during those first meetings. Until then, I had only experienced that scent in empty churches – Hripsime, Geghard, Harij, Ohanavank, Haghpat… then, years later, I caught the scent in Karabakh and also in Abkhazia. I've gotten a hint of it in other places that wanted to be independent but are not, places like Kabarda … The last time I experienced that scent was during the meetings prior to March First.[4] It was nostalgic. All of our other movements, the ones that I was present at, the scent was not the same, though the one at Electric Yerevan, the night of the water cannons, right before they were unleashed, came pretty close.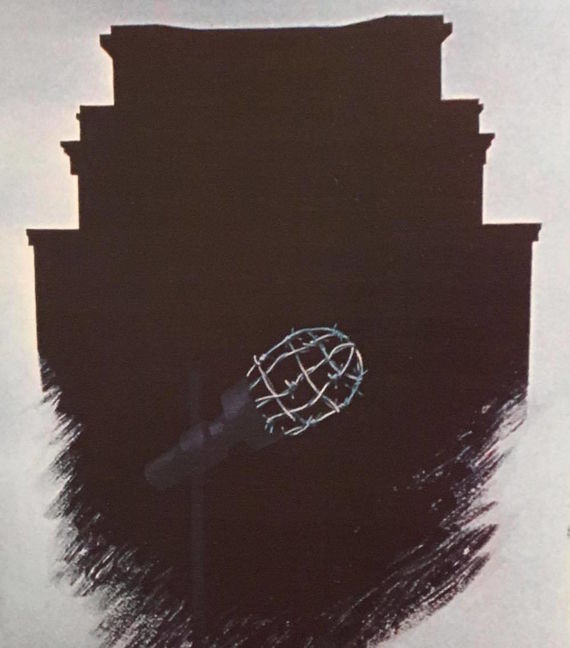 Form the poster exhibition at PANM First Congress, November 4, 1989.
The distress: Because everyone has been standing for hours and without knowing what is going to happen, they are waiting for news.The disbelief: How did everything change suddenly? Up until then, the people were silent, exploited, fearful, deceitful, had become immoral, and all of a sudden, this! Where are the tsekhaviks?[5] Why is the party, the KGB, the police allowing this? "The thieves announced that they are joining the protest and during the protest will not rob a single empty house." Hurrah ! U-ni-ty
I am trying to relay my emotions now the way I experienced them at the time, episodically. I had no opinion as to what should be done, how to do it properly, I did not have theoretical knowledge of what was happening. I had no interest in politics other than that the Soviet Union was a dirty, unjust, pointless, bloody, completely false system (I had secretly read Solzhenitsyn's "Gulag Archipelago" a long time ago, probably when I was 14, and knew of the sufferings of my family and their friends during the Stalin repressions from the tales of my parents well enough to consider that I understand the Soviet essence to its depths).  My surrounding, save a tight circle of close people, was amoral, corrupt and cynical. "Perestroika" was a good thing, if it stayed on the right track, though I did not believe in it much but I was happy that the "center" started allowing freedom of speech and the story of the Soviet terror was being told. "Perestroika" was stuck in Moscow, in the "center." There was no trace of it and of free speech allowed by it in Armenia for a long time. When Haik Kotanjyan, the secretary of the Hrazdan Regional Party Committee criticized Demirchyan[6] and was consequently dismissed from his post, I considered this a major event. As for what could be done about Karabakh or that Armenia could possibly be independent – these were not ideas I entertained in the beginning. I wanted the Soviet Union to be democratic, that was all.
The other feeling that quickly took shape as I was standing at the rallies for hours, was that of my irrelevance there. Staying longer than necessary at Church is futile. Something which I could not formulate back then about what I was feeling, I can express today as the following: while I understood that on the one hand this was a historic process and there was nothing to stop it, I did however, feel that the people standing there for hours, days, weeks, were wasting time. That when they are standing there, all productivity is suspended, they are not working. They are wasting energy. The factories, the Republic had come to a halt. That for the first time since the Genocide people had accumulated a certain amount of savings; that the masses had accumulated resources to push forward for a month or two without having to work, but that would run out and the people would face neglect, if not starvation or perhaps indeed starvation. Because in the midst of idleness, the factories, the railway, science, the university, all the industries would be shut down, rust, come to a halt, break down, become obsolete because these are permanent, non-stop processes; if they are severed for a while it is not possible to put them back.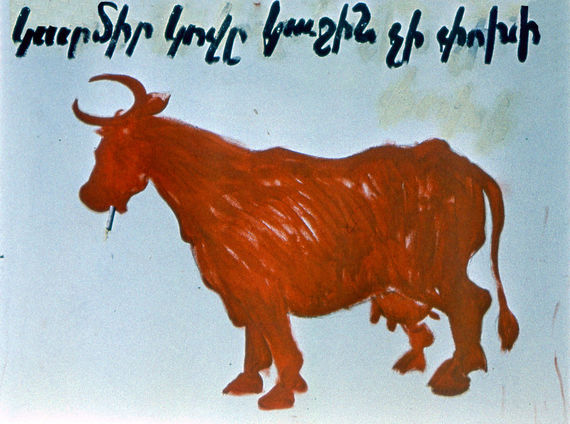 "The red cow does not change its skin." Poster from Opera Square, July-August, 1988. 
Contrary to the widespread hypothesis, I consider neither the blockade nor the collapse of the Soviet infrastructure to be the primary reasons behind the collapse of the industry and economy in Armenia. It was rather the people's disappointment in their previous lives, the loss of trust, the readiness to leave work and come stand at the square for days, weeks, even months waiting for news or instructions, for new values, hoping for a new meaning of life. Or picking up arms and heading to war, even if they had not yet been told that that is what they must do… Many were glad to have such a convincing excuse not to work – the destiny of the nation…
It appeared I felt the same way as those rare few who were "against" the rallies. Few would dare vocalize criticism of the Movement. I certainly did not want to be associated with them, because the overall opinion was that only hidden or open KGB operatives, Soviet authorities, traitors and provocateurs could be against the rallies. How rapidly, in an historical instant, one oppressive but eroding ideology (socialism) was substituted with another, a young and vibrant and equally oppressive one – not in terms of force but purely through moral pressure of the "Pro Movement" ideology, which later turned into that which was called "National." It was a unique feeling to witness this change. Perhaps it wasn't even a change, because self-oppression or at least self-suppression was quite typical for this Soviet/post-Soviet southern nation, no matter which opportunity they used to suppress, as long as they suppressed. The text changed, not the behavior.
The majority of those in my circle were mesmerized with the rallies and the Karabakh Committee. The "boys." To a certain extent I too was favorably inclined, nevertheless I could not help but feel that something was wrong when hundreds of thousands were stepping on the grass around Swan Lake, destroying it while from the platform above, a dozen people, one after the other, were relaying the latest news or explaining what needed to be done; all the while the masses listened intently and were reliant on them only.
Many young people consider those days to be the best of their lives, and rightfully so. There was a strange, almost erotic celebration of unity and freedom. And who says a nation has to always be serious and responsible, without joy, delight and celebration. But I'm somewhat brooding probably, seeing them I would think – now what? The old is being destroyed with such delight and ease and who will be responsible for building the new? Building something is not only excitement and skipping class… or the readiness to sacrifice oneself, even in a heroic way; it is still not building the new…
Some of these young people died in combat and became heroes, others passed away, some left the country, some became disappointed forever, others lost their good name and some, to this day, are the pillars of this country.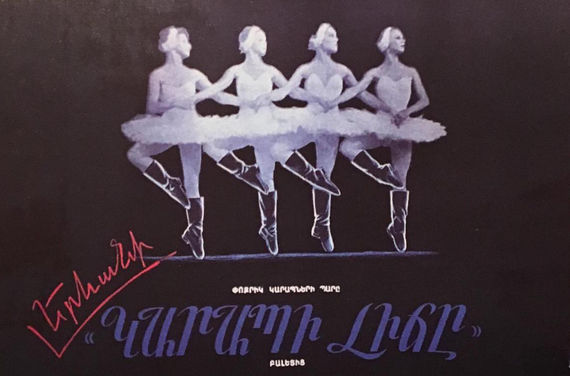 From the poster exhibition at PANM First Congress, November 4, 1989. 
And I, from a bit of a distance, would watch those dozen boys, who had decided and were able to find the strength in themselves to get on that platform with sincere amazement. Soon I got to know some of them in person, later I learned the stories behind how some of the others came to be on the platform – one or two dozen men and a couple of women, who would rarely be seen on the platform but were instrumental (women leaders were few, the "black pantyhose" fans of Vano and Levon were many), had decided that they should be there because there was no one else. And why had they made that decision? .From a genuine sense of responsibility? Because they were the fighting type (deprived of the chance of having a career within the nomenclatura system), potential politicians taking advantage of an opportunity that presented itself? Or was it both of these reasons together? They dared to disclose themselves, declare themselves as the new political leaders of Armenians and despite what they said or did or how experienced they were, they were indeed different. They were not the typical komsomols striving to make a career through the known, outdated Soviet arrangements. They were definitely novel and different from the previous ones and also from the new ones who wanted to follow the old path. Also because of the boundless difference in responsibility: a "normal" career versus declaring oneself a leader of this incomprehensible political movement in circumstances that were leading to a war. We did not know that they were very close to "political suicide." One has to be made of a certain cloth to agree to being cursed for years when the easily excitable crowd, sooner or later, becomes disappointed in you.
They were undoubtedly much more fearless than their predecessors, because they were operating in uncharted "waters," in a historically unfamiliar situation. That which was happening, that which they were doing, that which was being done and would be done, historically did not have its antecedent in the world; there were no known technologies/tools. Analogies with Armenian history were more harmful than useful, especially since no one knew Armenian history substantially, and whoever did, knew only fragments, most of the rest were myths.
Fearless? Later, many who were eventually disappointed with them "bluntly" asked, "If you didn't understand what was to be done, why did you throw yourself out in the front?"
But history is like that, it gives birth to leaders, who appear in roles they could not have imagined before. Could the intellectual Trotsky, let's say when he was 14 years old, imagine that he would become the War Minister of the Bolsheviks? Could the prose writer Vano Siradeghyan, when he was 14 years old, imagine that he would become the Republic of Armenia's Minister of Internal Affairs…?
"Do they know how to lead?" I would wonder while watching them. "Do they have command of the secrets of leadership?" I didn't and would never think to take a step in that direction without knowing a little bit, without learning. Up until then, the leadership of the Communist Armenians was another matter: they were not independent, they were appointed, and that is much easier, because ultimately the final responsibility is not yours. "Where had they learned? At school, while organizing their classmates to skip class? Was it an innate talent…?"
However, I deemed that those 'boys' were surely better than the careerists catering to the rotten Soviet system. The boys were intellectuals: historian, physicist, talented writer. We heard a lot of gossip about them: a group of them had a love for playing poker, the other, chess, being overly fond of women the third, the fourth were KGB and so on. But in those days, "our boys" were the object of collective love. They had come to be saviours in a situation where no one understood what was to be done.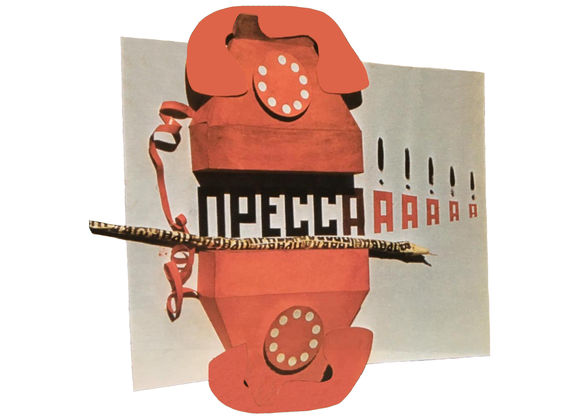 "Press." Poster from Opera Square, July-August, 1988.
Sometimes they would say wise things over the megaphone, at other times, not so much. Sometimes they would say true and important things, at other times, they would descend into previously exhausted, tiresome tales. Though much of this did not come from them, it was either their predecessors or the others who were also given the loudspeaker. Sometimes they would propose the right thing (when done, it resulted in a positive outcome), sometimes, they were wrong.
I did not dare articulate my skepticism in that initial phase. I did not have the words, the thoughts, the knowledge to articulate them. I could not say that in my opinion, although nothing can be done against the progression of history, nevertheless, it was wrong to be standing at the square for weeks on end doing nothing; that it was peculiar as to why those particular boys were up there on the platform and why they got to decide who could be up there with them and who couldn't.
Levon Abrahamyan's theory discusses the 1988 protests from a sociological and anthropological praxis of carnival connecting it to Bakhtin and his interpretation of human thinking that a revolution is also a feast and a ritual; it is semiotics, to be able to understand, you have to know how to read the symbols. This work was first published quite early on in those days, the first attempt to provide a framework of understanding about the Movement. I was enthralled by his theory, I appreciated his truth and thought how unlucky is the person who does not want to disintegrate into the noisy mob and wants to preserve an independant train of thought …woe to him who does not love rituals in that situation when history is a ritual and ritualistic…Meanwhile, rituals were born, strengthened and overestimated by the crowd, celebrated by the people and the platform as their victory: the collective assistance to the person who felt ill because people were too cramped together; chanting  "Mi-a-tsum" – "U-ni-ty" when it was timely; the playing of the trumpet – the hymn of the protest; thieves who didn't steal; the lectures read at the square during student strikes; the flowers Armenian girls would present to Russian soldiers, etc. All this and more was so accurately described by Levon Abrahamyan and the group of researchers he led, and still far from enough was illustrated and collected.
These rituals became the foundation for a new ideology. The people, self-centered, in love with themselves began to say, "See how good we are? We are the best." But what about if even a hollow consolation becomes needed? In that precarious situation, if we did not praise ourselves, who would do so? If we did not encourage ourselves, no one would have. We had to convince ourselves that we were capable of something but we really didn't comprehend what we were or were not capable of doing.
And those, who did not share this enthusiasm because they were corrupt or because of experience; or because of their critical, skeptical countenance, were mainly silent. It seemed that they did not exist. And if they ever tried to speak, they would usually be cast out under whistles and labeled "Communist spy."
I could not endure the long and fruitless, self-righteous lingering and soon stopped standing at the square. I was not "square material" and secretly pitied those who were "square material." In my opinion, it was manipulation. Standing at the square soon became as boring and as much a waste of time as komsomol meetings.
Coming from a family of persecuted intellectuals, historically and genetically I knew that no power could ever rule justly in our region and if one ever tried, it would immediately be eliminated.  Were the boys any different? They were taking steps that were either right or wrong, for some it was just, for others it was unjust. They were obliged to take those steps (for example lead the provocation to be able to withstand it, lead the rally to the airport because the people were already headed that way). The choice was not so much laid out by them but rather by history; the people and events were leading them by their nose and demanding that they reactively respond to this or that challenge. Hrant Matevosyan, understanding the extent of one's capacity would say, "We act based on the extent of our lack of understanding." Nothing was prepared, there was no time to seriously plan, the old world was crumbling without waiting for plans to be made.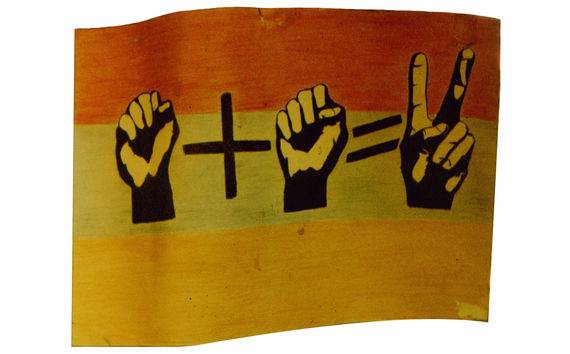 Poster from Opera Square, July-August, 1988. 
We had no plans, despite the existence of the Diaspora. The Baltic countries seemed to have more plans. Their Diaspora had designed the institutions of independent statehood and kept them. They knew that sooner or later they were going to become an independent state and knew what they wanted it to be like. They had independence for about 20 years, (1918-1940), and that was enough for them to preserve the idea of an independent statehood. At least that is what I thought. We, on the other hand, like the Georgians or Ukrainians did not have that… the people did not believe in the reinstatement of statehood, almost no one, save a couple of "fools" who were romantics rather than realists… We were so dejected after the Genocide, had held onto the Soviet lifeline so firmly, and on top of that, had suffered so much under Stalinism, and then we were able to somewhat recover and then became so immoral, submitting to the corrupted psychology of tsekhavism that we had no impending plan.
My priorities coincided only in part with the priorities of 1988, the rallies of subsequent years, the people and the Movement. The Movement was constantly split between the need to respond to the Karabakh crisis and the need to establish a new system of governance, a new structure, which later became the task of establishing an independent state. As someone with a humanistic upbringing, a part of me did not want to acknowledge the issues of the Karabakh crisis. Was it possible that two decent, beautiful nations, distorted because of the Soviet Union, yes, but in general kind and well predisposed to one another, could not find a common language? Why exile? Why kill? Why not be generous and find a common denominator?
On the other hand, people, including people very close to me, would say that this was an impossibility. If they were exiling Armenians, then we too should use the opportunity to "clear" our land of them, that only Karabakh's separation would resolve the issue. Being someone who was distant from suggesting to dare and use force, I had no excuse, energy or even the direction to object and argue the opposite either. Having deeply rooted paternal lineage from Karabakh, having family in Baku and close Azerbaijani friends in Yerevan, I did not want a confrontation nor did I have a counter-argument, because the situation was escalating faster than I or anyone else could grasp.
I was torn. I wished that the problem did not exist. I wanted to bury my head in the sand and not hear that at the end of the 20th century, when it seemed that all major wars and massacres had ended, when people had finally recovered, barely come to their senses, when everyone had understood that war and massacre are folly – and suddenly once again, there are two nations ruthlessly slaughtering each other. A backward issue, a disgusting issue. And this was bearing down on the fate of my homeland and myself and not in some distant place like Afghanistan although that too is disturbing and heartbreaking.
During those months, even years, as it lasted a couple of years, people were subject to manipulation, capable of doing that which they might not have done in a sober state of mind. The pressure of the crowd, the people, their circles were guiding and swinging the situation this way and that… For example, I was asked to become the proxy of a young candidate wishing to run in the Supreme Council elections. And my young self, without thinking much about it, agreed. That was the lesser of the evils, I responded to someone's request and also thought, "This is an experience, I can allow myself to get involved in some thing that I don't know much about – this is how I'll gain experience."
Because I was a skeptic and tried to keep my distance, afterwards I was not as deeply disappointed as those who had fully immersed themselves in the current, who later felt cheated, used…
However, today, I can say the following – what happened happened, it was the process of history, we were not ready to take on the situation more thoughtfully. At the time, the boys did what they could. We learned much. But my old feelings persist and today I'm deeply convinced in them and able to articulate them in my contemporary terminology.
– Don't become a part of the crowd, even the crowd that listens to the propaganda of the best ideas. You will lose your human and divine nature. When it is the nation that acquires divine essence, the person, the integral unit of the people, seems to lose it, unfortunately… This is a paradox, which requires additional thought.
– Don't plunge into the Middle Ages; ethnic dimensions are medieval, it is a genocidal mentality. Be above the adversary, even if your adversary is in the Middle Ages. Stay above and it too will elevate itself. The priorities of any society, state or statehood cannot be ethnocentric.
-The primary issue is not ethnicity, but rather the society, the people, participation, the state as the union of comprehensively educated individuals; the organization of empowering for advancing the beautiful and creative values in the world and for nothing else.
*********
I have presented my impressions from the first few months of the Movement, what I remember as impressions, of course with new words because my words back then were different and certainly, sometimes mixing up memories from different times. Much happened later that was interesting and sad and I understood that I was living in a "bubble," because I had no idea about what was happening in the villages. I actively started writing for the new, free, multidimensional media, to some extent sharing the concerns I had at the time. I found my place in the Movement when I started helping out in matters I was to some extent familiar with. But this was already participation in the building of a state. I have written fragments about those five years here and there, have contemplated certain generalizations here and there, these are available in text or video recordings. I have tried, although in a limited scope, to collect other people's views, but those are merely drops. What is a shame is that to date there is no comprehensive story describing those years, whatever is available is closely tied to the Karabakh issue and the rest remains obscure and uncharted. For example, how did Independent Armenia start adopting new laws? Who wrote these texts? Why were those texts chosen? The history of the formation of new statehood is virtually non-existent or if it exists, it is virtually unknown in the public domain. Hopefully, this series of publications will to some extent fill in those gaps, at least by formulating the right questions.
EVN Report wishes to thank the Friedrich Ebert Stiftung (FES) for their cooperation and support.  
Footnotes: 
1-The All-Union Leninist Young Communist League was a political youth organization in the Soviet Union.
2-The early 1990s are usually referred to as the cold and dark years in Armenia during an energy crisis that left the population without natural gas or electricity for heating.
3-In 1965, on the 50th anniversary of the Armenian Genocide, thousands in Soviet Armenia demonstrated demanding that the Soviet Union officially recognize the Genocide perpetrated by Ottoman Turkey.
4-On March 1, 2008, after weeks of protests following a contested presidential election, clashes ensued between security forces and protesters leaving 10 people dead in the country.
5-An underground entrepreneur in the USSR; usually has a negative connotation.
6-Karen Demirchyan was the last leader of Soviet Armenia and later President of independent Armenia's National Assembly until 1999 when he was killed during a shooting in parliament.