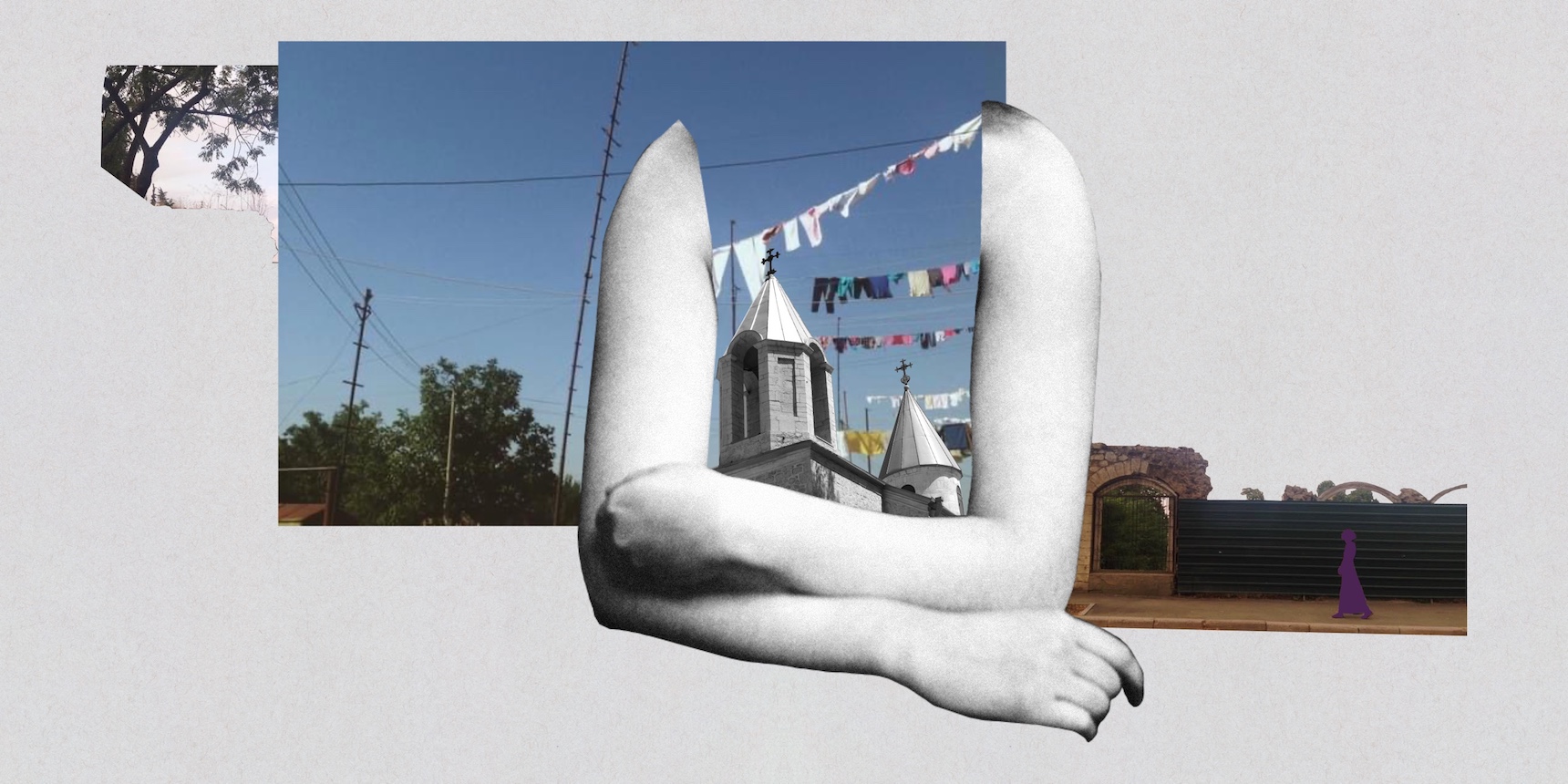 Wedged between my father and my younger brother, I sat cramped in the back of a musty old car, a wooden cross hanging from a piece of cord that was tied around the rearview mirror, and I looked to either side to see mountains covered in green, parting before us, granting us entry. 
It was Karabakh then, as my parents called it. Stress on the "akh," Russian style. In Shushi, we walked the perimeter of a great, white church. I plucked a little purple flower that was peeking up from the grassy cracks in the pavement, and twirled it between my fingers. I gazed out upon grassy pastures and wheat fields that swayed under a blue, blue sky. 
It is both a wonder and a shame, just how little I knew back then. 
Four years later, I sit in one of the back rows at Yerevan's Moscow Cinema. The July heat fills the theater, looming above the audience, casting a lethargy upon them. I have come to see Nora Martirosyan's debut film Should the Wind Drop, set in that same land of green mountains and wheat fields. 
Released in 2020, the film follows a French man and auditor named Alain. He is tasked with appraising the Stepanakert Airport in the small disputed territory known internationally as Nagorno-Karabakh, in the South Caucasus. His job is to determine whether the airport meets international aviation standards, whether it can finally open its runways, and whether it can lend some small sliver of legitimacy to a breakaway state that boasts borders but no national sovereignty. 
Alain knows nothing about the context of the region. Neither did I. And as the film plays before me, I am assailed by my own memories, and struck by the realization that I can only remember them in this new way, with sadness, with the metallic sting of irony, and a foreboding that only comes after the fact. 
"From time to time they like shooting at cars," says Armen, a local villager. "Who? Who does?" asks Alain. 
"From the other side, the snipers." 
"Snipers." The word runs down my spine like a chill and rattles my bones, as I recall the car ride through the mountains and the hanging cross, my little brother sitting beside me. My father craned his neck back towards us: "You know, there are snipers in these mountains." He grinned his Cheshire Cat Grin, delighted by the shock value of his statement and its ability to affect us, to shake us.
We were shaken, yes, but only for a moment. An hour later, we found ourselves sitting, bored, at some government office in Stepanakert, waiting for our mother to fill out our visa forms. We neither thought it strange that we should need visas, nor that they were not pasted into our passports. 
We did not know. I did not know. I was a Westerner, like Alain. I had not been told. But that wasn't exactly true, was it? 
There were little things, nods to the past, piecemeal memories that my father would tell, hoping to pique my adolescent interest; things like the snipers in the hills as we drove through the pass; or the story of my great aunt Greta, who – after fleeing the Azerbaijan capital, Baku for fear of persecution, found herself in Stepanakert, in Karabakh, dodging the bombs that seemed to rain down from the sky above. When I looked to that same sky, now blue and clear, I did not dwell, and I did not wonder. 
Then there was the National Geographic magazine that my father had tried to show me years earlier that featured the history of Armenia, from the Ancient Kingdoms to the First Nagorno-Karabakh War –– his history. He had always been so arrogant and condescending when he spoke with us, making it easy to dismiss him. And so I did. 
Had I really listened, I might have wondered. And had I really wondered, I might have given it more thought and searched for information that would contextualize the fragments of stories that I'd heard. I'd have learned that this ancient Armenian land, where the ethnic-majority was Armenian, was given to Azerbaijan by the Soviets in 1919. I'd have known that, with the collapse of the Soviet Union, the majority wanted to become part of Armenia. And I'd also know that the timing was bad and that the subsequent eruption of the First Nagorno-Karabakh War, coupled with events like the Baku Pogrom, resulted in tens of thousands dead and millions of civilians displaced on both sides – my father among them. 
I'd also know the precariousness of the situation; that we were driving through the hills of a ticking time bomb –– literally, as the land lay riddled with land mines from the first war, ready to explode, and existentially –– as month after month skirmishes continued to pop up along the border, a place locked in flux. 
Nora Martirosyan had certainly understood this, as did her characters. As Armen says, "this is what it is to live on a volcano. You never know when it's going to wake again." 
In one scene, Armen hands Alain a small crystal glass of homemade mulberry vodka, and the two share a toast with a group of local villagers. Alain experiences a shift of perspective as he turns his attention away from evaluating the airport, and begins to watch and listen to those around him. He makes friends; it becomes personal.
It does for me, too. After that first journey into the hills, I returned to Armenia. I worked, lived, and learned the language, history, and culture –– or as much as I could. I taught classes at a university and saw the maps tacked to the walls. I saw the borders, drawn to include that region that the world knew as a disputed territory. 
I saw Artsakh, the name its citizens used, not Karabakh. 
And I saw all the hope and pride that propped it up, pinned it to the lapels of our hearts. 
And then, on September 27, 2020, Azerbaijan launched a full-scale war on Armenia and Artsakh. The First Nagorno-Karabakh War, fought in the place my father had known, gave way to the 2020 Artsakh War, fought in the place I had come to know. And there would be no dismissal this time –– there couldn't be. Not when the street corners had become donation centers, when the billboard advertisements had given way to war slogans, when the night air grew heavy with the weight of air raid siren tests. When my days, too, grew heavy with the weight of the clothes I sorted into boxes for families of refugees, thousands of refugees. 
As the bombs fell on Stepanakert, I grasped at the story I had once barely heard, of my great aunt Greta and the storm of fire she'd had no choice but to weather. 
When we lost Shushi, I knew it was over. And again I remembered that day we'd spent there, ambling about, squinting as the sun illuminated the white church ahead, the sky clear and blue. 
All felt lost. 
Karabakh may have died, but Artsakh was still alive. Despite it all, it was still alive. It was a feeling more than a thought; a battle cry, a wound in my side, a loved one lost, a limb ripped from the body. 
In the two hours of that film, I had been transported, transfixed. Here was the Artsakh of before, the Artsakh I had visited. The Artsakh I would never get back. And with hindsight, I felt the weight of that loss threaten to crush me. 
I could now name the church in Sushi  – Ghazanchetsots Cathedral. But, four years earlier, how could I have known that we'd lose it? That the Azerbaijani government would have its spires dismantled, one by one? 
I reach for the good memories –– the few I've got –– and I cling to them. On that day in Stepanakert, after we'd gotten our visas, we stopped at a local restaurant for lunch. Built into a hill, its balcony overlooked the deep gorge below. My father played a game of backgammon with the owner as we waited for our food, the rolling sound of a single die punctuating the air, mingling with the sounds of birds.
And the visas? They were printed on separate sheets of paper nestled between the pages of our passports, unpasted. The authorities knew they might give us trouble since technically, Artsakh – Nagorno-Karabakh – was part of Azerbaijan. 
Not even Nora Martirosyan's film could escape the hindsight that overpowered my memories of Artsakh. It premiered just a few months before the war began. It understood the context of Artsakh and what could happen, but not even Martirosyan had anticipated when it would happen. 
And now? Forget the airport. Our very existence is at stake. Villages have been lost and thousands have been displaced. The border is under constant pressure. 
Like Alain, I have seen, and I cannot unsee. I cannot unfeel. 
And if I could go back, what would I do differently? 
I would hug that church, and plant a hundred flowers to make up for the one that I plucked. I would take photos – lots of them, and commit the landscape to memory. I would talk to the people, and I wouldn't complain about the heat. I would sit down across from my father and ask him to teach me how to play backgammon. I would, I would, I would. 
But I can't. And it is precisely because I can't, that I want to so desperately. 
And the fact remains that nothing I could have done would have prevented this war, or changed its outcome. 
Still, I wonder.

Garegin Papoyan's film "Bon Voyage" manages to recreate a Kafkaesque world in the form of the Stepanakert Airport, where people follow a seemingly unreasonable system, and continue to do their work with incredible persistence, without questioning its meaning.
Read more

Director Nora Martirosyan's film "Should the Wind Drop" reveals the frustrating situation surrounding the airport as a starting point to delve into the history, problems and spirit of Artsakh.
Read more