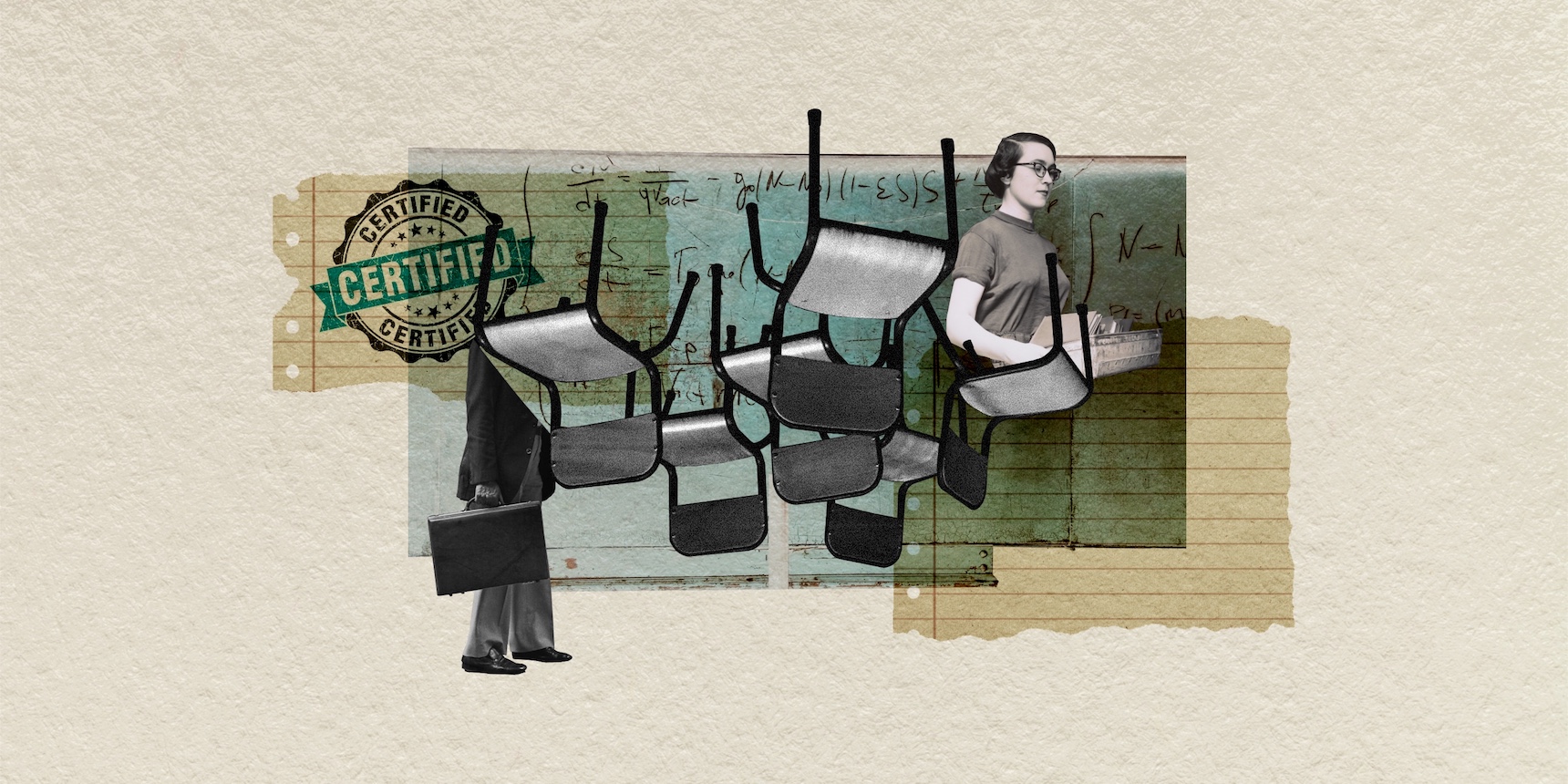 Taguhi Harutyunyan, an Armenian language and literature teacher, applied for the voluntary teaching certificate for the second time this year. She is among over 760 teachers who did not pass the certification process in 2022. She will need to undergo professional qualification verification again in September 2023.
In 2022, the Armenian government introduced a voluntary teacher certification program. Teachers who pass with high scores will receive higher salaries.
Harutyunyan, who teaches at the Zoravar Andranik No. 12 Primary School in Armavir region, explains that she scored 40 out of 70 points, scoring 57.1%. "The passing grade is 60%. I would have passed if I had answered at least 42 or 43 questions correctly," she says. Harutyunyan says the exams were quite confusing and difficult. The three hours allocated to take the exams were also not enough. Although the questions were not completely unfamiliar, there were some that she never utilized after graduating from university. "Each of the 70 questions has a sub-question," Harutyunyan explains. "For example, I had to diagram nine sentences, which took me at least two hours."
Harutyunyan is uncertain about passing the exam this year, but she says that she will do everything in her power to succeed and secure a high salary. In preparation for the exam, a teacher with 13 years of teaching experience must study a database of preparatory questions. She believes that there is no other option for preparation and focuses on memorization. Harutyunyan notes that last year, a reference list with exam questions was published only a few days before the exam. Clause 23 of the Decision on Certification stipulates that the Assessment and Testing Center must publish a methodical guide at least 20 working days before each certification exam, which includes the structure of the exams, materials for the assignments, procedures for filling out the form, and sample tasks. However, teachers report that the guide does not include actual exam questions.
Harutyunyan says that several teachers have made recommendations to improve the learning experience, including simplifying assignments, increasing exam time, and publishing preparatory databases with specific tasks.
Additionally, Harutyunyan suggests that the process should be truly voluntary. As per the Decision on Certification, teachers who score between 0-59% on the exam must undergo recertification within a year. Those teachers who fail to pass the recertification exams for two consecutive years will be dismissed from their positions.
According to Deputy Minister of Education, Science, Culture and Sports Araksya Svajyan, training courses are being organized for teachers who did not pass their certification exams on the first attempt. The goal is to help teachers perform better on their second attempt and avoid losing their jobs.
"The teachers who participated in the voluntary certification exam last year and did not pass must participate this year as well," says Svajyan. "To support them, four universities are conducting training programs. Out of 760 teachers who failed last year, 700 have registered and are participating in training courses this year. The courses are not mandatory, but aim to assist teachers."
In 2021, a pilot voluntary certification program was launched for teachers in Armenia who taught seven different subjects for grades 7-12. Beginning in 2023, all teachers, including homeroom teachers, have the opportunity to test their knowledge and receive a 30-50% pay raise based on their results. Teachers employed in private schools are also eligible to participate, with their salaries increased using the financial resources of the school.
"This year, people who are not employed but have a pedagogic education and meet the requirements of a pedagogue are also eligible to participate in the exams," Svajyan explains. "Upon passing the voluntary certification process, they can secure a job at a public school with a higher salary."
In 2023, teachers without higher education were given the opportunity to maintain their jobs through this certification process. However, Article 26 of the Law on Public Education states that teachers must have higher education to teach. Despite years of postponing, Minister of Education, Science, Culture and Sports (MESCS) Zhanna Andreasyan announced this year that starting from August 20, these individuals can no longer work as teachers.
According to the Statistical Committee, during the 2021-2022 academic year, 28,894 teachers taught in 1,354 state schools in Armenia, of which 25,843 were women. In the country's 48 private schools, there were 1,359 teachers teaching, of which 1,136 were women. Out of these teachers, 28,385 had higher education, 288 had incomplete higher education, 1,493 had technical or vocational education, and 87 had secondary education.
Voluntary teaching certification is planned to be carried out every year. However, as Prime Minister Nikol Pashinyan announced in the National Assembly in May, "The time will come when there will be no uncertified teachers in schools."
Nevertheless, few teachers dared to take the certification test. In September-October 2022, around 13% of teachers, or 3,886 individuals, applied to participate in the voluntary certification exams, according to the then Minister of Education, Science, Culture and Sports Vahram Dumanyan. Of these applicants, only 2,300 individuals, or 60% of those registered, took the exam. Only 66% of the participants were able to successfully pass the certification exam.
In March 2023, Education Minister Zhanna Andreasyan reported that 1,565 certified teachers, or 5.5 % of all candidate teachers, are already receiving an increased salary.
"On average, their salary has doubled," she explained. "If the average income is 125,000 AMD, then their average income is 250,000 AMD or more solely due to their voluntary teaching certification; 28% of teachers receive 300,000 AMD or more, while 150 teachers receive between 350,000-450,000 AMD."
Maxim Gorky High School No. 5 in Vagharshapat has eight teachers who passed voluntary certification exams with scores ranging from 76% to 97%, and receive a salary of more than 300,000 AMD. However, the school's principal, Gayane Safaryan, believes that these exams cannot assess teachers' merits adequately. She argues that a teacher's character is multi-layered, comprising knowledge, preparation, skill in presenting the material, psychology, dedication, behavior, and more.  While excellent mastery of the subject matter is essential, it is only one of the prerequisites of a good teacher.
"Teachers who not only have a strong understanding of their subjects, but who are also tutors and deal with tests on a daily basis, possess the necessary tools to complete the voluntary certification process," says Safaryan. She also emphasizes that the fact that the exams are based on high school textbooks should also be taken into account. "This process particularly affects primary school teachers," she explains. "Additionally, teachers are concerned about potential risks and do not want to compromise their reputations. This is especially true when they hear from those who have already taken the exam that the time allocated for it is short, the assignments are difficult, and sometimes contain inaccuracies and other shortcomings."
Serob Khachatryan, an education expert, notes that although the exam questions come from a given subject's program, the probability of failure is high. The exam's unpredictability is also significant, and it is unclear what teachers will be asked. Additionally, teachers are taking the exam under unequal conditions.
"High school teachers deal with complex topics in their subject every day, making it easier for them," Khachatryan explains. "On the other hand, the curriculum for lower grade classes is different, so primary school teachers face a challenge. While we can argue that their diploma covered the full school program and not just grades 1-9, the reality is that if a person does not do something for a long time, they tend to forget it."
In the past two years, four teachers from Nersisyan Primary School No. 5 in Vagharshapat passed the voluntary certification exams. This year, 20 teachers have applied for certification at once. Seda Yengibaryan, the school's principal with 20 years of experience in education, believes that the state is implementing the right policy by requiring certification. According to her, many teachers are not interested in personal and professional growth for various reasons. Meanwhile, a generation is growing up and teachers must be able to present interesting material and demonstrate their own development.
"Today, you have to be more of a guide; you have to learn and develop with the students," Yengibaryan explains. "The traditional image of a teacher who is the sole possessor of knowledge is outdated." She believes that the certification program will enhance the professional quality of teachers by requiring them to review and expand their knowledge. "To keep their jobs and receive a fair salary for their hard work, teachers should be included in this system," she says.
Older Teachers Are Lagging Behind
According to the Statistical Committee, the largest number of teachers — 3,820 — fall within the 60-64 age group, While the smallest number, 534, are under the age of 25. Taguhi Harutyunyan explains that voluntary certification is a problem, especially for older teachers.
"It is especially difficult for people over 50, close to 60," she says. "I'm young, so I took the exam and didn't feel uncomfortable admitting that I didn't pass. But older individuals, especially those from rural communities, where everyone knows each other and perceptions are slightly different, experience many problems. I remember seeing some of my fellow test-takers crying after finding out they did not pass. Additionally, young people can recall information faster than those who graduated from university 40 years ago."
Gayane Safaryan observes that in many schools, even those in rural communities, there are teachers who are either at retirement age or close to it. Despite their experience and skill, and in some cases, their success, they are not interested in taking the exam.
"They will say, 'We're sorry, but we're quitting,' and close the door behind them," explains Safaryan. "There are no teachers who will come and replace them. They say, 'I don't want to expose myself to stress at this age. I don't want to take an exam at this age. Instead, come and listen to my class. If it's not enough for you, I will voluntarily leave.'" 
Facing the Challenge of Generational Change
Tigran Sardaryan, who teaches at the Artashes Shahinyan Physics and Mathematics Specialized School, an educational institution part of Yerevan State University, views the teaching certificate as a positive step. However, he has some reservations and questions of his own. One key question is whether this program can provide new teachers with access to schools or how much it can improve the quality of education.
"This program has been running for two years, but there is still a shortage of teachers in our country," Sardaryan says. "Working as a teacher is still not appealing to young people." He notes that teacher's salaries should be increased unequivocally and without preconditions. While acknowledging that there may be those who do not deserve such a salary, Sardaryan argues that this "will give us the moral right to demand more from teachers, increase their role and authority, and, most importantly, provide an opportunity for generational change."
According to Sardaryan, there are schools where math teachers lack the necessary knowledge and skills to teach the subject. Despite this, they're not fired because having a subpar teacher is still better than having no teacher at all.
Araksya Svajyan agrees that there is a shortage of teachers, and unfortunately, this shortage is expected to continue in the coming years. She confirms that most current teachers are either at or nearing retirement age. Although recent amendments to the Labor Code allow them to continue working even after retirement age, these teachers may still face difficulties in their work at some point.
At the same time, Svajyan considers teaching certification to be appropriate for resolving the salary problem.
"There are no restrictions for any teacher," she explains. "They can participate every year, and if they get higher results, they can secure a higher salary for the next five years."
However, Gayane Safaryan believes that raising salaries through voluntary certification does not solve problems that teachers face in schools — problems that are getting more challenging day by day. It also doesn't make the profession of a pedagogue attractive for young people.
"Special provisions should be established for teachers," she explains. "For example, pedagogical universities should be free, taking a gap year should be allowed, and university graduates should be sent to schools with vacancies. Teachers' quality of life should also be improved. For example, low tariffs should be set for electricity used at home and other benefits can be provided for after retirement."
The Crisis of Maintaining Male Educators
The Draft Decision on Voluntary Teaching Certification states that the program aims to encourage teachers' professional development, contribute to the increase of teaching quality and efficiency, and promote the entry of male educators into public schools.
Only about 11% (3,274) of teachers in Armenian schools are male.
Alfred Novshatyan, a math teacher at Nersisyan Primary School No. 6, took part in the voluntary certification exam in 2022 and scored 87 points. He said that he did not face any difficulties during the exam. He believes that the policy will lead to higher salaries for teachers and schools having more knowledgeable educators.
Principals are convinced that male teachers will be less likely to leave schools if their salary is higher than average and suitable for a teacher. 
"Novshatyan was our Vice Principal of Support," says Yengibaryan, adding that vice principals typically teach for no more than eight hours, but Novshatyan worked a second job to support his family. He completed voluntary certification exams and his salary of 115,000 AMD has since increased to 270,000. She also stresses that although this is not a high salary, she hopes there will be gradual improvements, which the education sector desperately needs.