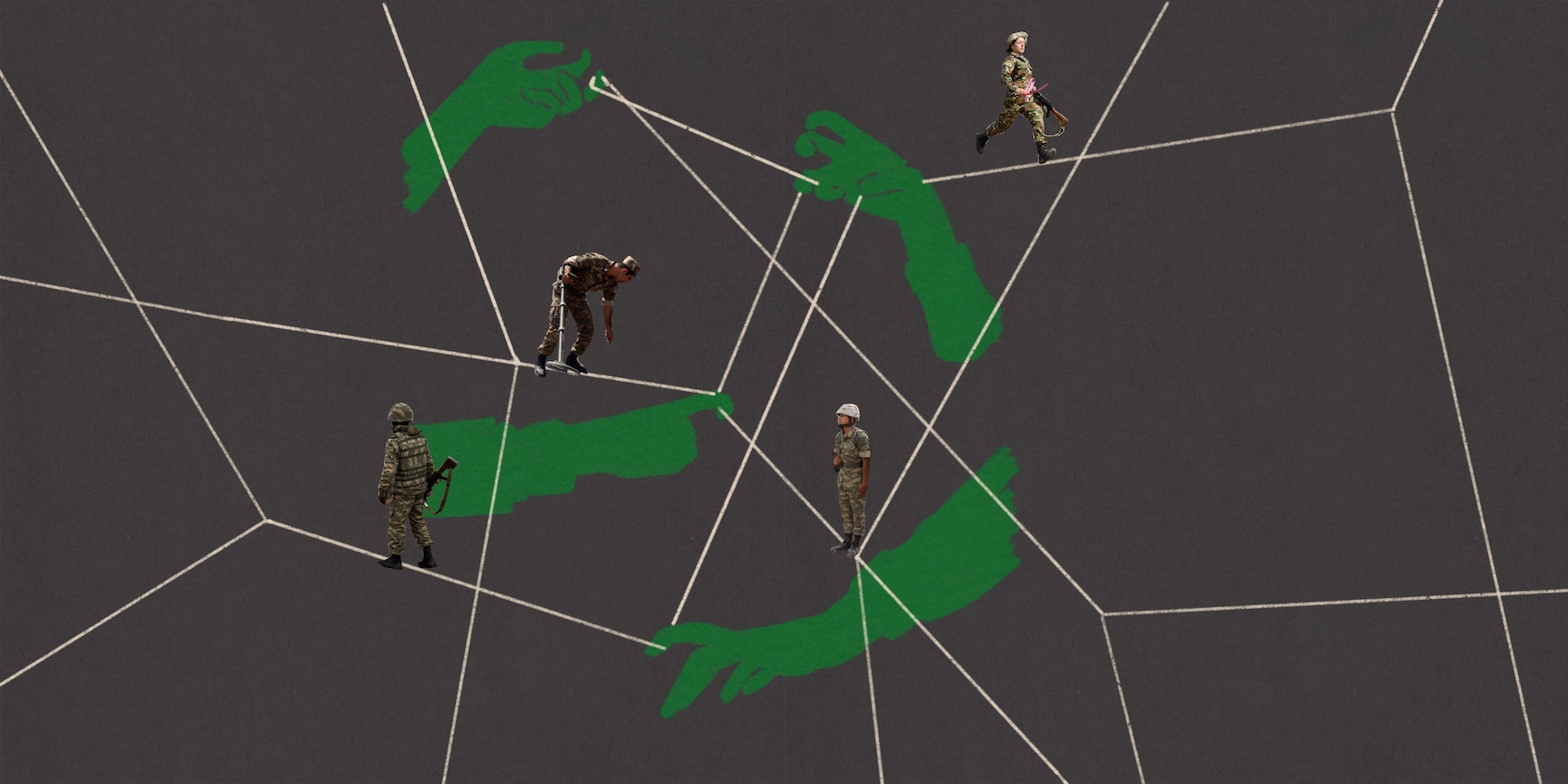 Training of reserve forces has been taking place in Armenia for about a year, with the stated goal of improving military skills, combat readiness and professional training of reservists. The training is also aimed at preparing non-commissioned officers with higher education to train reserve force officers. Nonetheless, this is how these goals are outlined in the government's decisions.
Similar training of reserve forces took place almost a year after the 2020 Artsakh War from August 25 – November 25, 2021 with the participation of 2169 reservists. Another was held from September 15 – December 15 with 869 reservists, and then from November 18 – December 18 with 202 reservists.
The first training of this year took place from January 15 – April 15, with 65 reservists taking part, the second one took place from April 1 – June 30, with 1,400 reservists, the third from April 15 – June 15, with 724 reservists․
The fourth training kicked off this past summer, on August 1 and will be held until October 30, with the participation of 1,444 reservists. The fifth training started on September 15 and will last until December 15 with 318 citizens taking part.
On September 29, the spokesperson of the Ministry of Defense wrote on Facebook that Armenia's government had adopted a decision to call for the next round of training for reservists. The government decision (passed on September 26) states that the next round of training of reservists will be held from September 27 to November 22, 2022, involving 3680 reservists – the largest number so far. Currently, there are three separate trainings for reserve forces in progress simultaneously with the participation of 5,442 people.
Recruitment 
In Armenia, reservist training is carried out under Chapter 13 of the "Law on Military Service and the Status of Servicemen," which came into force in 2017. Chapter 13 states that First Category Reserves (privates) and Second Category Reserves (junior non-commissioned reservists) may be called up to four and six times, respectively, for a three-month training for every call-up but with no more than three months within a year. Another government decision states that if necessary, participating reservists can also be involved in combat duty.
The ceasefire statement signed by Armenia's Prime Minister and the presidents of Azerbaijan and Russia that ended the 2020 Artsakh War, stipulates in Article 6 that the regions of Kelbajar (Shahumyan) and Lachin (Kashatagh) are to be "returned" to the Republic of Azerbaijan. As a result, several communities within Armenia have become border towns and require protection from ongoing Azerbaijani aggression. With Armenia suffering around 4,000 killed in action during the 2020 war, this training is being considered as a way to replenish Armenia's Armed Forces.
Participants of the last reservist training may have also been involved in repelling Azerbaijan's attack on Armenian territory on September 13-14. As of September 19, the number of Armenia's dead and missing soldiers has reached 207; over 290 servicemen have been injured and 20 have been captured by Azerbaijani forces. However, it is still not clear whether any of the casualties were reservists undergoing training. The fact that they could have participated was confirmed by Prime Minister Nikol Pashinyan on September 16 when citing discussions at the Security Council session, where it was concluded that if people want to participate in the country's defense as a volunteer, they can apply to military commissariats with the usual procedure. He went on to say: "The three-month training sessions are ongoing, in force and legal grounds and decisions are in place to involve citizens in the service on a voluntary basis."
S.E., a reservist currently undergoing training, was on the outskirts of Goris in Syunik region when Azerbaijan attacked on September 13. He says that they had several tense days, and are now securing the areas that were attacked. He shares a picture where Armenian and Azerbaijani military positions located several meters apart are visible. He is not indifferent about having to participate in combat operations as a reservist: "It's our land, who else will keep it?" He speaks little, answering all questions with "everything is fine."
Political scientist Armen Vardanyan, completed his mandatory, two-year military service in 2005. He was called up for the first reservist training in August 2021.
"During the first two weeks we went through military training, were reintroduced to handling weapons, and had shooting practice," Vardanyan says. "Then we were stationed at military positions that were manned by both participants of the three-month training sessions and by conscript and contract servicemen." He notes the positions are new, established after the 2020 Artsakh War and were still unfurnished at the time. They slept in tents and there were no amenities. "There were problems with fortifying the border, and we didn't carry out any engineering work; we were in the open forest," he explains. "Meanwhile, on the opposite side of the border, a lot of equipment was being put to work."
Vardanyan stresses that he only participated in the first training over a year ago, and it's possible that some issues have been resolved since then. At the same time, he also stated that even under those conditions, the food was of good quality and delivered on time.
"During my mandatory military service, nutrition was quite problematic. It was poor quality food, and we were never full," recalls Vardanyan. "But now, this is not an issue, it's impossible for any soldier to be hungry, they are given good quality food, even fruits."
Vardanyan considers training of reserve forces important, noting that they contribute to reinforcing military knowledge, so if anything happens they are ready and don't need to undergo additional training.
"There were weapons that were new, we didn't have them during our time," explains Vardanyan. "For example, I was an army scout, so in that respect, there wasn't that much of a difference for me. But for example, for those serving in military communications units, it's completely different. A lot of attention should be paid in the case of signallers and artillerymen."
According to Vardanyan, the training has also prompted some personnel who had exited the military to return.
"There were former soldiers or officers who had for different reasons left their positions [in the military]," he says. "After the last war, the army needs to be replenished. These people were also invited to take part in special training and stay in the army. In other words, the trainings are another way to replenish military personnel." He also says that now the borders are quite long, and it isn't possible to fortify them solely with conscripts. 
Vardanyan, however, emphasizes that replenishing the army with reserve forces is not the best option. According to him, the best way would be to establish a professional army––an expensive and perhaps, currently unrealistic endeavor. This is why the current solution is satisfactory for now.
Penal Military Service
In the spring of 2022, during the opposition's protests and acts of civil disobedience, many people were detained by the police. Andranik Kocharyan, the Chair of the Standing Committee on Defense and Security Affairs of the National Assembly and MP of the ruling Civil Contract faction, suggested that the Ministry of Defense potentially draft them.
On May 4, Kocharyan wrote the following on his Facebook page, which has since been deleted:
"These days, police are regularly arresting citizens from the streets who have violated public order, some of whom, presumably, are part of a contingent who avoided the three-month training camps and mandatory military service. Taking into account the above, I call on the Police and the National Security Service to collect data on these citizens and transfer them to the Ministry of Defense, which in turn will use these 'well-trained' young people who are capable of following simple instructions to enrich our army's mobilization resources and have them involved in maintaining the border security of Armenia and Artsakh."
On May 5, during the committee session headed by Kocharyan and with the participation of law enforcement brass and Defense Ministry officials, his proposal was welcomed. Deputy Chief of Police Artur Martirosyan announced that data on all arrested persons was available and would be sent to the Ministry of Defense.
Vahagn Aleksanyan, one of the MPs of the ruling faction, also stated: "If they are so concerned, I think the best opportunity to be concerned for the motherland is on the border."
During the interview on Petros Ghazaryan's program on Armenian Public Television on September 14, Aleksanyan referred to opposition protesters against Azerbaijani aggression sarcastically telling them they had won a "voucher" from the military commissariat and that they had seven hours to collect their belongings.
"With this spirit, strong young people will receive their vouchers starting tomorrow morning and will go to the front line," he said, adding that some of those who participated in acts of disobedience were taken to the front line.
These statements threatening political persecution became a topic of wide public debate.
Armine Sadikyan, a human rights defender at the Helsinki Citizens' Assembly Vanadzor Office, is adamant that military service, in general, should not be punitive in nature.
"You're already scaring people away with this when you consider your armed forces a place to take people for bad behavior," says Sadikyan. "It's a shocking statement. The armed forces should not be seen as a place for punishment."
Tigran Abrahamyan, an MP from the opposition I Have Honor faction, believes that the three-month training sessions had a political motive.
"It is not only morally unacceptable, but it also is not in line with the essence and substance of the three-month training in any way," says Abrahamyan. "In general, these physical education trainings are aimed at ensuring the high quality of specific types of troops and units, and from this point of view, organizing the training with these [punitive] motives is not in accordance with their objectives."
Abrahamyan believes that for countries like Armenia, training of reserve forces should be about increasing the fighting efficiency of the armed forces. However, he also believes that the three month requirement is possibly too long and causes a number of challenges when you have to temporarily call up different people from the private and public sectors.
Road Paved With Problems
Armen Vardanyan believes that two months and not three is a better duration period for reservist training and should involve more personnel.
Vardanyan points out that although the training participants are paid up to 270,000 AMD depending on their military rank, and that the pay has been a motivating factor for some to participate, there were also entrepreneurs and businessmen with high salaries and employees depending on them.
Vardanyan notes that issues related to social protection should also be resolved. While civil servants are largely protected from employment termination, and from having their wages withheld, private sector employers are more vulnerable. Their employers often don't agree to keep paying wages for three months or even keep them in their employ and another factor to consider is that some employees are not officially registered, leaving them even more unprotected.
Meanwhile, Clause 9 of Article 59 of the Law "On Military Service and the Status of Servicemen" stipulates that while participating in this training, a citizen's position must be preserved at the place of employment, regardless of the type of employing entity.
According to Vardanyan, another problem is that those called up for training can sometimes avoid the process through kinship and social ties. 
Armine Sadikyan sees issues in how people are called up for training. "We have a problem with who we are conscripting as a participant in these trainings," she explains. "Family conditions are not taken into consideration, there are people who are guardians, have minor children, are caretakers, or are simply involved in work where they are irreplaceable." She states that there are issues relating to the health of participants: very often they don't undergo a proper medical examination, or even the data they provide about their health is not taken into account.
Clause 6 of Article 59 of the Law "On Military Service and the Status of Servicemen" states:
"A citizen is summoned to a training session based on a document or electronic notification issued by the military commissariat of his place of registration. Based on the notification, the citizen who presents himself to the military commissariat undergoes a medical examination, and if he is found liable to be summoned to the training session, he is sent to the place of the training session."
On the night of August 3, reserve private Atom Harutyunyan, a participant in a three-month training, died suddenly while sleeping. According to his wife, he had a number of health issues including high blood pressure, which he informed the military commissariat about, but it was not taken into account.
"Health problems are not taken seriously because of the lack of systemic reforms in the armed forces. They don't do anything, only talk, and as a result, there is no systemic change," Sadikyan says, adding that there are very serious organizational problems. These include the lack of a proper call up process, since many people are notified through condominium corporations/committees (hamatirutyun). Although these committees are also involved in the conscription process, it doesn't mean that they should be the ones notifying draftees by telephone. They should notify in writing or electronically in which the term, purpose and date of the training session must be indicated. They must also ensure the person receives and signs it. "As a result [of the problems in notification], many people simply avoid the training," she states.
Artavazd Sargsyan, who completed his mandatory service in 2007, voluntarily applied to participate in the first three-month training. Both during the 2016 and 2020 wars, he voluntarily went and fought on the frontlines. Considering the role of reservists important, he decided to participate in the training as well.
"In every country during war, the army is the main [defense body], but war is won by the competent mobilization of reservist forces," Sargsyan says. He notes that this process in Armenia is substandard and although reformation of the army is a frequent topic of public debate, the discourse often leaves out the outdated and ineffective nature of training. "The army's methodology and training is old, left over from the Soviet era," he explains. "It is designed for a large number of troops, which isn't relevant for Armenia's terrain, nor the existing political and security problems. This program has nothing to do with us. It was simply implemented and is just being pushed forward."
Sargsyan recalls that during training, the military commissariat official and two military police officers accompanying them to their designated position got lost and were trying to find it by going from one village to another.
"Everything should be clearly organized from the beginning: each person should know their function," states Sargsyan. "They take a tank commander and make him a sapper commander––a person who is not familiar with mines. How can he be trusted with such a job?" He also talks about the lack of fortification for military positions and notes that in many cases participants themselves have to solve issues on their own. They brought their own tents and other necessary equipment.
Sargsyan believes that the latest military escalation once again proved that the country needs a well-trained reservist force. Moreover, according to Sargsyan, when Azerbaijani forces attacked Armenia proper and still remain in some areas, it is necessary to declare a three-month mass training again, during which participants are trained and deployed in military units so that they are ready to defend the country. "Let's not let what happened in 2020 happen again when we were directly sent under the enemy's artillery fire straight from the military commissariat," Sargsyan says. "If everything calms down, let reservists be deployed, but in these conditions, they must be ready."

Photojournalist Ani Gevorgyan captures the stories and images of families who are realizing the unfinished dreams of their sons who fell in the 2020 Artsakh War, creating living memorials to the heroes of our times.
Read more