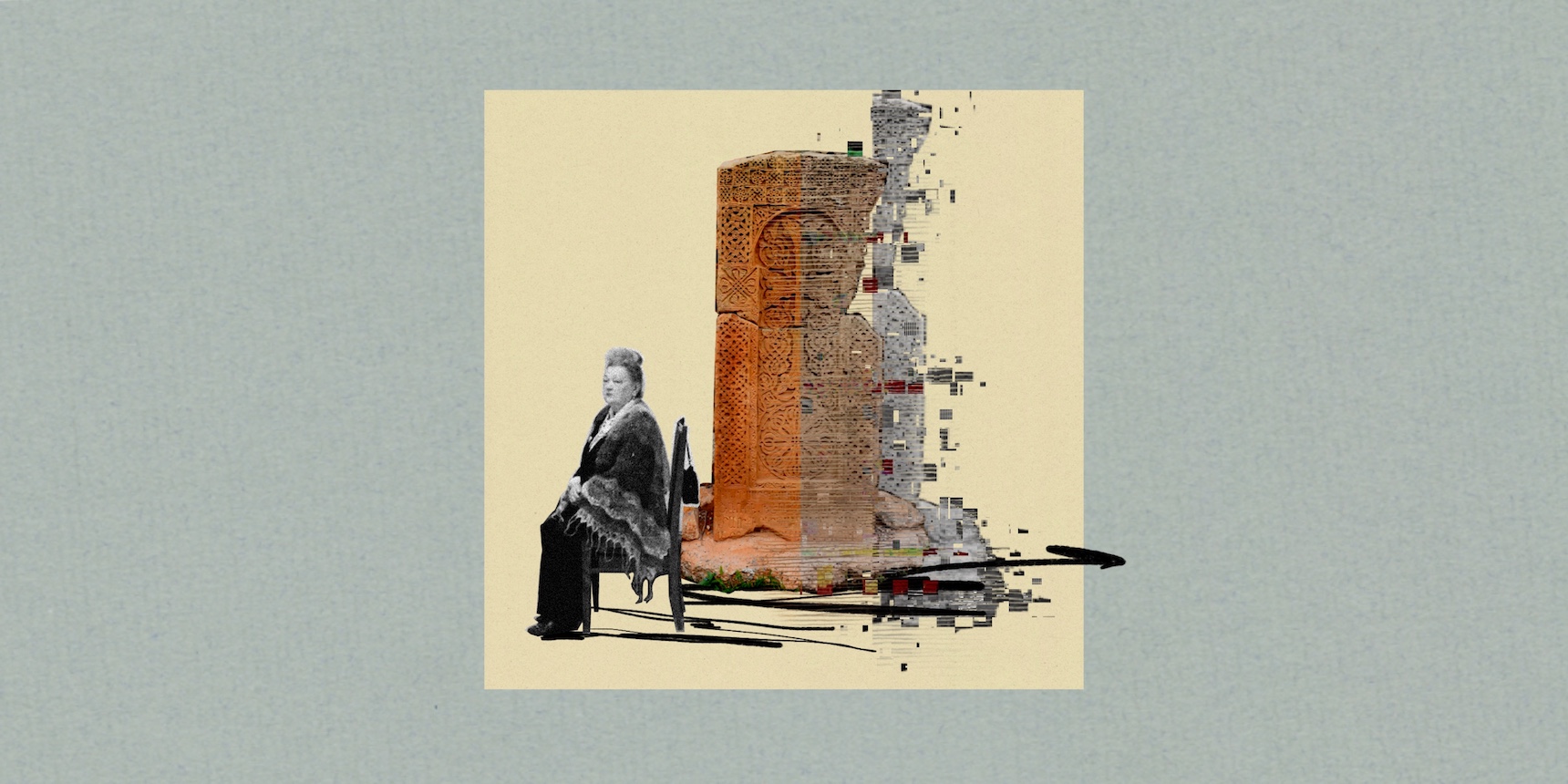 During the 2020 Artsakh War, when a large part of the self-proclaimed republic fell under Azerbaijani occupation, Armenians lost not only territories and almost 4000 lives, but also thousands of monuments, historical objects and entire museums (most notably in Shushi and Hadrut). Immediately after the signing of the November 9 ceasefire statement, a number of local and diasporan initiatives rushed to document and rescue the relics of Armenian cultural heritage in Artsakh and neighboring regions, such as Karvachar (Kelbajar) that were to be handed over to Azerbaijan. 
For those of us who took part in these missions, it came as a shock to learn that a great majority of Artsakh's architectural, archaeological monuments and museum collections were not properly documented and accounted for. Moreover, nobody had bothered to digitize the republic's crucial archival collections that held vital documentary evidence about Armenian presence and history in the region. Due to this we do not have exact information on the number of artworks, artifacts and documents that were not evacuated during the Azerbaijani invasion, like the Shushi Art Gallery and Hadrut's Archaeological Museum. Following the September 13, 2022 attack on Armenia's sovereign territory, this threat has now become terrifyingly tangible for the cultural and historical resources of Armenia proper. 
Taking into account Azerbaijan's premeditated and decades-long project of cultural erasure throughout its territories—most notoriously in the autonomous enclave of Nakhichevan—such laxity towards the documentation and safeguarding of our patrimony appears criminally irresponsible. In fact, this bizarrely casual attitude to the archivization of the past and its perpetuation grows monstrously in proportion when viewed through a historical prism. It is numbing to come to the conclusion that our heritage has never really been "safe" ever since the concept of "national heritage" evolved as a political and theoretical entity during the age of the European Enlightenment. For a nation that has experienced multiple instances of genocidal destruction, the protection of historical patrimony should have been an obsessive preoccupation. Yet, patently, this is far from the case in Armenia and the tragic examples of the museums in Shushi and Hadrut are just the opening of a rabbit hole that goes very deep indeed. 
Understanding the reasons behind the absence of a proactive, state-controlled infrastructure for heritage protection would require dozens of dissertations in a variety of disciplines, and at the very least, the existence of an active public discourse on the subject. The lack of the latter is an indicator that the issue is not even properly grasped in Armenia, and that state and public institutions are unwilling to draw their own operations and failures into critical light. The aim of this article, thus, is not to diagnose some endemic root cause of the issue, but to formulate a pervasive problem that could lead to catastrophically irrevocable consequences if not urgently (albeit belatedly) dealt with. The ad-hoc arguments and observations laid out below are primarily based on my two-decades-long professional engagement (and more recently, employment) in Armenia's creative and museum fields, which will hopefully inspire more sustained, critical examination on the nature and current state of the country's heritage sector.
Paper Castles and Aladdin Caves
But is the state of things really so bad, you may ask? After all, like all ex-Soviet republics, Armenia has its own, century-old regiment of institutional structures and governing systems tasked with the care of the nation's collective past. There is The National Archive, The National Library, The Matenadaran Institute of Ancient Manuscripts, The History Museum, The National Gallery, The Museum of Literature and Arts, The State Fund for The Protection Of Historical Environment and Cultural Museum-Reservations, The National Cinema Center, and numerous other smaller institutions that carry out similar operations on a regional level. The combined holdings of these establishments provide the most complete picture of Armenian cultural, social and political history from prehistoric times to our days. 
On paper, this network of institutions creates an image of mechanisms that would appear sufficiently operational and stable were we not at war. Nevertheless, the threats facing Armenian heritage are due as much to local factors as they are to external forces. One of the principal causes behind this is the dearth of critical debates on what constitutes "heritage" in Armenia, and how its delineations were formed through the political motivations of various governing structures such as the State, the market, the Church and the ruling elites. 
The existence of venerated state institutions like the Matenadaran, or the History Museum has, for decades, occluded the fact that such institutions exclude as much as they include, and a vast (albeit unknown) percentage of our cultural heritage remains either unrecorded, neglected or unsecured. To arrive at this idea, one doesn't need to conduct extensive surveys or research. It is merely enough to point out some of the more glaring absences in the national heritage framework to understand and map out the extent of the problem. Where to begin unraveling this nefarious tangle of issues? Why not with the most iconically "Armenian" form of cultural expression – khachkars? 
As documentary testaments of our past and works of exquisite artistic craftsmanship, the khachkar (stone-cross) has become a codified distillation of Armenian cultural identity. One would think that this unique marker of presence across all territories historically populated by the Armenians would've long been counted, documented and made accessible through some online database. To this day, however, there is no complete inventory of khachkars, many of which remain exposed to casual destruction and even looting in Armenia itself. Astonishingly, this extensive work is now overseen not by a state-appointed institutional team, but the independent researcher from the diaspora, Harutyun Khatchadourian. Though much-better studied and protected, the illuminated manuscript collections in Armenia and diaspora also lack a centralized database inventory that would make them available to the wider public. 
The situation is significantly worse with museum collections in general. At the moment of writing not a single museum in Armenia has a digitized and properly photographed record of their entire collections, or, with the exception of the National Gallery, a searchable database. In fact, none of the museums even use appropriate collection management software that would allow them to keep proper track of the institution's holdings – a particularly ironic situation for a country that prides itself on its purportedly developed IT sector. Moreover, over 90 percent of Armenian moving-image heritage has not been digitized for archival-quality preservation and is not kept in climate-controlled storage units.[1] As celluloid film and video tape have a very limited life-span, this situation borders on disastrous on any given day. 
When it comes to digital preservation of archival material, the state of things is equally, if not considerably more drastic. There is no precise data as to what percentage of the millions of documents at the National Archive have been digitized. In 2010, the then director of the archive, Amatuni Virabyan claimed that in two years' time, the archive's collection of nearly 200,000 photographs would be digitized and made available online. At that point only 8,000 photographs had been scanned and as of now, all you'll be able to find on the archive's website is just a list of the main archival funds. The picture's somewhat brighter with our literary and press heritage. Various initiatives in Armenia and the diaspora have managed to digitize large quantities of Armenian-language books and periodicals in the past decade. Nevertheless, this task is very far from being complete and lacks a self-reliant operational system that would co-ordinate the disparate digitization projects in Armenia and the diaspora. 
At the very least, these key state institutions have established (if outmoded) mechanisms and departments that undertake the continuous work of recording, studying and conserving our material heritage – as erratic and intermittent that work may be. For the hundreds of other, smaller establishments in the country, many of which have unique collections of documents and cultural objects, that work hasn't even begun. Take, for example, the dozens of ethnographic, archaeological and art museums in the regions. During a survey I conducted between 2016 and 2021, it became clear that all of these state and municipal institutions still relied on archaic collection management tools such as scantily filled paper inventory books or card file catalogs and did not have photographic documentation of their collections. Furthermore, these woefully underfunded museums often do not have the professional staff that could adequately catalog, research or even look after the objects in their keep. 
The precariousness of this reality manifested itself with bitterly funny overtones on a recent visit to the Mikoyan brothers' museum in Sanahin in Lori region. Upon seeing a group of school kids climbing up and down from the Artem Mikoyan-designed MIG fighter jet plane at the entrance of the museum, I rushed to inform and reprimand the middle-aged woman sitting at the info desk that the students were damaging the museum property. Letting out a bitter sigh, the lady rose up and introduced herself as the Museum's director, explaining that as the sole paid staff of the museum, she had little opportunity to safeguard the grounds between her multiple responsibilities as ticket-seller, guide, receptionist, guard and registrar. It goes without saying that in conditions of natural or man-made disasters the disappearance of these collections without a trace would be a very likely possibility. 
The Great Cultural Dustbin
Crude as it may be in its bluntness, this account only scratches the surface of a profoundly endemic problem. What partially causes this perennial neglect of heritage protection in Armenia is the lack of understanding about the scale of this "burden". Stretching back in time to the Stone Age and extending far beyond the territory of the Armenian highlands, the material heritage of Armenian culture is extraordinarily vast and rich by any standard. Yet, ironically, this richness has also led to callously exclusionist attitudes and perceptions, whereby extensive parts of Armenian material culture have not been deemed significant enough for study, protection or even deserving of the "heritage" status. By signposting a handful of prominent, stereotyped markers of cultural achievement (Garni-Geghard, Hovhannes Aivazovski-Martiros Saryan, Mesrop Mashtots-Hovhannes Tumanyan, Sayat-Nova-Komitas, Trdat-Alexander Tamanyan, Sergei Paradjanov-Artavazd Peleshian, etc.) we have created a tall "monument" that casts a long shadow upon the actual, adulterated mass of cultural output that constitutes the full complexity of Armenian historical experience. 
This obsession with "monumentalism" and meta-symbolism is perhaps expected in a nation that has undergone progressive waves of genocidal dislocation and fragmentation from the 16th century to our days. The transcendental symbolism of monumental achievements engenders a seemingly indestructible short-hand code that the entire nation can invest in as a survival mechanism. But such a survival mechanism makes no sense for a country that has functioned as a modern state since 1918. The existence of relatively stable institutional systems should have compelled the emergence of more diverse, inclusive and self-reflective paradigms of Armenian cultural legacies and identities. 
And yet, as argued by social theoretician Ashot Voskanyan, Armenians have developed a clerical and anti-dialectical outlook toward cultural heritage, whereby the latter is assumed to be of fixed sacral value and not liable to questioning, change or deconstruction. That work has only cautiously begun in recent years and is largely conducted outside of state-run establishments. For much of the past century, the latter have strived to cement a monolithic model of Armenian self-hood, rarely deigning to challenge staid meta-narratives that expunged not just certain historical layers, but entire centuries from our past, in order to create a "holistic" image of cultural progression.[2] 
So what does this shadowy dustbin of Armenian culture actually contain? Almost the entire history of Armenian photography, for example – one of the greatest Armenian contributions to visual culture in the era of modernity. When I began researching this field in 2005, not a single publication existed on the subject and it was only last year that a permanent photography department was established at the National Gallery of Armenia. There has also been little love or appreciation for contemporary Armenian art, whose five-decades-old history is scattered around in private collections and family archives, desperate for a proper institutional depot before it is lost to posterity.[3] And let's not forget about art by women, whose widespread neglect and dismissal is a painful indicator of the subliminal misogyny in the Armenian arts scene. 
Lest you think that the neglect of these more modern cultural phenomena is simply due to the entrenched conservatism of the Armenian mindset, we could find instances of similar indifference in almost every area of our cultural heritage – from medieval cemeteries, Ottoman-Armenian art and pre-modern vernacular architecture, to folk art, industrial design and fashion.[4] All of which points to a fundamental flaw not only in the management of the Armenian heritage sector, but the educational system at large. With its obstinate determination to regurgitate ossified and "sacred" models of Armenian identity, the state educational system has stilted our ability to respond to changing demands and norms of the day, effectively constraining the possibility of revising and enriching the canon of Armenian cultural patrimony.
A Job for the People?
One might argue that the task of safeguarding and propagating the enormous reserves of our cultural past are too overwhelming for a small, developing state like Armenia. Proper protection of heritage requires great financial resources that the country's limited economy simply won't be able to sustain. After all, even developed democracies and states in the Western world rely significantly on private and non-governmental public institutions to share some of that responsibility. The difference is, of course, that these countries have long instituted favorable legislations and tax allowances to facilitate the involvement of the private sector in the heritage industry. There are also strict laws, along with multitude of public and educational programs that compel ordinary citizens and communities to become guardians of the national patrimony under their ownership, and make it an integral part of their life. Some of the most popular television programs in the UK and France, such as Antiques Roadshow, Time Team or Arte TV relate to heritage subjects and have a major role in developing a strong collective consciousness around cultural legacies. 
Armenia, on the other hand, has not instituted similar legislatures or methodologies for engendering such "heritage consciousness". Neither are there any tax incentives for encouraging the private sector's more active involvement in matters of cultural patrimony. The effects of this oversight have been truly disastrous during the past 30 years, when endemic corruption, lack of law enforcement and schooling has led to the widespread destruction and mutilation of the historic layers in our cities. Countless private, institutional and administrative archives were also lost during this period simply because of people's primitive perception of "heritage" as objects of high sacral or monetary value. And while there are signs of change, the destructive processes set in motion during the 1990s are still ongoing. 
Nevertheless, conscious individuals have and continue to play a crucial role in the preservation of Armenia's collective memory. Much of what was collected and saved of our heritage during the 19th and early 20th centuries is due to the efforts of committed scholars like Ghevond Alishan, Yervand Lalayants and Toros Toramanyan. To understand the vitality of such individual work, it's enough to ask how much of our folk music heritage would survive to our days, were it not for the singular dedication of Komitas Vardapet in collecting and publishing these now popular melodies from all corners of Armenia. Or to remember that we would never have the remarkably complete photographic record of the now-destroyed Armenian heritage in Nakhichevan—including the largest khachkar necropolis of Jugha—without the privately conducted field-work by historian Argam Ayvazyan. In the same vein, the founder of non-governmental foundation Research of Armenian Architecture Samvel Karapetyan has been more instrumental in documenting Armenian heritage outside of Armenia's current borders (most notably in Turkey, Georgia and Azerbaijan) than any other government agency. 
The list of these luminaries is long. In a sense, each of them carried out the function of entire institutions – often without the luxury of funding or state support. Since then, Armenians have feted them with the highest of accolades, monuments and other forms of aggrandization, firmly acknowledging their irreplaceable input. And yet, the idealization of this "citizen/institution" figure today not only seems to belong to some far-off romantic era, but is also laden with hidden dangers. The reliance on single individuals to carry out work that should be not only team-based, but also regulated and supported by institutional mechanisms, has encouraged a tacit custom of idleness on the part of government organizations tasked with the overseeing of the cultural heritage sector. This is one of the reasons why it was not the state, but civic groups that took the lead in rescuing Artsakh's treasures during the 2020 war. 
All of this indicates that the Armenian government has failed to develop proactive, rather than responsive mechanisms for ensuring the security and proper management of the heritage sector. The chaotic response to the 2020 and 2022 wars suggests the absence of risk management planning on a state level for emergencies in increasingly likely situations of war or looming ecological disasters. Even now, when faced with the post-war urgency of mitigating and documenting the cultural loss and inevitable acts of destruction that are to follow in the territories occupied by Azerbaijan, the Armenian government has mostly left the task to private and non-governmental agents. And while we are extremely fortunate to have the international group of brave and selfless scholars who have established the Caucasus Heritage Watch and Artsakh Monument Watch monitoring centers, the infuriatingly laid-back and sluggish stance of government bodies towards these issues seems as alarming as Azerbaijan's aggressive strategy of Armenian cultural genocide. 
Strategizing the Past's Future
The argument of this diatribe is not a call for autocratic control of cultural heritage resources and processes by the government. We know from our Soviet experience in Armenia how disastrously distorted history can become when it is entirely instrumentalized by the state apparatus. In planning out the future of Armenia's heritage sector, the country's democratic government must adopt new policies that facilitate, rather than inhibit the public's sense of ownership of our cultural patrimony. If our past is to have a future beyond these critical times, then it can only be ensured with the growth of a rooted sense of guardianship in every citizen. People must come to a full understanding that "heritage" is not a fixed or "God-given" entity, but a dynamically evolving and socially-mediated construct that directly shapes our identities in relation to the world at large. 
Achieving this consciousness requires a change of attitude in the way the government thinks of heritage as an "untouchable" state asset to be "shielded" from people themselves. For far too long, Armenia's government has operated in this domain using autocratic mechanisms inherited from the Soviet Union, whereby the state had absolute reign over heritage narratives through the authority invested in its institutions, leaving no room for the involvement of independent agents and groups. As I've argued above, this has led to monolithic and exclusionist models of cultural patrimony that have considerably weakened Armenia's ability to find relevance within the larger political processes and philosophical discourses that are changing the world at an unprecedented pace right now. 
The policy-making steps to be taken in the realm of cultural heritage must emerge from  self-analytical positions that dare to ask what really constitutes heritage and who gets to have a say in the matter. Is rabiz music a cultural heritage? What about the derided architecture of the independence era or the woeful legacy of Armenian TV series and pop music? Does the cultural output of ethnic minorities form a part of Armenian heritage? Should we be critically revising our museum displays, textbooks and public representations of cultural heritage in order to address the lack of female and LGBTQ voices, or the interculturality of our culture in general?
Arriving at informed answers and balanced solutions to such questions demands the enabling of accessibility to historical sources and materials that are normally embalmed in museum and archive collections with very strict guidelines for access and use. The often illogical rules and procedures which restrict the public's interaction with state-owned historical material has greatly stilted the wider circulation, visibility and propagation of Armenian cultural heritage internationally and in Armenia itself. A case in point: an art historian friend of mine recently had to pay over a thousand dollars in fees from her own pocket in order to use reproductions of illuminated manuscripts and other artworks in an Armenian art history primer that she had devised for her BA course at the Yerevan State University. Just to reiterate the point – a lecturer at an Armenian state university is paid less than 2000 drams per hour and illuminated manuscripts are public-domain artworks that do not fall under copyright restrictions. 
Other absurdities abound and it is a given that such obstacles and legislative misnomers perpetuate the deepening disconnect between the public and its cultural legacies. This, in turn, directly impacts the continuing preservation and appreciation of the latter. How can we then expect to mobilize the whole nation for the difficult task of safeguarding our past under such conditions? What does the state need to do to address these glaring problems within the heritage sector management? 
Investment in education, accessibility and clearer legislative definitions appear to be the obvious answers that the government itself has regularly stipulated in various charters and statutes, but has mostly failed to call to life. To institute actual change, urgent steps need to be taken in introducing wide-ranging subjects on cultural, social and art histories in schools, along with higher-education majors in cultural and heritage management. Investment in new academic research through scholarships and grants must also be seen as a top political priority and not a provisional tactic for keeping-up appearances as it is at the moment. 
The government must also switch from short-term superficial solutions to heritage preservation and accessibility by investing the actual financial means necessary for the sustainable safeguarding and circulation of cultural patrimony through digitization, proper storage, restoration and creation of virtual platforms. This requires not only technically advanced and flexible infrastructures, but also the formation of a veritable army of skilled professionals that can adequately handle the complex job of heritage protection and dissemination. Currently the majority of the state's heritage institutions—especially in the regions—do not have appropriately qualified staff, most of whom come from tenuously "relevant" backgrounds and are ill-equipped to deal with the day-to-day running of museum and archival collections, let alone their preservation in times of crisis.
Since Armenia has insufficient institutional means of training such staff, they will have to be prepared overseas through state-funded programs and initiatives. But to attract these cadres back to Armenia and keep them in the country, the government needs to radically revise its approach to the economic and social import of the cultural sector at large. As someone who has been working in this domain for years, I can testify that currently, heritage workers are paid some of the lowest salaries in the country and key spheres like art restoration are facing an ongoing crisis of sustainability because very few young people want a career with such limited financial prospects. In such circumstances, the future of heritage preservation in Armenia would be bleak even without the threat of Azerbaijan's military aggression.
There are no easy solutions to any of these issues. Having found itself in a horrific geo-political trap that is eating away at the foundations of the country and putting its sovereignty under question, Armenia is once again waging an existential battle for survival that makes cultural heritage both a primary target and a rather secondary priority for the financially and logistically-strapped government. The way out of this quandary begins with the understanding that heritage is not an insurmountable "liability", but a crucial part of the solution to Armenia's precarious situation. Acknowledging heritage as a political category, rather than ethnographic fodder for the tourism industry is the fundamental step towards unlocking its infinite power as a tool for strengthening civic society, national security and negotiating relations with the outside world. For a nation with so little economic and political bargaining power, cultural heritage acquires a focal role in ensuring the-all-important visibility and relevance of the nation as a State, and not just a group of helpless people whose uprooting and cultural erasure would seem trivial for the rest of the world. 
Viewed from this angle, the issue of long-term protection of cultural heritage must shift to the forefront of our ongoing resistance for Armenia's political and economic stability in the region. Just like the fortification of our borders, it's a task that requires the mobilization of the whole of Armenian society on a conscious, rather than emotional level. Arriving at that point, however, will depend on a government willing to dismantle the fossilized administrative mechanisms of the past and generate new methods for heritage management through wide-ranging legislative and educational reforms, long-term investment schemes and pro-active social initiatives that can stimulate dynamic, multifarious and globally-relevant engagements with Armenian cultural heritage. 
Footnotes: 
[1]  The only exception is the audio-visual archive of Armenian Public Television, which was equipped with a proper storage facility and a digitization lab thanks to a major grant from the Japanese government.
[2]  The 15th-18th centuries have been particularly susceptible in this regard as the supposed "dark ages" of Armenian history.
[3]  As contemporary art has increasingly become based on ephemeral process and media, the systematic archivization of such "temporary" artworks is crucial if we are to have a proper record of Armenian contemporary art's history.

[4]  Vernacular architecture is one of the most endangered areas of Armenian cultural heritage, and there are currently no legislative measures that protect these historical layers in Armenia's settlements. Currently there is not a single institution in Armenia dedicated to the study and preservation of such important areas of our cultural history like industrial design, fashion or pop culture.