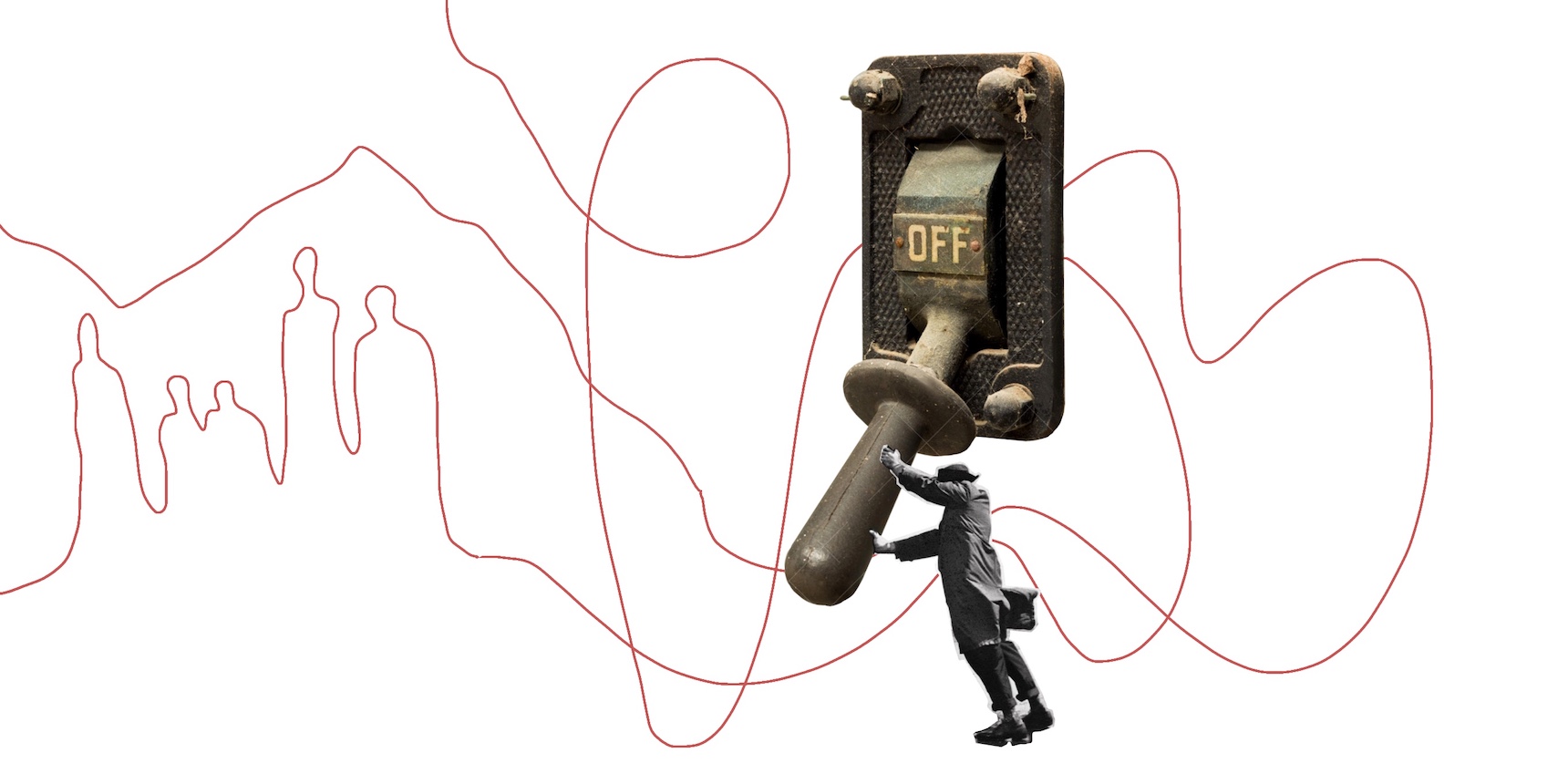 Almost two years after the military defeat in the 2020 Artsakh War, Armenia remains engulfed in uncertainty, score settling, mediocrity, and above all, the denial of reality. Armenian "political elites", both from the Republic as well as from the Diaspora, are perhaps among the worst yet seen. How long can this nightmare last?
There is much reason to be concerned about the general state of Armenians. We are in Code Orange. Armenia is a large and sick social body, sicker in fact because it has no tradition of state sovereignty to speak of, and doesn't make the necessary national effort to overcome these obstacles, since it is content with managing daily matters and maintaining the global diplomatic agenda, and the course of history. This is less about Armenia than it is about those political elites who have been vying for the title over the last 31 years: presidents, ministers, deputies, state officials, local elected officials, leaders and party political cadres, oligarchs and intellectuals, men and women, young and exceedingly younger. 
The restoration of Armenia's statehood in 1991, should have provoked a reset throughout society. Even when at war, the post-communist and diaspora elites should have sat around a table to affirm together that independence isn't just a stage, but rather more of a direction: a national direction toward individual and collective liberation, and the sense of responsibility that comes with it. Independence isn't just a date on a calendar, it is a challenge: a collective challenge toward increased professionalism, common sense and political consciousness. Independence isn't so much a spectacle as it is a gamble on seriousness, respect for official communication, the value of life, ethics and exemplarity. 
Yet post-communist and Diasporan elites did the opposite. Be it by reflex, by tradition or reaction, they did what they know how to do: indulge in mediocrity, in a lack of responsibility or excess, and in the enabling of a destructive imagination. So much so that in 30 years, what could have been accomplished hasn't been, and what shouldn't have been accomplished has been, constantly. As a result, Armenia, at least in terms of governance, is a complete catastrophe. Only the political elites are to blame. They should have imposed a general dynamic, a collective therapy among intellectuals, scholars, teachers, entrepreneurs, artisans, farmers, students, and the entire social body to pave the way for statebuilding as the main objective supported by large-scale structural reform of fiscal, cadastre, national education, public health, and religious policy. They haven't done that, and history will not be kind to these "elites", as they only cared for the "regime" and not the "state". They have focused on private interests over general interests and have been concerned with patrimonial interests over institutional interests. They have put clan, family and friends before citizenry, society, nation and state.
Double Denial in Armenia
Thirty one years after independence, Armenia continues to wake up with a hangover on top of suffering paralysis and an aneurysm. On this foundation of chaos and defeatism, what is today's political discourse in Armenia? That of double denial. 
First, there is the denial on the part of the government majority, which seems unwilling to face the way the effect of the defeat has metastasized within society with regard to Pashinyan. Defense of the borders? They'll deal with that later. Military hardware? That's neglected rather than developing a doctrine of defense or strategy of attack. Surrealistically, the conversation seems to revolve mostly around Gandhi and peace. For a country like Belgium, whose neighbors include France and the Netherlands, dedicating a statue to the founder of the Indian state shouldn't be a problem, but is that true for Armenia? Certainly not with its hostile neighbors. What about threats by Azerbaijan, Turkey or Russia? Silence. What about independence? The seat of power has been seized with contrition and when it comes to dealing with Russia, there is allegiance, vassalage and sycophancy—almost cowardice. What about the Armenian POWs in Azerbaijan? We're still not doing enough to push the international community to secure their release without preconditions despite international law being on Armenia's side. On the Artsakh issue? The situation remains blurry, something Baku may be tempted to take advantage of. What about parliamentary life? A masquerade, a shadow play where deputies revile each other, throw bottles and the names of birds in each other's faces and pass unimportant laws, just to make people believe that parliament is still doing something and applaud the Prime Minister for his eccentricities. Responsibility? The state continues to show a smiling face, as if nothing had happened. They're having fun, and congratulating each other over nothing. They take photos, selfies with a new tie, or a new look, during a wedding, or on holiday in France or the U.S. In other words, the government acts as if the war and its stench has ceased to exist. We refuse to see the consequences of tears and blood. 
And yet, everything started so well. The Velvet Revolution was, back in 2018, a hymn to the defense of the state, both sovereign and global, along with Artsakh, a sort of ode to citizenship and Armenian dignity against corruption and kleptocracy. It required a bit of hubris, a bit of inexperience, and a lot of clumsiness on the part of the young Armenian rulers to contribute leading the country to this war. Before September 27, 2020, the Velvet Revolution was everywhere, and the state, rediscovered. After November 9, it was nowhere, and the state disappeared. The regime of Nikol Pashinyan does absolutely everything to save its skin and avoid being tarred and feathered. Since the defeat, Nikol Pashinyan has done exactly what he had rightfully criticized the Ancien Regime — privileged its own members at the expense of the state and protected a majority in power at the expense of national sovereignty. 
If only Pashinyan had at least considered the public good rather than "personal interest" and resigned back in November 2020, allowing another figure from his government to then consult the Armenian people in the months following the military defeat. Had, for the sake of argument, an Ararat Mirozyan or a Suren Papikyan succeeded Nikol Pashinyan as Prime Minister, things may have turned out differently — there could have been a provisional government until the date of anticipated elections and a victory for democracy. Pashinyan has nonetheless managed to preserve democratic life, and that's no easy feat, but taking command of that parliamentary majority for the sake of preserving his own grip on power may threaten democracy in the long-term and in the face of the slightest attempt from a vengeful opposition.
Besides denying reality, another form of blindness exists that is far more concerning—that of the forces of the Ancien Regime, and more specifically the Yerevan Cartel which, over the past 30 years, have never ceased plundering the State, helping themselves to state coffers to construct mansions, palaces, and buy luxury products and go on high-end vacations. Intimidation, assassination, extortion, and expropriation are their main tools for securing these benefits. Indeed, these political elites are primarily to blame for endemic corruption which discouraged good will, sank popular morale and pushed people into silent disgust or to leave the country. The gaudy effect of the nouveau riche and their vulgarity; these forces of the Ancien Regime refuse to see their responsibility in the 2020 military defeat. They refuse to recognize their role in Armenia's planned passivity; in the Armenian state's programmed obsolescence, and the termination of the Armenia-Artsakh coupling since 1994, or at least since 1998. Why give the forces of the Ancien Regime another chance when they are responsible for the fiasco that has been Armenia post-independence? Why give the reins back to the Yerevan Cartel? What did they do between 2018 and 2020? They spent those years conspiring to undermine Nikol Pashinyan, be it by souring relations with Russia or negotiations around Artsakh, and by exploiting his mistakes and undermining his more courageous acts. Then they set out to denigrate the new government by promising their protector Putin that the Pashinyan regime would be overthrown in the wake of the military defeat, either through violence—the storming of government buildings on the night of November 9—or through the ballot box with an expected victory in the June 20, 2021 elections, or through the launch of a national civil disobedience movement. This resulted in a triple-failure for the ARF-Kocharyan-Sargsyan opposition which included other forces like those of Levon Ter-Petrosyan. Neither the civil disobedience campaign nor the counter-revolution took hold among the Armenian public, since whatever pain Nikol Pashinyan inflicted on Armenia over a few weeks pales in comparison to the evils inflicted by the Ancien Regime's administration over 20 years. And if the opposition would like to forget the past, the Armenian people do not have as short a short memory, even with the opposition's stupid strategy, its empty slogans or repeated lies. In reality, there was no better way to strengthen Pashinyan's position. For weeks, through surrealistic and dangerous, if not utterly-useless demonstrations, assembling a couple thousand hateful opposition activists had the effect of laying bare the opposition's weaknesses. The "Resistance" movement totally isolated itself from the rest of Armenian society, its effect was naught, and the consequence of this mess is apparent in terms of the degradation of political life, and the emptiness of parliament.  
Why do both the ruling party and the opposition insist on this "double denial"? It is because both parties are scared of the consequences of their irresponsible actions. 
For the ruling party, being no longer in denial is akin to giving up power and abandoning its mandate. But what would one do after leaving power at such a young age? Can one really put political life behind them at the age of 35? Or 45, at the prime of one's life? What comes after? Nothing.
For the opposition, no longer being in denial means admitting culpability and leaving political life through abdication or exile, thus joining the five dozen or so former ministers or public servants now leading tranquil lives in Moscow—perhaps less so today given the sanctions in response to Russia's invasion of Ukraine. What do they become after? Nothing.
The Diaspora's Double Gap
We have known for over 30 years that nothing is working out in the Diaspora — not its operations, not its organizations, not even its links to Armenia are enough to meet the challenges of a sovereign state. The diaspora has become an empty slogan which only scares  Turkey and Azerbaijan, perhaps less today, while being incapable of adapting to the challenges of independence. To blame is the traditional 3+3+3 (the three Churches – Apostolic, Catholic and Protestant; the three political parties – ARF, ALD, SDP; and the three social organizations – AGBU, ARS and Patriotic Unions). The diasporan organizational model is now obsolete, detached from reality, and out of fashion. This model no longer represents anything, and those still working through it are disconnected from reality, live in another place, another space-time dimension, and their actions are utterly useless ever since the theoretical restoration of a sovereign state. There too, blindness is the law of the land. Curing this blindness would involve collective suicide, and under these conditions, better death through evanescence of reason and refusal to adapt than euthanasia by accepting guilt. The forces of the "3+3+3" grouping (diaspora model as it currently stands) are incapable of seeing reality or of changing their programming and instead spend their days denouncing anything that doesn't fit their model with the same excess and catastrophism: "It's the end of Armenia", "It's the end of the Diaspora". No, ladies and gentlemen, it's the end of your model for the diaspora, it's the end of your unrealistic and fantastical depiction of Armenia. What is one's purpose if one can't adapt to the new Armenia-Diaspora paradigm? Nothing.
The other model, still being molded, is still searching for purpose: it is being formed around new axes of mobility, interconnection and individuality. Mobility involves traveling freely between one's country of citizenship and Armenia, outside the established networks. Interconnection entails favoring social networks as a form of expression. Individuality means insisting on the rights of individuals and personal engagement. But those who gravitate around this second model in gestation come up against the intransigence of the forces of the first model. Those choosing the second model suffer from a lack of organization and a lack of links to the real life of diaspora communities. And in these conditions, they look for each other, go around in circles, become impatient to play a role while deep down, they remain insignificant. So what good is it when you feel like a gourd thrown into the Armenian ocean? It is no good.
In the End, Four "Nothings"
Thus in Armenia as in the Diaspora, we revolve around "nothing", four times "nothing" (the authorities, the opposition, the traditional diaspora and the new model of diaspora). In Armenia, it is better to double-deny reality than to dive into nothing. In the diaspora, it is better to continue to maintain the status quo, that is to say to do nothing, rather than to engage in a real reform.
In fact, what is spreading from Yerevan to Los Angeles, from Stepanakert to Paris, from Gyumri to Beirut and from Goris to Buenos Aires is a tremendous sense of loss and waste. In psychological terms, the situation is as catastrophic as in 1920, during the Sovietization of Armenia and the fragmentation of Armenians across the world. Why? Because today, successive generations of Armenians know that they had almost 30 years of encouraging a situation with an Armenia tied to Artsakh; almost three decades during which the elites could have built a state rather than prop up a corrupt and kleptocratic regime. Before 1920, there was no reference period – Armenians started from nothing. Before 2020, there had been nearly three decades of an Armenia-Artsakh union. And the worst part of this comparison is that with or without reference, the Armenians collectively arrive at the same place: nowhere.
In these circumstances, and because fate is the worst enemy and we know that Armenians are, above all, builders, only those in Armenia have the power to sound the alarm and call for the end of double denial and the vandalism of some and the defeatism of others. They now make way for collective and individual efforts like the founding fathers of the First Republic of Armenia, developing a different work culture. This is the logic of the third way—neither Nikol, nor the old guard, nor the traditional diasporan model—that calls for common sense, reality, the State, Armenia-Diaspora pragmatism and inclusion. Armenia needs a positive reset, not worn bandages, nor surrealist or vengeful slogans, hollow and from another time.