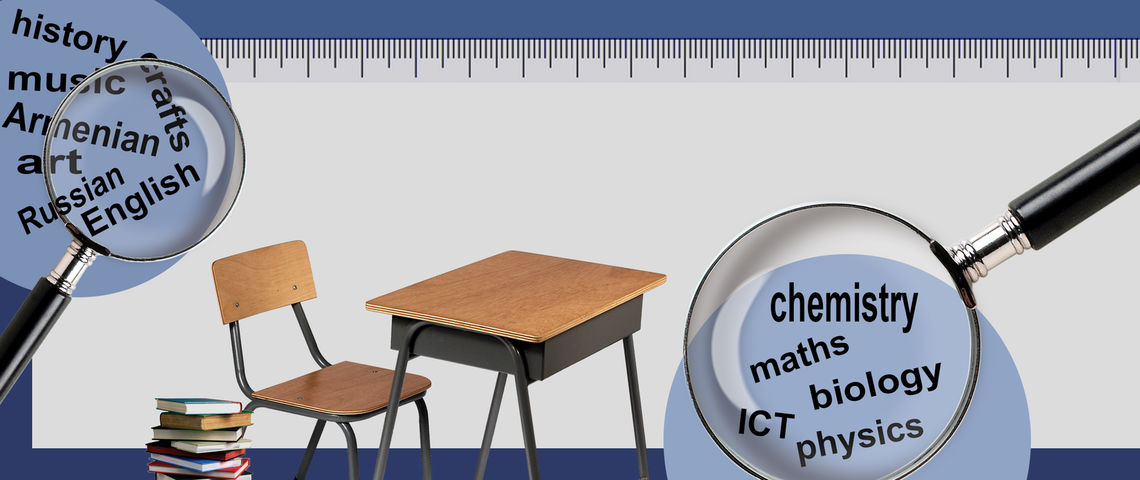 Recently, the Ministry of Education, Science, Culture and Sport (MESCS) put its draft regulation on New Standards for General Education into circulation for public comment. It is an overarching document that specifies student learning outcomes both general in nature and specific to educational level (elementary, middle, high school), school subject grouping and student assessment aims. Based on these standards, subject syllabi are developed with more detailed, subject-specific student learning outcomes.
The new standards are worth discussing first and foremost as a political document, where education is seen as the means to achieving wider societal objectives.
How is the new standard changing subject groupings?
Any type of educational standard tries to group and coordinate what is taught in schools. This process generally has three main aims: 1) group subjects with similar philosophies or principles of knowledge construction in order to lay out subject-specific pedagogy for each wider subject grouping and subject syllabi that make part of that grouping that later constitute basis for developing subject syllabi; 2) condense academic "big-picture knowledge" into manageable "school-based knowledge"; 3) in certain cases, ex. diploma programs, balance student choice by requiring electives from different subject groups for a given diploma level.
The subject groupings envisaged in the new draft offer important improvements from the status quo. They are more intuitive; Math and ICT are in one grouping, Art and Home Economics are in another. It also includes Armenian Studies (Hayrenagitutyun, in Armenian) as a new subject grouping, allowing additional subjects to be combined into one general educational framework.
Nevertheless, it is critical that the learning outcomes in the new standard, in contrast to the current one, are based on subject-specific pedagogy principles drawn from the field's state of the art in order to help teachers and students understand knowledge construction within specific subject groups, better align the teaching of subjects within the same grouping and support teachers' continuous professional development.
Is there knowledge (subjects) that the state prioritizes?
Any type of general education standard or curriculum is a political document. It includes choices made by policymakers to accomplish certain objectives and these choices include which subjects are mandatory and which are optional.
Just as the current standard does, the new draft includes a school curriculum comprised of subject groupings and sets the total number of instruction hours per educational level (elementary, middle, high). However, it assigns a minimum and maximum to the range of hours allocated for each subject grouping; whereas, the current standard sets an inflexible fixed number of hours. Hence, under the new standard, schools will have flexibility to make adjustments to the number of  instruction hours for different subjects, which is a positive development in that it allows them to respond to their students' needs.
While the current standard provides funding for the fixed hours and requires schools to seek alternative revenues if they want to offer additional hours, the new standard provides enough funding for the maximum range limit suggested per educational level, making it more realistic to implement.
Beyond establishing a range for subject teaching hours, the new standard also gives schools the academic freedom to choose which subjects, from among a list recommended by the Ministry, within the given subject grouping will be offered.
There are, however, four mandatory subjects across all educational levels (elementary, middle, high school): Armenian Language and Literature, Armenian History, Math and at least one foreign language. They can be taught separately or in an integrated format, either by the same teacher or different teachers, based on existing capacities.
It is a shortcoming that the new standard does not elaborate why those four specific subjects were prioritized. Moreover, it would help if the new standard clarified the educational philosophy or approach used to come to this conclusion. For example, if the new standard followed a whole-child philosophy, then Physical Education and Art should have also been made mandatory. If it followed a critical education philosophy, then subjects that best support students from low-income backgrounds to overcome the existing socio-economic stratification within the society should have also been made mandatory. If it followed a vision for preserving the Armenian identity, subjects such as National Song and Dance and Preliminary Military Training (in addition to the hotly contested Armenian Church History course) should have also been made mandatory. It's important to clearly communicate why these subjects should not be taught separately, or if the new standards combine them within other subjects (e.g. incorporating Armenian Church History into the Armenian History course), then upon which principles these decisions were made. The standard should also explain how and why the ranges of teaching hours for separate subject groupings were developed.
I will keep repeating it because it is an effective way to make sure it sinks in: The education standard is a political document. It's important to provide not only the "what" but especially the "why."
The new standard identifies eight competencies as macro-level (general education) learning outcomes. They are lingual and literacy, learning to learn, social and self-awareness, democratic and civic, digital and media, cultural, STEM, and economic.
Compared to the current standard, the new standard adopts a more systemized approach to learning outcomes in the form of eight competencies. It defines these competencies as "an efficient and proper way of responding to a given situation," which is based on different knowledge, values, skills and positions obtained from different subjects. For example, the Lingual Competency views language as a "compatible tool for participation in social life." Hence, what is important in language learning under the new standard is the level to which lingual knowledge learned in the academic environment can be used in everyday social life.[1]
The competencies listed in the document, by and large, are the same as the European Council's Key Competences for Lifelong Learning, which probably better facilitates the harmonization of the Armenian and the European educational systems.
It should also be noted that the new standard prioritizes project-based learning as a tool to guarantee the applicability of knowledge gained at school.
Again, it is critical that the new standard be expanded to explain why the competency approach was chosen and why those eight specific competencies are most important. What role does the competency approach assume not only in terms of learning outcomes but also within schools? How much or should the competencies stem from the needs and perception of the Armenian reality? Or does the Lingual Competency assume the same approach to the Armenian Language as it does for foreign languages? In both cases, for example, is the aim to have "written and oral communication literacy" or, in the case of Armenian Language, can or should "communication literacy" also include additional specialization, such as grabar (Classical Armenian) or regional Armenian dialects as a deep development of personal/local lingual and cultural abilities?
Besides the general positive aims, which may work in any environment (cultural, socio-economic, etc), the standards need to address the issues and perceptions of the specific environment if we are to view education as a tool to solve issues and a means to an end.
Are learning outcomes (school knowledge to be obtained) clearly defined?
The state "regulates" school knowledge through learning outcomes.The new standard defines a much clearer hierarchy of learning outcomes compared to the current standard. In other words, there are eight main goals and these cascade down to the educational level (elementary, primary and high school). It is also a more summarized document, which makes it easier to get acquainted with and remember. Finally, the new standard advocates active learning, which is a welcome development.
However, the document falls short in aligning its larger goals – competencies – with specialized learning outcomes. For example, Lingual Competency views language as a "compatible tool for taking part in social life." There are different scenarios where language is used in social life; however, communication in "formal Armenian," and the creation of "different styles and genres of speech in formal Armenian" are the only learning outcomes required from students. Does this not further deepen a lingual gap which already exists anyway? I am not at all suggesting that "street language" should be taught in schools, just that the different sections of the new standard should have more concordance.
The requirements should also be logically and meaningfully expected from all students. For example, the new standard requires that elementary school students should "realize the need for a healthy and balanced diet." Of course, realizing doesn't necessarily mean that their behavior will change. For the majority of students who don't have access to that kind of diet due to poverty, this realization is pointless. In this case, the new standard should probably define that the state, for example, becomes responsible for distributing healthy food in all schools, free of charge. Another example is that elementary school students are required to understand "the need to organize their daily lives by taking time for breaks, play and school work." You can seldom find a fourth-grader who decides what they're going to do for the day, even if we assume every child has similar opportunities and resources.
Knowledge and the Student
The standard is a means for how students will relate to knowledge. For example, will they passively consume it or examine/construct it, and are there issues which should not be examined in schools?
I am happy to see that the new standard has many learning outcomes that assume active social knowledge construction, increasing the probability that students won't just view themselves as passive consumers of knowledge but will become active players in social development.
Despite this, it's necessary to avoid formulations containing passive knowledge consumption. For example, the learning outcome of "knowing the place and role of Armenian culture in the world and the role of global culture within the context of universal values" assumes that the "place and role" is already clearly defined. However, culture is being continually created anew and is in a continuous process of finding its "place and role." Thus, is it outside the student's perspective? Instead, for example, the learning outcome "evaluate the modern key issues and challenges of the Republic of Armenia within local, regional and global contexts" is preferable.
Which knowledge is being assessed and how?
We view assessment, at most, on a "technical" level": should subjects be graded out of ten, out of five, every year, every semester? Should they be marked eight, nine? How should certificates of commendation be given if there is no grading?
Assessment is, first and foremost, part of a policy. If the goal is a meritocracy, then we are constrained to having a "super-overseeing" assessment system. But if we are liberalizing the system, as the Ministry has often publicly claimed, then we have to define why and what we are assessing. Are we going to assess art classes? If yes, then why?
The new standard connects assessment to competencies, which is the only way to completely employ competency-based learning. According to the draft regulation, the Ministry will be giving additional clarification on how the assessment system will work. Hence, there is no point in discussing it at present.
The new education standard maintains summative (with grading) and formative (feedback- driven) assessment, as does the current standard. However, the new standard specifies that formative assessment has to be defined by a school's teachers' council, stressing, once again, the importance of the roles of teachers and these councils.
Under the new standard, failing grades will no longer be meted out. However, this does not mean that schools should be content with the performance of students who would have otherwise failed. Prior to the reform, a failing grade would either result in the student repeating the grade or being promoted to the next grade anyway, through the intervention of an "acquaintance." Abandoning that system can be positive if a toolkit is employed which will not deprive any student from the opportunity to receive a quality education. Without that toolkit, moving students from one grade to the next will only become easier, while reducing the accountability of the system that should be serving them.
With the new standard, summative assessment (assessment through grading) will be removed from elementary school classes (Grades 1 to 4) and from the first semester of fifth grade. I unequivocally welcome this change because it will eliminate pressure from parents for their child to receive a red diploma (a Soviet remnant of commendation of the best performing students) or to become contenders at school olympiads when the child is still in early development (a phenomenon that currently also poses corruption risks).
In any case, it's necessary to have more policy-minded definitions and explanations regarding the new approach to assessment. The following questions should be clarified:
Why are we choosing "external assessment"?
Why are we abandoning failing grades?
What "substitute" toolkit are we employing?
How does this decision fit into the logic of the new policy?
How is that logic connected to the chosen competencies?
Will there be subject areas that will be exempt from assessment?
Somehow, it should be clarified that, simultaneous to implementing a new assessment system, teacher overwork will be reviewed, as will their salary rates. If not, the aims put out in the document will be difficult to reach.
Who is this standard for?
Finally, who is reading this standard? Definitely those who developed it, sometimes principals and teachers, seldomly parents, and probably only very few students. Why?
The standards were developed, first and foremost, as a legal document. Armenia's legal language is not readable by the average citizen. That language is artificial and used by the bureaucratic class, who can constantly manipulate this or that definition and present it as truth.
The general education standard is for all those who have any connection to education. In this sense, it's positive that the new standard, compared to the current one, is more of a summary document, which increases the possibility of it being read through to the end. Toward this end, it's necessary that the standard is perceived as a document explaining policy to all and only then as a legal document. Hence, it's imperative that it isn't written as another complicated legal document, but be accessible to all who might be interested in reading and understanding it without much effort. It should explain how certain learning outcomes will be achieved despite not being included within mandatory subjects. According to the new standard, a graduate from secondary school should "grasp the basics of military training." However, how is the standard going to achieve this if the subject "Inclusive Military Training" is not mandatory? It's possible there is a solution. However, there is a need to explain and present this in the document. Lastly, it should present, at least in the form of principles, what kind of changes in human capacity and school environment are expected in the implementation of this new standard.
Summary
In general, it's difficult to discuss standards if the necessary research environment is absent. What was presented in this piece are observations stemming from research ideas which don't aim at giving the full picture of the new education standard. The aim was to address certain points, which are central to areas of theories of standards.
The new standard has several advantages over the current one. It also has a slight vision, which is expressed indirectly.
We have to perceive the standard first as a political document and then as a technical document defining policy. The standard implies a choice, which those who developed it have made. It clarifies what should be expected from general education in the coming years. However, we also have to find out the "why" and the "how," at least in terms of principles. This would be an earnest new approach to developing standards. The document has to outline not only general goals but also concrete issues and societal aims. The latter, of course, is difficult to imagine only within the realm of the Ministry.
Besides this, teachers should not be viewed as solely technical conveyors. To employ the new standard, it's necessary, in essence, to continuously support professional development and have a completely new concept on reviewing working conditions. I'm positive that the Ministry also understands that it's difficult to compare salary rates for 22 hours/week and assessments based on other concurrent paperwork.
The new standard gives freedom to schools. It's important to explain why and how that move to a more free environment is going to take place through set principles and attached concepts, taking into consideration the main risks.
—————
1. It's difficult to imagine, for example, a democracy competency without a democratic school atmosphere.

Award-winning photojournalist Anush Babajanyan documents the heavy burden of transitioning to distance education during the COVID-19 pandemic for children, parents and teachers.
Read more