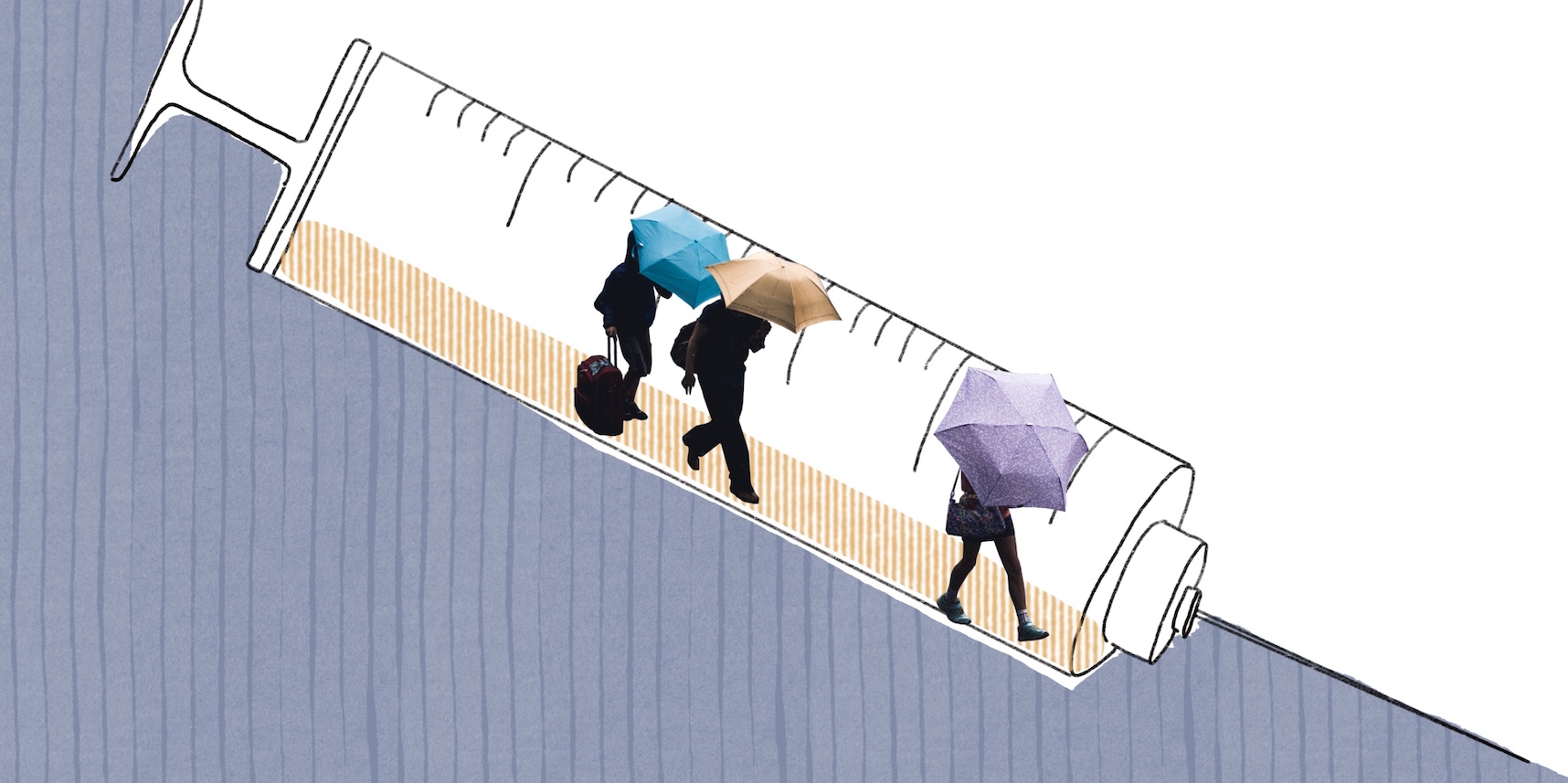 Millions of lives were lost to smallpox, a disease transmitted from animals to humans with a high mortality rate. For those who survived, their bodies were often left damaged, their skin scarred. Dreaded for nearly 3,000 years, smallpox was declared completely eradicated by the World Health Organization in 1980. This was thanks to an extensive eradication program that began in 1967 and continued for several years around the world that implemented widespread immunization and surveillance measures.
The discovery of vaccines was a cornerstone and one of the greatest public health successes in world history. This was due to smallpox, a disease that prompted English doctor Edward Jenner to conduct a historic experiment on May 14, 1796. Having learned that milkmaids did not get infected with smallpox, he inoculated 8-year-old James Phipps with cowpox and later exposed him to a patient with smallpox. The child didn't get infected, proving the effectiveness of Jenner's experiment. For the first time, a doctor created a vaccine from cowpox, which was named vaccina (vaca – cow, cina – flower).
Vaccines
Over the centuries, this achievement has been successfully implemented in the fight against various infectious diseases and improved further, resulting in the development of vaccines. By introducing a weakened form of a pathogen into the body, the immune system develops antibodies and provides protection against a given disease.
There are three main approaches to vaccine development: using a whole virus or bacterium, using microorganisms that trigger the immune system, or using genetic material.
Experts ensure that vaccines are safe and undergo rigorous safety and efficiency testing procedures, including clinical trials, before being approved for use. Additionally, their safety is continuously monitored during the administration process.
Vaccinations start in maternity wards and continue through to polyclinics.
National Agenda
The protection and promotion of public health, including the prevention of diseases, are fundamental areas of focus for the World Health Organization.  National immunization programs are developed based on its recommendations and guidelines to reduce morbidity and mortality rates caused by manageable infectious diseases through vaccinations.
Vaccinations are not mandatory in Armenia, but the country does have a vaccination schedule. The national vaccination schedule is included in the government decision on the approval of the "National Immunization Program and List of Prioritized Measures of the National Immunization Program for 2021-2025." According to the schedule, the following vaccines are administered in Armenia:
HepB- protects against viral Hepatitis B, and is administered within 24 hours after birth.
BCG – protects against severe forms of tuberculosis, and is performed within 48 hours after birth.
DTaP/HepB/Hib/IVP (hexavalent) – provides protection against diphtheria, tetanus, whooping cough (pertussis), viral Hepatitis B, Haemophilus influenza type B infection, and inactivated poliovirus. It is administered at 1.5, 3, and 4.5 months of age. Revaccination at 18 months and 6 years of age stabilizes immunity against diphtheria, tetanus, whooping cough, and inactivated poliovirus. The next revaccination is recommended at the age of 15-16, but only the DTaP vaccine is administered, protecting against diphtheria, tetanus, and whooping cough. This vaccine is repeated every 10 years, except for the pertussis component.
RV vaccine protects against rotavirus infections and is administered at 6 and 12 weeks.
PCV vaccine protects against pneumococcal infections, severe bacterial pneumonia, meningitis (inflammation of the brain and meninges), febrile diseases, and arthritis (joint inflammation). This vaccine is given in three doses: at 6, 12, and 18 weeks, and then at 15-16 years old.
MMR vaccine protects against measles, rubella, and mumps and is administered at the age of one and 4-6 years of age.
The HPV vaccine protects against the human papillomavirus infection and cervical cancer. It  is administered at the age of 13, with a second dose given six months later.
The HepA vaccine protects against viral Hepatitis A and is administered at age 15-16, with a second dose given six months after the first.
Other vaccines are available to protect against meningococcal and tularemia infections, which are administered at ages 17 and 15-16 respectively, as well as seasonal flu vaccines.
The national immunization schedule recommends that most vaccinations be given during the first year of life. Vaccines can be administered through various methods, including epidermal, intradermal, subcutaneous, intramuscular, intravenous, intranasal, inhalation, oral, and other injections. Immunity after vaccination can last from several months to several years.
For Life
Gayane Sahakyan, Deputy Director of the National Center for Disease Control and Prevention and Head of the National Immunization Program, emphasizes the importance of both timely and complete vaccinations.
"To achieve thorough protection, complete vaccination is necessary, which can provide immunity for a lifetime," she explains. "For instance, diphtheria and tetanus vaccinations should be taken every ten years, while the flu vaccination should be taken before each season."
According to Sahakyan, of all age groups that are subject to vaccination in Armenia, the threshold of vaccinated people is above 90%, which is an internationally accepted standard. As a result, since 1995, polio, which used to cause at least 2-3 children to become permanently disabled each year, has not been recorded in Armenia. In 2002, Armenia, was declared a polio-free country along with other European countries, and has maintained this status to this day. Additional vaccinations have been implemented alongside routine vaccinations, such as mass vaccinations against diphtheria in 1997, which significantly reduced the incidence of the disease. No cases have been recorded in the last 15 years. Cases of tetanus have also decreased significantly, with very few incidences being recorded. Whooping cough and epidemic parotitis (mumps) are recorded in rare cases as well. In 2007, mass vaccinations against measles and rubella were carried out, resulting in a 97% vaccination rate among children. Since then, no cases of local transmission of measles and rubella have been recorded in Armenia. However, from 2013-2019, cases of measles were recorded in Armenia that were imported from countries with unfavorable disease conditions. A measles outbreak also occurred in March 2023.
"This local outbreak in Armenia was related to imported cases, and it proves once again that vaccinations are carried out at a high level in our country," says Sahakyan. "We have collective immunity and collective protection." She also states that measles is the most contagious of infectious diseases with 9 out of 10 getting sick. "Today, measles outbreaks are being registered all over the world, and there are even countries where measles has spread to different local regions," she explains. "It did not spread much in Armenia. Fortunately, our country continues to have malaria-free elimination status," meaning that there are no cases of local transmission of the disease.
However, experts warn that any infection can spread again if timely and broad implementation of vaccinations are not ensured.
Opponents to Vaccines
In a 2012 study titled "Perceptions, Attitudes and Practices towards Immunization and Introduction of New Vaccines in Armenia," carried out by the American University of Armenia's Center for Health Services Research and Development,  participants cited several reasons for refusing vaccinations. 
According to most participants, the reasons for refusing were adverse post-vaccination reactions of older siblings and/or children of their community members, as well as parents' negative experiences with vaccination in their childhood. Some parents, particularly those who are doctors, have also refused to vaccinate their children because they do not want to overburden their immune systems. 
The majority of participants stated that healthcare providers, especially doctors and maternity neonatologists, including reputable physicians, were often the primary source of information opposing vaccination.
Anti-vaccination attitudes have spread in Armenia, especially after the 2018 Velvet Revolution. The focus of the anti-vaccination criticism was the papillomavirus vaccine which was introduced in 2017. A group of doctors claimed that the then newly appointed Minister of Health Arsen Torosyan, "had given a secret order to make this vaccine mandatory." They considered this a national security issue, targeting not only the vaccine but also the authorities in power. Anti-vaccination movements, perhaps all over the world, intensified in 2021, when vaccinations were rolled out in the fight against the coronavirus pandemic. However, this time, not only were vaccinations targeted, but the authorities as well.
Sahakyan notes that despite various anti-vaccination campaigns, vaccinations are still considered important in Armenia. Even during the coronavirus epidemic, children's routine vaccinations did not experience any negative decline. In contrast, over 100 other countries saw a 25-30% decrease in routine vaccinations.
"Around the world, people have come to the conclusion that it's possible to prevent a number of infectious diseases through vaccination," says Sahakyan. 
To Protect
According to the World Health Organization, vaccinations save 2-3 million lives annually. An additional 1.5 million lives can be saved if global vaccination coverage is improved.
According to the National Immunization Program, child mortality in Armenia has seen an unprecedented decrease in recent years. In 2019 it was 6.2% (per 1,000 live births), compared to 10.8% in 2008. This decrease can be attributed to the Haemophilus type B component in the pentavalent and hexavalent vaccines, as well as the pneumococcal and rotavirus vaccines that were included in the National Vaccination Schedule. 
It has also been noted that cases of meningitis among children under 5 years of age decreased by about 2.4 times as a result of this vaccine. In 2009, cases were at 19.3 (per 100,000 children under the age of 5), while in 2013 they were at 7.9, in 2014 at 4.4, and in 2019 at 2.02. The introduction of the vaccine has also helped reduce childhood mortality and disability, as up to 25% of children with meningitis can die, and up to 35% can be left with permanent neurological complications such as mobility limitations, developmental disabilities, and hearing loss even with proper treatment.
The introduction of rotavirus vaccinations has significantly reduced the number of hospitalizations of children with this infection. Between February and March 2012, the hospitalization rate was 52% but by February-March 2018-2019, it had dropped to 6.5%. This decrease is most pronounced in the age group subject to vaccination, which is children under the age of one. In 2012, 196 cases of hospitalization were recorded, compared to just 11 cases in 2019.
As part of the immunization strategy for the coming years, a phase-by-phase introduction of the chickenpox vaccine into the national vaccination schedule is being prioritized. The aim is to increase the vaccine coverage to 90% by 2025.
Sahakyan emphasizes the importance of vaccinations for those of pre-conscript age. She notes that in this case, the vaccination rate has never dropped below 96%.
"Vaccinating people of conscript age is also crucial, as they serve in a closed environment where infections can easily spread," says Sahakyan, adding that due to the high vaccination rate, cases of controlled infections are not even recorded in the Armed Forces.
In addition to the vaccines included in the national schedule, vaccinations are also carried out in Armenia based on epidemiological indications. For instance, during a local outbreak of measles, or against the coronavirus disease.
There are few cases when people cannot receive vaccinations. For example, when children are born with low weight or have a fever. However, these are temporary hindrances, since it's possible to postpone vaccination for a certain amount of time. Vaccination should not be administered if the person has a serious allergic reaction (anaphylaxis) to any component of a vaccine, or in severely immunocompromised individuals, such as AIDS and cancer patients, and those undergoing chemotherapy and radiotherapy. However, the more people in the community are vaccinated and immunized against a disease, the more protected vulnerable groups that cannot be vaccinated will be.