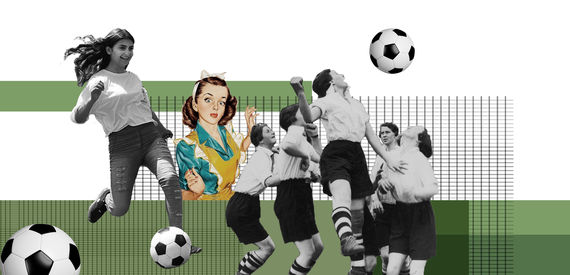 *Earlier this year, Armenia's Football Federation re-established the Women's National Football team. They played two friendly matches against Lithuania in early March.
"Come home, girl. Soccer is a boy's game."
This is what Armenian girls have heard on playgrounds and in their homes. These Armenian girls are now shooting the ball they've been dreaming about straight at their opponents' nets. Many Armenian women have challenged their families' beliefs that soccer is a boy's game. They have proven that girls who play soccer can still be feminine.
***
Women's soccer does not have as long a history as men's soccer. In Europe, Scotland was the first to start paying attention to women's soccer. Back in the 18th century, it was tradition to have married women play soccer against single women. These games served a purpose: single men would follow these games and choose a bride for themselves.
In the 19th century, one of the English soccer (football) clubs started noticing the inappropriate behavior of male fans during their matches. They came to the conclusion that the presence of women would calm the men down and make them behave more appropriately, reducing disputes and fights. Women became such enthusiastic supporters that soon the clubs passed a new decision to minimize the number of women soccer fans.
Women's soccer in Armenia has a much shorter history. Historian Hayk Demoyan, referring to these so-called "women's sports," clarifies: "At the beginning of the last century, there were no sports women could play." Demoyan says that there were guideline-articles for specific exercises that were published in Marmnamarz magazine (an Armenian language magazine that was published between 1911 and 1914 in the Ottoman Empire).
"My research has shown that, until the 1920s, there were no specific sports available to women," says Demoyan. "The only exceptions were the women's rugby team in the Armenian community of Calcutta, India and the women's basketball team of the Armenian community in Cairo, Egypt."
Holding a Hunger Strike to Reach Your Dreams
"I held a hunger strike for several days until my mother accepted the fact that I'm going to play soccer no matter what," says 16-year-old Amalya who now plays for FC West Armenia.
With her soccer jersey on, Amalya leaves the European College and heads to her next practice. She is majoring in tourism because she wants to have a profession aside from soccer; however, she is not ready to let go of the ball.
"My father loves soccer, but my mother was strongly against me playing," Amalya explains. "But now she doesn't miss any of my games." Amalya recalls that it was not only her mother who was against her playing soccer. Many of their relatives would tell her parents that soccer is not a girl's game and would ask why they were allowing her to play with the boys in their building's courtyard. "But the boys were never taken aback that I was playing with them," she says. "Quite the opposite, they would argue whose team I should play on."
Amalya, the only girl who used to play soccer with the boys in her courtyard, began playing professionally at 15 with FC Banants (renamed FC Urartu in 2019). Now she plays for FC West Armenia.
"The Banants Club coach had come to our school looking for sports-loving, active girls and our school recommended me from our class because everyone knew it was my dream to be in one of the women's football clubs," recalls Amalya.
After a hunger strike, disputes, and negotiations, Amalya was able to convince her mother that soccer wasn't just a game she played in the courtyard. She was ready to make it a career. Her mother agreed on one condition.
"My mother said that she would allow me to play soccer only on one condition: if I go to college and learn a profession," she said. "And I agreed because I think she's right. If I'm to travel outside the country as a soccer player, then shouldn't I know another language so that I can understand and talk to journalists?"
Amalya believes it's important for athletes to receive an education. She is now studying five languages. She is considering her career prospects after graduation, but she can't imagine life without soccer.
"If you want to play soccer, you have to be clever, energetic and quick," explains Amalya. "In my class, there are only three boys. The rest are girls and I am their pride and joy."
Amalya laughs when asked if soccer is at odds with femininity. She replies by pointing out her disheveled hair and manicured nails. "No sport stops a girl from being feminine, if that is how she wants to be," says Amalya. "Also, soccer is good for your health. I have soccer practice three times a week. If I'm not at practice, I train myself at home or in our building's courtyard."
There was a time when Amalya was a fan of junk food. However, soccer has helped her avoid them and taught her to take care of her body and eat healthy. All of this requires persistence, and soccer has taught her to be persistent. Soccer is also what taught her to chase after her dreams.
"To all the people my age and people who have dreams, I tell you, do not give up, don't listen to others, follow your dreams," says Amalya and jokingly adds, 'But don't go on a hunger strike like me."
The Bread-Selling Soccer Player from Artik
"I grew up in a very conservative and traditional community, where it was shameful for a girl to play soccer," says 19-year-old Anahit.
Anahit's father and grandfather were soccer fans and her father would take her to play soccer when she was young. However, her parents did not take her hobby seriously. They thought that it was a childish phase that would pass and that their daughter would eventually put the ball away, grow out her hair and do more "girly" things.
Like Amalya, Anahit's soccer career began when she started playing with the boys in their building's courtyard. "Back then, I came to realize that I was the one who was going to break stereotypes in my community," Anahit explains. "If people in the community think that a girl can't have short hair or can't wear athletic clothes, I can accept that. However, I don't want to be like everyone just to please them. I can be the bold one. Why not?"
Anahit now works in the bakery section in a supermarket. A graduate from Shirak State College, the midfielder says that it's not easy to combine work and soccer. However, making your own money is more appealing. "I want to be an independent person. I want to control my own finances. That's why I go to work," explains Anahit. "When people at work found out that I play soccer, they were so proud of me. When I scored a goal during a game in Berlin, I told them all about it. Meanwhile, people in my community continue to persuade me to grow out my hair."
Anahit says that many things have changed in Armenia, however these changes are taking place slowly in smaller communities. According to her, everyone has to take responsibility to make those changes and break stereotypes. This can be difficult but it gives results, even if it takes 20 years.
"I hang out with boys the way I hang out with girls," says Anahit. "Boys used to be shocked that I play soccer, but now they support it and are interested in how I decided to play the sport."
For Anahit, selling bread at the supermarket is just temporary. She considers soccer her only profession and is ready to teach other children the sport. "I've decided that I want to be a gym teacher," says Anahit. "I'm making an income selling bread now and I enjoy doing it. I like talking to customers, but my calling is something else. I have to train and train others."
Anahit has heard many people say that soccer is about 22 people fighting over a ball, "what kind of a game is soccer anyway?" However, she looks at the 22-people fight over a ball from a different perspective. Soccer demands perseverance and strong will. If you don't persevere, you can't control the ball. While many continue to consider the sport a "fight for just one ball," Anahit does her job quietly, changing not only her own life but also blazing a trail for other Armenian girls to follow in her path.
Soccer and Feminism
It's been a year since Arpi Balyan, the founder of FemTun NGO, has played soccer. Having played on a team, she knows both the positive and negative sides. Arpi's soccer dreams came true thanks to the Dream Team, the members of which were young women over the age of 18.
"My physical training was not enough for me to become part of the main team," explains Arpi. "But that atmosphere of training with other girls gave me so much experience."
Arpi was also introduced to soccer in her neighborhood courtyard. Her family didn't discourage her from playing the game. Arpi's cousin played professional soccer, which gave her a chance to discuss the game with a professional. She never missed a game. A year ago, the feminist soccer player decided to start playing professionally because, several years earlier, she had prepared a documentary about women soccer players. She wanted to find out how the "feminine side" of Armenian soccer had developed.
"I shot the film in 2016. It was about Armenian women soccer players from the Soviet years till today," explains Arpi. "In my opinion, people don't pay as much attention in Armenia to women's soccer as they do to men's." However, the increase in women's football clubs and the dedication of these girls makes her hopeful that everything will change and women's soccer will gain momentum.
Arpi believes that, if more attention is given to women's soccer on a state level, many women would leave their secondary professions and completely dedicate themselves to training.
"Women have the potential, but you can't put your hopes on enthusiasm and dedication," Arpi says. "People need to get paid as they do in other sports and they have to get paid the same amount as men because they are playing the same sport."
As someone who fights for human rights, Arpi says that, for her, a feminist is a person who makes an effort to ensure justice, eliminate exploitation, sexism and oppression for the sake of love and justice. This has become a priority for Arpi and, after playing soccer for a year, she left the sport. "I compare the development of women's soccer to early capitalism, when propaganda for gender equality started," says Arpi. "They were preaching gender equality so women could be equally included in the workplace. However, their real aim was to exploit women and pay them less."
The number of Armenian women's soccer clubs is growing, the attitudes of men towards women's soccer have changed and many parents are now personally sending their daughters to soccer practice. Meanwhile, Arpi is doing her job and continues to believe that one day an Armenian woman will score the winning goal during the World Championship.
Soccer Instead of a Thread and Needle
"Come my son, change, come so we can play… And here's our new athlete, his brother plays soccer, which got him excited. He convinced his father so he can play too…"
At Pyunik Stadium, everyone knows Mrs. Nelli. When the boys' Under-9 and Under-11 team players see their coach, they watch her every move with joy. Nelli is strict but has an obvious love for her students.
During her interview, she kept repeating: "Stay so you can see my kids."
The soccer coach has been playing the sport since the Soviet era and was part of the national team. Now she's a coach.
"It's easy with boys for me," says Nelli. "To be honest, I have more male friends than female ones. I find it easier to have conversations with them. But I tell all the girl soccer players to get married and have kids first and then play the game. It sometimes gets in the way of your personal life."
Nelli comes from a very traditional community. Even though she was born in the city of Gyumri, she spent her childhood in the village of Vosketas where soccer was not a girl's game. Nelli explains that many descendants from Mush and Sasun live there and they don't accept women playing soccer.
"My mother was against soccer. My father enjoyed the sport and would watch and follow games," says Nelli. "Everyone in my family believed that a girl has to choose a profession suitable to her. My grandmother even insisted that I have to learn how to sew instead of playing with the boys. My father went against everyone so I can realize my dreams and helped me move to Yerevan so I can play soccer."
In sixth grade, during a school summer camp in Aparan, Nelli was the "only flower" during a boys soccer match. Her talent in the sport did not go unnoticed by FC Nig Aparan's women's coach. He asked her if she wanted to play soccer.
"I always played with boys and taking part in soccer training with girls was a dream for me," recalls Nelli. "Coach Lyov talked with my father. However, my father said I was still young and that I can play on the team after I graduate."
Before graduating high school, FC Nig Aparan's "soccer delegation" came to Vosketas to invite Nelli to a tryout, not for their own club but for Nairi SC.
"It's funny but when I entered the stadium where only girls were playing, I stood there confused," recalls Nelli. "I had never seen so many girls playing soccer in my life. I've had amazing moments with Nairi. For example, during a game we played in Minsk, I was recognized as the best striker."
The coach has her own theories for why women's soccer never had the same momentum as men's. Especially during the Soviet and post-Societ years, it was not acceptable for women to play soccer in the Armenian mentality. Only a few dared go against their families, often having to convince them that they had to play. This is why the women's national team wasn't formed by getting players through heated competition as would have happened in developed countries, but by having to choose between 25 people.
"Times have changed now. Many people take their daughters to play soccer," explains Nelli. "There are parents that worry their daughters will lose their femininity if they play soccer. As long as I can remember, I've been playing soccer but I am a woman. I also like to take care of myself, I also make delicious food. Once in university, my classmates came to our house for a get-together. When they saw me in the kitchen, they were shocked. This is a stereotypical attitude that I have been able to break at least within my own circles."
Nelli never considered receiving an "education on the side." For her, being a soccer player is a profession, a calling, a job she loves from which she is never tired. Nelli is now a game inspector [official] which is a responsible job. She's also been a referee.
"The three are connected to soccer, but playing is a completely different joy," she says. "When you go out to a game as a referee, you are representing your country's flag. You have to be cautious and keep your country's dignity high. Being a game inspector means you evaluate the work of the referees and that is a little difficult. I try to be fair."
Nelli is proud of the new generation. She sees many young people with great potential. However, what will happen afterward is in their hands.
"I educate my children. They are talented but everyone lives in different conditions, they are disciplined differently. They have to be very strong for them to become Henrik Mkhitaryan, Gevorg Ghazaryan…"
The Pyunik Football Club coach did learn how to use a thread and needle and cook delicious dishes. However, she feels the most free and independent when she is out on the pitch.
***
The midday sun is already shining over the soccer stadium. The Pyunik Stadium is filled with happy conversations of young but already sturdy boys. They're discussing international soccer matches, they disagree, sometimes yell, "Did you see the goal Heno scored?"
Our country continues to live through the same rhythms. But is it the same? Many strong women are deciding to change their lives. With small but confident steps, they are moving forward, changing their communities, villages, cities and country. Two of the girls from this story have yet to turn twenty but they're chasing their dreams with a soccer ball strongly held in their hands. They are serving as an example for many girls so they too can believe that change comes from each and every one of us.
If you've already started, never give up.
From the Forgotten Pages of History