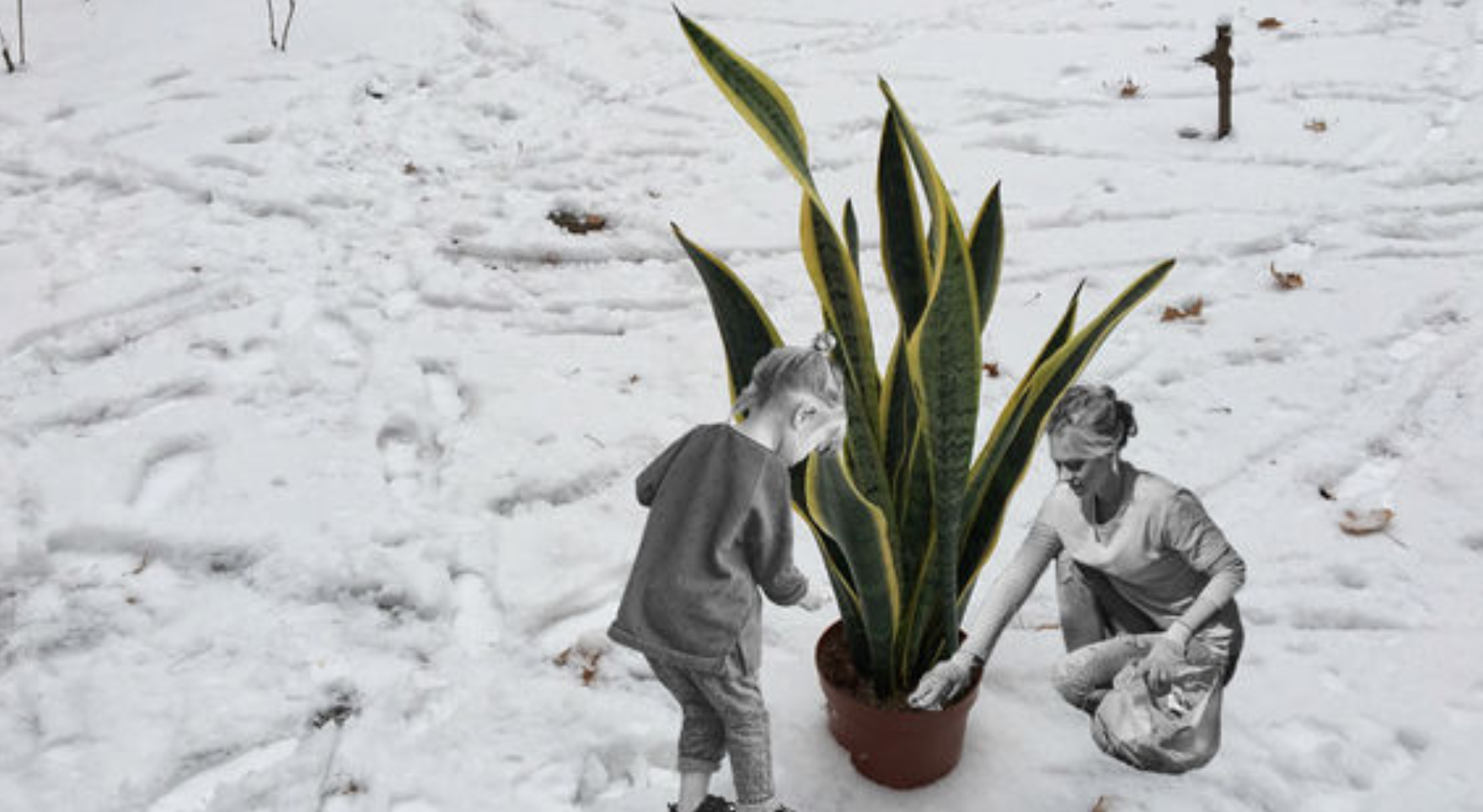 Karine
Have you ever tried tried to clean up the streets of your city by picking up plastic bags, cardboard boxes, metal containers and glass bottles discarded by others? Would you then sort them and hand them off for recycling to beautify your neighborhood and keep the environment clean? This is how Karine Avanyan has spent her mornings for several years now.
"When you realize that those materials are causing harm to the environment, you try to do everything you can to at least protect the environment that nourishes you," she explains.
Avanyan, who's 56, lives in Yerevan's northeast Zeytun district. She starts her trash-collecting work from her building's courtyard and she's even converted many of her neighbors to become more waste conscious. She then walks down Azatutyun Blvd to the touristic Cascade Complex, where there is no shortage of waste tossed aside. However, Avanyan is convinced that the cleaner an area is kept, the more reluctant people will be to litter there.
Because Karine's father worked in the Soviet military as a Farsi translator, her family moved a lot. Karine, for example, was born in Afghanistan and later when her father was redeployed to the Russian SFSR, the family moved again. They later went on to live in Georgia, where she went to school until the ninth grade, before finally returning to Armenia.
A nature lover, Avanyan studied radio equipment engineering at the Polytechnic Institute (now the National Polytechnic University of Armenia). She would go on to teach there herself, while simultaneously working at various machine-making factories. Now, she is a freelance writer and translator—and, most importantly, she volunteers.
"It seems I was always collecting garbage," says Avanyan. "I remember, at a young age, I would make different things out of materials others considered garbage. My family members often made fun of my creations. However, I like giving a new life to [seemingly] useless things."
After living in the United States for six years, Avanyan returned to Armenia. She tried looking for places that accepted recyclable waste. The only one she found was a line of bins in Lovers Park on Baghramyan Avenue.
"In the beginning, I was collecting recyclable garbage myself. I would sort them into their respective bins in Lovers Park," explains Avanyan. "Later, I learned that there were a few recycling companies operating in Armenia. Now I hand them over directly for recycling."
Avanyan has influenced many of her friends with her waste collection habits. She has a network of people that collect recyclable garbage in their homes and then call her to pick it up. Once a month, she takes her "inventory" to recycling companies.
"In general, this type of work has to be something that you want to do. It won't work if it's being done for money or for making a career out of it," explains Avanyan. "Isn't it nice when you do a good deed for someone? How great do you feel when you realize that you are brightening up the world around you? If I was paid for this work, it would have felt that I was doing it for someone else. However, I'm doing it for myself. Maybe I'm selfish."
Avanyan finds freedom in her volunteer work because she gets to spend her time doing what makes her happy.
"Different people volunteer for different reasons. Usually, they consider it a springboard into a future profession. There are also people that just want to learn something," says Avanyan. "Volunteering provides a level of freedom. Here, nobody can force you to do anything. You are not dependent on anyone. For me, the most important part is that I have my own opinions and I can spend my free time doing what I love. Freedom is one of the most important components of happiness and volunteering gives you that freedom."
Armenuhi
When Armenuhi Sargsyan graduated from the Polytechnic Institute as an IT engineer, she began working at the Mergelyan Institute (Yerevan Mathematical Machine Plant CJSC). She stopped working when her children were born. When she decided to return to the job she loved, she discovered that everything had changed; a whole tech era had passed.
"In the IT world, skills and equipment can quickly become obsolete. Twenty years was quite a long time," says Sargsyan. "When I used to work at the Mergelyan Institute, the computer would take up the whole room. When I decided to return to the workforce in 2000, computers were small boxes with small screens. I was out of the field for such a long time that there was no point in returning. I essentially no longer had a profession."
Sargsyan jokes that she worked as a volunteer for her family for 20 years.
However, she got lucky and was offered a position at the musical archives on a one-year contract. The work had nothing to do with what she wanted to do, but it was work.
"Back then, the only connection I had with music was that my children had gone to music school and sang in the Little Singers of Armenia Children's Choir," explains Sargsyan. "However, I was still happy that I found that archive because I was able to wake up in the mornings, do my hair and leave the house, which was already something big for me at the time. It helped restore my self-esteem. I was supposed to work there for only a year. I ended up working there for five years."
Soon after, Sargsyan found work at the Civil Society Institute NGO, where she worked on the community development program from 2005-2009. It is here that one of the most interesting phases of Sargsyan's life began. While working at the Institute, she was introduced to a EU volunteering program and joined it.
She later continued to carry out programs in other organizations. She collaborated with Ayrudzi Riding Club and started sending volunteers abroad. Since 2011, the program has also been accepting volunteers to Armenia from abroad.
One of the important conditions for acceptance into the program is familiarity with the Armenian language, thereby Sargsyan took on the responsibility of teaching Armenian to the volunteers and also did double duty as their best friend.
Currently, 62-year-old Armenuhi Sargsyan is a consultant with the EU EVS (European Voluntary Service) at the Yerevan Brusov State University of Languages and Social Sciences' Career Center.
"We organize all the paperwork, we help them," explains Sargsyan. "I am their Armenian and Russian language teacher. It's as if I'm their friend."
While working with volunteers, Sargsyan was inspired to volunteer herself. In 2010, she joined the International Union of Women in Yerevan (IUWY). The organization connects women from abroad and those from Armenia. They socialize in English and those women who come to Armenia without any knowledge of the language have somewhere to socialize, a place to integrate into the country.
The organization carries out charity programs and fairs.
Currently, there are forty women in the organization. They will soon be including border villages from the Tavush Marz into their programs and will try to make the lives of women from these villages a little better.
"The program was initiated by the members who had come from abroad. They felt that since Armenia welcomed them with such warmth, they too wanted to give back to the country," Sargsyan explains. "When I joined, I didn't know many details about the organization. It was important for me to improve my language skills so I could socialize with people. However, later on, this idea became so close to my heart that I took part in all the programs with joy. Now I'm the director of the charity programs committee."
In terms of time, expat women volunteers find it easier to take part in the organization's work because their children typically live abroad and their husbands' income is enough to support the family. However, the local women members have difficulty with the time commitment.
"We have parents, grandchildren, children, husbands, a home, our jobs, etc. And these make it difficult to find the time to take part in the meetings, as well as find enough money for the charity programs," says Sargsyan. "But the latter is what motivates me the most – when you can do such great work and help people with such little means. When you realize how, as an ordinary person, you can provide so much support for several hundreds of people in faraway villages, that is such a motivating force. So much so that you leave everything and dedicate yourself to that work."
According to Sargsyan, the intercultural component plays a big role in motivating her to volunteer with international organizations.
"Those volunteers coming from abroad want to learn a foreign language. Armenia is an interesting country for them," Sargsyan explains. "They can't imagine living in these mountains. They're interested in our centuries-old history."
According to Sargsyan, volunteering has played an important role in Armenian history.
"For example, Khachatur Abovyan's job was not opening schools in villages. However, he did do that, despite problems with the country's leaders," says Sargsyan. "Maybe it wasn't called volunteering then, however, they did that work with dedication. We can remember the tremendous aid European and American missionaries provided after the Genocide, or the number of programs that were implemented after the [Spitak] earthquake. Or during the Artsakh War, how many dedicated men gave their lives for their country as part of volunteer military units? Weren't these also the result of volunteerism?"
Sargsyan adds that volunteering doesn't demand anything except a desire to help others. "With every act of volunteering, a person gives a part of their soul," she says.
According to Sargsyan, both volunteering and working with volunteers involve many trials.
"There are many things that you have to overcome within yourself," explains Sargsyan. "For example, I didn't go to my husband's birthday because I had to be at a fair. I sacrificed family gatherings and you sacrifice many other similar things. The time you could have spent with your grandchildren, child, work or just relaxing, you spend on this work."
Sargsyan says it's important to have your family's support to work as a volunteer. She has been lucky in this sense.
"Sometimes we take our volunteers to our summer house, where my husband shows them everything and talks with them," says Sargsyan, adding that it has become a family affair. "My son is a photographer and he often supplies photographs for our fairs to sell."
Sevan
Established in 2003, Birthright Armenia's mission is to expose young Diasporan Armenians to life in Armenia as part of a one-of-a-kind immersive experience. Since its establishment, almost 2000 volunteers from nearly 50 countries have come to Armenia—often for the first time—and gotten to know their homeland through volunteer work in internship placements over a course of several months. Almost a tenth of the participants have decided to permanently repatriate to Armenia.
Sevan Khalamazian is one of those Birthright Armenia volunteers. The 25-year-old arrived from France in October. Her term is scheduled to end in February; however, she has already made plans that are to be carried out in Armenia after her Birthright program ends.
"In the summer of 2019, I came to Armenia for the very first time for three months to take part in the Teach for Armenia program. When I returned to France, I missed Armenia a lot," explains Sevan. "Even though I knew about Birthright Armenia and I was thinking about joining the program for a very long time, however, I was still a student. I didn't have enough time. But now I'm free. I applied and returned to my homeland once again."
Sevan, who studied human rights, considers the human rights sphere to be an important component of the reforms taking place in Armenia. She hopes she can play a part in these changes.
Currently, she is involved in various projects: she is conducting a series of public discussions on human rights in French and is also teaching French to refugee women.
She is also thinking about establishing a center for those who have come to Armenia due to the war in Syria—a center that would provide psychological support and teach different languages and skills.
"I wanted to find my Armenianness again and do something that would help this country," says Sevan.
Sevan's father is from Syria, her mother from Lebanon. Her father has never been to Armenia, her mother visited 30 years ago under very different circumstances. However, the whole family, including Sevan's younger brother, took the opportunity to ring in 2020 together in Armenia and spend a couple of days in their faraway homeland.
Right now, Sevan finds it difficult to say how long she will continue her volunteer work in Armenia. However, she is happy to say that her parents are financially supporting her while she, unselfishly and without pay, tries to help the people of her homeland that she has been able to reconnect with.

This policy analysis aims to explore the main reasons people volunteer, how volunteer work is regulated and the key issues the volunteering sector faces in the Republic of Armenia.
Read more

What does it mean to be a volunteer in a country and a society that is vastly different from your own? Sofia Bergmann reflects on her experience in Armenia.
Read more

Volunteerism not only contributes to the social wellbeing of the volunteer, but also greatly benefits the communities and societies where it takes place, ensuring sustainable capacity development and building social capital. In Armenia, there is currently no legal framework regulating volunteerism.
Read more

Every child has the right to live in a family. Today, more than half of all children in orphanages have disabilities. This a primer of EVN Report's White Paper about specialized foster care for children with disabilities .
Read more

Transitional justice is a form of exceptional justice, since it is introduced for a specific period of time to deal with exceptional circumstances. This primer is based on Dr. Nerses Kopalyan's White Paper, Transitional Justice Agenda for the Republic of Armenia and is a summary of the key points of transitional justice.
Read more
This project is funded by the UK Government's Conflict, Stability and Security Fund.
The opinions expressed are those of the authors' and do not necessarily reflect the official position of the UK Government.