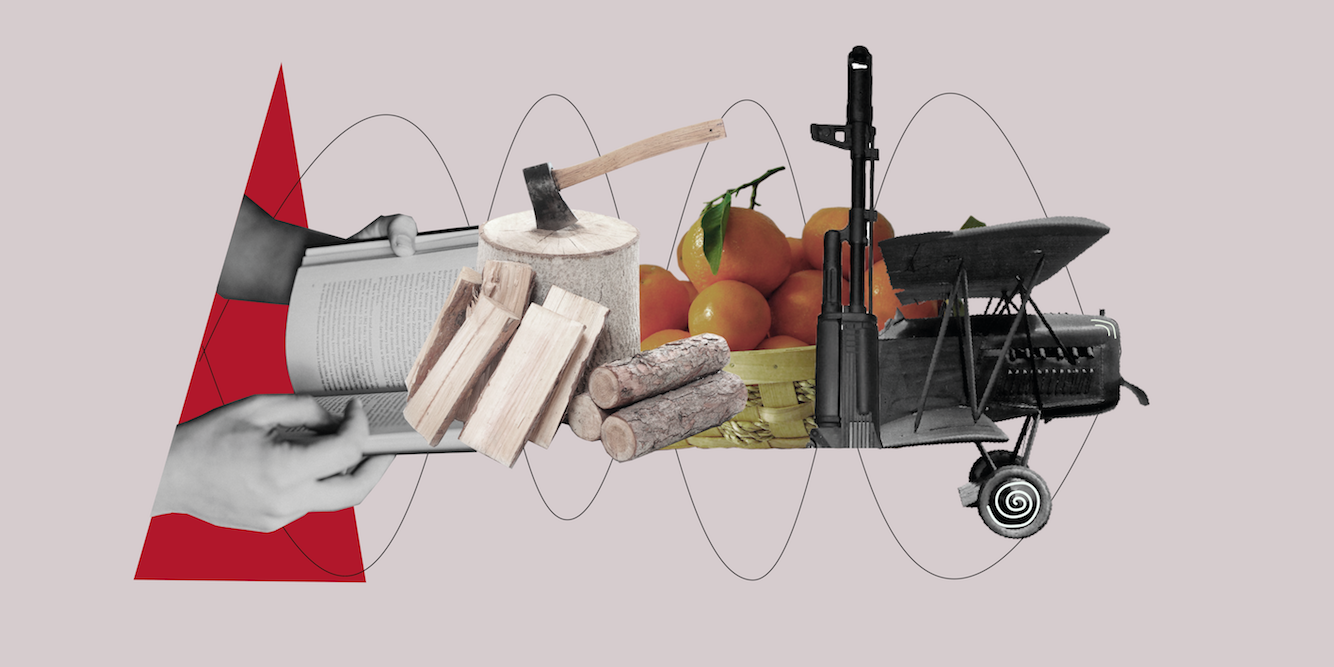 Ordinary people somehow always end up paying the price for sweeping national and international issues and conflicts; they carry the full brunt of the burden in and through their lives. Many have reflected on the impact these "big" games have played — through cinema, art and literature — on the lives of "small" people, on their most human emotions, their journeys.
Before the 2020 Artsakh War, I had read a few of Erich Maria Remarque's books. His ability to lay out the terrors of war in front of the reader through the lives of one or two characters seemed remarkable. 
During the war, I was talking to one of my students, who had stopped being a student a long time ago and who was already living through a second war in his little more than two decades of life. When times were better,  we used to enjoy discussing and analyzing the books we had read. On that day, one of the most intense days of the war, when he had already lost his father and many of his comrades-in-arms to the war, there was nothing to discuss. Trying to remember a past lifetime and the things we used to talk about I said, "Arman, after the war, we are going to only read Remarque." 
"No," he said, "we are going to write Remarque after the war." 
It was prophetic. After the war, we would feel what Remarque's heroes felt, we would become these Remarqueian characters of a lost generation. 
The term "lost generation" was used in literature by a number of writers referring to the generations of war. It was first used by Ernest Hemingway in the preface of his novel "The Sun Also Rises". People who went through the nightmare of the First World War, who left their dreams, feelings, faith and what makes a person human on the battlefield could perhaps not be described more accurately. When they returned, the world was no longer the same because they were not the same. Patriotic declarations became devoid of value in light of what they had witnessed, details deemed pertinent seemed nauseating if not laughable. They were strangers, lost, adrift, without an orbit.   
This term was also used in literature to describe the generation who suffered the same fate in World War II, men and women who had miraculously survived and returned home.
I have not read any substantive books, neither about the first nor second Artsakh wars. Maybe there aren't any, maybe not just yet, maybe I just haven't found and read them yet. 
In the 1990s, my generation was too young to become the lost generation. We were the independence generation, the offspring of fathers who carved victory out of the war. This was true even if your own father had not gone to war, because even if he was not on the battlefield, he was fighting his own battle. He was forced to overcome the destroyed factory of the collapsed Union, his lost job, his collapsed life. He had to struggle to find ways to raise you or drown his powerlessness in a glass of alcohol and force you to grow up prematurely. Still, we were the independence generation, we had a strong and independent future ahead of us. 
Our war was the one in 2020. We, the independence generation, had to defend the country entrusted to us by our fathers. Today, we have nothing to brag about. Putting aside the "how," the "why," and the "who is to blame," the fact is that we lost their victory.  Driving by Shushi after November 2020, many surely recalled the footage of victorious Armenians dancing in Ghazanchetsots in 1992 after the liberation of the symbolic city.
The war, however, has not ended. As it continues, today, we are not even able to drive by Shushi. 
It is now one of the 80+ days of the blockade. The ongoing siege of Artsakh is simply one of the battles of a war that started long ago. In this situation, we must pose a simple question: Are we going to live in Artsakh as the owners of the homeland or not?
The blockade, however, like any issue of such magnitude, breaks hundreds of small problems on the heads of small people.
From the first day of the blockade, I had resolved not to allow a blockade of the mind. To not forget, amid increasingly difficult daily challenges and issues, the most important question: Are we going to live in Artsakh as the owners of our homeland or not? 
At first this seemed to be something within my power; the shortage of food was not an issue, not because I had sufficient reserves (what can be said of reserves if you are renting a room and a half in someone else's house?) but because I'm not particularly picky and can go without certain, hard-to-find produce for a long time. The electricity… I'll follow the blackout schedule, the gas…we have a wood burner. These are the first few weeks when we are still, so to speak, warm.
Then the other layers of the blockade reveal themselves… longing.  Simply missing your relatives. Not being able to take off one weekend to go see your mother. Not being able to take time off and hang out with your friends. And what are you to do when one of the biggest loves of your life — art embodied in theater — is inaccessible? 
To walk around Stepanakert and to think about dreaming is also a luxury these days. The city has become such an endless procession of queues, degrading and humiliating you, that instead of waiting in yet another line, this time for the bus, you resolve to walk several kilometers to get home. 
Even though you live in Artsakh, you are an equal human being who has the same fundamental rights to a beautiful life as your other compatriots who have a blue passport like you. However, you carry the burden of big, international issues on your life. Maybe because you one day decided that the important question is: Are we going to live in Artsakh as the owners of our homeland or not? 
And who said that if you live in Artsakh, you don't have the right to dream of life? But these big, international games that have imploded your life have come to tell you otherwise.
We are lost after our war. We have become the lost generation, without an axis, without a national compass. We are lost in matters of the national, lost in personal matters. We have been deceived, we were deceived. "It is day such-and-such of the Artsakh blockade," this generalized and contextualized sentence that the media repeats on daily basis needs a  huge, enormous annotation: It is day such-and-such of the Artsakh blockade where people spend most of the time in their day in queues, where getting to work is a luxury, where people no longer change out of their house clothes and hardly ever comb their hair because there is no drive or a reason for it. Where the fundamental right to education is rationed to 20-25 minute classes conducted as if in passing, with winter coats on… and as a consequence, people's hopes and dreams have shrunk down to half a cabbage and three oranges. 
And again, all that remains is reading and writing Remarque. Feeling like driftwood in the ocean of big, unclear games and still empathizing with Remarque's heroes. 
And in the fleeting moments of sober thinking, renew and fortify the belief that the question is very simple: Are we going to live in Artsakh as the owners of our homeland or not? And try to sincerely and deeply believe that this is the real question; without this belief it would not be possible to endure all the other challenges. And the label of the lost generation will also not be irreversible.