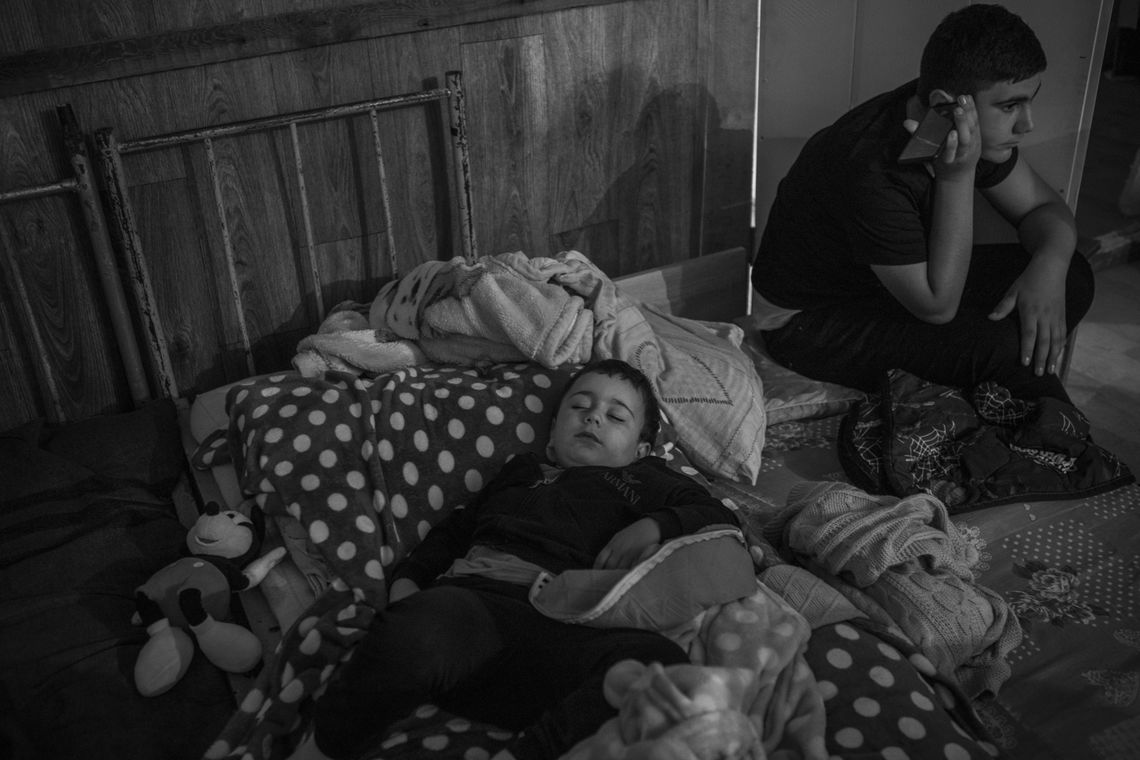 "Armen, did you know that one of our soldiers blew up two tanks?" a child, around seven years old, says as he fills his bucket with sand and looks at his friend with excitement.
"Yeah, so what?" the other one responds, "Another one of our guys blew up ten tanks! Two is nothing."
The war entered our lives in just one day – you see it in all its cruelty as soon as you open the door of your house. It's in the kitchen, shops, and cafés, in the conversations of old men playing backgammon in a gazebo, in the happy games that children play, in the cups of coffee that neighbors drink when they gather in the morning. The Artsakh dialect has never been so prevalent in Yerevan over the past twenty years, and there is nothing good in why it has come here.
"And now, children, let's leave Africa and go to another country. This is a magnificent place, where flowers grow, people are kind, and there is a lot of love. Where is that place?" the actress asks and all the children gathered around her shout with all their might,
"Mataghis!"
Standing in a corner, the creative director of the Sos Sargsyan State National Theater, Narine Grigoryan from Artsakh, is reliving her childhood with each of those children, experiencing the hardship of the First Artsakh War once again and recalling her family history. The Little Bee's Big Journey is just one of the plays that the National Theater is staging in different cities of Armenia for the children that have arrived from Artsakh. This is an interactive play and, besides being entertaining, it also has an educational function – it teaches children about the environment, where countries are located on the map, and so on.
I see myself there, little Narinka, and my newborn brother, our father, who ended up as a prisoner, and then returned. It was very hard, indescribably so. All my emotions seem to be reflected in these children. We were going through some difficult times because of the coronavirus anyway, and now this unexpected war starts.
The actress' sister, who lives in Artsakh, has come to Yerevan with her two children. Narine says that the war remains despite the fact that a whole generation has changed – they have replaced their mothers, but they are still at war, as if twenty years had not gone by. During the shelling, her sister quickly took her children down into the shelter and then started to collect the laundry she had hung to dry outside, so that if the enemy were ever to pass by those parts, he would not be able to say that the Armenians had not even gathered their laundry…
My husband and I were watching the news, we were very tense when my daughter suddenly started singing loudly. My husband said, "Stop it, let us hear what they're saying." I thought that this was the cause for which we were fighting – we wanted my child and the others to be able to sing. And so, we decided to stage this play for children.
For several days now, The Little Bee's Big Journey has allowed children from Artsakh to take their minds off the front line and to experience a colorful world of human kindness. This is a new performance format that has existed for only five years and is called "baby theater" – it requires a lot of energy from the actors, who strive to make sure that the children are not distracted for even a second.
This play is based on a Latvian fairy tale. There is no villain here, but there is an objective – help the bee save the life of a girl that is ill and needs honey prepared from five flowers in order to recover.
Narine says that they consulted with psychologists before performing in front of children from Artsakh because they realized that even the most "innocent" wording or action could have unintended consequences.
It was an open-air performance but after it grew colder and there was no way to organize it outside, we decided to change things and, instead of having a hot-air balloon rise up to the sky at the end, we used a large balloon that bursts and releases smaller balloons into the room. At first, we were afraid that the children would associate the burst with the sound of bombing, but you had to see their joy when the balloon went 'kaboom'… It's just beyond words.
The smells and taste of Artsakh fill the air at the Vahan Tekeyan Foundation Center in Yerevan, yet another performance is coming to an end. Suddenly, one of the children starts crying loudly, walks up to his mother and hugs her tightly.
"Don't cry, sweetheart," Angelina, a mother of four, says as she embraces her son, "This one's a real frontline child."
"God forbid such a thing, please don't say that," Narine responds.
Angelina arrived from Stepanakert just a few days ago, she's an accountant. She had taken a walk in Yerevan's streets earlier today and had cried her heart out, remembering her city. But, at that moment, she had stood so steadily on her feet that nobody would have guessed that her husband and other family members were fighting at the front line.
I had plucked some grapes and was making a compote when I heard the sound of shelling. We were used to it, it was nothing new. I told the children to quickly go down to the basement, while I had to finish sealing the compote. I called my neighbors today, they're still in the bomb shelter, and I've told them to watch my cans of compote. I'm going to go back, I am going to go back for sure…
Narine says that when they had come to Armenia during the early days of the Artsakh Movement, they had been very hurt by the word "refugee", while Angelina says sincerely that they have never been made to feel like refugees when it comes to how they are addressed or treated.
My elder son is fourteen years old. The first day he was supposed to go to school here, he said, "Mom, if they call me a refugee or treat me differently, I won't go to school. He came back and I got very emotional when he said that he had felt like he was back at his regular school. Even when we're walking outside or going somewhere, we never feel like we're refugees. This is our land, our people are here.
Three of Angelina's children are going to school, and she is getting ready to send her youngest to kindergarten. She does not doubt for even a second that they will return to Stepanakert one day, build a new place, make compote, and watch her children grow in their city.
This is our last war. My children should not be required to go to war, we cannot allow that to happen. My husband says, "Don't worry, we'll build back what was destroyed, you'll make compote again, we'll do whatever we want to. I really miss Stepanakert, and I know that it misses us too…"
Throughout the performance, seven-year-old Nané (name changed for privacy) quietly watches as her friends participate actively. Only at the end, when they start to draw on the balloons, does she walk up and join in the activity. Her parents are at the front line – her mother is a military doctor, her father has gone to defend the Homeland, and there has been no news from them for a long time.
"You know," she suddenly opens up to me, "My birthday is September 28. When we go back, we're going to celebrate it there, we couldn't have a party because of the war. I'm from Noragyugh, I want to go back to our village… It's good here, the kids at school are great. But I want to go home, so that we can celebrate my birthday."
Naré is from Stepanakert, she's been going to school in Yerevan for a few days.
"Is Stepanakert a pretty city?"
"Yes, very. You have the Grandma-Grandpa monument there – it'll be the first thing you see when you come. We have many great places to visit."
"What have you missed the most?"
"My school. I want to go to my school. My friends are here, we see each other and walk together in the city. We talk to each other and, when the war ends, we'll go back to our school…"
The main international document regulating the protection of children during war is the 1989 Convention on the Rights of the Child. Aida Muradyan, child protection program manager at World Vision Armenia cites the most important articles of the convention, which regulate the protection of children's rights and the role of state parties in such situations.
Where a child is illegally deprived of some or all of the elements of his or her identity, States Parties shall provide appropriate assistance and protection, with a view to re-establishing speedily his or her identity.
Aida Muradyan cites another part of the Convention, article 38, which says that, in accordance with their obligations under international humanitarian law to protect the civilian population in armed conflicts, states parties will take all feasible measures to ensure protection and care of children who are affected by an armed conflict. Host countries are obliged to provide children that have been forced to migrate or have done so willingly with their basic rights – education, the use of healthcare services, social security, the right to protection from violence, and so on.
"Due to this situation, families that have come from Artsakh are moving around actively in the country, which obliges the relevant services to apply additional efforts and make sure these rights are secured," says Aida Muradyan. "It is important that parents, teachers, host families and other relevant professionals show sensitivity when they interact with the children."
Child protection specialists place particular importance on talking to the children about the events that are taking place and, using an approach that is suited for the given child's age, to explain what is happening. For example, a story might be the best way to get the message across to kindergarten-aged children, while adolescents can be treated as equals and their roles in the given situation can be clarified.
"It is very important in this situation for different services to work in coordination, so that we avoid cases where some people use the full range of support while others are left out of the loop," Muradyan clarifies. "There are two kinds of support in such situations – rapid response services that cover the immediate needs of families that have moved voluntarily, and recovery services, which seek more long-term solutions for these families. When it comes to organizing everyday life for children that have been forced to leave their homes and lose their rights due to war, there is a big role for special international foundations that must provide active support. The experience of these international foundations is also very important when it comes to steps that can mitigate the negative impact of war."
And, while performances are staged in Armenia and the children from Artsakh are trying, step by step, to reestablish an everyday routine and gain inclusion in Armenian society, Iranian-Armenian Sevana Tchakerian, who has lived in France all her life and founded a band called Collectif Medz Bazar, is preparing a final package before she and her friends leave for Goris.
On September 27, as soon as we heard the news, we were first in a state of shock and despair. But the very next day, sitting at our music center, Nexus, and talking with friends, we realized that the children coming to Armenia from Artsakh should not feel alone or sad for even a minute. We decided that we would sing for them.
Sevana appealed to all musicians and people that had the desire to help in some way. She asked them to not only participate in the fundraising programs that were going to cover the children's needs but to also join her musical initiative.
"There were three of us at first, then other musicians joined, and now there are more than 20 of us from all over Armenia," Sevana says. "We wanted to help these children that had undergone trauma and temporarily left their homes to overcome all these difficulties. I asked my partner at the Nexus Center to provide the space. I broadcasted a live video and appealed to people online. This was followed by phone calls – from hotels, various companies, individuals. Now, we get together at our center and decide who goes where."
There is no particular program, or pre-arranged steps. Sevana says that when it comes to performing for children, they never know the conditions in which they'll find their audience. They take their musical instruments, stationery, modelling clay, and go to see the children.
"There's always the possibility that the people just got the news about a death as soon as we arrived and, based on the situation, we decide what to do," she says. "We sometimes act like psychologists because we believe that music can ease people's pain, even if only a little bit."
The car is full of all kinds of packages and is ready to head for Goris. Sevana and her friends are going to that pretty and hospitable city, hoping that the notes of peace their musical instruments play will be louder than the noise coming from tanks and rockets in battle.
Now, more than ever, there is no lack of regional dialects heard in Yerevan. In the city, you can hear the sounds of Armenian from the Ararat region, Lori, Syunik, Artsakh and other locations. And, with our history of varied dialects, perhaps we have started to speak the same language for the first time.
Journalism is supposed to be unbiased, fair and objective. It is difficult to be fair in these unjust and cruel conditions. But, both subjectively and objectively, one thing is clear – there is only one imperative in the eyes of this generation. To live.