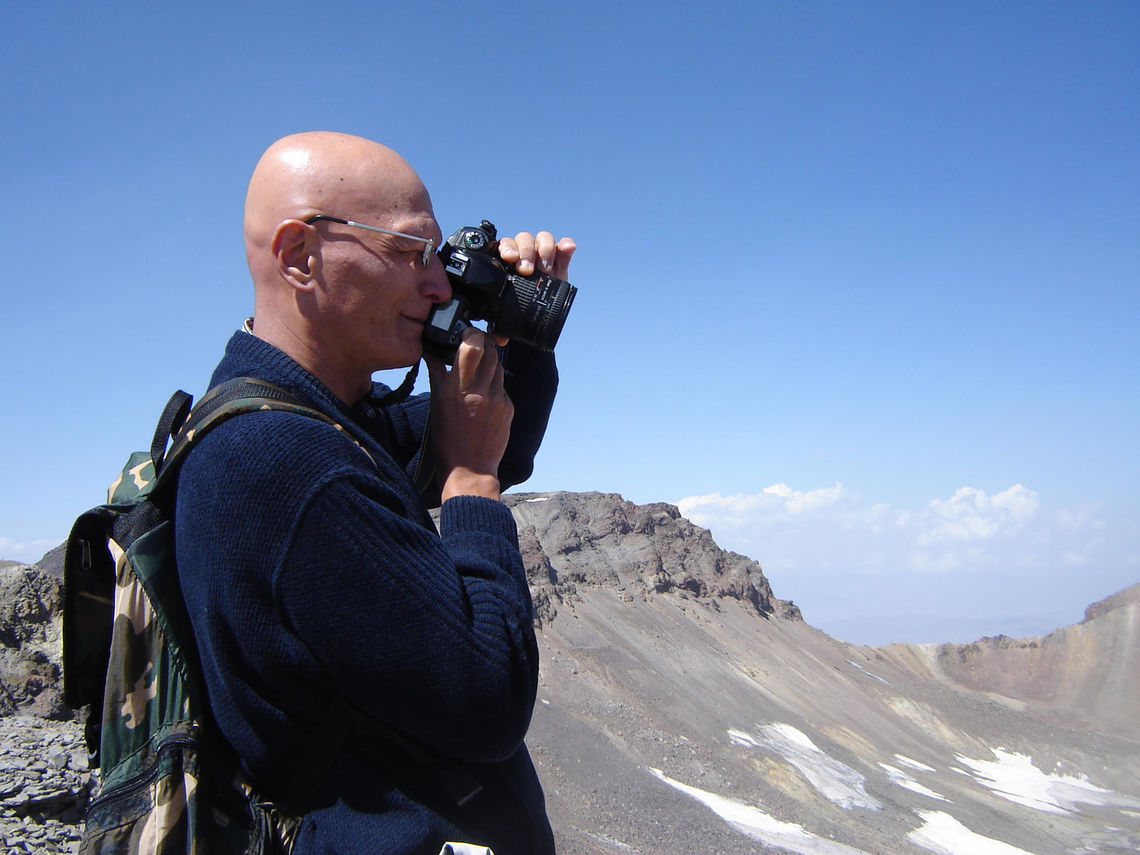 Samvel Karapetyan on Mount Aragadz. Image by Movses Hrayr Derkevorkian.
Samvel Karapetyan, head of the Research on Armenian Architecture (RAA) organization, died in Yerevan at the age of 58 on February 27, 2020 after a prolonged illness. He was a celebrated figure in the field of Armenian cultural heritage. His death went unnoticed in the non-Armenian world, although his work goes beyond the borders of Armenia and is essential to understand what is happening in the Middle East, where mass cultural heritage destruction has been unprecedented for more than a century.
Samvel Karapetyan's atypical, non-academic career was not always an asset in the academic world, but his work is exceptional and will remain a reference for future generations of researchers. In his foreword to the third volume of RAA's Armenian Cultural Monuments in the Region of Karabakh, published in 2001, the Armenian Archbishop Mesrop Ashjian of New York wrote that Karapetyan had "undertaken his task with a real apostolic commitment and profound understanding of the power of history." It is true that his mission led him to devote his whole life to its realization: uncover the state of Armenian cultural heritage outside (and also inside) Armenia and the political hostility that continues to threaten it.
Samvel Karapetyan's work began in the late 1970s, during the Soviet period, when the diverse peoples of the USSR were supposed to be united in "brotherhood." When he conducted his initial fieldwork in Artsakh (the Nagorno-Karabakh Autonomous Oblast) in 1979, he discovered that the authorities of Azerbaijan considered the Armenian sites and monuments in this region as belonging to their own christian Caucasian Albanian ancestors and that Armenian visitors were discouraged. It was forbidden to take photographs and even undertaking archaeological excavations was out of the question. Samvel Karapetyan's pugnacity was strong, however, and these prohibitions did not stop him from pursuing his work. In 1989, he became a member of the Research on Armenian Architecture (RAA) founded in 1982 in Germany by architect Armen Hakhnazarian. Since then, he carried on his work within this research center in Yerevan. This collaboration was strengthened when Armenia gained independence in 1991 and Karapetyan became the director of a team of about twenty people. His achievements include more than forty publications in the field of cultural heritage and local history.
What are the major contributions made by Samvel Karapetyan and his team in the study of Armenian cultural heritage?
The first contribution concerns the large database accumulated on Armenian cultural heritage outside of Armenia. The most important element of his team's approach was fieldwork. Samvel Karapetyan surpassed his predecessors in terms of fieldwork and scientific expeditions, compiling more than forty years of research and fieldwork of epigraphic corpora, demographic information, bibliographical references, maps and photographs, descriptions of sites, architectural drawings and more. These collections are very accurate; both quantitative and qualitative aspects of the artifacts (monuments, khachkars, tombstones, bridges, etc.) have been studied. He covered a very large geographical area in all of the neighboring countries: Georgia, Azerbaijan, Iran and Turkey. He was interested in all tangible cultural heritage, both civil and religious architecture. His research and publications provide us with elements of local history and qualitative analysis, essential for history in general. He knew the memory of sites perfectly. He also denounced the bad restorations of monuments in Armenia. Karapetyan dared to say out loud what people were thinking quietly. The information collected by him and his team is invaluable not only for the knowledge of Armenian tangible cultural heritage but also for the whole of christendom and the Near East.
Samvel Karapetyan's second contribution concerns the denunciation of the cultural policies undertaken by neighboring countries. As early as 1988, he introduced us to the vandalism directed at Armenian heritage and the state policies of Georgia (transformation of churches and erasure of Armenian lapidary inscriptions), Azerbaijan (destruction of monuments) and Turkey. Karapetyan also shed light on the practice of treasure hunters participating in the destruction of Armenian cultural heritage in Turkey. He is thus one of the first to have highlighted the mass cultural destruction of the neighboring states of Armenia (excluding Iran) for more than a century. Because of his work, he was declared persona non grata in Georgia and Azerbaijan for several years.
In his remarkable book, The Destruction of Memory, Architecture at War, Robert Bevan describes the destruction of cultural heritage in wartime (focusing on the First and Second World Wars and the Balkan Wars of the 1990s) noting "Where a group is under physical attack, the destiny of its representative architecture is an excellent indicator of whether genocidal intent is present or incipient."[1] Unfortunately, though intellectuals, politicians and the media may express indignance concerning wartime destruction committed by terrorist groups (e.g. in Iraq and Syria), very few people speak of the peacetime destruction committed with the approval of governments. Samvel Karapetyan's main contribution is to have highlighted destruction in peacetime, either through comparative photographs between the past and the present or by publishing the state of degradation of monuments. Even if this work is a testimony of the specific Armenian case, its scope is universal. We are in the presence of massive destruction organized by several states over more than a century, covering an area which represents almost six times that of the Republic of Armenia.
As a result, we can say that the Armenian nation is the archetype of a nation whose artifacts are continually being destroyed in peacetime by the states around it. Unlike destruction that takes place in times of war, which are reported on widely, the destruction in times of peace is passed over in silence. It is a question of not disturbing strategic and trade relations, of not making waves so as to maintain cooperation between States in other areas. It is obvious for some States that human beings and their artifacts do not matter. In his novel The Book of Laughter and Forgetting, Milan Kundera quotes his friend, Czech historian Milan Hübl, who said "To liquidate people, you start by removing their memory. We destroy their books, their culture, their history. And someone else writes them other books, gives them another culture and makes up another history for them. Then the people slowly begin to forget what it is and what it was. The world around him forgets it even faster."[2] How can one be silent when nations implement discriminatory policies, despite having signed international conventions for the protection of monuments? This political thinking leads to indoctrinating entire generations to participate in these destructions.
Today, when states continue to destroy the cultural heritage of other nations without sanction by UNESCO (which is funded by those states) and when UNESCO's list of World Heritage Sites, Samvel Karapetyan's work has a considerable significance that goes beyond Armenian heritage. It is a luminous testimony that highlights the violence of certain states to annihilate an indigenous culture with impunity. This is why, as Robert Bevan notes, "The international community should be on its guard for the mass destruction of people when it sees the destruction of their cultural artifacts."[3] This cause and effect relationship is true both ways.
Yves Ternon, historian specialist in the Armenian Genocide, wrote in his publication "Éclats de Voix" (Bursts of Voice) that "the Armenians disturb the nations who hope that, over time, they will end up being silent."[4] Samvel Karapetyan was one of these loud-speaking Armenians.
—————————-
1- Robert Bevan, The destruction of Memory, Architecture at war, Robert Bevan, édition Reaktion books, 2007, p. 27
2- Milan Kundera, Le livre du rire et de l'oubli, éditions Gallimard, 1985, p. 244
3- Bevan, op. cit. p. 209
4-  Yves Ternon, Éclats de Voix. Recueils de textes 1974-2005, éditions du félin (Poche), 2006, p. 99