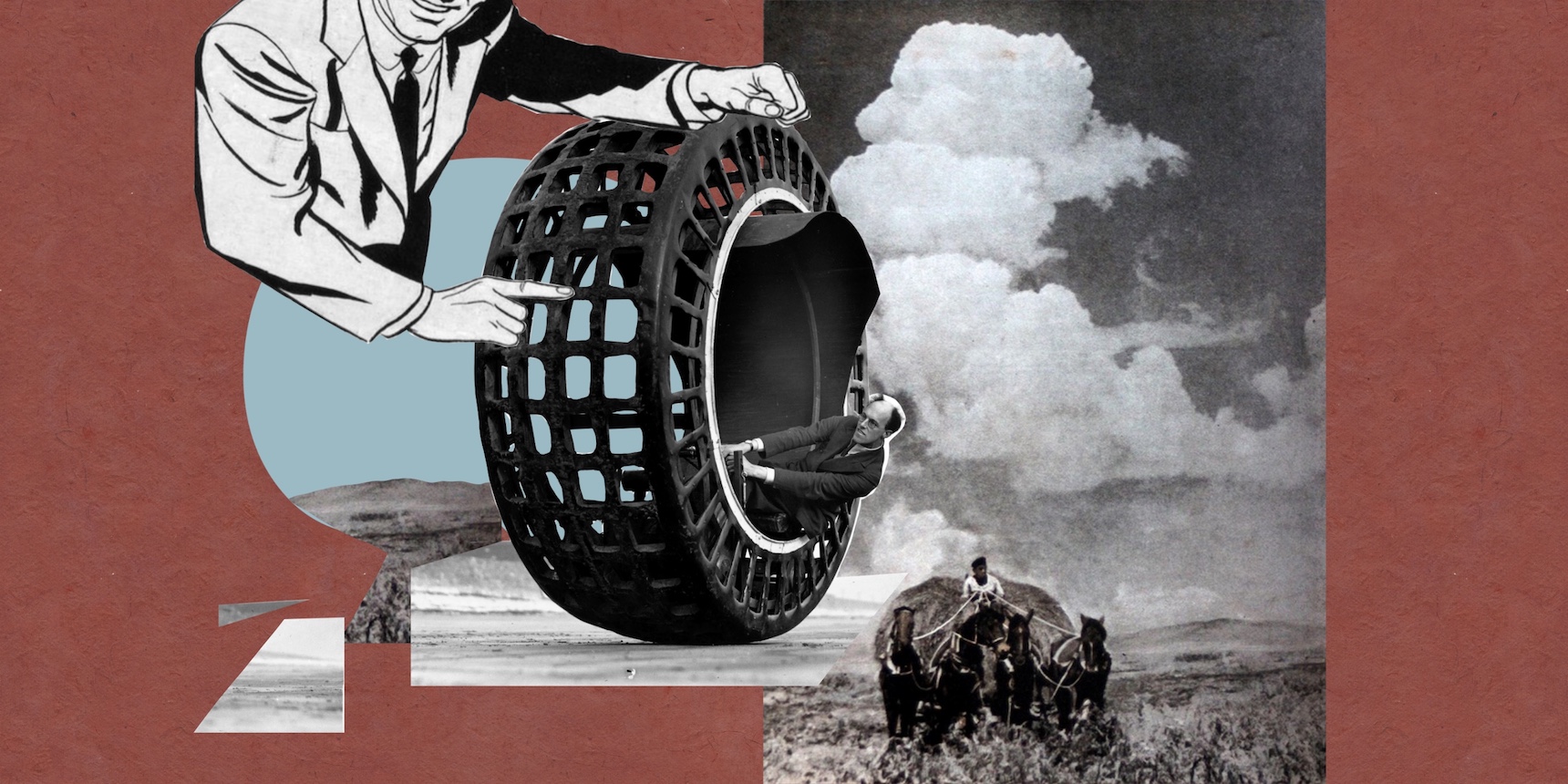 Gaidz Minassian's recent article published on this platform offered an interesting rendering of an issue rarely directly confronted in the Armenian reality, namely Armenians' relation to the political. This piece can be seen as a commentary or supplement to Minassian's article. It does not disagree with Minassian's points, but rather attempts to offer a different perspective on the issues he put forth. In other words, this article discusses two possible theoretical approaches to Armenian history which may also shed light on the problems and topics covered in Minassian's article.
First, a methodology through which all of Armenian history can be understood is needed. The most common one remains the chronological event-based narration of Armenian history, concentrating on kings, dynasties or the Apostolic Church, as Minassian rightly pointed out. This approach has multiple deficiencies. It omits social history and fails to accomplish its immediate aim of presenting Armenian history as a series of notable events and figures, since Armenian history contains periods about which only scant sources are available. On the other hand, an article published by Dr. Gregory Areshian offered a completely new interpretation of Armenian history, one achieved through a longue durée approach, first developed by Fernand Braudel. Braudel's approach suggests that history is not necessarily just based on events but is also comprised of structures. These structures are based on the geography of a country or on certain cultural phenomena which can have extraordinarily long durations, and cannot be easily challenged or overcome, usually hindering the implementation of new ideas. Consequently these structures influence the actions and the disposition of historical actors.[1]
Areshian's analysis shows that throughout Armenian history, even "prehistory," the local population of the Armenian highland tended to develop a very unique culture, which even though came into contact with surrounding cultures, still maintained its singularity, setting it apart from the rest.[2]The same applies to Christianity. The adoption of Christianity by Armenia led to the creation of a national church, not only because the founders of the Armenian Apostolic Church sought an escape into an illusion or an abstraction as Minasssian points out, but also because the longue durée of the historical structure was not overcome.[3] Christianity, which at its core was and is a universal phenomenon, maintained this aspect within the Roman Empire, whereas in Armenia it acquired a distinct local and national character. Hence, if we are to speak about the Armenians' relation with the political, it is necessary to understand this recurrent theme in Armenian history, namely conscious or unconscious rejection of international trends in favor of a local culture.
This approach can help find answers to many questions in Armenian history, since with the establishment of a repetitive pattern, an issue such as the failed modernization of Armenia, becomes clearer as will be shown later in the piece.[4] The pattern, while not the sole factor, is certainly one of the reasons why Armenia's political entity did not develop beyond a certain level of sophistication or as Minassian wrote, the familial level of organization. There are many examples of this: the relapse from Hellenism into the Zoroastrian and Persian influence after the death of Tigranes the Great and the reign of his son, Artavasdes II,[5] or the unfinished nation-building process initiated by the Arsacids starting from 224 CE and reaching its pinnacle with the adoption of Christianity interrupted by the dethronement of the last Arsacid in 428 CE, Artaxias IV.[6]
This brings us to another point involving not only the past's ability to influence the present but also our own ability to shape a present and a future. Minassian, at the end of his article, mentions a number of dialectical pairs, which describe Armenia's move from the pre-modern order to the modern, for example community versus society, center versus periphery, and village versus city. It is evident that even in contemporaryArmenian society, the building of an active civil society has seen patterns of the old villageness showing themselves time and again. The villageness is represented through such normative statements as: we are all brothers and sisters, we are part of one big family that are used to convey a sense of familial and communal belongingness in contrast to rationally organized modern society. This imposition of a prescriptive communal life and familial politics has haunted Armenian civil society since its formative years during the Karabakh movement in 1988 and onwards.[7] The much-lauded Velvet Revolution itself has lapsed into the old paradigm of familial politics, as the campaign "Armenia is my home and the people are my family" makes clear. However, it would be wrong to assume that Armenia has kept old communal ways of life fully intact, even though the institution of the Armenian family still holds a privileged position in state affairs. The "village" way of communal relations has been transformed by Soviet modernization in the 20th century. Even if that modernization process ultimately failed, it still managed to disrupt the communal way of life in Armenia, as attested by writer Hrant Matevosyan who records the slow but steady decay of village life in Armenia.[8]
Thus, current Armenian society is neither a village nor a polity. It is this mixed state, which finds little attention in scholarly debates, that needs to be improved and transformed. However, here arises the question: Can this state be overcome? If one looks at it through the lenses of longue durée the answer might be disappointing. Throughout its history, Armenia has adapted transnational movements into its own social environment, and it is thus hard to envisage contemporary Armenia following a Western European course towards a rational and secular society. The center, Yerevan, may not have the upper hand over the periphery (and do we really need this?). There needs to be a search for a third way, as Areshian argued.[9] Can the "village" be overcome? One can also reformulate the question: Should the "village" be overcome? It is obvious that a forced modernization, as happened in the early decades of Soviet industrialization under Stalin, would be a disaster and this path was abandoned in the 20th century. A step-by-step approach toward modernization might still be viable, however, Armenia's external threats in an increasingly uncertain world raise  questions about a small country's capacity to follow its own course of action.
The second approach resulting from the longue durée might help us to orient ourselves in the world of changing political alliances. Italian philosopher Roberto Esposito treats Italy as an incomplete project in all aspects.[10] Italy, both as a country and as an idea, has been imagined and reimagined in the minds of great Italian intellectuals and artists as harboring unfulfilled potential, as Esposito posits. To mention a few: Machiavelli's pre-modern political philosophy, that never made the jump into modern philosophy, Michelangelo's incomplete masterpieces (Rondanini Pietà is mentioned as an example) down to building projects in modern day Sicily, left unfinished by the sheer clumsiness of their construction plans.[11] While claiming that Armenia is like Italy in this regard would be an overstatement; there are, however, several similarities which also might help to understand the current Armenian state.
How does one define incompleteness in the context of a culture or civilization? Since a theoretical definition would be misplaced and tautological, it is better to turn to tangible examples. One rather symbolic example is at the heart of Yerevan––Cascade—a building project that dates back to the 1970s and has been left incomplete for various reasons.[12] The unfinished reconstruction of Gyumri is another example. Whether it's corruption or a mere personal whim that hinders the completion of such projects is not of central importance––the fact is that there's no completion in sight. Indeed, even the recent Velvet Revolution with its promises of political transformation can be deemed as unfinished and incomplete and not only due to the regime's failure during war. Armenia's incompleteness ties rather neatly into the recurring longue durée of its failed attempts at internal change.
That Armenia is incomplete can be seen throughout history. In fact, most of Armenian history appears as a development cut short. More examples are the fall of Bagratids in 1045 and Cilician Armenia in 1375, the ceasing of the university tradition in the early 15th century, the discontinuation of the literary tradition from late middle ages until almost the 18th and early 19th century, with only a few notable exceptions, and finally the Genocide, which halved both the nation and the land, leaving a sense of incompleteness that cannot be remedied. Here a significant difference between the incompleteness of Italy and Armenia arises; the conscious self-inflicted incompleteness of Italy and the incompleteness of Armenia, which is not only self-imposed but has also been externally coerced.
Hence, due to external factors, Armenia has largely been unable to keep up with modernity and only after independence, following the fall of the Soviet Union, did it try to meaningfully engage with the political ideas of modernity, perhaps with little success. For many Armenians the words of Esposito are striking in the way in which they can also describe Armenia:
"We remain a people without a homeland, a homeland without a nation, and a nation without a state, always incapable of translating individual invention into public discipline, into shared power, into collective good. Once again, Italy is 'the Great Incomplete', the unfinished country, potential that has never been realized."
If modernity has been characterized by the rise and consolidation of the nation-state, then the current era, as Esposito points out, is entering a phase that no longer prioritizes the nation-state.[13] It is true that the nation-state still exerts strong influence in the world of politics, but trends point to the further consolidation of supranational entities that go beyond the boundaries of states. Perhaps Armenia, which never quite understood and implemented modernity, can become important in a post or a pre-modern world, where entities greater than the nation-state take the stage. 
Caught between the longue durée of its locality and the incompleteness that is both internal and external, Armenia appears to be always at a crossroads, whether it be the dialectical pairs of Minassian, or external political alignments of East vs. West or Russia vs. Europe. The real question is whether Armenia can choose a third way, not a middle ground, but one beyond those pairs, where the dialectical process comes to its logical end and the two opposites are sublated (aufheben) into a new state of being. 
External conflicts currently dictate developments in Armenia. To master these conflicts would be the first step towards normalization of inner affairs. However, as long as outdated paradigms, such as the recurring nationalism of Tigranes II's Armenia as hinted at by Minassian, still build the core debate it will be hard to find viable solutions. For a secure future, Armenians have to come to terms with their past, an undertaking that is long overdue. Armenia is also a "great incomplete", trying to find its own way in the 21st century after a failed modernization process, and an Enlightenment that hardly took place. The Armenian Enlightenment had its roots in Madras (under British rule) or Venice toward the end of the 18th century and as such had little impact on the life of Armenians who inhabited the Armenian highlands. 
It seems as though the potential of the country has never been fulfilled in the past and the possibility of it being fulfilled in the future is not a given. As 19th century British traveler H. F. B. Lynch said: 
"One feels that for various reasons outside inherent qualities, this land has never enjoyed at any period of history the fullness of opportunity. And one awaits her future with an expectant interest."[14] 
There is, however, a positive side to this. A possibility and a potential if imagined and envisioned properly can lead to the formation of a goal that might not be reached but might propel developments by its sheer existence. In this regard, one remembers the emphasis placed on having utopias that can never be realized in early 19th century German philosophy and literature, where authors such as Novalis believed that while utopias are not attainable they can lead to the improvement of the human condition if a given society has a utopian ideal to follow.[15] Thus, we turn back to the sphere of abstraction, but instead of its drawbacks as emphasized by Minassian, I want to point toward its potential benefits, if utilized correctly. Renouncing the "village" in favor of the polity, becomes redundant, since the village might well be all that we have. We need to find a way to work with it.[16]   
Footnotes:
[1] Fernand Braudel, "Histoire et Sciences sociales : La longue durée", in Annales. Histoire, Sciences Sociales 4 (1958), pp. 725-753.
[2] Gregory Areshian, Historical Dynamics of the Endogenous Armenian, i.e. Hayots, Identity: Some General Observations, in: Reflections of Armenian Identity in History and Historiography, Los Angeles 2018, pp. 15-37, here especially pp. 29-30.
[3] Ibid., p. 32.
[4] Out of the numerous studies on the question of modernization see: James C. Scott, Seeing like a State, Yale 1998, pp. 85-103. Scott develops the theory of high modernism, implying top-down implementation of economic and social reforms, for instance industrialization. Armenia falls under the rubric of this type of modernization because of its Soviet past. For more on the actual Soviet modernization, as opposed to its theoretical ideals, see: Eric Hobsbawm, "The Age of Extremes", London 1995, pp. 372-394, pp. 477-478. The section on the Soviet Union is rather illuminating. The Soviet Union did not reach its utopian ideals, but it did, although by force, impose economic modernization, which also led to a change in the social fabric of the countries that were involved in the experiment. The model degenerated rather quickly and especially after the fall of the Soviet Union.

[5] Hakob Manandyan,
Tigranes II and Rome
, Yerevan 1940, p. 213.

[6] I borrow the term nation-building from Gregory Areshian's article cited above, for the usage of the term in the article see: p. 33

[7] As evidenced by Levon Abrahamian's analysis of the movement: "Armenian Identity in a Changing World", Costa Mesa 2006, p. 48. But what took the squares during the Karabakh movement was not a pure civil society but a civil society that retained the communal understanding of life, a point brought up by Gregory Areshian.

[8] For the point made about Hrant Matevosyan and the impact of Soviet industrialization on Armenia I want to thank Professor Ashot Voskanyan for discussions we had on the topic of Armenian society in the summer and fall of 2019.

[9] See his
speech
at AUA PSIA conference in 2019, minutes: 1:07:50 to 1:26:45.

[10] Roberto Esposito, Unfinished Italy, in: Italian Studies, 76:2 (2021), pp. 128-134.

[11] Ibid., pp. 129-130.

[12] All of Yerevan is an example of incompleteness. After the fall of the Soviet Union the city quickly lost its organization and the proliferation of buildings or shops (
bootkas
) that were built in the 1990s or early 2000s and to a lesser extent continue to this day has spared no pavement in the city center. These are naturally reminiscent of the city's past under Muslim influence: "Since the houses could not grow upwards, they encroached upon the public way which was poorly protected by Muslim law." Fernand Braudel, Civilization & Capitalism, 15
th
-18
th
Century, Vol. 1, New York 1981, p. 507. Hence, modern Yerevan is neither a modern western city nor an old oriental city in its full sense; it is struggling with its own incompleteness.

[13] "We can and must force ourselves to think of politics not only before the state, as did Machiavelli, but also after the state, in the interregnum that separates our contemporary condition from the condition that we have inherited from modern history." Esposito, Unfinished Italy,  p. 134.

[14] H.F.B. Lynch, "Armenia: Travels and Studies", London 1901, Vol. 2, p. 405-406.
[15] Hans Joachim Mähl, Der poetische Staat. Utopie und Utopiereflexion bei den Frühromantikern, in: Utopieforschung, Vol. 3, Stuttgart 1985, pp. 273-303, especially, pp. 276-279.
[16] The dichotomy emphasized in this discussion has been that of city and village, and a final point I want to stress is the fact that already in the medieval era at the core of Armenian cultural and social developments has been the village and not the city (town) as was the case in Europe (G. Areshian, lectures held in the fall of 2019), Italy being a salient example of city or town based civilization.

The relationship between Armenians and "the political" (Le politique) embodies a dialectic of the village and of the Polity; more precisely, the unavoidable but asphyxiating spirit of the village pitted against the indispensable yet evanescent Polity.
Read more