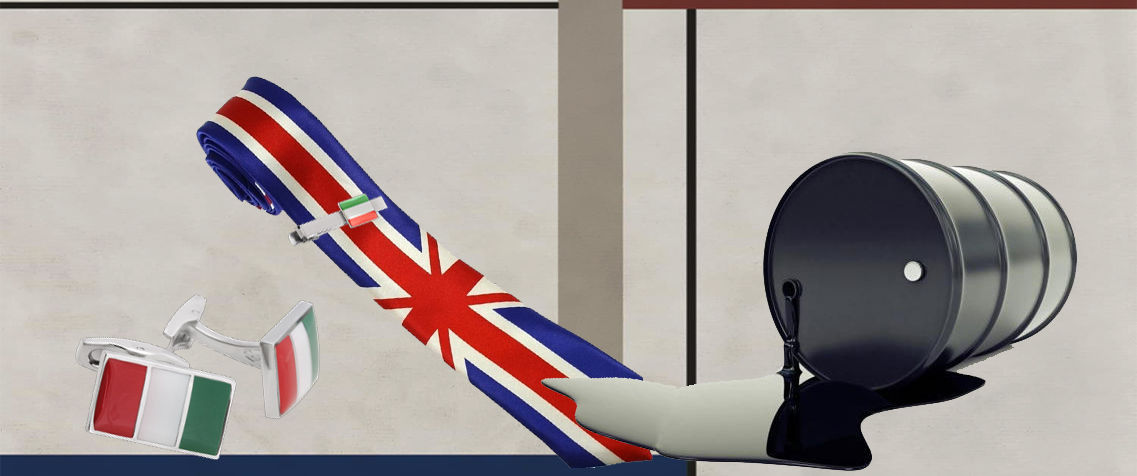 Europe was divided in its reaction to the 2020 Artsakh War. Countries such as France, the second largest EU member state, and Cyprus, one of the smallest, voiced support for Armenia and criticized Azerbaijan and Turkey for initiating the war and deploying Syrian mercenaries. Most European countries, though, remained largely neutral and limited their involvement in the conflict to a few press releases calling for a ceasefire. Among EU member states, only Hungary explicitly sided with Azerbaijan. While Italy and the UK (a former EU member) were neutral during the war, both have been implicitly pro-Azerbaijani in their statements in the post-war period.
Since last November, Azerbaijan has invited British, Italian and Hungarian companies, in addition to companies from its staunch allies—Turkey and Pakistan—to make investments in the "liberated territories" that were captured by Azerbaijan during the war. These countries' economic ties with Azerbaijan influenced their stance on the Artsakh conflict during and after the war.
United Kingdom
The United Kingdom's political ties with Azerbaijan have been influenced by the presence of UK-based companies in Azerbaijan and actual or potential financial gains from Azerbaijan. Almost three decades ago, in January 1994, The Independent reported that the UK government had "given tacit support to an illegal scheme" to supply Azerbaijan with British mercenaries and arms in the ongoing First Karabakh War. In September 1994, just months after a ceasefire agreement was reached in Artsakh, the Azerbaijani government and a consortium of 11 foreign oil companies, led by BP (British Petroleum) signed an agreement for the development of three major oil fields in the Caspian Sea. BP soon assumed operatorship of the consortium and currently controls almost a third of its shares. Azerbaijani oil is exported through the Baku-Tbilisi-Ceyhan (via Georgia and Turkey) and Baku-Supsa (Georgia) routes, which began operating in 2006 and 1999, respectively. Both are operated by BP, except the Turkish section. During the latest war, after Azerbaijan claimed that Armenia had fired a cluster rocket at the Baku-Tbilisi-Ceyhan pipeline near the town of Yevlakh, BP issued a statement expressing concern.
During the recent war, the UK was largely passive and silent. The British government made few public statements regarding the conflict. Those included two joint statements with Canada that called for a ceasefire. After Britain's Foreign Secretary Dominic Raab met with his Turkish counterpart Mevlüt Çavuşoğlu to discuss the need to de-escalate the conflict in Nagorno-Karabakh and tensions elsewhere, he tweeted on October 20, 2020: "Turkey is a key NATO ally and friend of the UK."
Earlier, on October 14, Action on Armed Violence (AOAV), a British charity, publicized the UK government data on arms sales to Armenia and Azerbaijan in the past decade. Since 2010, the UK Department for International Trade has approved the sale of "security exports" worth £86 million to Azerbaijan and only £4.2 million to Armenia. This is a 20-fold difference. According to the report, the UK has exported "aerial target equipment, assault rifles, machine guns, pistols, small arms ammunition and targeting equipment" to Azerbaijan.
After the war, the UK made its intentions vis-à-vis the region more clear. James Sharp, the British ambassador to Azerbaijan met with the Azerbaijani Defense Minister and "congratulated the Azerbaijani people on the victory in the Patriotic War," according to the ministry's readout. ("Patriotic War" is the name given by Azerbaijani authorities to the 2020 Artsakh War.) After meeting with Azerbaijan's Minister of Transport, Communications and High Technologies, Sharp tweeted that they discussed the "issue of 'Smart Cities' in the liberated territories."
In an interview with a local outlet in early February 2020, Sharp said that the development of the "[liberated] territories is an amazing opportunity for Azerbaijan, one that rarely happens for any country–starting with a blank sheet of paper." He added that BP and other British companies would want to be involved in President Ilham Aliyev's "vision of a green recovery–green cities, renewable energy." He listed agriculture, tourism and mining as the most promising sectors. "There's already a UK-listed company–Anglo Asian Mining–which has some long-standing concessions in the territories, and is looking forward to accessing them," said Sharp.
Anglo Asian Mining, mentioned by Ambassador Sharp, is registered in London and has a market capitalization of almost $160 million. Its largest institutional shareholders are British financial companies, including Hargreaves Lansdown, IG Group and HSBC. Furthermore, former Governor of New Hampshire John H. Sununu (the father of the state's current governor) controls 9.4% of the shares. The company has been operating the Gedabek gold, copper and silver mine, which is found north of Artsakh and to the east of Lake Sevan, for over a decade. At the height of the war, on October 27, the company released a statement announcing that "the Zangilan District containing the Company's Vejnaly Contract Area is under the control of Azerbaijan." The Vejnaly deposit contains almost 9 tons of gold. In the statement, Anglo Asian Mining said that it had received rights to operate the mine for at least 15 years. The company said it was in close contact with the Azerbaijani government and "once secure, the Company plans to immediately start work at Vejnaly." The Armenian National Committee of the UK responded that "It is sad that a London-listed company should think it appropriate to put out a press release celebrating the 'liberation' of land it plans to exploit for commercial gain."
Months later, on January 21, 2021, the company released another statement, noting that three contract areas have been restored to the company from the "formerly occupied territories." These include Vejnaly in Zangilan, Soutely in Kelbajar (the part of the Sotk gold mine that Azerbaijan has asserted control over) and "Kyzlbulag in Nagorno Karabakh" (Kashen in Martakert). The company's wording also noted that, according to the ceasefire agreement, "Armenia will grant territory in its Syunik region to Azerbaijan to allow construction of direct road and rail links between the exclave of Nakhchivan and the rest of Azerbaijan," which "will greatly improve access to the Company's Ordubad contract area" in Nakhichevan. [Talks have begun on restoring transport links but the actual granting of territory by Armenia is not likely.]
In early February 2021, Wendy Morton, Britain's Minister for European Neighbourhood and the Americas, met with Aliyev in Baku. Aliyev characterized Azerbaijan-UK ties as a "strong partnership" and noted that almost 600 British companies are registered in Azerbaijan. On his part, Aliyev noted that "In the liberated territories, we have great potential for reconstruction, and we already started our contacts with British companies."
Italy
Italy's courtship with Azerbaijan is more recent. As of 2018, Italy was, by far, Azerbaijan's largest export market, accounting for over 30% of the country's total exports. That year, Azerbaijan exported $5.88 billion. In fact, Azerbaijan is Italy's largest crude oil supplier, ahead of Iraq and Russia, accounting for as much as 17% of Italy's crude oil consumption in 2019. Furthermore, Eni, an Italian multinational oil company, controls 5% of the shares of the Baku-Tbilisi-Ceyhan pipeline. In late December 2020, Azerbaijan began natural gas supplies to Italy (and also to Greece and Bulgaria) via the Trans-Adriatic Pipeline (TAP), announced over a decade earlier. BP is its largest shareholder, controlling 20%.
Italy's reliance on Azerbaijani oil translated into political partnership in February 2020, when Azerbaijani President Ilham Aliyev visited Rome and signed a "Joint Declaration on Strengthening Multidimensional Strategic Partnership." For the first time, Italy singled out the principles of sovereignty, territorial integrity and the inviolability of national borders—those advocated by Azerbaijan—on the resolution of the Nagorno-Karabakh conflict. The declaration did not mention the principle of self-determination that has been advocated by Armenia and Artsakh, and considered one of the three main principles in the negotiation process within the OSCE Minsk Group. Carlo Frappi, an Italian analyst, noted that it marked an "important dealignment with Italy's partners in the Minsk Group and the EU" and that, thus, Italy "positioned itself as the West's main political (rather than merely economic) interlocutor with Azerbaijan – an 'almost ally,' in Aliyev's words."
During the recent war, in an interview with Italy's largest TV channel Rai 1, Aliyev said that Italy "can play a significant role in settlement of the conflict." In March 2021, Azerbaijani Foreign Ministry spokesperson praised Italian Italian parliamentarians' "balanced decisions" on Karabakh. For his part, Italy's Foreign Minister Luigi Di Maio said after a meeting with his Turkish counterpart during the war that the status quo in the region is unsustainable and that Turkey "could play a definitive role" in a negotiated resolution.
Less than a month after the war, Aliyev told an Italian delegation led by Ettore Rosato, Vice-President of the Italian Chamber of Deputies, that Azerbaijan will invite "companies from countries that are friendly to us" to take part in the large-scale construction work of "liberated territories." Aliyev added, "I would very much like Italian companies to take an active part in this work, i.e., in the restoration and reconstruction work. These proposals have already been made to the Italian side." A few days later, Aliyev met with Manlio Di Stefano, Italy's Undersecretary of State for the Ministry of Foreign Affairs and International Cooperation, and reiterated his invitation to Italian companies as that will be "natural, because Italy is a very close friend to Azerbaijan." In his turn, Di Stefano told Aliyev that Italy's stance on Artsakh was "just based on UN resolutions and everything that was already written on the papers." Di Stefano visited Aghdam, which Italy's Foreign Ministry described as "one of the Azerbaijanian districts liberated in recent weeks." He noted that "Italy is willing to provide its know-how and skills in the area of reconstruction, and today I found that my contacts were in favour of such a move."
A week later, the Italian embassy in Baku announced that Ansaldo Energia, an Italian electric power company, signed a contract with the Azerbaijani state-owned Azerenerji electric company for the rehabilitation of power substations in Aghdam, Fizuli, Gubadli and Kelbajar districts. The contract included €5 million worth of equipment. Baba Rzayev, director of Azerenerji, emphasized Italy's allied relations with Azerbaijan: "Thus, after the Turkish companies, another influential state, Italy, had a hand in projects to be implemented in the territories of Azerbaijan liberated from occupation."
In another display of deepening ties, in January 2021, Italy reportedly invited Azerbaijan to the G20 summit in Rome scheduled for October 2021, though Italy's embassy in Yerevan denied the reports.
Hungary
Hungary, led by one of Europe's most authoritarian-bent leaders, Viktor Orbán, is far smaller than the UK or Italy, but is a vocal supporter of Azerbaijan (and Turkey). In 2018, Hungary became an observer in the Turkic Council, which unites Turkey, Azerbaijan and three of the four Turkic-speaking Central Asian countries. Orbán advocates "illiberal democracy" and conservatism and has pivoted to the east, including Turkey, for political support. He also promotes the Turkic heritage of Hungarians and once described Hungary as "Christian Turkish lands." [The Huns originally migrated into Europe from Central Asia.] Orbán participated in the Turkic Council summit in Baku in October 2019, where he told the other leaders that Hungary can offer the Turkic Council a "connection to Europe and the European Union." Notably, Hungary (along with Italy and several other countries) has twice blocked Greece's efforts within the EU to sanction Turkey in October and December of 2020.
During the latest war, Hungary was the only EU member state to explicitly side with Azerbaijan. Hungary's Ministry of Foreign Affairs stated that "Nagorno-Karabakh lies within the internationally recognized borders of Azerbaijan, and Hungary supports the territorial integrity and sovereignty of the states as a general principle of international law." Earlier, during the skirmishes in Tavush in July 2020, Hungary's Foreign Minister Péter Szijjártó told his Azerbaijani counterpart that "Hungary strongly supports the territorial integrity of Azerbaijan within its internationally recognized borders."
In January 2021, Szijjártó told Azerbaijan's Minister of Labor Sahil Babayev that "Hungary has always stood up for the territorial integrity of Azerbaijan" and discussed with him the possibilities of Hungarian companies in the "reconstruction of areas previously affected by the war." Szijjártó announced that Hungary's Exim Bank has opened a $100 million credit line for companies who want to be part of the program. A month later, Babayev met with Hungary's ambassador in Baku again to discuss the participation of Hungarian companies "in [the] restoration of Azerbaijan's liberated territories."
Hungary is also interested in Azerbaijani gas. Foreign Minister Szijjártó noted that Hungary will link to the Trans-Adriatic Pipeline through Serbia, set to be completed by the end of 2021, and will likely purchase large amounts of gas by 2023-2024.
Orbán's love affair with Aliyev, however, goes back almost a decade. He has visited Baku on numerous occasions, first in 2010. In 2014, Orbán and Aliyev signed a joint declaration on strategic partnership. The most scandalous episode in their relations occurred on August 31, 2012, when Ramil Safarov, an Azerbaijani officer convicted to life imprisonment in Hungary for killing Gurgen Margaryan, an Armenian officer, in his sleep with an axe in 2004, was extradited to Azerbaijan, where he was released. In protest, Armenia suspended its diplomatic relations and all official contacts with Hungary. Then-President Serzh Sargsyan stated, "This has happened because the Government of Hungary, a member State of the European Union and NATO, has made a deal with the authorities of Azerbaijan." In fact, Novruz Mammadov, Aliyev's advisor on foreign affairs, admitted that the final agreement to extradite Safarov to Azerbaijan was reached when Orbán visited Baku in June 2012.
Though Hungary's Foreign Ministry said it found "unacceptable" and expressed "utter disapproval" that Safarov received pardon in Azerbaijan, Orbán personally defended the decision. "Hungary should follow its own interests rather than those of Armenia or Azerbaijan," he said. At the time, the main motive behind Hungary's controversial decision, which was condemned by the international community, was speculated to have been the impending Azerbaijani purchase of Hungarian government bonds worth €2-3 billion. In 2017, investigative journalists found that around the time of Safarov's extradition, more than $7 million was transferred to the Hungarian MKB Bank from an offshore company owned by the son of Yaqub Eyyubov, First Deputy Prime Minister of Azerbaijan. The first transfer of almost $500,000 was made on July 19, 2012. Hungary's Foreign Minister Szijjártó denied any connection between Hungarian foreign policy decisions and the money transfers.

For nearly three decades, Armenia and Azerbaijan have been buying large quantities of weapons from a number of countries. Hovhannes Nazaretyan presents a comprehensive list of weapons acquired by both countries since independence.
Read more

Armenia's air defense systems were largely ineffective against the onslaught of combat and reconnaissance UAVs used by the Azerbaijani military. The single most important UAV used in the 2020 Artsakh War was the Turkish-made Bayraktar TB2.
Read more

With the absence of qualified academic supervisors and challenges with the quality of student research, there was a need to develop a platform where students and supervisors could meet remotely.
Read more

This is not a cyberpunk essay about a dystopian future, but rather an attempt to take a pragmatic look at creative industries and the landscape of digital culture in Armenia.
Read more