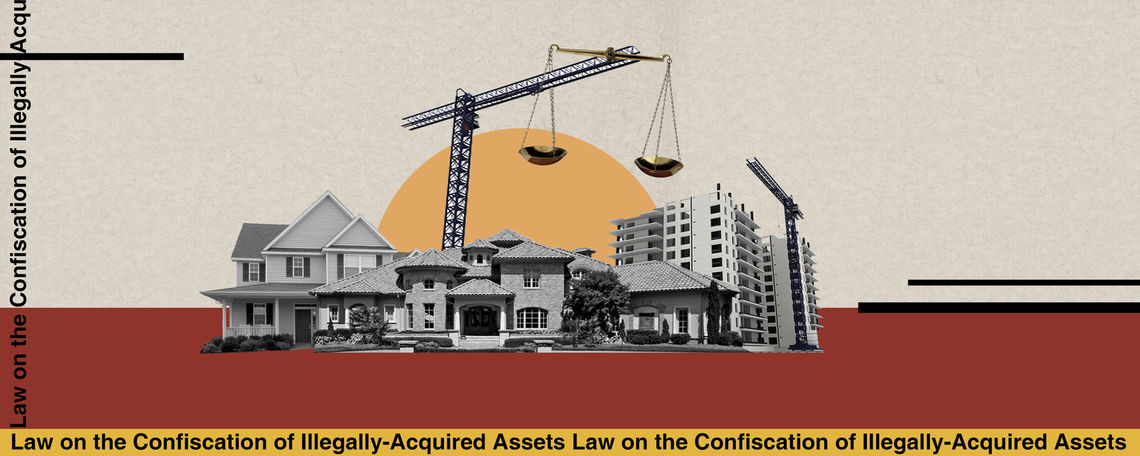 On April 16, 2020, Armenia's parliament passed the "Law on the Confiscation of Illegally-Acquired Assets." It is one of the most anticipated, most controversial and far-reaching pieces of anti-corruption legislation passed by this parliament. The Pashinyan government has said that the law aims to confiscate and nationalize the illicit assets of former officials accused of corruption.
What Does the Law Say?
The law is the centerpiece of a legislative package proposed by the Pashinyan Government and passed by the Parliament. It regulates the procedure by which a special division within the General Prosecutor's Office investigates suspected illegally-acquired assets and defines the evidence needed to prove the legitimacy of their origin, among other things. Below are the key points regulated by the law.
Assets of illegal origin are defined as assets which have not been acquired by lawful (declared and taxed) income and the income, products or produce generated by these assets (Article 3.1.2). Prosecutors can begin investigations under the following circumstances (Article 5):
When there is "sufficient grounds to suspect" that a convicted individual or an affiliate (defined in Article 3 as family, relatives and close business associates) possess illegally-acquired assets based on the materials of their criminal case(s).
When there is "sufficient grounds to suspect" that a suspect in a criminal case may possess illegally-acquired assets.
When there is "sufficient grounds to suspect" that an individual(s) possesses illegally-acquired assets, but they have not been convicted or charged of the listed crimes because of the following reasons: 1) amnesty, 2) statute of limitations, 3) their death, 4) they have not reached the age of criminal responsibility.
Article 3 lists the crimes (the articles of the Criminal Code of Armenia) that apply in the context of this law. In other words, only individuals who are convicted or suspected of these crimes can be suspected of possessing illegally-acquired assets. These include a wide array of crimes such as human and drug trafficking, facilitation of prostitution, terrorism, forming illegal armed groups, money laundering, extortion, abuse of power, taking and giving bribes, anti-competitive practices, smuggling, obstruction of justice and "obviously unjust court sentences, verdicts or judicial acts for mercenary purposes or for other personal motives."
Prosecutors can investigate the ten preceding years but can go even further back if, during the investigation, they are able to find evidence from earlier years. The earliest date they can investigate is September 21, 1991 (Article 7). The investigation can last up to two years, but it can be extended for an additional year if there are pending documents from foreign countries (Article 8).
After the investigation is complete, the specialized division within the General Prosecutor's Office has to notify all stakeholders about the investigation and invite them to declare the assets, liabilities, bank accounts, income and any asset/property dealings (sale or purchase) made by themselves and their family members within a month (Article 16).
If prosecutors find "sufficient grounds" to suspect that the individuals possess assets of an illegal origin that are valued at over 50,000,000 AMD (defined in Article 24), the case goes to court as a civil suit (Article 21). In other words, assets have to be valued at over 50 million drams (approximately $100,000) more than their lawful income to be considered for confiscation.
Article 22 states that, in the confiscation of illegally-acquired assets, there is a presumption that the assets are of an illegal origin as long as their legal origin is not proven.
Article 19 leaves space for a settlement agreement. There is one stipulation, however. At least 75% of the assets that are deemed to be illegal in the conclusive report of the investigation must be surrendered to the state as part of any settlement agreement.
Article 20 states that, if illegally-acquired assets have been transferred to "conscientious" third parties or it is impossible to identify, divide or confiscate the assets, then the court can decide to confiscate the market value of the asset. Article 23 defines "conscientious" third parties as those who cannot be proven by prosecutors to have known about the illegal origin of the acquired assets.
The specialized division within the General Prosecutor's Office has to file annual reports about their work (Article 33).
The new division within the General Prosecutor's Office is expected to be set up later this year, according to Deputy Minister of Justice Srbuhi Galyan. Initially, only judges approved by the Supreme Judicial Council will oversee the cases, until a special anti-corruption court is set up by late 2021.
Justifications for the Law
The Pashinyan government has consistently stated that the law is aimed at former and current officials and portrayed it as a major anti-corruption measure. This was stated by Rustam Badasyan, the Minister of Justice, when the bill was being discussed at the cabinet meeting in December 2019 and again at the parliamentary debate in mid-April 2020.
The official justification of the law presented by the Government to parliament is more than 30 pages long. For other laws, this section rarely exceeds two or three pages.
Background and Chronology
Pashinyan, as a long-time critic of the oligarchic system that dominated Armenia for decades, spoke out against corruption on many occasions, both as an opposition Member of Parliament and as the popular leader of the Velvet Revolution. After he was elected Prime Minister in May 2018, Pashinyan spoke out about recovering "the people's stolen wealth." During the first major post-revolution rally in Yerevan's Republic Square on August 17, 2018, Pashinyan declared that under his government "no business will be closed, no business, no factories, no assets will be seized from anyone. This is a prospect only for corrupt officials [who will return] riches stolen from the people through bodies of transitional justice and court decisions."
On March 1, 2019, a task force was set up to study and develop a package of legislative changes needed to institute the seizure of illicit assets in Armenia. On April 19, 2019, Pashinyan held a consultative meeting with cabinet members and others on the seizure of illicit assets and made several key points. In his speech, Pashinyan cited the UN Convention against Corruption as a key document in the process. Armenia ratified it in 2007. He further argued that the Armenian government had begun discussing the possibilities of introducing asset recovery back in 2008. Pashinyan stressed that illicit asset seizure should not be a punitive measure against everyday citizens, but instead be a preventive measure. He also noted that asset seizure is carried out in the framework of civil, not criminal, proceedings and cannot be done without a court decision. At the same meeting, Pashinyan argued that the measure cannot be a "mechanism of political vendetta" and emphasized that it will be a tool in an institutional fight against corruption.
Pashinyan's cabinet approved the bill on the confiscation of illegally-acquired assets on December 12, 2019. During the cabinet meeting, Deputy Prime Minister Mher Grigoryan asked Justice Minister Rustam Badasyan about foreign investors potentially becoming targets of the law. Both Pashinyan and Badasyan responded that investors do need not to worry about becoming targets. In his turn, Prosecutor General Artur Davtyan argued that the law would motivate former officials who might flee Armenia to avoid persecution to stay and prove the legality of their assets.
On March 5, 2020, Parliament passed the bill 100-1 on first reading. Only Arayik Aghababyan of the Prosperous Armenia Party (PAP) voted against it. On April 16, it passed the second and final reading, with 99 MPs voting in favor (Aghababyan included) and zero voting against. While Pashinyan's My Step Alliance and Gagik Tsarukyan's Prosperous Armenia Party all voted in favor, MPs from the Bright Armenia Party (BAP) all abstained.
President Armen Sarkissian signed the bill into law on May 11. In the official statement, the President's office noted that numerous NGOs, foreign investors, various professionals, human rights activists and individuals notified the President's staff about their concerns regarding the law and its possible negative effects on corruption, economic development, investment climate and financial stability. The statement said that it is expected that the law will be applied properly as an exceptional measure in combating dangerous crimes. The President's office also warned that "an unfair application of the law can undermine trust in the state and jeopardize its effectiveness."
The law officially came into force on May 23, 2020.
Opposition Voices
As a major piece of anti-corruption law, it naturally attracted widespread attention and commentary by politicians who are no longer in office.
The parliamentary opposition parties did not oppose it. However, they did voice their concerns. During the debates, PAP MP Mikayel Melkumyan spoke about the time frame the law covers, especially the period between Armenia's independence and the introduction of the Armenian dram currency in 1993. He noted that official registration of private property did not take place until 1998-99. Overall, the party's main concern was the significant fluctuation, due to different reasons, in property values in the 1990s and the early 2000s.
BAP MP Arkadi Khachatryan noted that his party supported the bill on first reading and proposed 27 changes. One such BAP proposal, to protect "conscientious" third parties from possible asset seizure, was accepted. Thus, illegally-acquired assets that were then transferred to unwitting third parties cannot be subject to confiscation. Arman Babajanyan, an independent MP who voted for the bill, stressed its "fundamental importance," but noted that there was a lack of a "road map" in how it is going to be applied.
Former Officials Don't Like It
The law has been heavily criticized by extra-parliamentary opposition politicians, including former government officials from the Republican Party of Armenia (RPA).
Arpine Hovhannisyan, former Justice Minister and RPA MP, was perhaps the first former official to react to the idea of asset seizure. In March 2019, she warned that it is a "ticking time bomb," not only for the Armenian state but for Pashinyan himself. She warned that the law could be applied to anyone, including people who receive remittances from relatives in Russia. She also argued that "we should forget about investors, for sure."
In February 2020, Vazgen Manukyan, former Prime Minister and President of the Public Council, called the bill "very dangerous" and falsely claimed that the bill intends to seize assets without a court decision. He linked the government's efforts to "neutralize" the Constitutional Court. Manukyan is the leader of the National Democratic Union (NDU) political party, which last elected an MP in 2003.
In March 2020, Andranik Tevanyan, the owner of news site 7or.am and director of the Politico-Economy (Politekonomika) Research Institute, also criticized the bill heavily and warned of "Velvet Neo-Bolshevism." He argued that the end goal of the bill is to "concentrate all wealth in the hands of one person… the rest is demagoguery." Tevanyan, who is an ally of Robert Kocharyan, stated that he believes it will result in "redistribution of property" and will decimate the investment climate, which, in turn, will lead to "outflow of capital and economic and political collapse." In an interview, Tevanyan speculated that the law could be applied to ordinary people as well.
In April 2020, after the bill passed in parliament, Vardan Bostanjyan, former PAP MP, harshly criticized it as a "result of sick imagination." He claimed that the proponents of the law are those who want to "take revenge from their country, their citizens." He also warned that it will result in a lack of new investment in Armenia.
In May 2020, after the bill was signed by the President, Hrant Bagratyan, another former Prime Minister and outspoken critic of the Pashinyan government, argued that the law is unconstitutional. Fip.am, a fact-checking website,* found that the claim could not be substantiated.
Tatul Manaseryan, an economist and former MP, expressed concern with the lack of consideration in the law for inflation and devaluation of property since 1991.
Opinions of Analysts, Experts, Commentators
In a critical piece, Benyamin Poghosyan, head of the Yerevan-based Center for Political and Economic Strategic Studies, argued that the law "cannot objectively lead to a comprehensive restoration of justice. However, it does contain risks of starting an economic chaos." One of Poghosyan's main concerns was the possible decline in foreign investment. He explained the latter with Article 23, where third parties (possible investors) could be expected to prove that they did not know about the illegal origin of the assets they had acquired. He argues that a potential investor would, thus, need to spend additional resources on due diligence checks regarding the legality of the assets they want to acquire.
In early May, Varoujan Avedikian, managing partner at TK & Partners and former General Counsel of the Central Bank, wrote that an investor declined to close a deal by citing the law.
Sargis Grigoryan, head of the law firm GPartners, named several other concerns. He warned that the law can be used as a tool for the government to seize assets of "unwanted individuals" because the law lacks protection measures. He was also critical of other aspects, including the confiscation of assets by the state and the lack of specificity in how they are going to be managed.
Conspiracy Theories
In April and May 2020, the law was at the center of at least two conspiracy theories.
In mid-April, Alen Simonyan, Deputy Speaker of Parliament and a top Pashinyan ally, pointed to the law and high-profile criminal cases as the reason why the government is targeted by some, including former President Serzh Sargsyan's son-in-law Mikayel "Mishik" Minasyan and "his TV channels and websites." In early May, Vahagn Hovakimyan, another My Step MP, also pointed to the law as the reason why Mikayel Minasyan had started posting a series of videos on Facebook critical of the Pashinyan government.
On May 8, during his speech in parliament after Sasun Mikayelyan and Edmon Marukyan were caught in a brawl that grew to involve dozens of other MPs, Pashinyan alleged that Marukyan planned a "provocation" and that it was linked to the passing of the law and high-profile criminal cases. "Yes, all this is related to the Law on the Confiscation of Illegally-Acquired Assets. This is related to the numerous and various criminal cases. Because when all stolen assets are recovered, where will the kickback-takers receive their kickbacks from?" This was an implicit attack on Marukyan, who pro-government MPs try to link to Mikayel Minasyan. Marukyan dismisses conspiracy theories that he maintains ties with the previous government.
On May 12, the day after President Armen Sarkissian signed the law, Narek Samsonyan, an anti-government activist, published photos on Facebook allegedly showing Sarkissian's son, Hayk, with his "gay husband," Faris. Samsonyan claimed that Hayk and Faris have recently married. This was likely an attack on Sarkissian for signing the law instead of directing it to the Constitutional Court, as anticipated by some critics. The president's son's alleged homosexuality was officially denied. Hayk was quoted as saying that his partner is an "Armenian woman from a traditional family."
*The author works as a journalist for the fact-checking platform Fip.am.

As an instrument of transitional justice, vetting is designed to "cleanse" state institutions that are tainted by systemic corruption, nepotism, and incompetence. Vetting of personnel is the first step toward the broader goal of institutional reform, writes Dr. Nerses Kopalyan.
Read more

A comprehensive list of the most high-profile investigations launched against former officials and their associates following the 2018 Velvet Revolution.
Read more

The Armenian government has initiated a broad set of cases against the oligarchs and Robber Barons of the former regime composed of the upper echelon of the previous-pyramid hierarchy. Nerses Kopalyan looks at a number of high-profile cases.
Read more